"The police stopped them by blocking their car and fired shots. No one inflicts such pain without any remorse. Two officers were riding a motorcycle, and two others were sitting behind them, firing. This was a fake police encounter."
These allegations have been made by Muhammad Shafiq, the brother of accused Khurram Shahzad, who was killed in a high-profile police encounter in Faisalabad in May 2023.
Khurram Shahzad and his cousin Muhammad Afzal were residents of the D Type Colony. According to the police, both suspects fled in a car after a robbery in an affluent area of the town when they were killed in the police encounter.
The families of the deceased have labelled this encounter as fake. They first staged a protest on Chen One Road and then at the District Council Chowk the next day. Muhammad Shafiq alleges Khurram and his cousin Afzal were going to Allied Hospital to get medicine.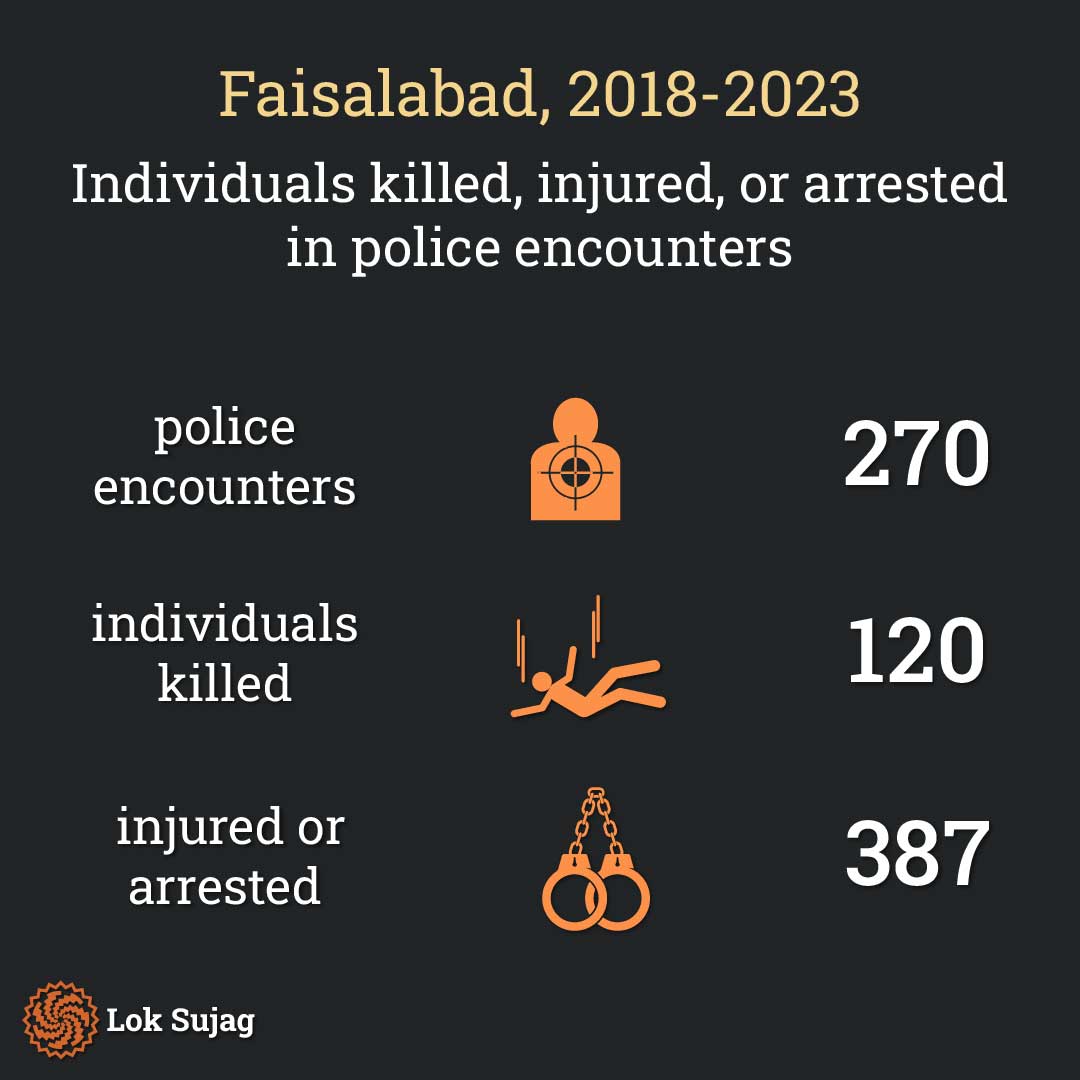 "They had left home at 9 pm, and at 10 pm, they were killed in a police encounter. I sell fruit in D Ground and was passing by when the encounter occurred. I was the one who called home to inform them about this incident."
Shafiq explains that he has submitted requests for a transparent inquiry into this police encounter to the Chief Police Officer, Regional Police Officer, Inspector General of Punjab, and the Chief Minister's Advisor. However, no response has been received yet.
He says that after the police encounter, he also had difficulty obtaining his brother's body.
"They initially didn't hand over the body. We were intimidated and threatened. There was a large police presence. Around 12:30 am, they gave us the body around 1:00 am, the funeral was held."
After Khurram's death, his widow Hina and three children's lives have become even more challenging.
She explains that they were already struggling before and are now entirely empty-handed.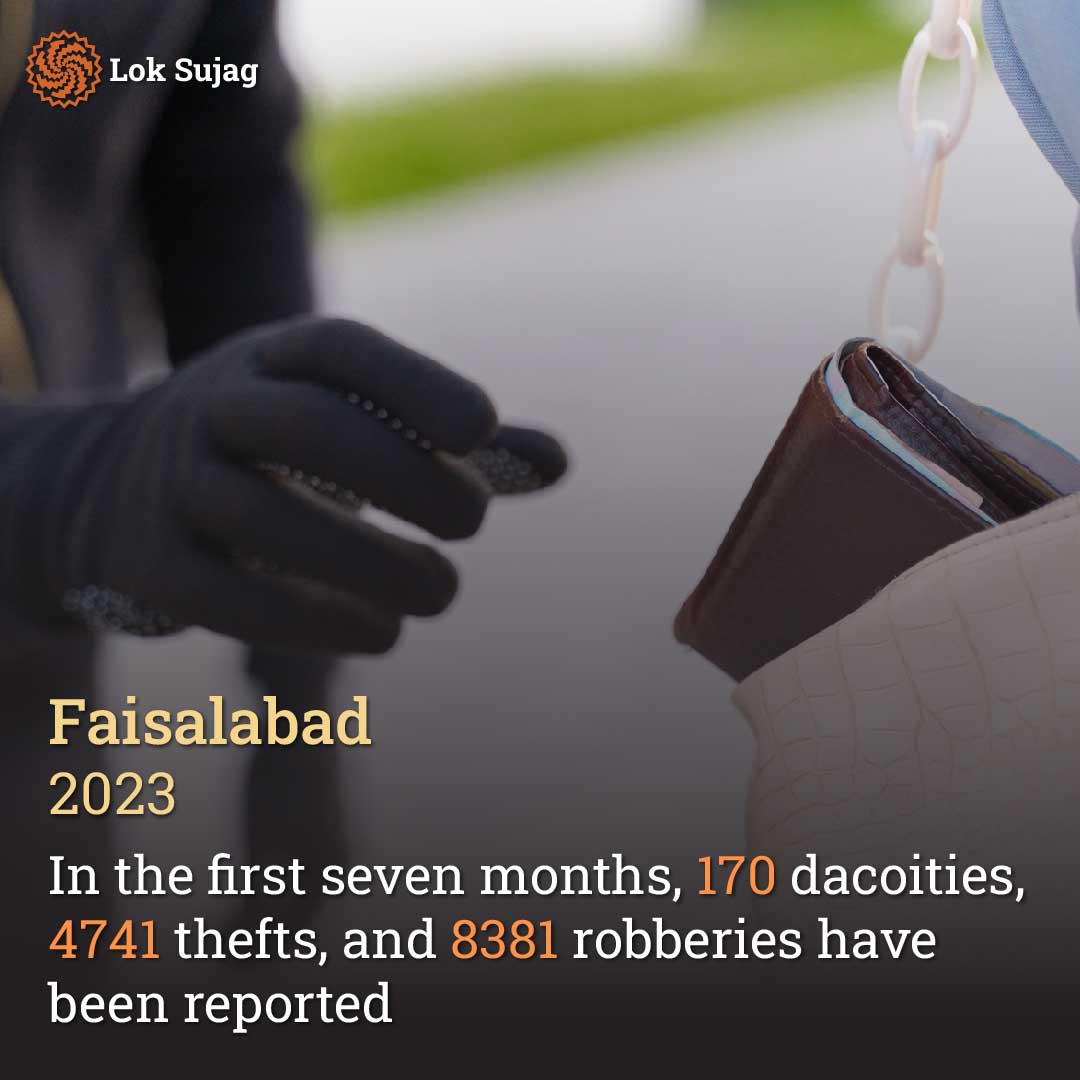 "My children were attending school, but they were expelled due to the inability to pay the fees. We lived in a rented house, which the landlord vacated the next day after the incident. Now, I am working in people's homes to support my children."
After protests and strong public criticism, the police adopted the position that Khurram Shahzad and Muhammad Afzal were recorded offenders with prior records.
According to police records, the two suspects, Khurram Shahzad and Muhammad Afzal are identified as repeat offenders, involved in theft and robbery cases.
On the other hand, Hana states that her husband had never been involved in any FIR or arrested by the police before.
"If they had committed any crime, the police should have arrested them. Who gave the police the authority to take someone's life while they were just walking down the street?"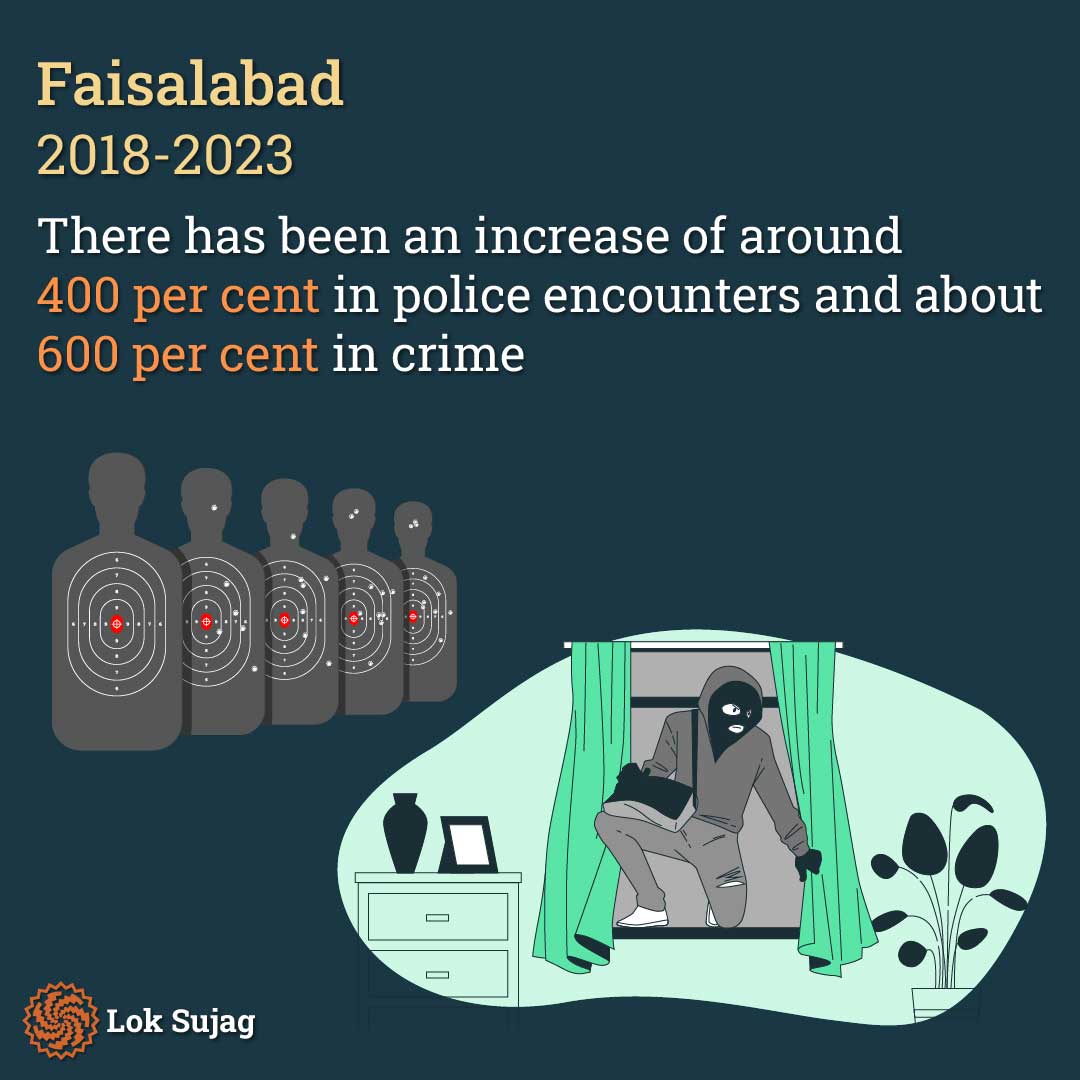 Senior lawyer Imtiaz Ahmed Wains states that only the court decides whether someone is guilty of a crime. Having a criminal record does not justify killing someone in a police encounter.
The deaths of Khurram and Afzal are not the first incidents in which the police have been accused of extrajudicial killings by civilians.
Before this, on January 20, 2021, in a police encounter in Faisalabad, a person named Waqas was killed.
In this incident, the police's position was that Punjab Highway Police's Incharge ASI Shahid Manzoor and his team attempted to stop four riders. Upon failing to stop the vehicle, the police opened fire. The driver of the car, Waqas, was killed by a gunshot to the chest, and the other three people were injured.
The relatives of the deceased narrate that Waqas was returning with his friends from Faisalabad city, and the police unlawfully killed him.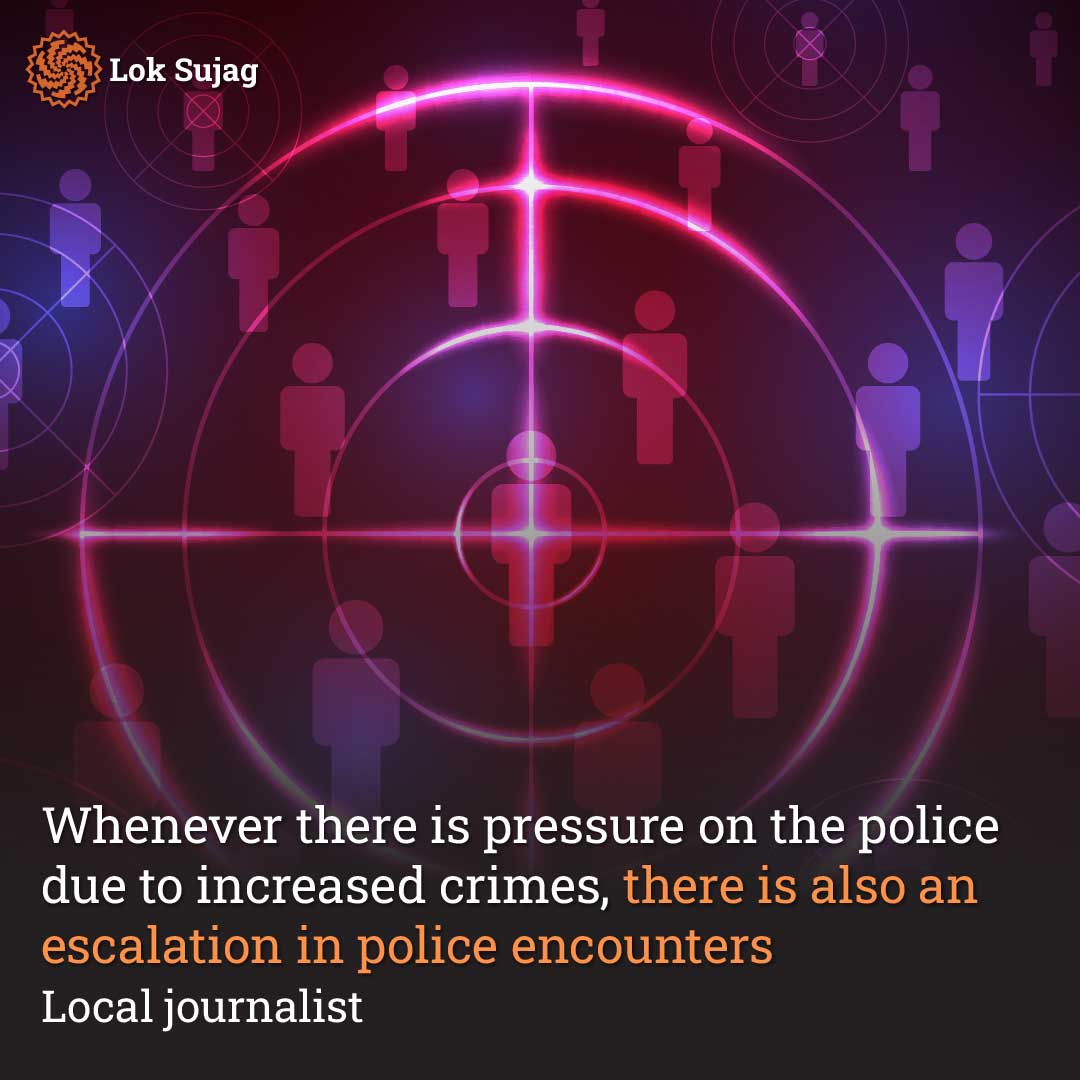 In the aftermath of this incident, the family of Waqas staged a protest in front of the Dajkot Police Station and on Samundari Road. Subsequently, in the initial police inquiry, the officers were found to have exceeded their authority, and a case was registered against them for misconduct.
Similarly, in August 2018, police officers from Millat Town Police Station fatally shot two students by firing at them from behind when they did not stop their motorcycle.
According to the relatives, both Osman and Arslan were students of matriculation level and had gone out for dinner at night.
Recently, Khurrianwala Police has registered a case against Assistant Sub-Inspector Ishtiaq and his colleagues from the CIA Police. They are accused of kidnapping a scrap dealer, subjecting him to torture, and demanding a ransom.
The affected citizen accuses police officers of subjecting him to violence and giving threats of "consequences" during the police encounter.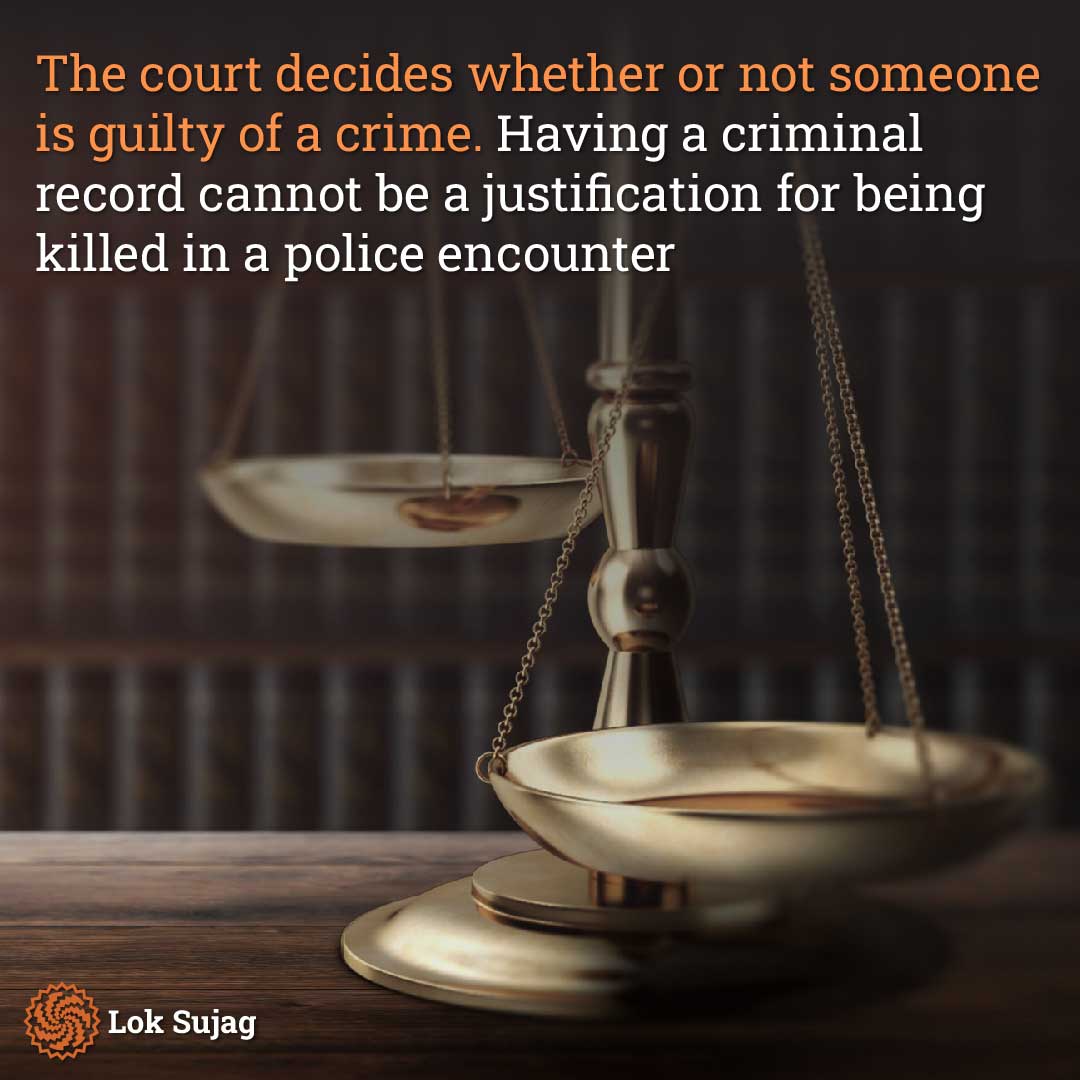 The Faisalabad Police, instead of providing information in response to the request under the Right to Information (RTI) Act for details about police encounters and their judicial inquiries, issued a summon for this correspondent.
However, upon the orders of the Punjab Information Commission, Faisalabad Police withdrew the summon and provided the required information, along with a written apology.
Providing information from Faisalabad Police, it is stated that from 2018 to 2023, a total of 270 police encounters took place in six years. Among these, 120 individuals were killed and 387 were injured or arrested. These incidents resulted in the deaths of two police officers and injuries to ten.
According to the police, in 2018, eight suspected criminals were killed and 25 were injured in 19 police encounters. Two police officers were killed and nine were injured.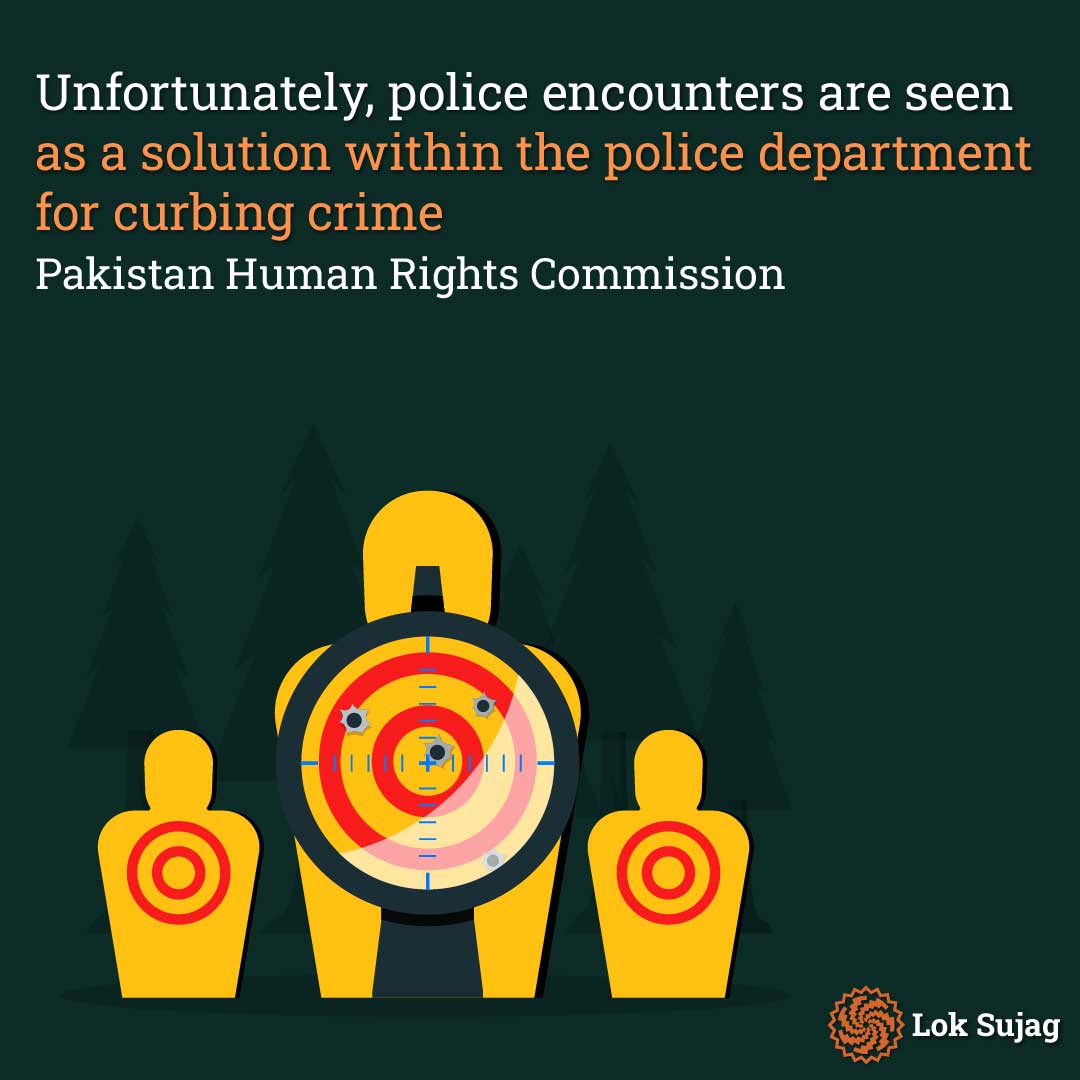 Out of the 270 encounters, orders for judicial inquiries were issued for 78 police encounters. Among these, 12 trials are ongoing, while decisions have been made for 28 judicial inquiries, all in favour of the police.
Faisalabad Police's Public Information Officer, Shahzad Ali Anwar, reveals that the Chief Police Officer (CPO) has submitted a request to the Inspector General of Police (IGP) Punjab for a judicial inquiry into the killing of Khurram Shahzad.
"The request to the IGP Punjab will be forwarded to the Home Department. The Home Department will then send it to the Chief Justice of Lahore High Court, and the High Court will issue directives to the District and Sessions Judge for the judicial inquiry."
He states that for every police encounter in which a suspect or a police officer is killed, a judicial inquiry is mandatory.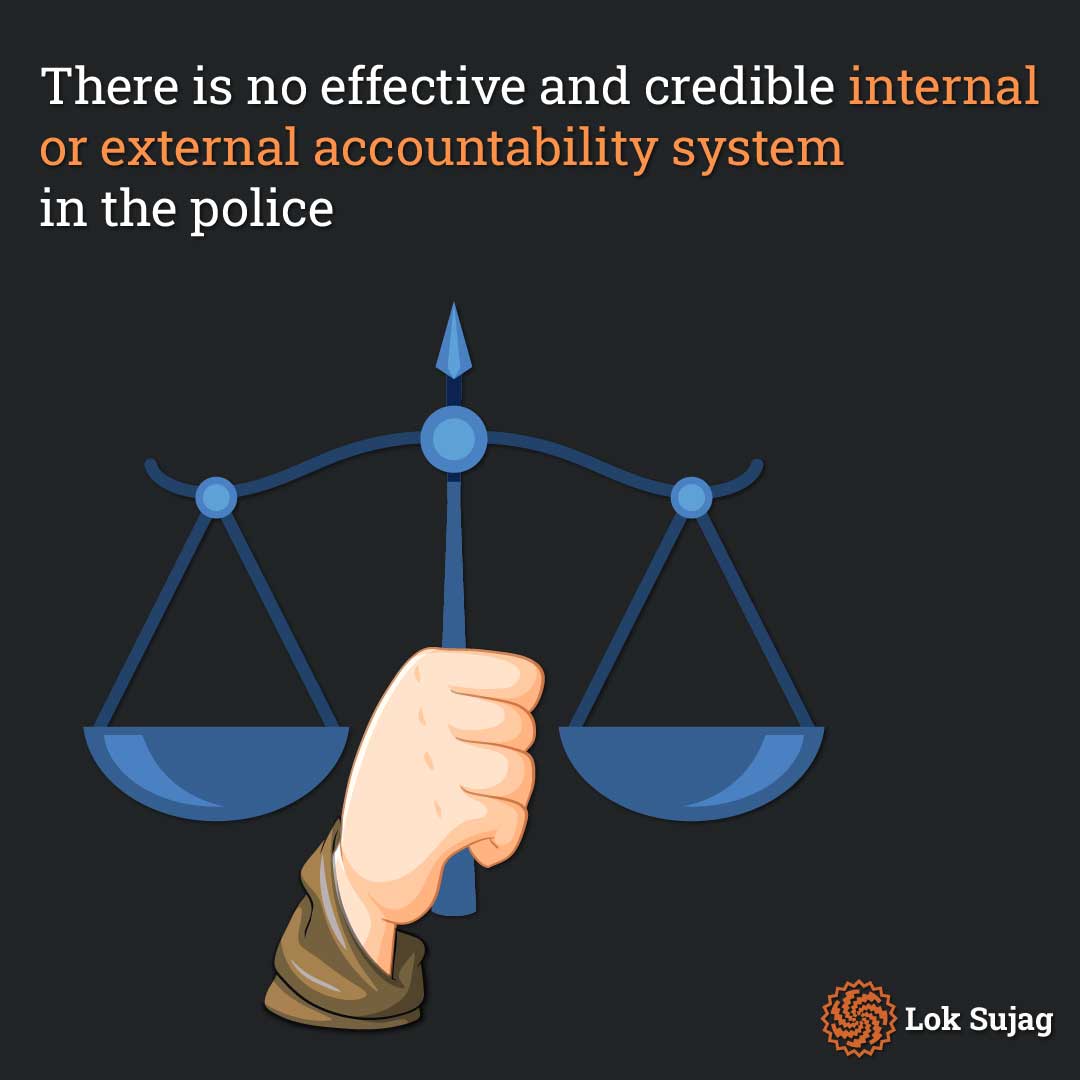 Police authorities generally present encounters as measures to reduce crime. However, the situation appears different here.
Faisalabad Police maintains that in the current year, out of 36 police encounters, 30 suspects have been killed and 28 injured. One officer has also been injured. The police also indicate that in the first seven months of the current year, there have been 170 cases of robbery, 4,741 cases of theft, and 381 incidents of road robbery.
According to these figures, there has been an approximately 400 per cent increase in police encounters and a 600 per cent increase in the crime rate over the span of six years.
Crime reporter affiliated with News Channel 24, Farzana Sadiq, states that whenever there is an increase in crime, pressure mounts on the police, leading to an escalation in police encounters.
"Police believe that such actions will force criminals to curtail or limit their activities due to fear. However, in these encounters, mostly innocent civilians are killed."
Senior crime reporter for News Channel City 41, Tayyab Maqbool, asserts that police officers are often victims of mental stress even before such encounters occur.
Also Read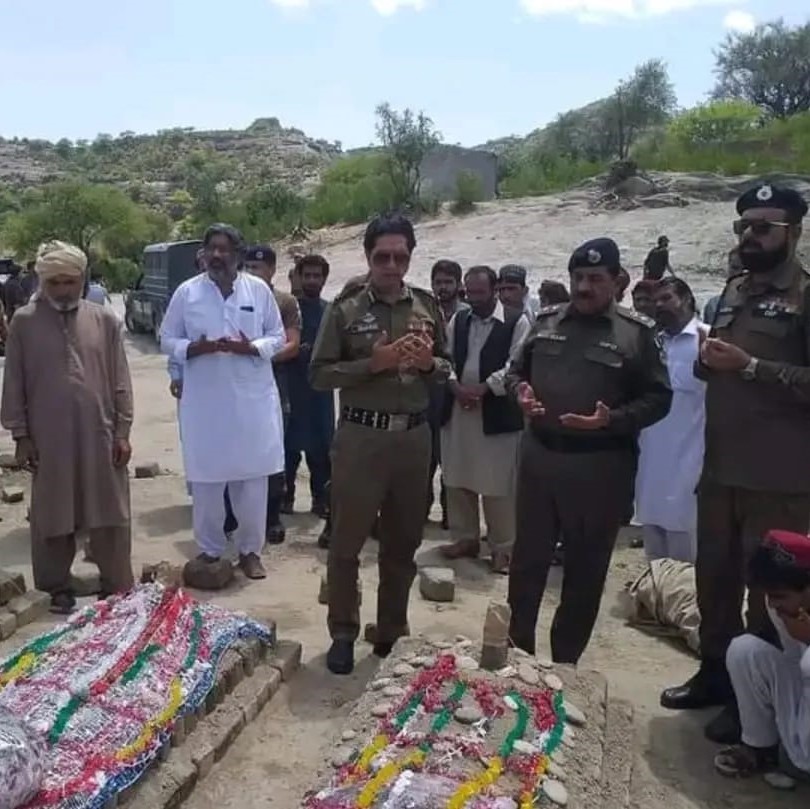 Reconciliation follows police shooting of three young men in Mianwali
"Due to the increase in population and poverty, the rate of crimes is also rising. In proportion to this, there is no increase in the resources required for police surveillance and investigation."
Human Rights Commission of Pakistan (HRCP) Director Farah Zia remarks that, unfortunately, police encounters have been mistakenly perceived as a tool to reduce crime.
"In the 90s, extrajudicial killings were introduced as a policy under the guise of encounters. This practice continues in much the same way today. The killing of innocents in police encounters can only be halted when police authorities consider it an issue. Regrettably, police encounters are seen within the police department as a solution to curb crime."
Asad Jamal, the author of the book "Revising Policing Laws," explains that there is no effective and credible system of accountability, either internal or external, in the police.
He states that the Police Order 2002 had recommended the establishment of Public Police Safety Commissions and Police Complaints Authorities. However, these institutions could not be established even two decades later.
He points out that the relatives of those killed in police encounters might not have a viable option to pursue legal action against the police. If someone does pursue legal action, they are often pressured to withdraw their complaint or a "compromise" is reached between the parties involved.