The Parks and Horticulture Authority (PHA) Rawalpindi, which previously charged rent for a billboard on a bank in Rawalpindi, faced a legal challenge in 2019. The bank management filed a writ in the High Court, arguing that the advertisement board was installed on the building, contesting PHA's authority to collect the rent. Ultimately, the court ruled in favour of the bank, leading to dire consequences for PHA Bahawalpur, including its subsequent bankruptcy.
Established in 2014 and operational since 2016, the PHA initially focused on creating green belts throughout the city and assumed responsibility for maintaining 20 parks.
Additionally, the authority undertook the beautification of seven intersections by introducing greenery. PHA relied on revenue generated from advertising billboards and the rental fees for steamers placed on poles across the city to sustain its operations.
After the court order, several business owners in Bahawalpur took legal action against PHA Bahawalpur, seeking an end to the taxation on all billboards and successfully obtaining an injunction.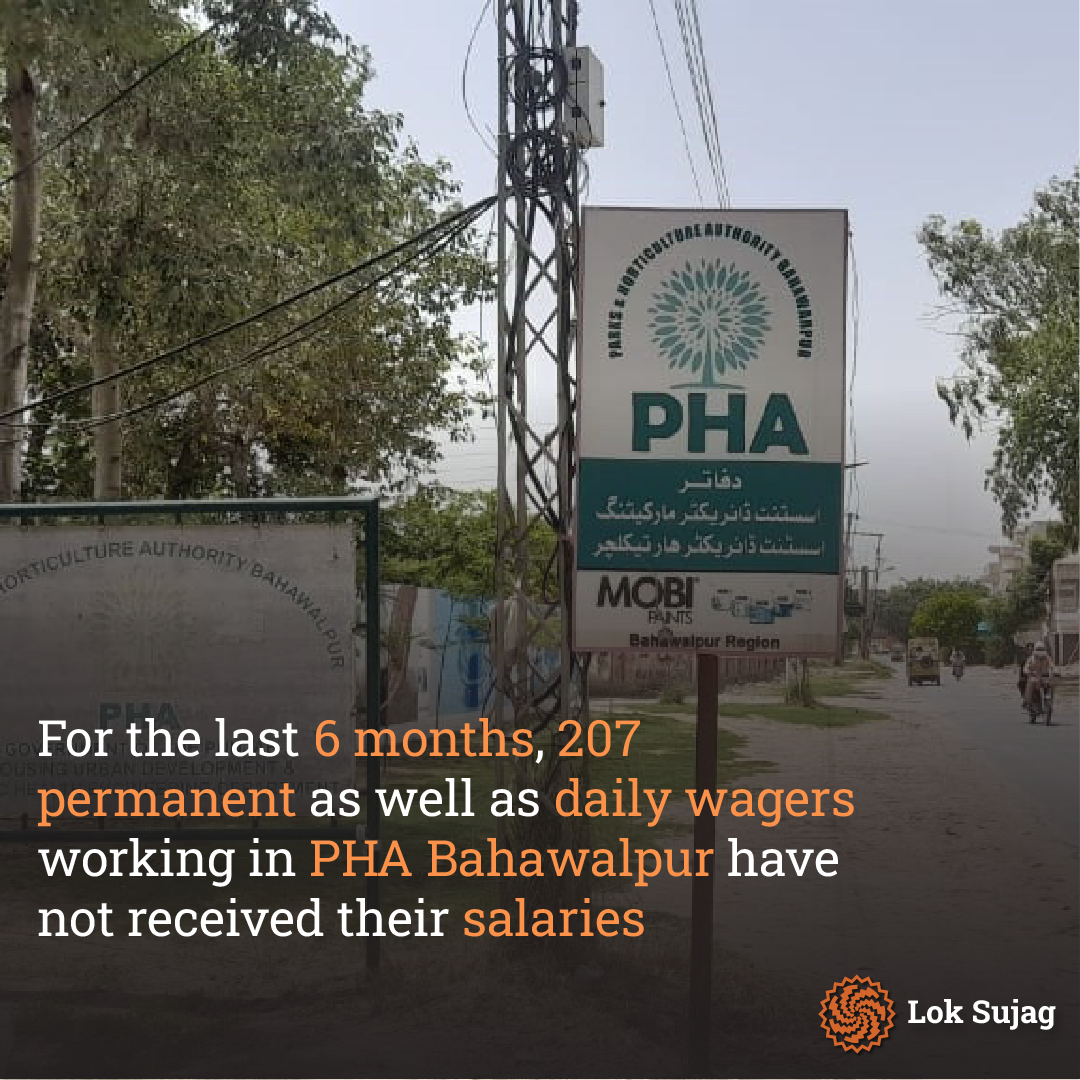 Consequently, PHA's annual income, which amounted to approximately one crore rupees, stopped.
Moreover, following the court ruling, an outstanding amount of around four crore rupees remained unpaid for 51 billboards erected in Bahawalpur City over the past four years. This directly impacted the wages of the employees. Presently, PHA Bahawalpur employs 81 daily wagers and 50 individuals provided by the Tehsil Municipal Corporation, all of whom have not received their salaries for six months.
Not only have the wages of 76 officers and other clerical staff, who are serving on a permanent basis, been suspended, but the situation has also adversely affected the daily wage workers at PHA. Habibullah, one of the daily wage workers, shares with Lok Sajag that despite working diligently, he has not received any salary for the past six months.
"The shopkeepers have stopped giving loans, creating a serious problem where people struggle to afford food. Moreover, children are being forced to give up their education because there isn't enough money to cover educational expenses."
He shares that he remains dedicated to carrying out his responsibilities in anticipation of receiving his overdue salary. Officers rely on assistance from benefactors for provisions, including rations, during different Islamic festivals. However, every month the department assures of paying the salaries in the subsequent month, asserting a lack of budget.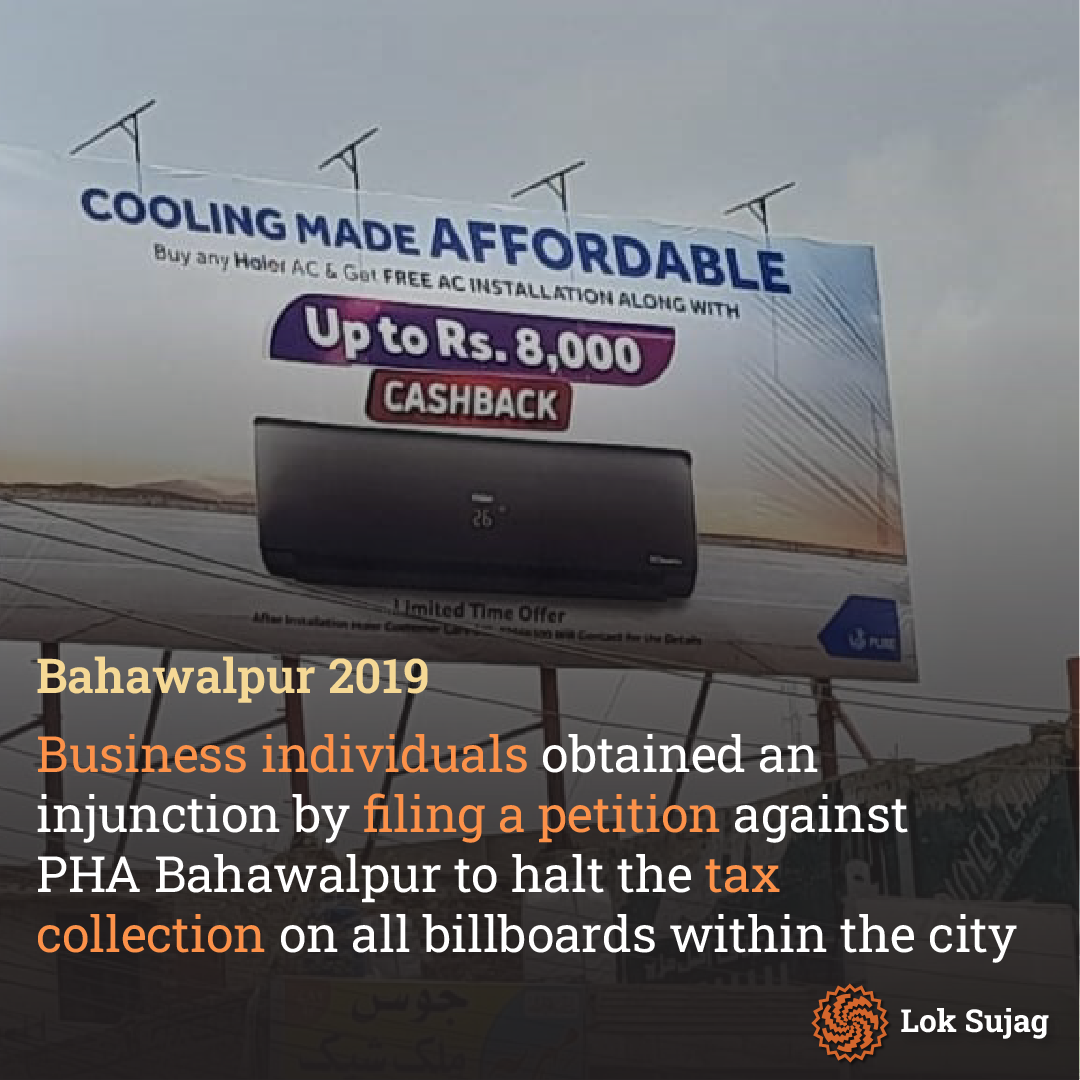 From 2016 until this year, the Punjab government has kept the institution's budget relatively constant. During these seven years, salaries and allowances of employees in other government institutions have experienced significant increases. However, PHA Bahawalpur employees have not witnessed any substantial wage increments.
Moreover, they are deprived of medical allowance, marriage grants, death grants, pensions, and other benefits. It is worth noting that since 2016, not a single employee has received a pension.
The contractual employees have been on strike and protested many times due to non-payment of salaries. Now, they sometimes approach the Deputy Commissioner's office, and at other times, they stage a protest sit-in at the residence of Punjab Governor Balighur Rahman.
Several employees have sought recourse in the provincial ombudsman's court. Mohammad Arshad, a daily wage employee at PHA, expresses to Lok Sajag, "Should we leave our jobs, we might not even receive payment for the past six months. Currently, we are on strike, working only for one hour to maintain the system while the remainder of our time is devoted to demanding our rightful salaries."
The strike has led to a deterioration in the condition of parks and the green belt. The grass has dried up, and dirt has accumulated throughout the area.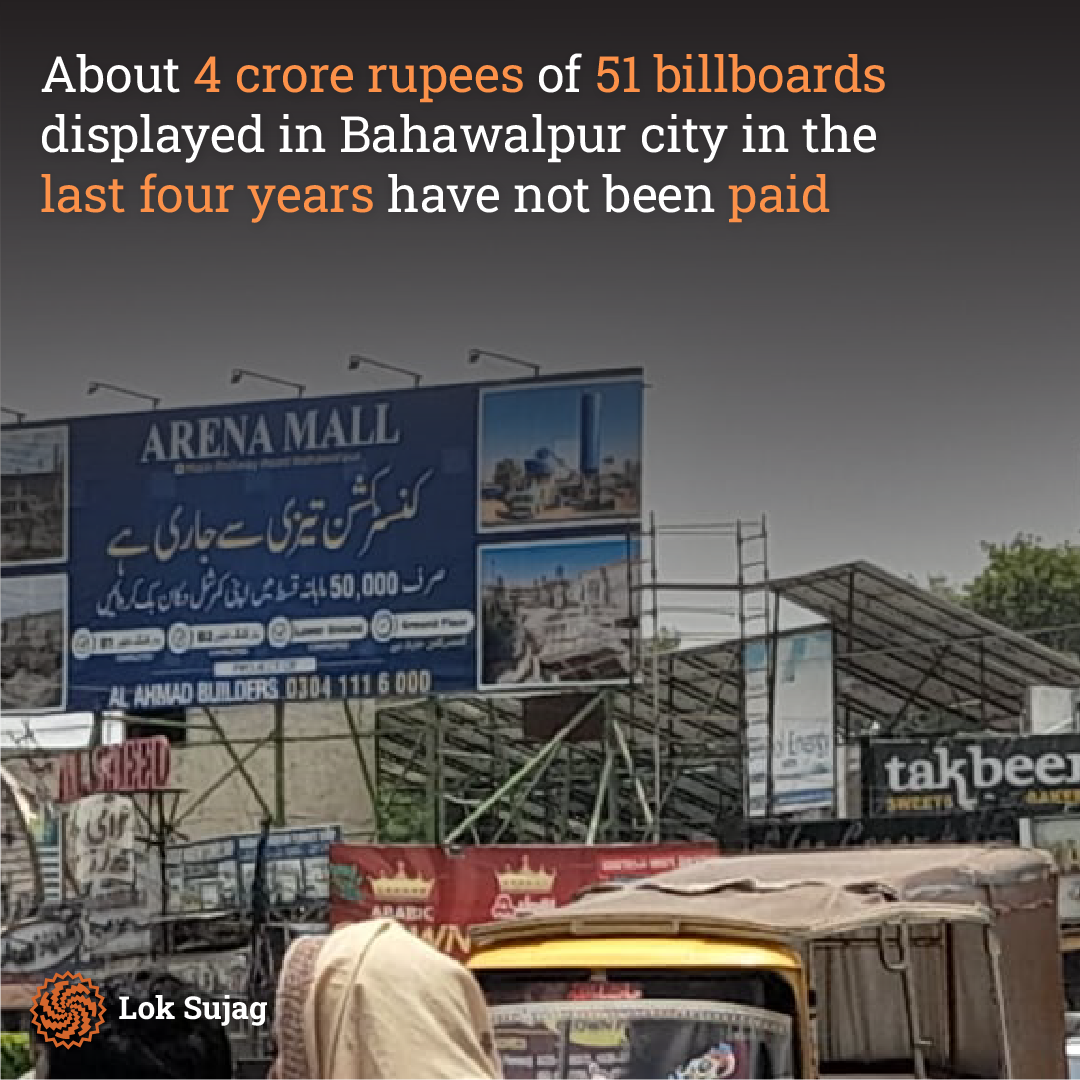 According to officials from the PHA Accounts Department, the institution has obtained a salary loan of approximately six crore rupees from financial institutions. Although various contractors have been hired to work on parks and green belts, no funds are available to process their invoices.
There is no diesel for tractors to provide water to parks and green belts because the department owes hundreds of thousands of rupees to petrol pump owners.
DGP PHA, Rubina Iqbal Abbasi, informs Lok Sajag that the PHA possesses 23 parks and a 53 km green belt. Unfortunately, both the parks and green belts are ravaged due to the work charge employees' strike.
She states that the means of income for the PHA Bahawalpur are currently close to none. By leasing the canteens of Rohi Park and Kashmir Park, they a rent of 82,000 rupees per canteen is being collected by the department.
"We are making efforts to generate revenue by levying fees for steamers installed on electric poles and from the organisers of festivals held within the parks."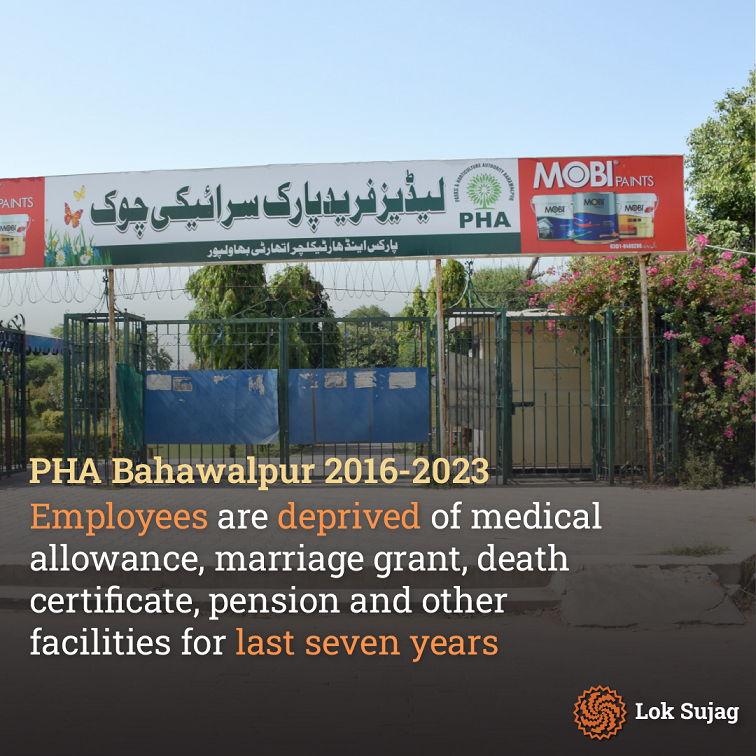 She states that the Punjab government has proposed to incorporate the PHA's share during the approval of vehicle registration, construction of commercial buildings, plazas, and housing societies. This is in addition to the settlement of outstanding dues and an increased budget.
"It is our institution's responsibility to maintain parks in private housing schemes, which is why we should charge them rent. We are actively pursuing the lifting of the injunction on billboard rents in the High Court. We will ensure the recovery of dues as soon as the decision is made."
When PHA commenced its operations in 2016, the area of green belts measured 18.5 acres.
For this purpose, 36 employees were needed, with a ratio of two employees per acre. Likewise, the area encompassing 20 parks measured 30.8 acres, necessitating 123 employees at a ratio of four employees per acre. The combined area of seven intersections covered 10 acres, calling for 40 employees at a ratio of four employees per acre.
Consequently, a total of 209 employees were required. Out of this number, 90 employees were appointed on a daily wage basis, and an additional 69 employees were appointed from TMA, resulting in 159 employees.
On the contrary, the area of green belts has expanded from 18.5 acres in 2016 to 22.5 acres in 2022.
Also Read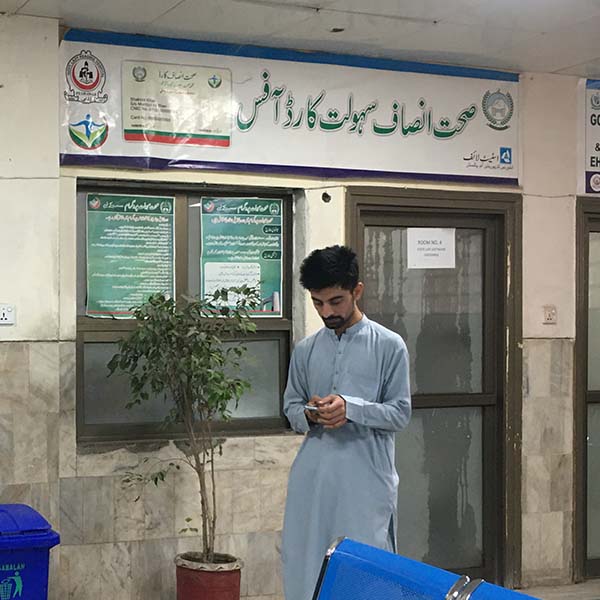 Report card: How the government-funded health insurance scheme is not working for many across Punjab
Additionally, the area encompassing 23 parks has grown to 55.4 acres, and the number of squares has increased from seven to nine.
Unlocking potential with an increased budget
For the year 2014-15, PHA Bahawalpur received approval for 164 regular positions. The finance department allocated a budget of PKR 47,994,000, while PHA had requested PKR 108,000,000. Salaries were disbursed to employees from the allocated budget; however, allowances were withheld.
During the fiscal year 2021-22, PHA demanded 16 crore and 19 lacs, yet the government only released three crore and thirty-six lacs. PHA's internal income amounted to one crore and 20 lacs, while the annual salary expenditure reached approximately six crore and 95 lacs.
Moving on to the fiscal year 2022-23, a demand of 10 crore and 80 lacs was made, but the government released the same amount of three crore and 36 lacs.
An additional one crore, 40 lacs, was contributed from the personal income of PHA Bahawalpur.
Meanwhile, the total expenses against the salaries have crossed seven crore and 55 lac rupees.
PHA Bahawalpur also made an additional contribution of one crore, 40 lacs, from its own revenue. However, the total salary expenses have surpassed seven crore and 55 lac rupees.
Rao Rizwan, the spokesperson of Governor Punjab Balighur Rahman, tells LokSujag that the governor is fully aware of the challenges faced by the PHA. Efforts are underway to expedite the release of funds, and the problems of PHA employees will be solved soon.