After delimiting new Khyber Pakhtunkhwa (KP) Assembly constituencies, the provincial capital Peshawar lost one seat. While it has impacted numerous constituencies, only a few are particularly noteworthy. However, the new delimitation continues to face objections.
In the previous census, the population of Peshawar was reported as 42,67,198. In the 2018 elections, there were five National Assembly and 14 Provincial Assembly seats. In the recent census, the population of the provincial capital has reached 47,58,762.
Five national constituencies, namely NA 28 to NA 32 (formerly NA 27 to NA 31), have seen minor boundary changes.
According to the new census, the KP Assembly Constituency has 355,270 people (with a slight difference). As a result, the provincial constituencies of Peshawar have increased to 13. Earlier, the serial numbers of the constituencies were PK-66 to PK-79, but now they are PK-72 to PK-84.
Constituencies have expanded due to the reduction of one provincial constituency in the district and the addition of the erstwhile semi-tribal area Hasan Khel (FR Peshawar), which has altered some constituencies.
Provincial Constituencies 72 and 73 of Peshawar are not significantly changed. The first constituency is PK-72 (new number), from which former Deputy Speaker Mehmood Jan succeeded twice. Eight settlements of Mathura tehsil have been included in this constituency. These include Alizai, Hassanabad, Dag, Terai Payan, Mamu Khatki, Niami, Shagai Bala, Haryana Bala, and some parts of Sarkana.
Similarly, Arbab Wasim was successful from PK-73. This constituency includes Jatti Bala, Pajagi, Ahadpura, Babuzai, Shah Alam, Haryana Payan, and LRMA areas of Tehsil Shah Alam. The area from Budhni to Bakshi Pull on Charsadda Road is also a part of it.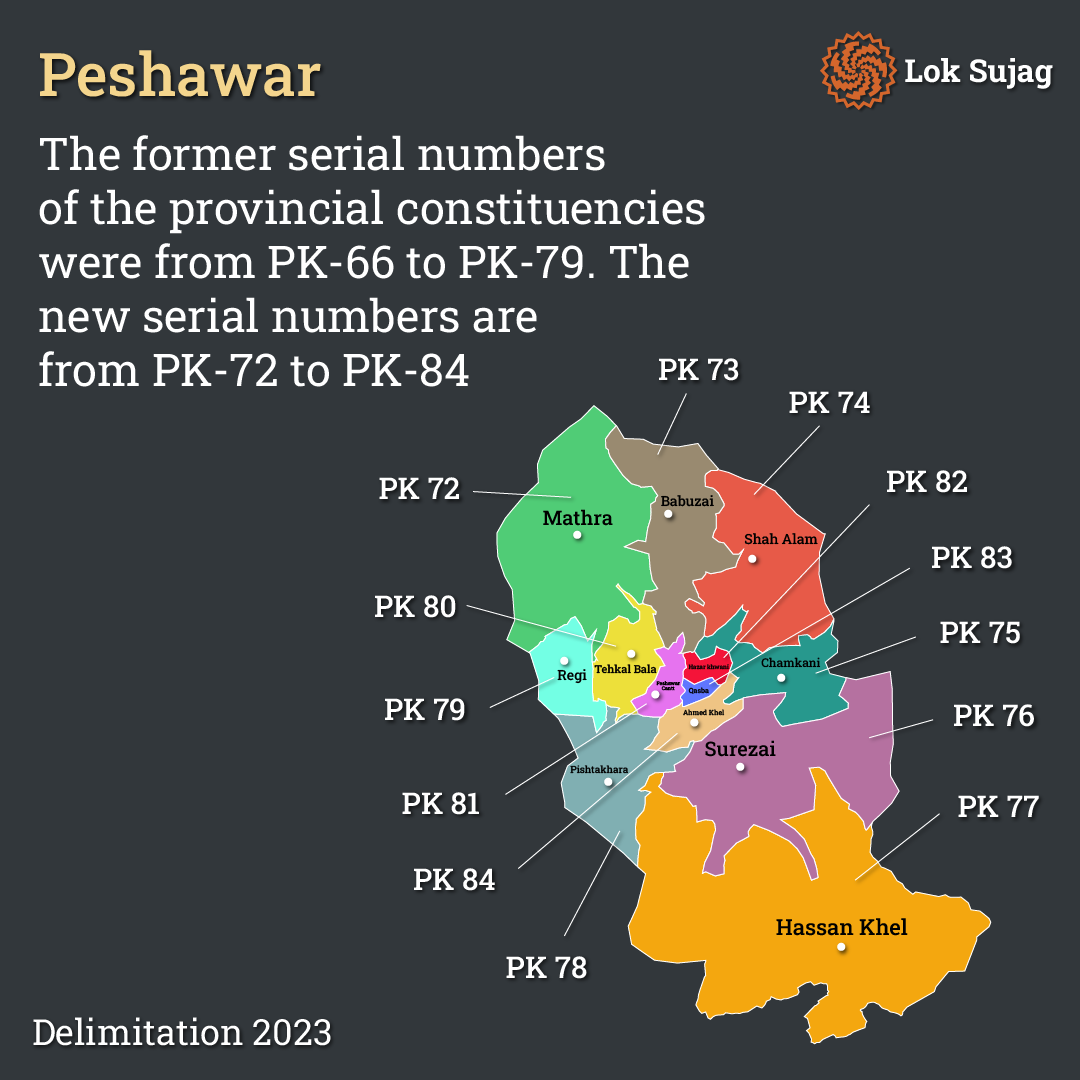 All remaining Alam Tehsil areas (excluding those in PK-73) have been included in PK-74. This constituency will also include Wadpagga, Muhammadzai, Dalazak Road, Jalozai, and Budhni areas of Chamkani Tehsil. Arbab Jahandad of Pakistan Tehreek-e-Insaaf (PTI) has been elected twice from this constituency.
All other areas of Chamkani Tehsil have become part of PK-75.
In the past, one member of the assembly was elected from these regions, namely Khalsa and Shagai Hindkian. These villages have now been divided into three constituencies by adding them to Chamkani Tehsil and Shah Alam. PK-75 is one of them in which the role of the 'Shagai Hindkian' community will be crucial.
After the removal of the Shagai Hindkian area from PK-76, this constituency will now consist of the Pashtun population only, in which the communities of Chamkani Tehsil, Urmar Bala, Urmar Payan, and Urmar Miana have been grouped.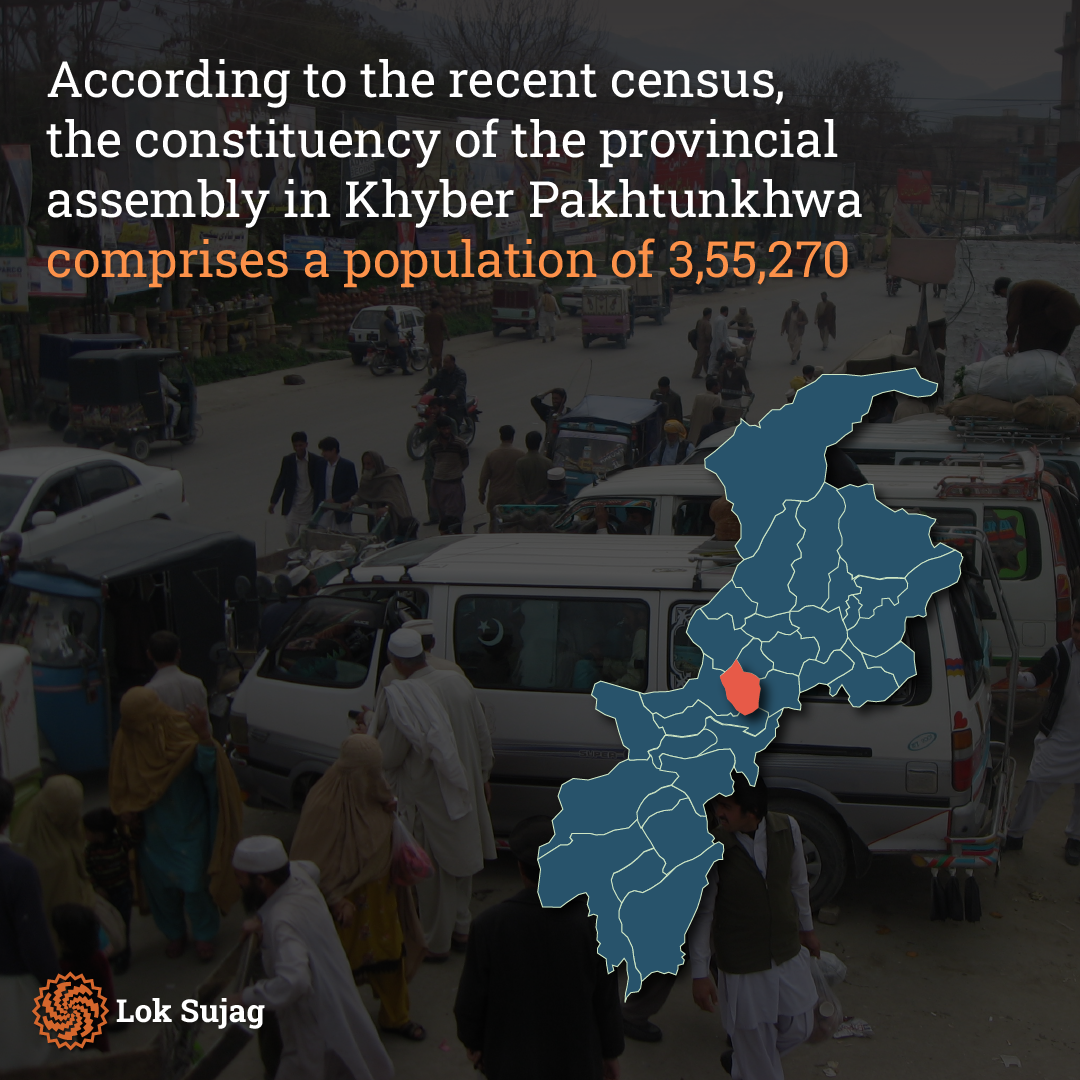 Harizai, Maryamzai, Badaber Maryamzai, Garhi Faizullah, Surizai Bala, and Payan areas of Badaber Tehsil have also been included in this constituency.
The changes in PK-76 have directly benefited former PTI member Ishtiaq Urmar, who has recently joined the PTI parliamentarians (Pervez Khattak). These areas of Chamkani and Badaber are considered as their stronghold.
Hasan Khel (ex Frontier Region Peshawar) has been added to PK-77. Apart from this, the rest of the villages of Badhber Tehsil, Mattani, Adezai, Azakhel, Olizai, Bagh Miankhel, Pasni, Khalizai, Garhi Baghbanan and Garhi Chandan are included in this constituency. Masho Gagar and Behlolzai areas of Pishtakhara Tehsil are also part of it.
No major changes have been made to PK-77. In the past, Awami National Party's (ANP) Salahuddin was successful from here.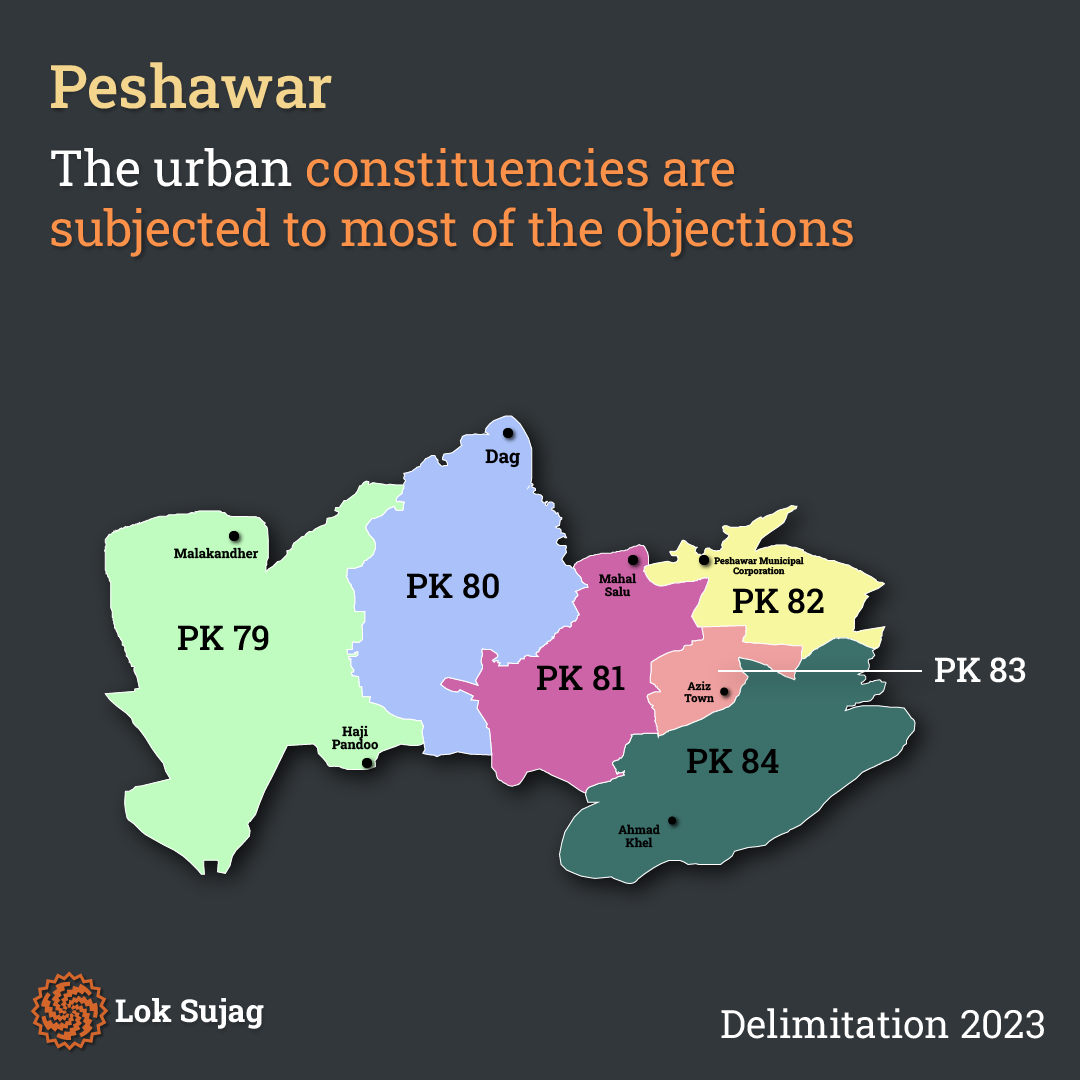 Former constituencies of ANP's Khushdil Khan and PTI's Engineer Faheem Ahmed, who were successful in the last elections, have merged. PK-78, which contains most of the population drawn from these two constituencies, has been formed. In addition to the rest of Pishtakhara, the settlements of Peshawar City include Achini Payan, Haji Phandu and Sufaid Dehri.
Former provincial minister Taimur Saleem Jhagra was elected last time from PK-79. Now, this constituency has an addition of only one union council of Nothia. Other former areas of Hayatabad, Danishabad, Gulabad, Lalazar Colony, and Malakandher are included in PK-79, too.
PK-80 will go from the University Town Committee to the Dag Union Council. Pir Fida was elected from here in the past. Pawaka, Abdra, Dag, and Terai Payan have also been added to this constituency along with the former settlements.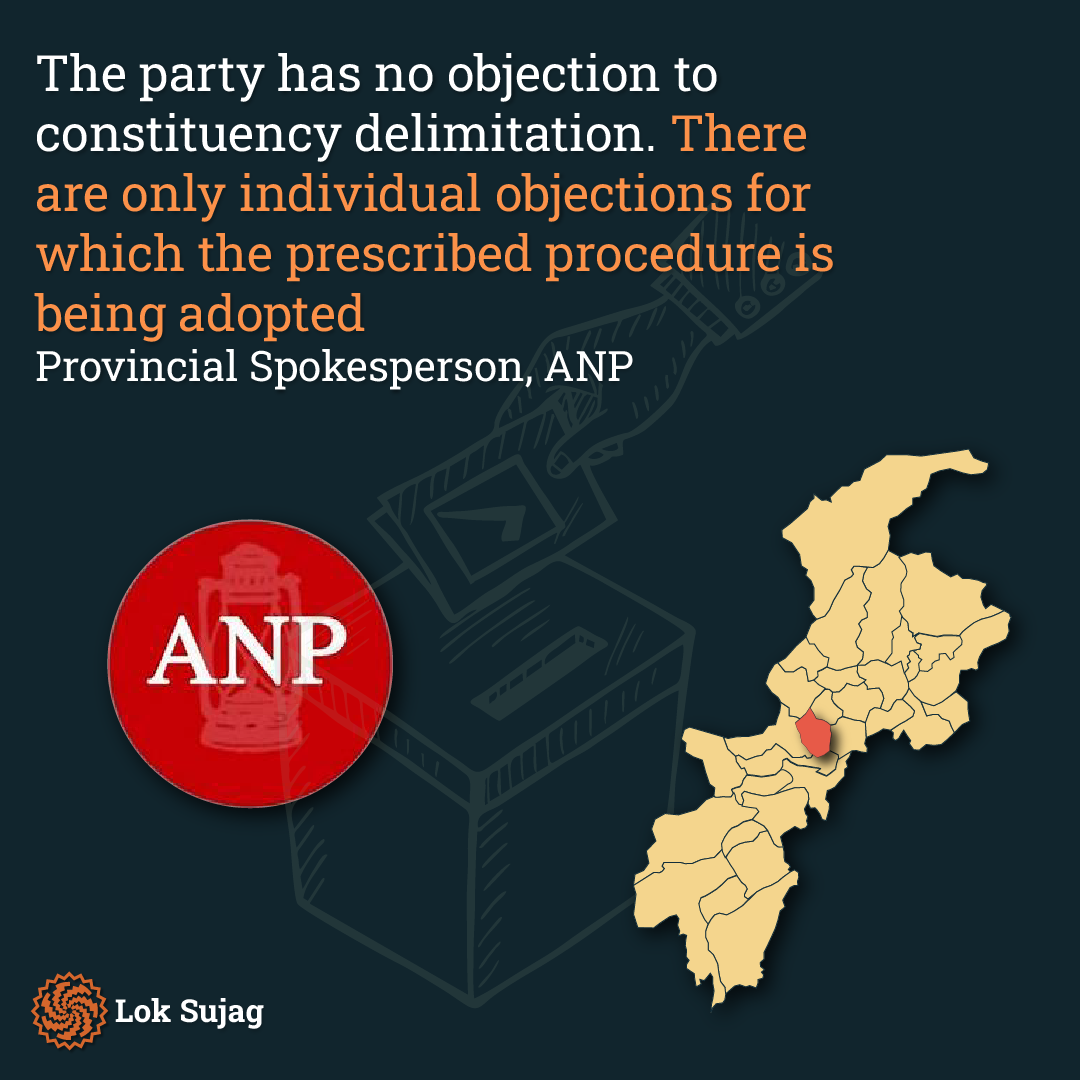 Constituency PK-81 consists of Peshawar Cantonment. Malik Wajid was elected from here in 2018; Mahal Salo and Nothia Payan settlements and the previous areas are a part of this constituency.
The four constituencies of Peshawar City have now been divided into three (PK-82, 83, 84). Last time, Kamran Bangash, Asif Khan, Fazal Elahi, and Samar Haroon Bilour were elected from here. However, the constituency of Kamran Bangash has been divided into the remaining three, and most of the population of this constituency has joined Asif Khan's constituency.
According to the new division, constituency PK-82 includes Afridi Garhi, Sarbiland Pora, Faqeerabad, Eidgah, Hasan Garhi, Khalsa, Kamboh and part of Hazara Khawani.
Similarly, PK-83 includes Tehsil Gorkhatri, Karimpura, Ghanta Ghar, Qissa Khwani, Dabagri, Yakatoot, Ramdas, part of Wazir Bagh and Gulbahar.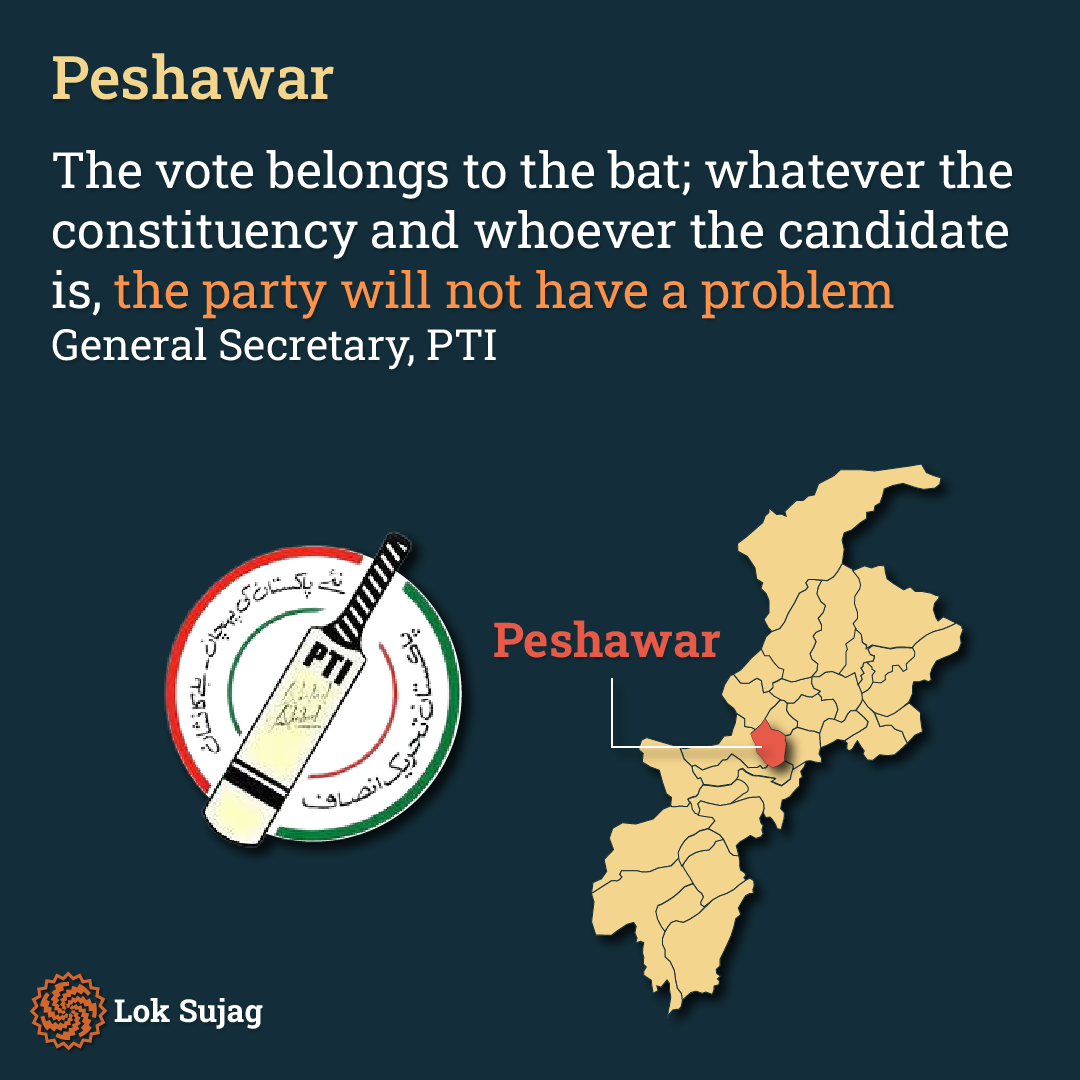 PK-84 will be the last constituency of Peshawar. This constituency will consist of the villages of Hazar Khawani, Wazir Bagh, Achar, Deh Bahadar, Musa Zai, Ahmed Khel, Bazid Khel, Atmanakhel, and Alizai of Pishtakhara Tehsil.
Thus, there was not a big difference between the constituencies in the rural areas of Peshawar. However, the city has suffered from the new delimitation, and Kamran Bangash's constituency has practically disappeared.
So far, 28 candidates and citizens have filed objections to the Election Commission of Pakistan (ECP) on the delimitation of constituencies in Peshawar. They include Khushdil Khan, Arbab Hasan Akbar, Arbab Mir Alam, Asif Khan, Azif Khan, and others. The Urban constitutions are subjected to most objections.
Also Read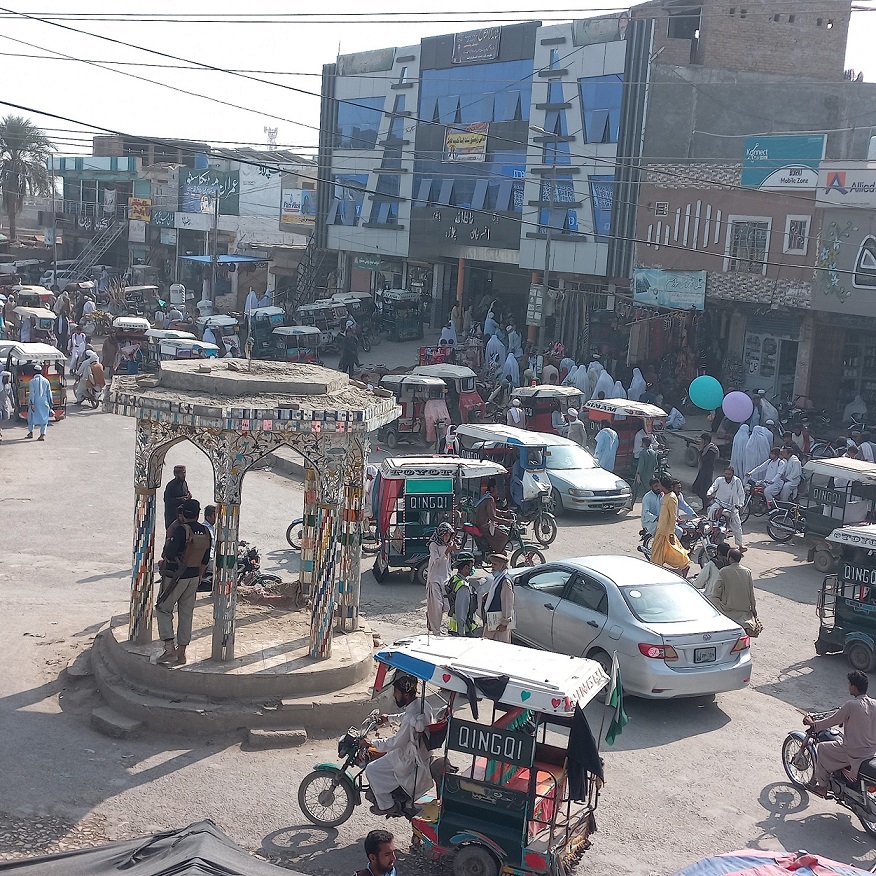 National constituency of Tank District merges with Dera Ismail Khan: Who stands to lose?
ANP's Khushdil Khan is particularly affected by the new constituencies. He has submitted a long list of objections on PK-75, 76, 78, and 82, requesting modifications in several populations of these constituencies.
However, ANP's provincial spokesperson, Samar Haroon Bilour, claims that her party has no objection to the delimitation of constituencies. "Individually, there are some objections to the prevailing approach. However, the Chief Election Commissioner has cleared many reservations".
The same is the case with PTI leaders. They are also concealing their issues with the changes. PTI Peshawar General Secretary Asim Khan says his party does not have time to examine the constituencies in detail. "The vote is for the bat; whatever the constituency and whoever the candidate is, the party will not have an issue."
But PTI leader and former MP Asif Khan has filed objections requesting many changes in PK-81, 82, and 83.
Objections have also been raised by Jamiat Ulema-e-Islam (JUI). Provincial spokesman Abdul Jalil Jan believes that the seat of Peshawar has been taken and given to Chitral.
Meanwhile, Hangu's seat has been given to Bajaur.
"We have applied to the ECP. JUI also protested, but no progress is visible."