Both minor and major changes have come in Punjab with the new constituencies. The seats of many districts also decreased or increased. Lodhran is among the districts where one provincial assembly constituency, i.e. PP 224, has been eliminated. The effects are visible in the adjacent constituencies PP 225 and PP 228.
Who benefits from the new constituencies will be assessed after the alignment of local political factions. However, the exhibition of the objectives of some candidates is showing their anxiety. Before Tehreek-e-Insaf, the People's Party and PML-N used to be traditional rivals in the Lodhran district.
Kanju, Noon, Baloch family of Haveli Naseer Khan, Arain family of Jallah Arain, Mirza Nasir Beg, Nawab Amanullah, Hayatullah Tareen, Ahmad Khan Baloch, and Peer family of Gogran were important players in politics here. The situation changed after the entry of Jahangir Khan Tareen into Lodhran politics.
Patron-in-chief of the Istehkam-e-Pakistan Party, former PTI leader Jahangir Tareen, and the Kanju Group (N-League) have been rivals for a long time.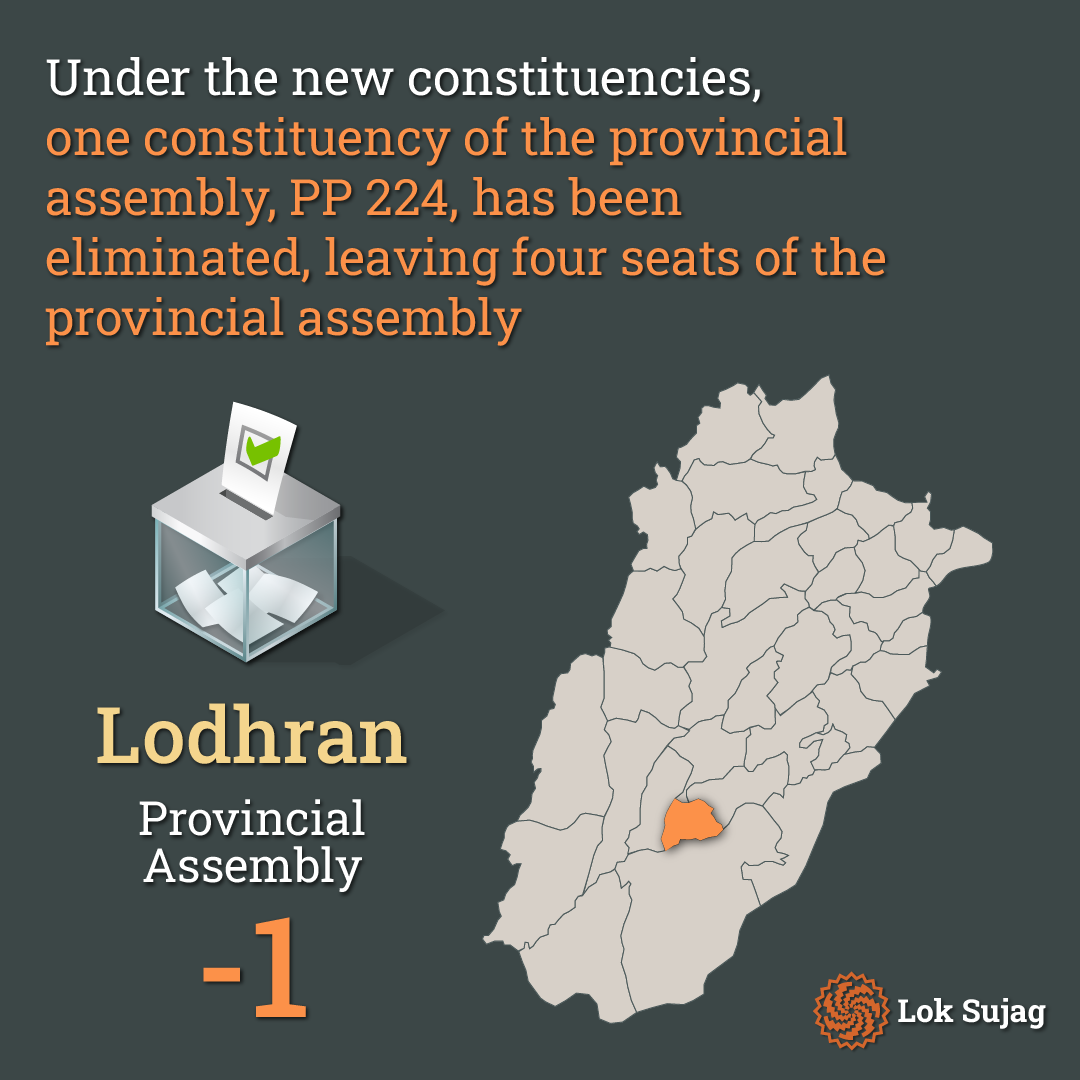 According to the 2017 census, the population of Lodhran district was 16 lakh 99 thousand 693 people, so in the constituencies held in 2018, two constituencies of the National Assembly and five constituencies of the Provincial Assembly were formed.
The provincial constituencies included PP 224 Lodhran One, PP 225 Lodhran Two, PP 226 Lodhran Three, PP 227 Lodhran Four, and PP 228 Lodhran Five.
The population of Lodhran district is now 19 lakh 26 thousand 299. In the new constituencies, the NA-154 and NA-155 constituencies of the National Assembly have been retained, and their numbers have not changed.
District Election Officer Lodhran Adnan Zafar says that according to the new population data in Punjab, a provincial constituency consists of four lakh 29 thousand 929 people which has a capacity of ten per cent less or more. According to this calculation, four provincial seats come under the Lodhran district.
Thus, four provincial constituencies have been left in Lodhran district, and the population of each constituency has increased from four and a half lakhs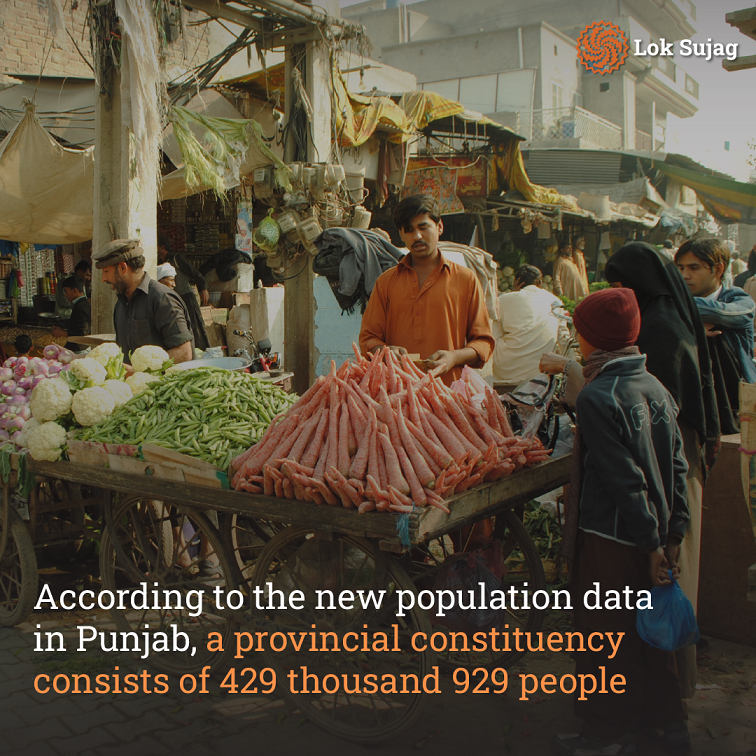 Populations of the defunct constituency PP 224 have been added along with two contiguous constituencies.
Constituency PP 224 Lodharan consisted of 16 Union Councils. Eight and a half union councils of this constituency have been included in PP 228. Thus, now this (new) Constituency Lodhran Four includes Constituency Two/L of Dunyapur Tehsil, legislation 34 MK Patwar Circles Chak No. One to Four MPRs of Dunyapur Tehsil and Kotli Wajiba.
Apart from these, the Bhatiji Legislature, Lodhran Municipal Committee, Lodhran Legislature, and Patwar Circles of Lalawala, Kandi, Kaluwala, and Samra of Rajpur Legislature have been removed and the remaining area of Lodhran Tehsil has also been included in PP 228.
That is, Makhdoom Aali, Jallah Arain, Sirajwala, Ravani, etc., are now included in this circle.
Thus, seven and a half Union Councils of Constituency PP 224 have been merged with Constituency PP 225 Lodhran One (Kahror Pakka).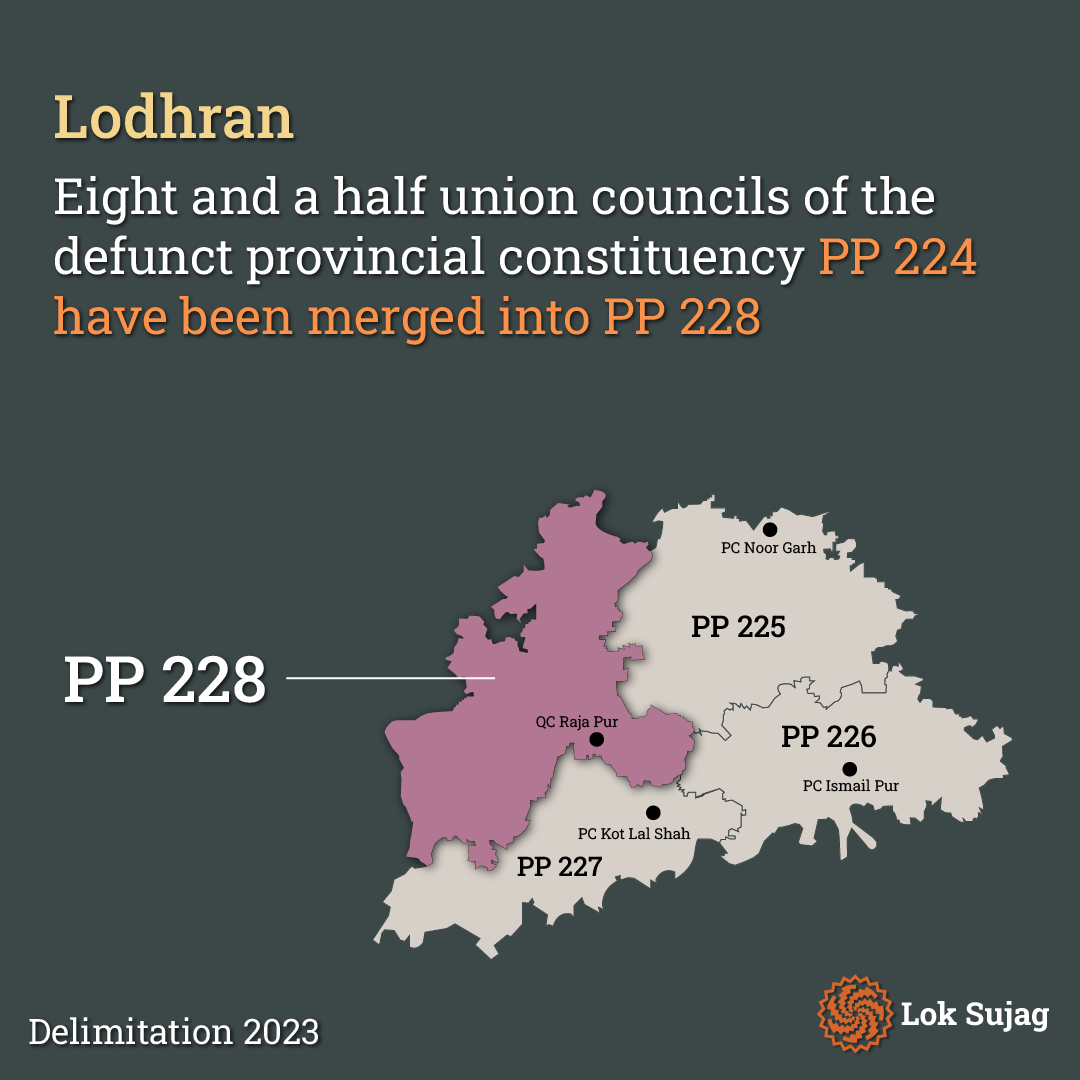 Thus, Constituency PP 225 now consists of Constituency Two/L of Duniyapur, Patwar Circles of legislation 34 MK from Chak No. One to Four MPRs and the entire Dunyapur Tehsil except for Kotli Wajiba, Patwar Circles of Amirpur Sadat legislation of Kahror Pakka Tehsil, Chowki Rangu Khan, Muhammad Sai, Chowki Masti Khan, 21 M, and Noor Shah Patwar circle.
In the expired constituency PP 224, in 2018, Zawar Hussain Warraich defeated PML-N candidate Aamir Iqbal Shah on a Tehreek-e-Insaf ticket. Zawar Waraich defected from PTI and lost his seat in the Punjab Assembly.
When by-elections were held in 2022, Zawar Warraich joined PML-N and Aamir Shah joined PTI. Aamir Iqbal Shah was elected Member of the Assembly from PP 224 on a PTI ticket.
Now, on the new constituencies, an objection has been submitted by the former candidate of PTI, Izzat Javed, that union councils Jallah Arain, Malikpur, and Kandi Samra should be removed from PP 228. The objection is due to the more significant support of the Baloch community and the PML-N in these areas.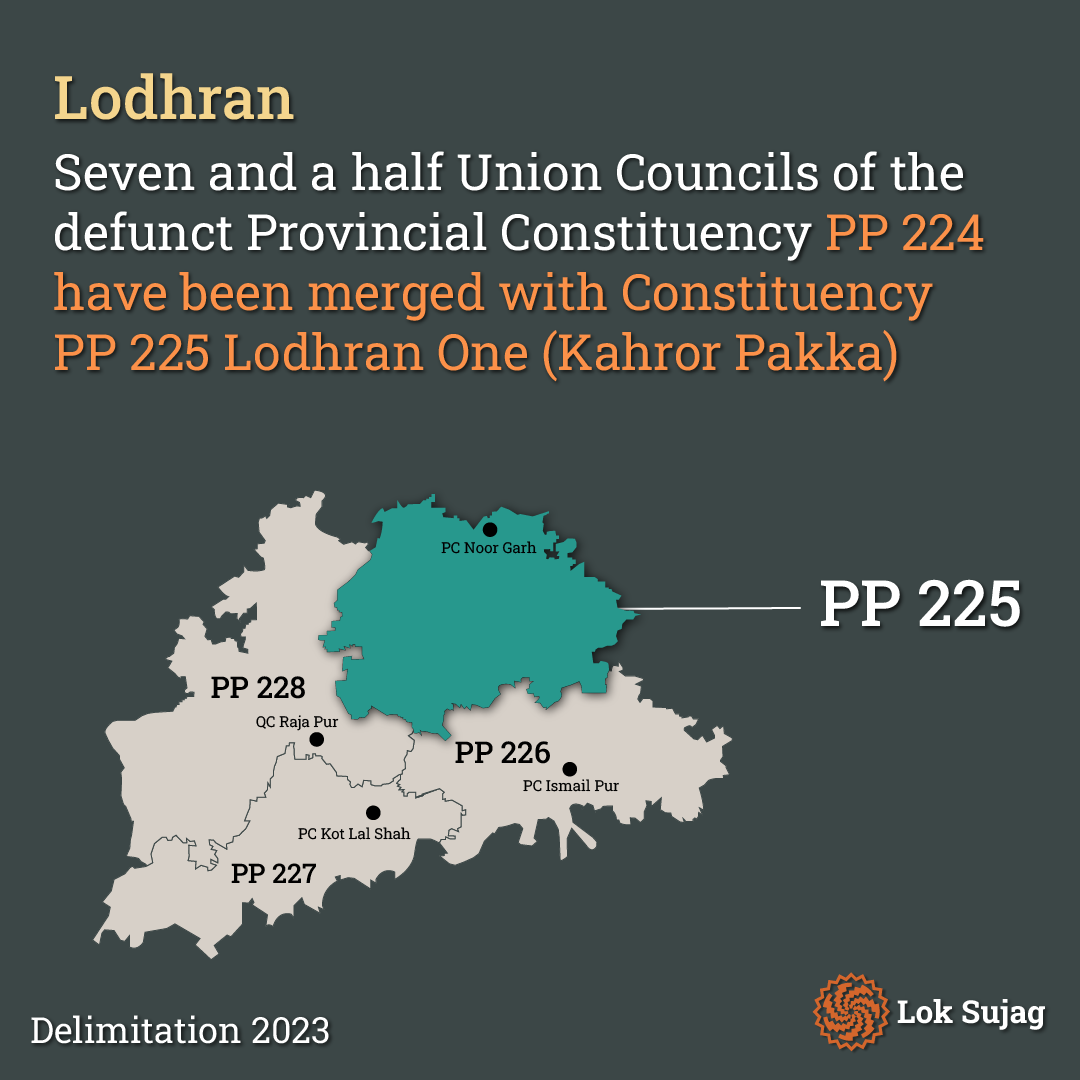 In Constituency PP 228, PTI's Aamir Iqbal Shah, PML-N's Rafi uddin Shah and Istehkam Pakistan Party's Nazir Khan Baloch are expected candidates. However, Aamir Shah seems to be satisfied with joining this constituency with a large part of PP 224.
Apart from them, Patwar Circle Chowki Sobhe Khan and Rind Jada of legislation Dukhana Garo area of Kahror Pakka Tehsil are also included in PP 225. While some areas have been removed from PP-225 and added to PP-226, which can benefit Rana Sarfraz (N). However, no change has been made in constituency PP227.
In 2018, Nawab Aman Khan also lost a PTI ticket from Constituency PP-227 to Siddique Khan Baloch of Kanju Group (N-League). However, this competition is getting old. Still, there is no change in this constitution.
Shazia Hayat Tareen, Mian Jahangir Sultan Bhatta, Zawar Hussain Warraich, Aftab Khan Babar, and Tahir Malazai can be candidates in the PP-225 Constituency. Akram Kanju has also been a Member of the Assembly from this constituency. If PML-N gives a ticket to Zawar Warraich, Jahangir Sultan Bhatta might leave the party.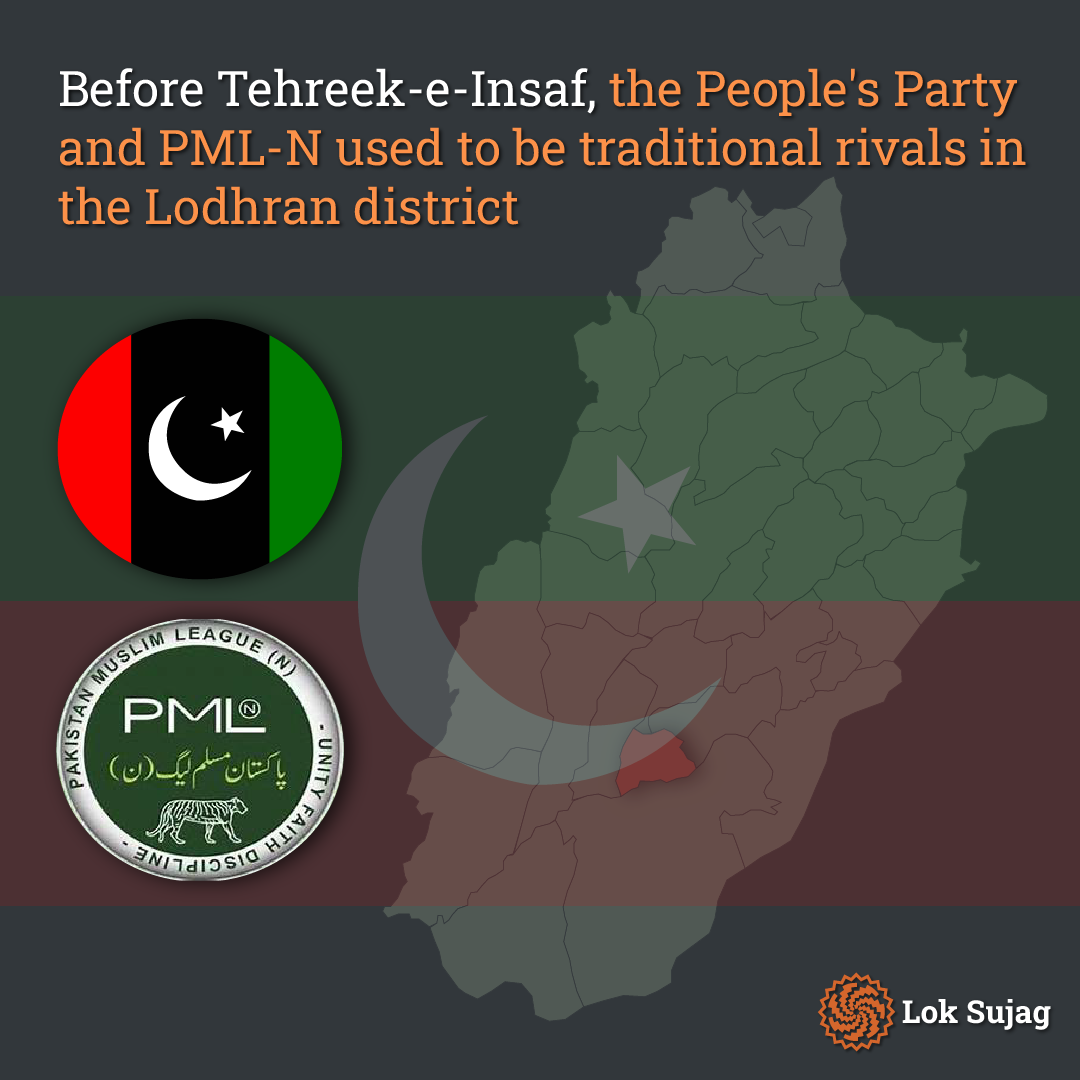 In the two constituencies of the National Assembly in Lodhran district, NA-154 is contested between Abdul Rehman Kanju of PML-N and Akhtar Khan Kanju of PTI. Both of them are closely related.
Ali Tareen, son of Jahangir Tareen, Siddique Khan Baloch from PML-N, and Shafiq Arain from PTI, have come up as candidates for constituency NA-155.
Although there has been no change in the area of Constituency NA 155, Jahangir Tareen has submitted an interesting objection to this constituency. It has been requested that Union Councils Haveli Nasir Khan and Jund should be removed from this constituency and included in NA-154. "In this way, balance will be created in both constitutions".
Also Read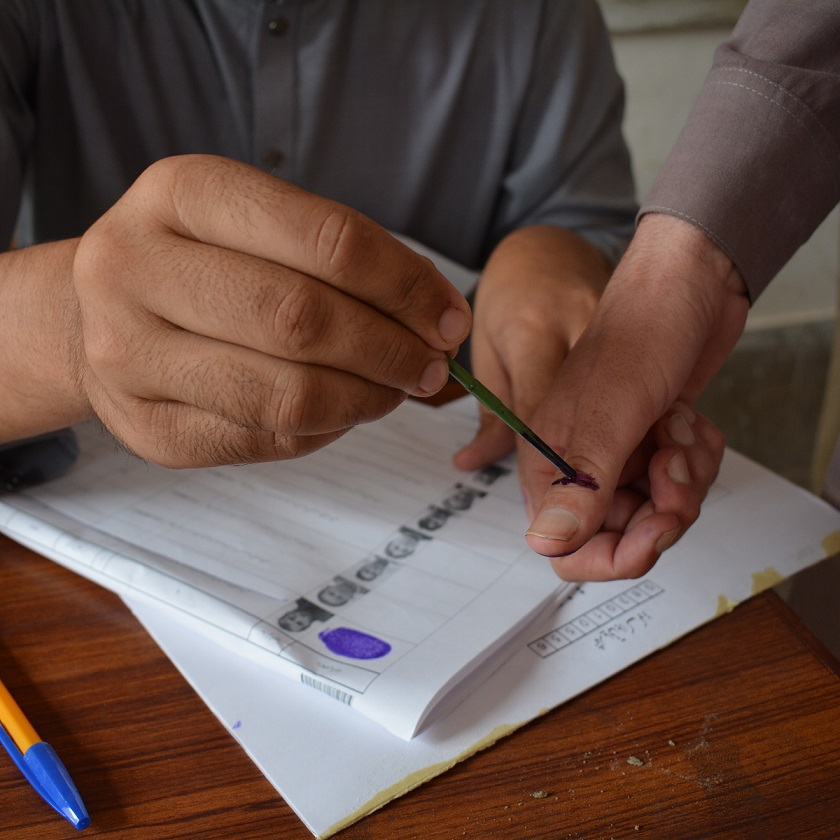 New constituencies in Bhakkar district: Impact on the local political dynasty
Jahangir Tareen's opponent, Siddique Khan Baloch in NA 155, has his house in Haveli Naseer Khan. He enjoys clear support in the nearby Union Council, Jund. Similarly, it has also been requested that Union Council Haveli Nasir Khan of PP 227 and Union Council Jund be included in the PP 226 constituency.
The eastern settlements of Multan Road are included in the constituency PP 228, and the eight union councils of erstwhile PP 224 should be included in PP 227. The five Union Councils of Chhamb Kaliar, Adam Vahan, Qureshi Wala, Lal Kamal, and Union Council Khanqah Ghalwan of Constituency PP 227 should be included in Constituency PP 228.
On the other hand, the Muslim League (N) is satisfied with the decision of the Election Commission. Irfan Awan, District Spokesperson of PML-N, says that his party has no objection to the division of constituencies. However, a minor objection has been submitted by Zawar Warraich.
Tehreek-e-Insaf leader Khawaja Ahmad Raza Siddiqui says that the new constituencies will have an impact on the vote bank. But if the elections are transparent, PTI will succeed in many constituencies.