25-year-old Sadia Hanif has become a beacon of hope for the children of Ali Khailanwala village in Mianwali. She is the only educated girl from this village of Chadro, who came here from Piplan after getting married just last year.
Sadia Hanif holds a Master's degree in Pakistan Studies, while her husband has an FA degree.
She explains that a month after her marriage, she discovered that all the women in the village were uneducated. What surprised her even more was that children here were still not sent to school, and girls stayed home or worked in the fields.
She explained that while parents sent boys to school, there was no emphasis on educating girls. Not only that but education expenses for girls were also considered futile. This attitude compelled her to think differently.
"When I initially discussed the idea of sending girls to school with their parents, initially it was quite challenging because nobody had ever thought about it there. However, 25 girls from the village have enrolled in primary school."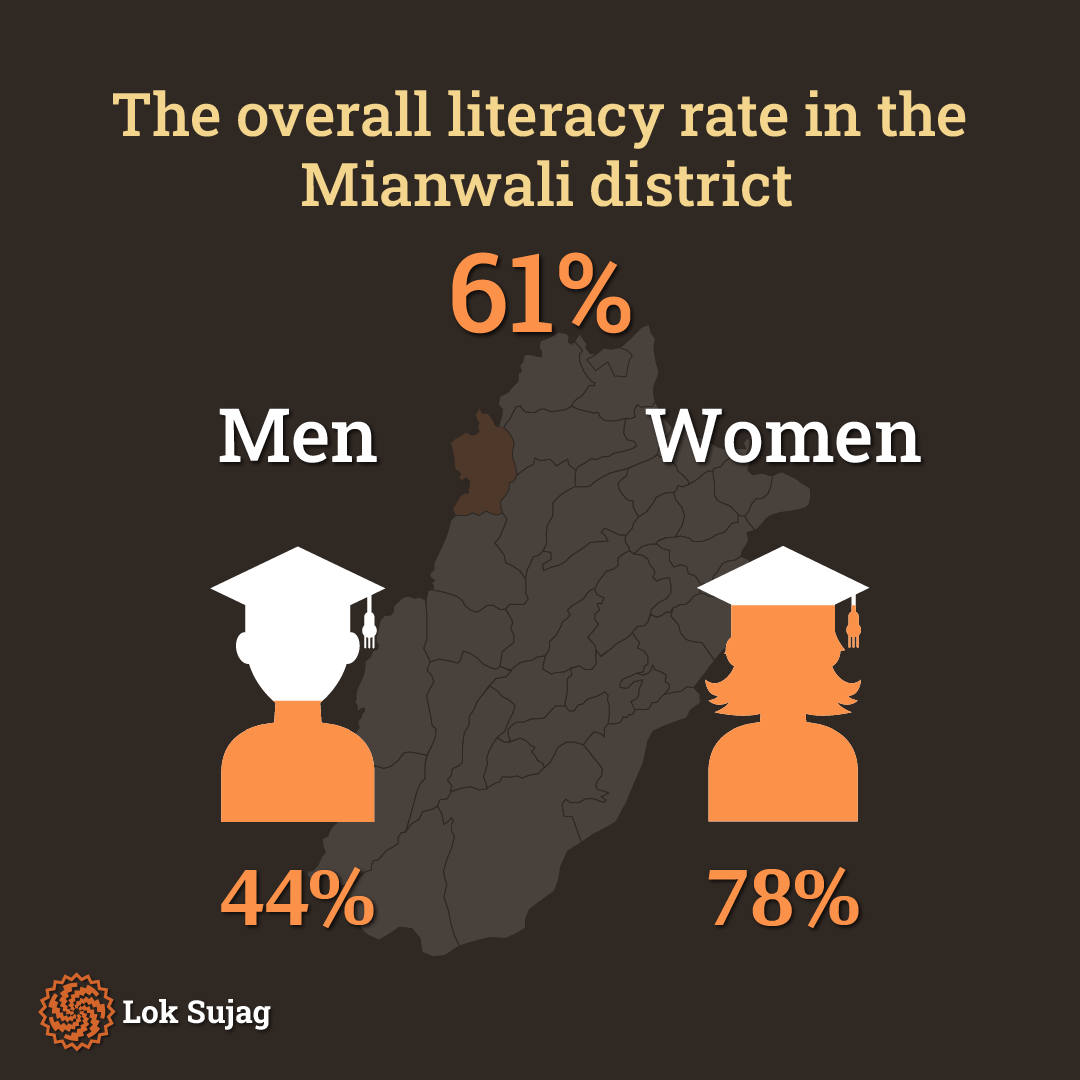 The Chadro Union Council is located at the foot of a mountain, about 25 kilometres from Mianwali city. The primary source of livelihood for the people here is agriculture, and most girls also assist their parents. The village of Ali Khailanwala in Chadro is home to dozens of households. However, the nearest girls' primary school (Dao Khailanwala) is four kilometres from here.
According to official statistics, the literacy rate in the Mianwali district is 61.28 per cent. Among men, the literacy rate is 78.54 per cent, while among women, it is 44.35 per cent. Mianwali is a district consisting of three tehsils.
In the Mianwali tehsil, the overall literacy rate is 63.85 per cent. However, among men, the literacy rate is 81 per cent, while among women, it is 44.36 per cent. In the rural areas, the literacy rate is 79.80 per cent among men and 41.80 per cent among women.
The District Education Office reports that in this district, each year, there are approximately 24,000 to 25,000 boys enrolled in primary schools, while there are around 12,000 to 14,000 girls enrolled. This means that girls' enrollment is roughly half that of boys.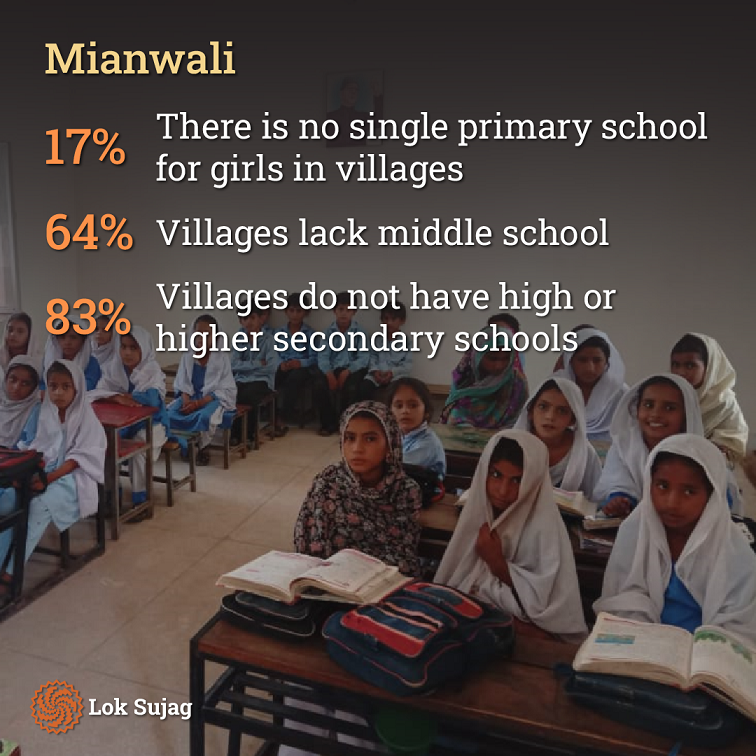 The District Education Officer Secondary, Muhammad Khalid Khan, informed Lok Sujag that in the district, the number of boys in primary school is close to 75,000, which decreases to about 1500 at the intermediate level. In contrast, the number of girls at the primary level is around 64,000, dropping to 600 at the intermediate level.
According to Mouza statistics, in Mianwali, 17 per cent of the villages do not have a single primary school for girls, 64 per cent lack middle schools, and 83 per cent do not have high or higher secondary schools for girls.
In this district, the average distance from villages to primary schools for girls is four kilometres, while the distance to middle schools is six kilometres. This is significantly higher than Punjab's average distance from home to school.
The District Education Officer Elementary (Male), Muhammad Tariq Abbas, mentions that in the urban areas of Mianwali district, 84 out of every 100 boys complete their education, while 56 out of every 100 girls complete their education. In rural areas, this ratio is 75 boys to 40 girls. In this regard, the gender gap in Mianwali district is significantly higher than in other Punjab districts.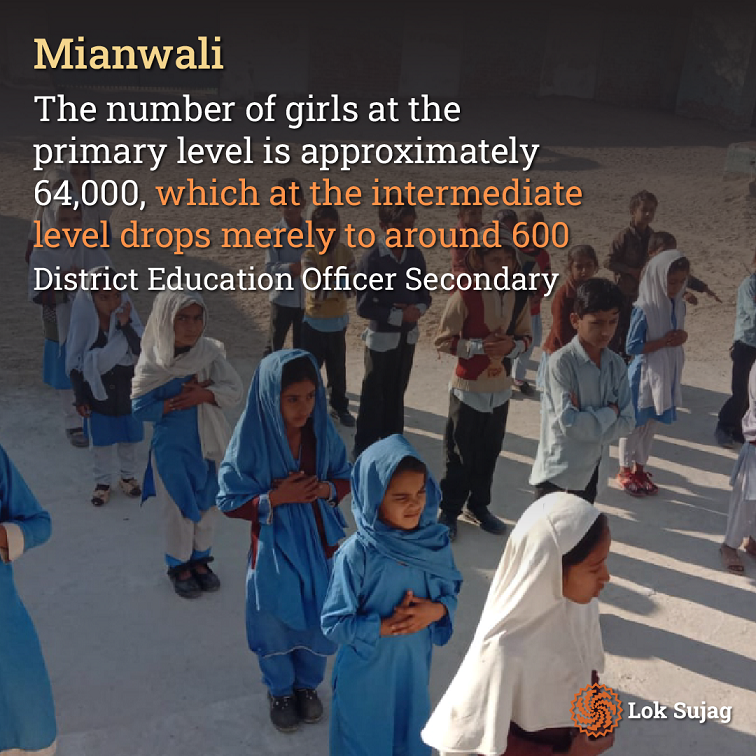 The District Education Officer points to the pessimistic mindset of people in rural areas and the lack of basic educational facilities. He mentions that the distance to primary schools is four to five kilometres in most villages. Because of this, parents often hesitate to send their daughters to school alone, and they do not show interest in their education.
According to a UNICEF report, approximately 22.8 million children in Pakistan, aged between 5 to 16 years, do not attend school. This number represents about 44 per cent of the total population of school-age children.
Also Read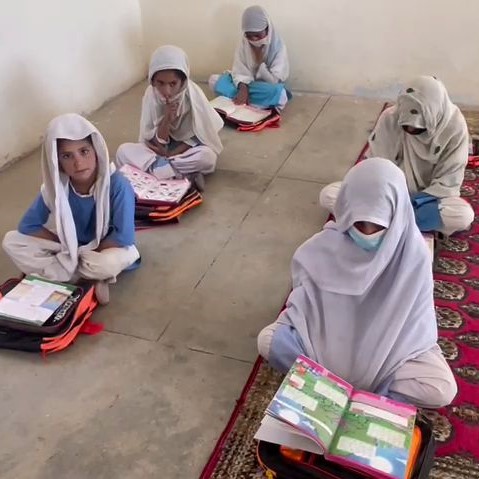 Outdated customs, long distances to schools: High dropout rate of girl students in Rajanpur
Education expert Afzal Khan has been associated with various colleges and teaches at a private college. He explains that in the remote villages of Mianwali, some people have a mindset that considers daughters a trust to protect. This is why they are reluctant to incur educational expenses for them.
"Another factor is the challenging economic conditions. Due to this, people often engage their daughters in farm work that provides them with free labour."
Afzal Khan says that the shortage of educational institutions in Mianwali's villages is a significant obstacle to girls' education. Even if a school exists, there are often no female teachers available. In Mianwali's schools, the number of female teachers is 40 per cent less than male teachers. These issues need to be addressed.
It's heartening to hear that the two daughters of Nazira Bibi from Ali Khailanwala are now attending primary school.
She mentions that she is completely illiterate, but when she sees Sadiyah, she wishes to have been educated herself. At least she could have done groceries and managed household finances herself.
She says that now she will not leave any deficiency in her daughter's education and won't let them work in the fields with her. So that her daughters may not live a life the way she has lived.