Zahid Iqbal decided to cultivate cotton on his 10-acre land this year, five years after his last cotton crop. Unfortunately, this decision did not turn out well for him as his crop has been severely affected by the whitefly infestation. Before this, he had been cultivating other crops on his land, but when the government encouraged farmers to grow cotton and made promises of support, Zahid also decided to take up cotton farming. Now, he regrets that decision.
Zahid is from the village of Samandi Wala in Mianwali, located about 20 kilometres to the city's northeast. He had hoped that the government would assist in case of a whitefly or disease attack on his crop, but that did not happen.
"In mid-September, a severe whitefly infestation on the cotton crop occurred. I sprayed pesticides four times, but the situation remained uncontrollable. During this time, the Department of Agriculture did not assist, nor were any surveys conducted. The Punjab government had arranged for cluster spraying in the southern districts, but Mianwali district was completely overlooked."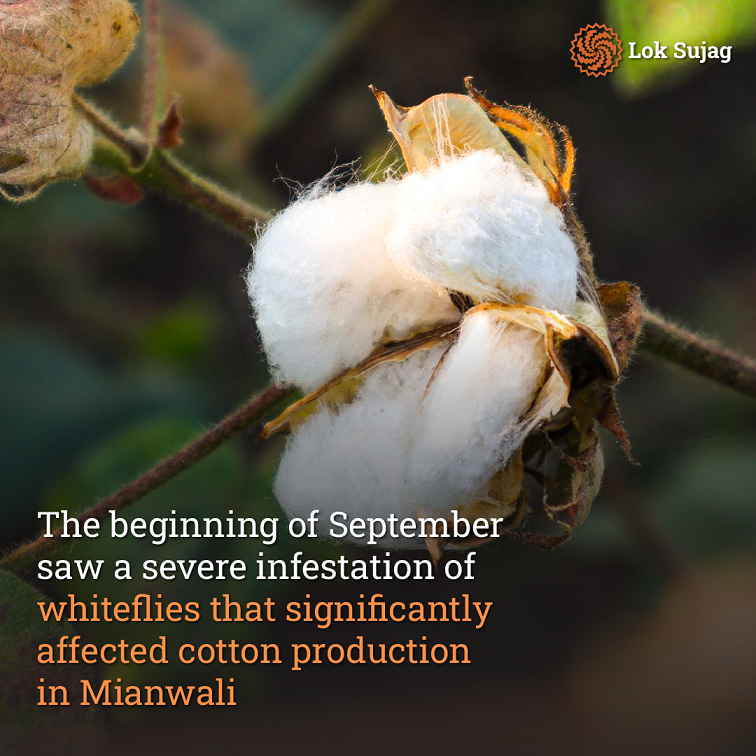 Hafeezur Rahman Khan has cultivated cotton on 14 acres of land. He explains that their crop is also affected by the whitefly infestation, causing concerns about reduced yields.
"We are conducting sprays under our efforts, but the government is not treating us well. In the southern districts of Punjab, cluster sprays were carried out using drones and helicopters, but no such action was taken in Mianwali. The government's inaction is causing despair among cotton growers, undermining efforts to increase cotton production in the region."
Cotton is counted among the significant cash crops in the country. In recent years, it has been severely affected by diseases in Pakistan, which has caused Pakistan not to meet its cotton demand, and billions of cotton are being imported from abroad.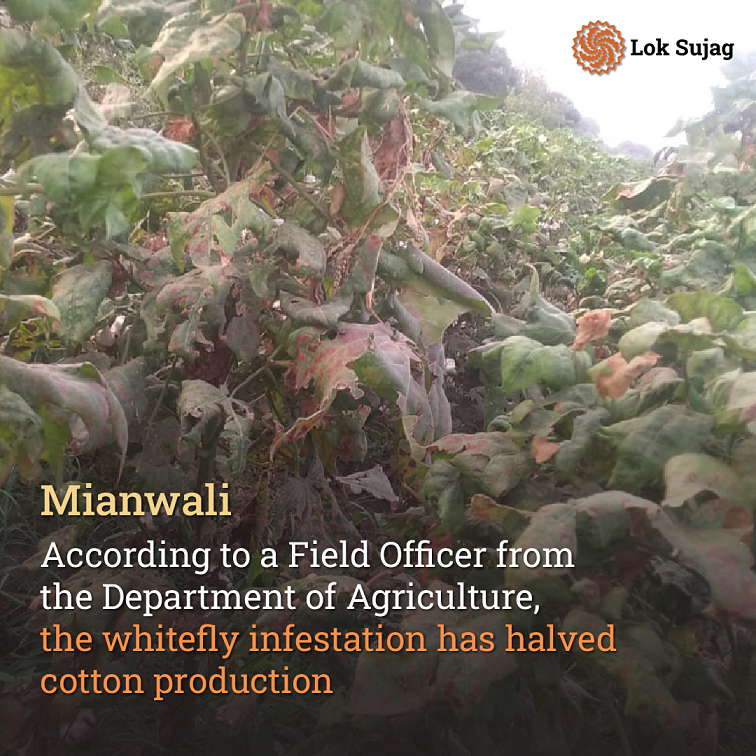 The Punjab government has set a target of 8.33 million bales of production for the current year, which appears challenging to achieve, particularly after the attack of whiteflies.
According to the Department of Agriculture, in the current year, cotton has been cultivated on a total area of 154,490 acres in Mianwali, which is 11,490 acres more than the previous year. In the previous year, cotton was cultivated on 143,000 acres in Mianwali. However, with the onset of September, whiteflies have affected cotton cultivation in Mianwali, just like in other regions.
Waseem Raza, a field officer from the Department of Agriculture, states that this year, the landowners had planted relatively better seeds, which had more resistance against diseases. However, these triple-gene cotton seeds appeared helpless against whitefly attacks, while the pink bollworm had been better managed. The whitefly attack has halved the cotton yield.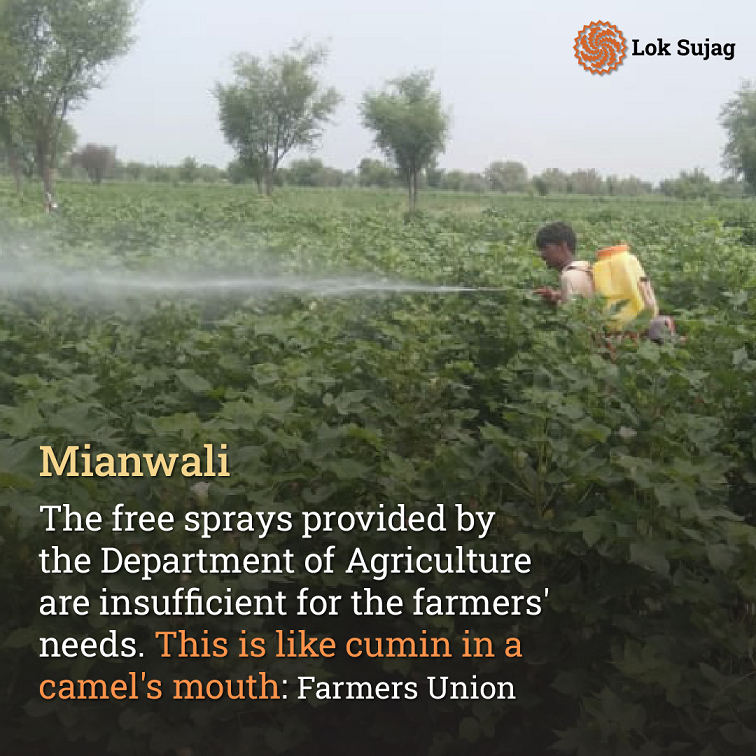 Muhammad Tariq Khan, Assistant Director of the Agriculture Department in Mianwali, has revealed that a record area has been cultivated with cotton this year, which is currently threatened by the whitefly like the rest of the districts. Since Mianwali is not included in the Cotton Belt, the government has not introduced any cluster spray scheme here. However, to help farmers combat the whitefly threat, the government has provided free sprays distributed to the farmers.
However, Abdul Qadir Khan, the president of the Farmers Union, deems this initiative insufficient. He mentions that in their region, Harnoli, there are approximately 1,500 acres of cotton crops, but the Agriculture Department has provided free sprays for only 40 to 50 acres, which is far from adequate. In areas where the whitefly attack affects thousands of acres of crops, providing such a small quantity of free sprays is like cumin in a camel's mouth.
Also Read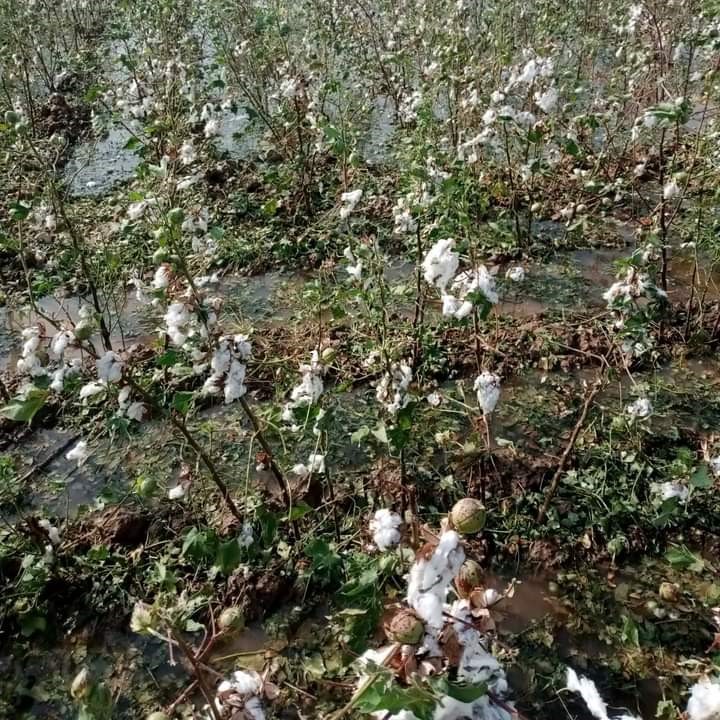 Farmers in Mianwali grapple with hailstorm's devastation on cotton crops
Dr Ahmed, a scientist at the Tara Group, a company that produces agricultural pesticides, explains that the rapid spread of the whitefly is primarily due to an increase in temperature. This temperature rise has caused the infestation to become uncontrollable and difficult to manage in a timely manner, in a considerable way.
Farmers in Mianwali are expressing concerns about the soaring prices of pesticides, making it difficult for them to afford frequent sprays. As a result, these farmers are now focusing on providing extra water to their crops to lower the field temperature and potentially reduce the impact of the infestation.
Muhammad Nawaz Khan, a leader of the Farmers Union in Mianwali district, believes that the cost of cotton cultivation per acre is higher in Mianwali compared to other areas, while the yield is lower. If the government takes measures to support the farmers, provides them with quality seeds and pesticides, and improves overall agricultural management. There can be an increase in cotton production in Mianwali. Otherwise, over the years, many farmers may abandon cotton cultivation.