The impact of climate change, leading to melting glaciers and subsequent floods in the Yarkhun River, has caused severe devastation in Upper Chitral. Areas that were once flourishing villages now lie in ruins, as the floodwaters have engulfed people's homes, orchards, and agricultural fields in Perkosab, Chanar, Awi, and Breep.
Among the regions worst affected by the floods, Miragram stands out. The destruction has been extensive here, with at least seven houses, numerous shops, and gardens being completely destroyed, while many other houses have suffered partial damage.
Muhammad Zafar Jan, a resident of this area who works as a shopkeeper and also tends to his land, recalls how life was proceeding as usual until an abrupt change occurred. He recollects, "An evening of rain culminated in a sudden flash flood, prompting authorities to issue warnings for people to secure their lives. Consequently, residents abandoned their homes to ensure their safety, but regrettably, they were unable to salvage anything else."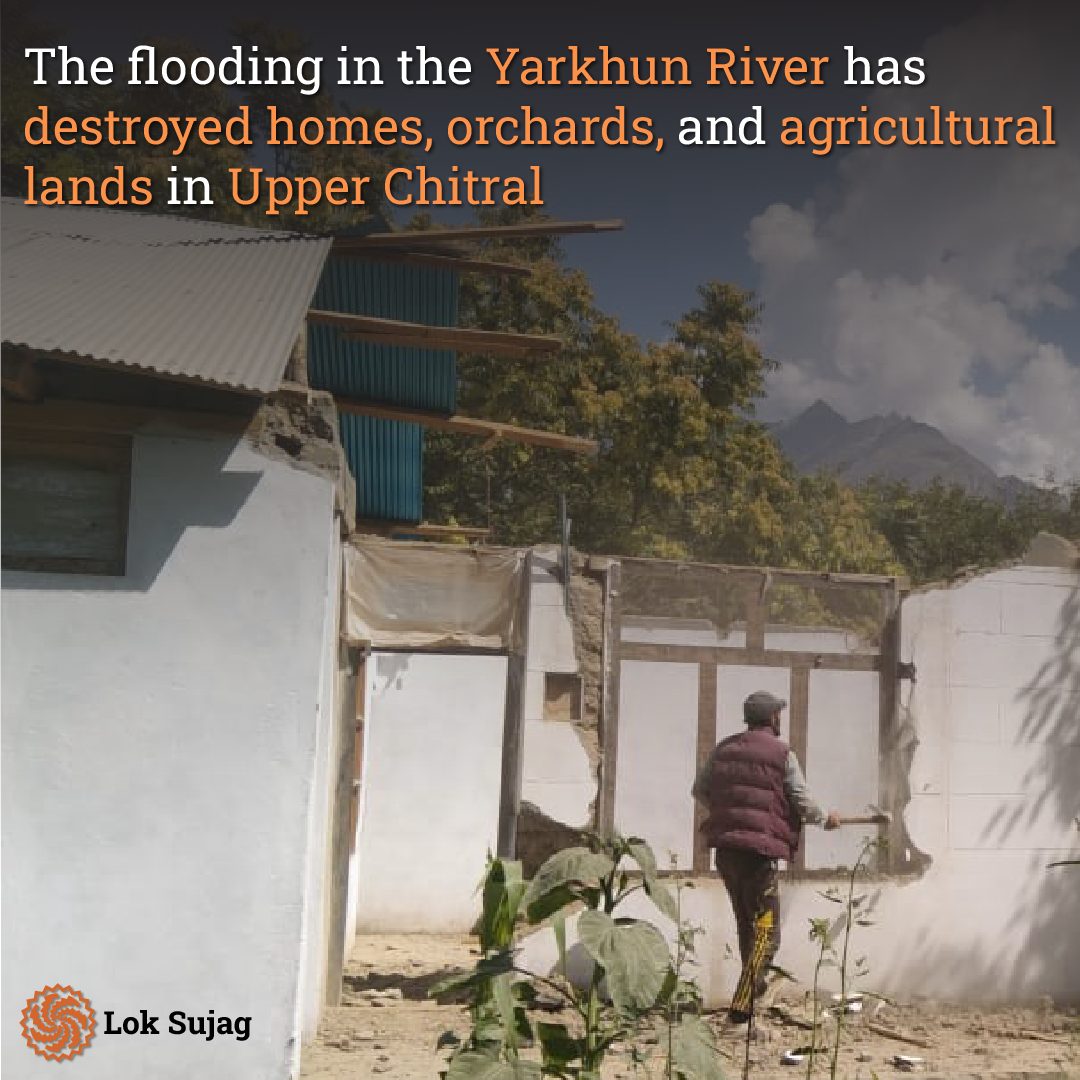 Afgan Raza, a dedicated social activist hailing from Awi, has personally experienced the distressing effects of the flood on his house and agricultural land. A whopping 80 acres of his farmland have been submerged, adding to the woes caused by last year's floods that washed away his house. However, thanks to the assistance of a relief organisation, he managed to reconstruct his residence and reclaim some cultivable land. Sadly, within a short time, he finds himself grappling with the same dire circumstances again.
Due to the floodwaters uprooting electric poles, the power supply to Ovi, Kargin, and Tehsil Mastoj has been disrupted. The road from Ovi to Miragram No. 1 has also been washed away.
Damadomi, a nearby area of Ovi, has about 40 households. They used to get water with the help of the Aga Khan Rural Support Program (AKRSP). But the recent floods swept away their pipes and bridges in the river. Even places where the Public Health Department arranged drinking water had their systems washed away by the Chitral River flood. Now, they are facing a shortage of drinking water.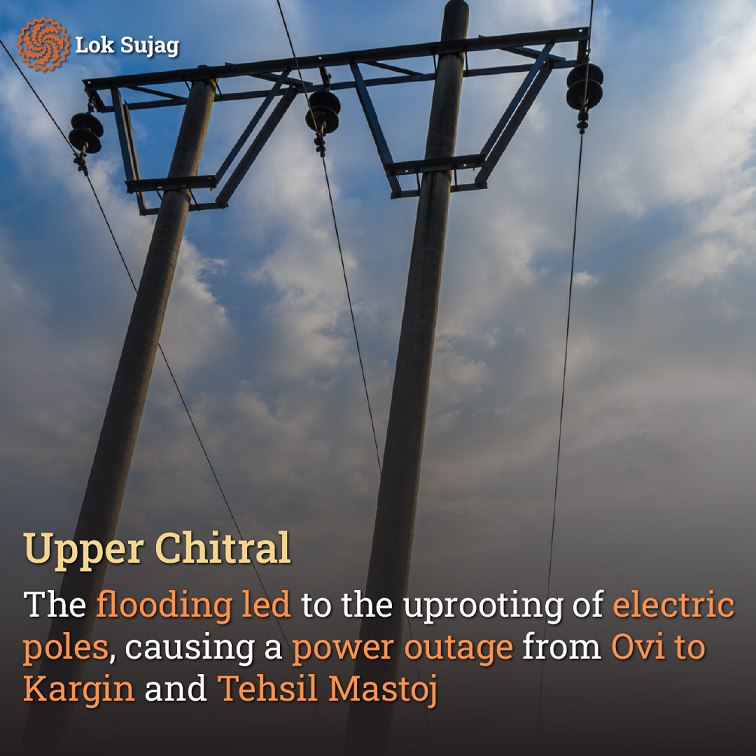 The road that connects Parkosab, Ghoro Paye, and Ghoro Bala villages in Mastoj Tehsil to Mastoj, stretching about three kilometres, has also been washed away. People are now gathering donations to fix this road. This road is also used as an alternative to the Yarkhun-Shandur Road. The people of Perkosab are waiting for government help to restore it.
Homes, forests, orchards, and farmlands have been washed away in Goro Pine, although the exact damage hasn't been calculated yet.
Syed Mehboob Ali Shah, a retired teacher living in the area, mentions that it takes years to grow a fruit tree orchard but only takes a few moments to destroy. "The flood has ruined the hard work of our lifetime. The Deputy Commissioner and other officials came here and assured us of restoration. However, relief agencies have only provided a few tents so far."
Several people in the region lost their homes due to the flood, and now they have no place to put up their tents and are staying on others' land.
Also Read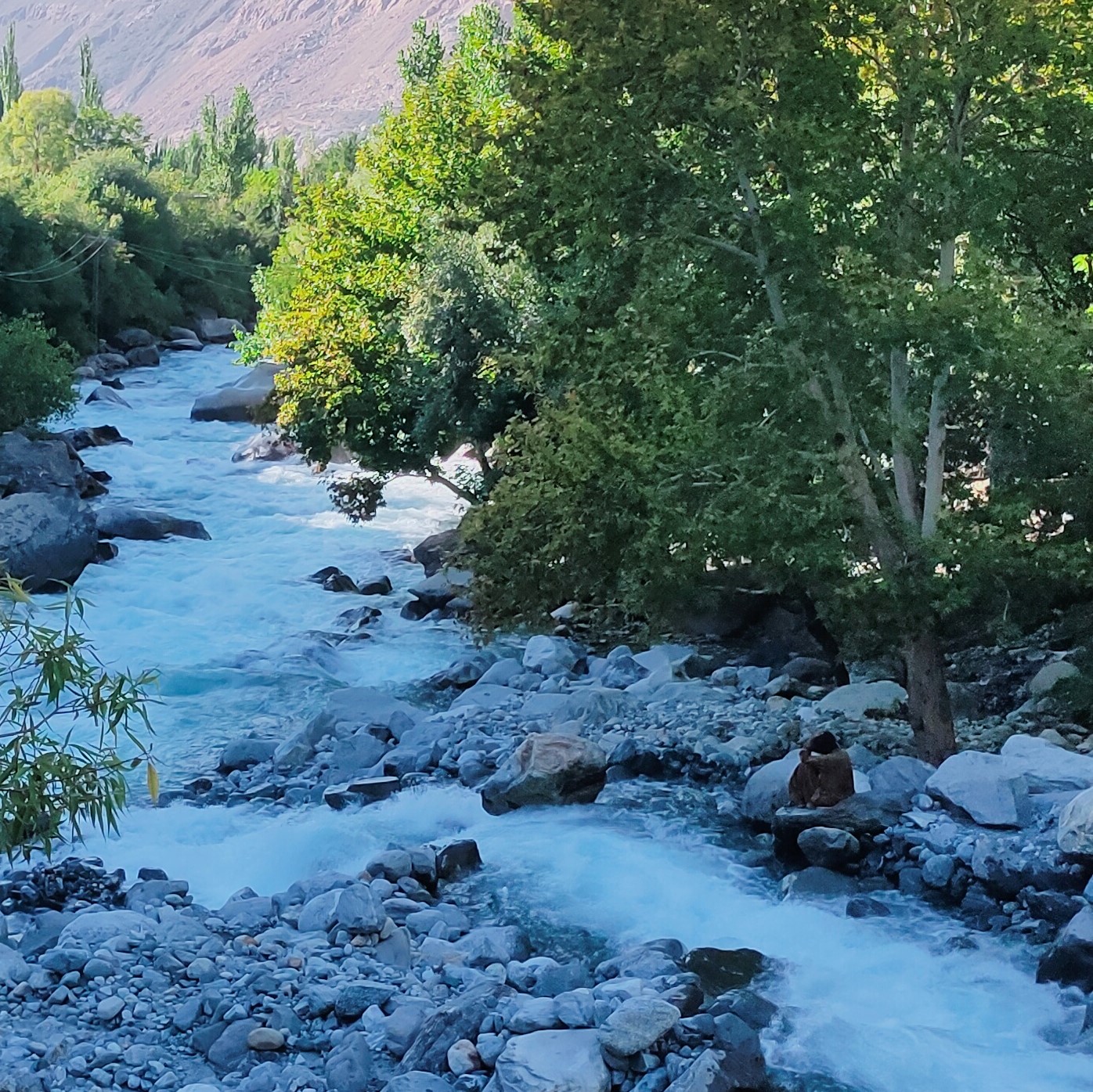 A battle against time: Gilgit's vulnerable water channels and looming flood threat
In the Chinar village of Mastoj, the belongings of six families were swept away by the flood, fortunately with no casualties. Sahib Kamal, a resident, mentions that while his house survived the flood, they remain vulnerable to floods at any time.
Shah Adnan, the Assistant Commissioner of Upper Chitral, explains that the local administration has provided relief materials to many villages, and they are still working to reach some parts of Yarkhun where the roads are in terrible condition. They have also asked for helicopters to assist in relief efforts, but unfortunately, no action has been taken on that request.
He further shares that using donkeys and mules to deliver aid was considered, but this wasn't feasible due to the large amount of relief needed and the availability of these animals. Shah Adnan mentions that they are collaborating with the Public Health Department to continue rehabilitation work, and efforts are underway to restore the water and electricity supply, which should happen soon.