Local body elections have been completed in 35 out of 36 districts of Balochistan. However, till now, these elections were delayed in Quetta, so people's complaints were increasing due to the non-transfer of powers to the lower level.
However, due to constituencies and non-amendment of the Local Government Act, the postponement of elections in the provincial capital was delayed.
This step has finally been taken after the strong demands of the civil society, including the political and religious parties, to hold the municipal elections in Quetta before the next general elections. For this purpose, the demarcation of the city has also been completed under the census of 2017.
Quetta has been divided into four zones (town municipal corporations) for municipal elections, including Zarghun, Chiltan, Takatu, and Sariab. Municipal elections will be held in 641 wards of 172 union councils of these four zones. After the Provincial Local Government Act amendment, the entire Quetta has been declared an urban area after eliminating the rural areas.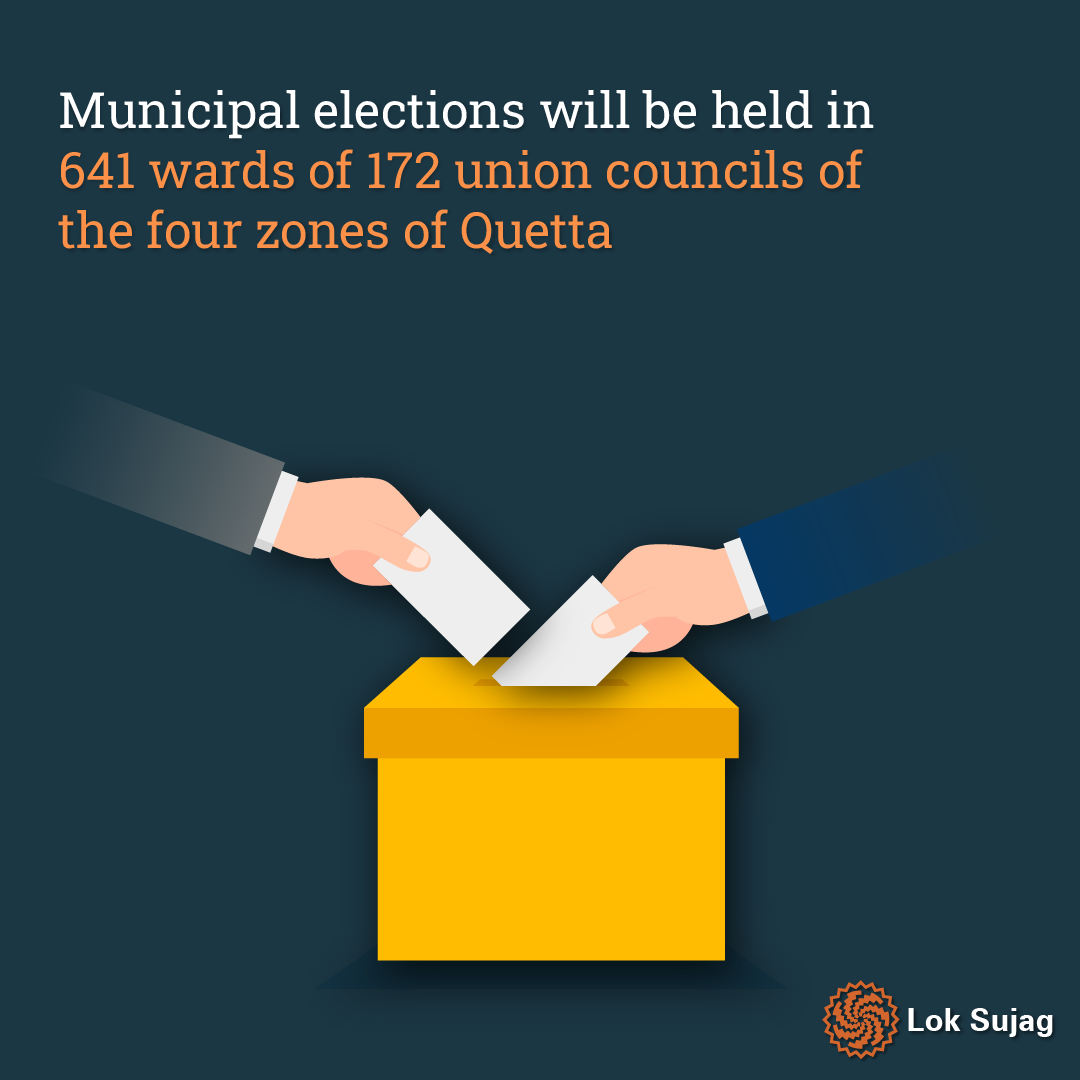 According to the new constituencies, Zarghun Town has been divided into 45 union councils, of which 163 wards have been formed.
In this town, Kili Alam Khan, Shabu, Samungali Road, Surkh Pul Tak, Kali Ismail, Sabzal Road, Padkali Chowk, Barori Road, Wahdat Colony, Joint Road, Huda Jail Road, Manu Jan Road, Chaman Phatak, PTCL Colony, Zarghun Road, Railway Colony, Double Road, Oil Warehouse, Alamdar Road, Murriabad, Pashtunabad, Kasi Road, Main Bazar, Patel Bagh, Sarki Road, Jan Muhammad Road, Satellite Town Block 1, Kakar Colony Achakzai Market, Shaldara, Qalandar Makan and Baluchi Street are included.
Second Zone Chiltan Town has been divided into 45 Union Councils and Constituencies, where 171 wards have been formed.
Hazara Town, Karani, Barori Road, Padkali Chowk West Area, Tirah, Ibrahimzai, Raisani Road, Arbab Karam Khan Road, Essa Nagri, Shah Zaman Road, Kili Sheikhan, Double Road, Sariab Road, Satellite Town Block 2, 3, 4, 5, Ghaus abad, University, Lod Kariz, Eastern Bypass, Qambrani Road, Bank Colony, Killi Geo, Akhtar Abad, Hazarganji and Kirani area are included in Chiltan town.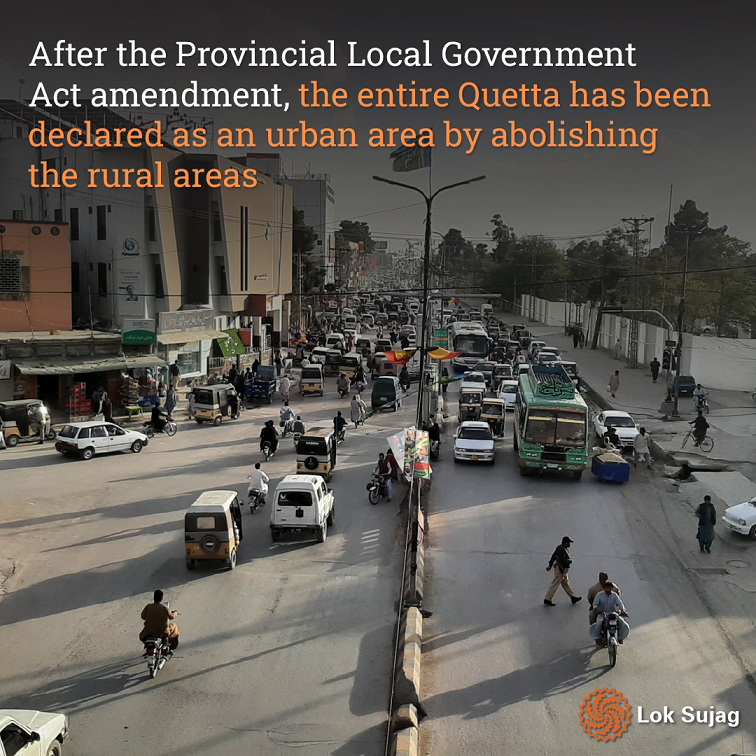 Saryab Town has been divided into 38 union councils and constituencies, where 145 wards have been established.
It includes Kechi Baig, Habib Khan, Aziz Khan, Takhtani Bypass, Hazarganji, Mian Ghundi, Sariab Customs, Sheikh Zayed, Industrial Area, Bosa Mandi, Thirteen Mile and all its suburbs.
The fourth zone, Takatu town, has been divided into 42 union councils and constituencies, with 161 wards.
Takatu town includes the areas of Kuchlak, Simli, Balili, Nohsar, Agbarg, Panjapai, Hina Orak, Nawa Killi, Sira Ghurghai, Killi Gul Muhammad Khaizi Chowk, Kharotabad, Kotwal, Sheikh Manda, Chashma, PMDC, Zarkho, Sorenge and Degari.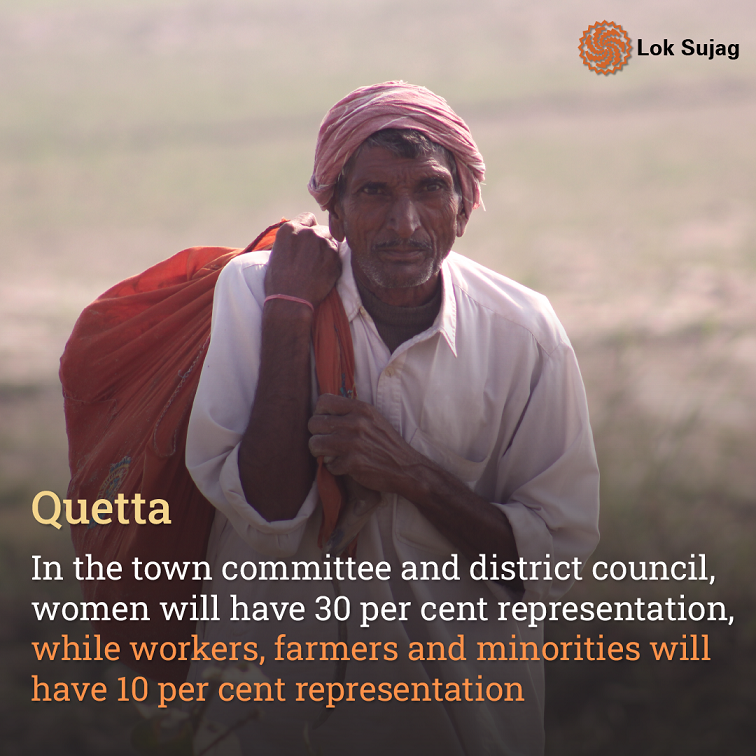 For reserved seats in Quetta, only one seat has been reserved for women, labourers, farmers, and minorities in all union councils. But two women will be elected in the union councils in which five wards have been formed.
Women in the town committee and district council will have 30 per cent representation and workers, farmers, and minorities will have 10 per cent representation. They will be selected by the elected councillors in the Union Council, the elected vice-chairman of the Union Council in the town, and the elected chairman of the town in the district council.
Quetta City has problems like garbage heaps, poor sewage system, parking, and clean drinking water. Roads and streets are dilapidated, drains are blocked, encroachments on dirty drains are common, clean drinking water is scarce and residents have to face serious problems due to a lack of health facilities, including education.
Also Read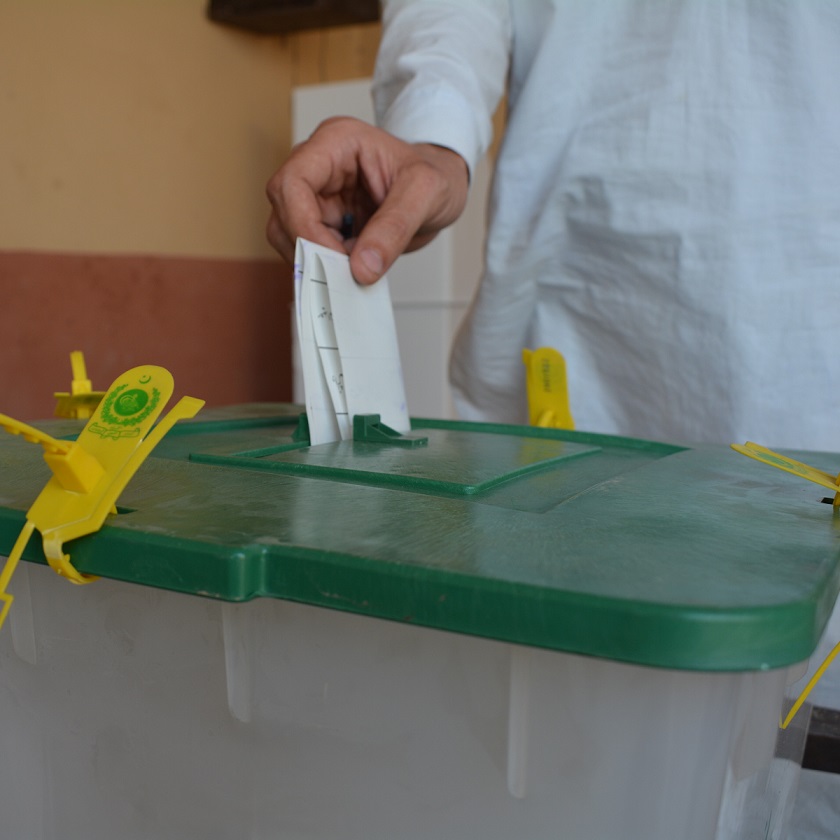 Challenges and struggles of women local body members in Khyber District: A closer look
In these circumstances, holding local elections is expected to reduce the problems somewhat, but several political groups are not satisfied with the constituencies.
Aslam Rind, a former councillor from Quetta, alleges that these constituencies were done based on recommendation and nepotism. A Union council consisting of three wards has been formed in one area, while in some areas, the union council consists of four wards.
Similarly, the allegation is being heard that many constituencies have been made too small and many too big without considering the population ratio. By reducing the city constituencies, the surrounding constituencies have been increased, which is unfair.
A former local body representative says that when a constituency is made as big as a provincial constituency, how will the problems be solved?
Aslam Rind says that Quetta was designed for a population of 3 lakh, but now its population has crossed 3 million, so the problems are worsening instead of being solved.
Apart from Quetta, the process of local body elections in 35 districts of Balochistan was completed two months ago; 907 local bodies are active in Balochistan, while 11,000 local body representatives have been elected, including specific seats.