In the district of Kurram in Khyber Pakhtunkhwa, Majeeb Rahman's four-acre agricultural land seems to yield nothing but thorns and weeds, apart from wild grass. Sometimes, this land is dried up due to the absence of seasonal streams; at other times, he used to obtain good crops from it. However, now he is puzzled about what to do with this land.
In 2012, the government constructed the Munda (Field) Dam to conserve and utilise rainwater more efficiently. At that time, people were told that this dam would irrigate agricultural lands and bring prosperity to the region. However, when the dam was constructed, the local farmers' lands turned barren because the seasonal stream irrigating their fields no longer carried water.
In this area, the flowing Kurram River, various seasonal streams originating from different locations, and natural springs that occasionally emerge from the ground are fundamental sources for local people to irrigate their agricultural lands. Most of the population's livelihoods are closely tied to agriculture and livestock farming, making water paramount for them.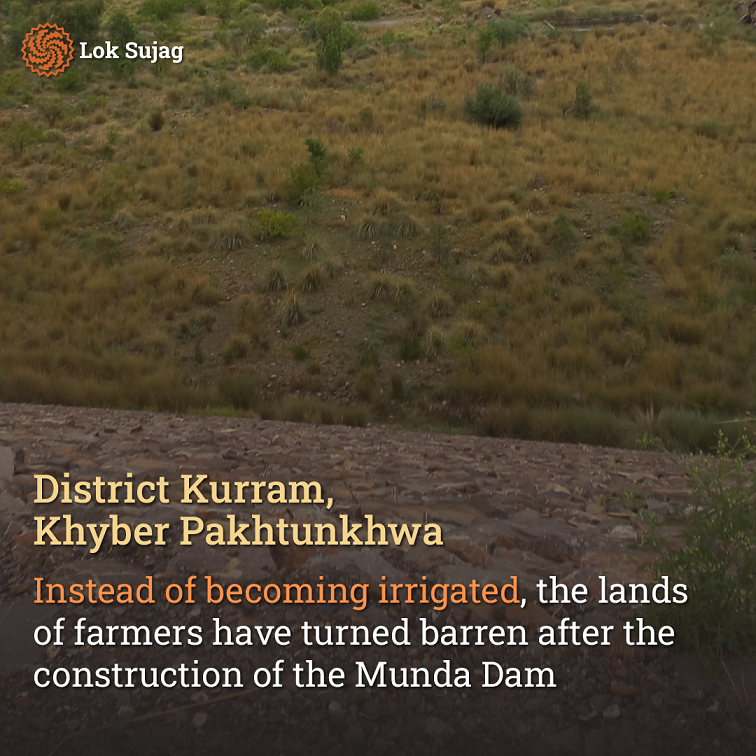 The total area of Kurram is eight lakh fifty-three thousand three hundred twenty-six acres, with slightly more than one lakh forty-four thousand acres of land under cultivation. In all three district divisions (Upper Karim, Central, and Lower Karim), rice, maise, wheat, mung beans, lentils, and fresh vegetables are grown.
According to the Department of Agriculture, a little over one lakh two thousand acres of land in the district is irrigated through rainfall streams and springs, while 17,384 acres are rainfed. Ninety thousand three hundred and eight acres can be brought under cultivation as barren land, whereas it is not possible to cultivate five lakh forty-two thousand six hundred and thirty-four acres of land.
Fifty-eight thousand acres of land consist of forests.
Munda Dam, also known as Talparah Chanar Dam, is located on the central highway approximately seven kilometres south of Ali Zai, Tehsil Alizai. The construction of this dam began in April 2004 and was completed in June 2012 under the supervision of NESPAK. According to district authorities, this project incurred a cost of approximately 200 to 220 million rupees.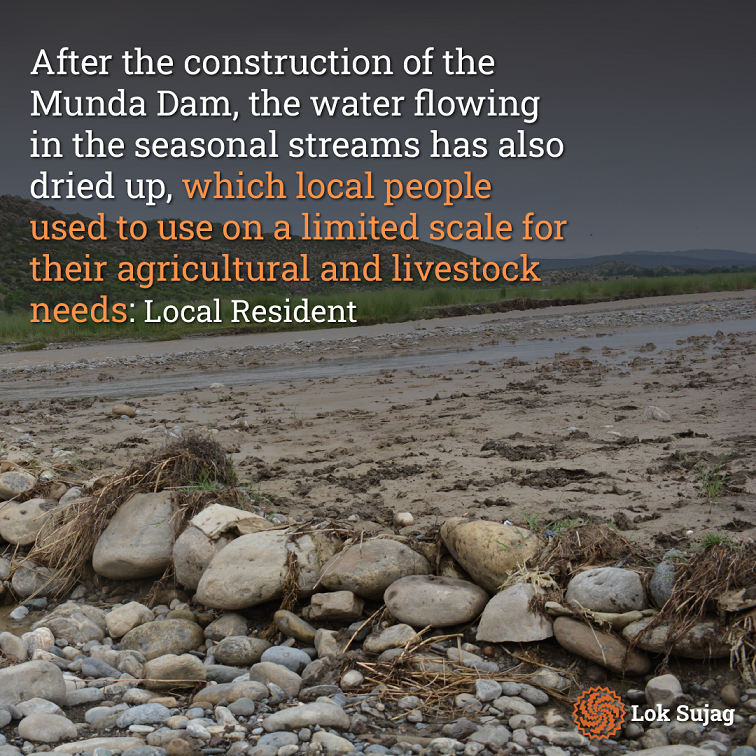 The basic purpose of constructing this dam on a seasonal stream was to store rainwater for irrigating agricultural land, increase fish production, expand the forest area, and promote tourism.
Local tribal elder Malik Abdul Rahman, also known as Wulo Malik, says that the government had acquired land from local tribes to provide water to agricultural lands in the area. However, after the construction of the Munda Dam, even the water from seasonal streams dried up, which local people used on a limited scale for their agricultural and livestock purposes.
"No one has seen water in the only canal that was supposed to supply water from the dam for irrigation. Almost seven to eight hundred acres of land in Munda 's villages and thousands of acres in nearby areas could have been irrigated with the dam. Unfortunately, local people have not benefited from this project."
He mentioned that due to the use of substandard materials and mismanagement during the dam's construction, a significant crack appeared in the lower part of the dam within just two years. As a result, the water is wasted instead of flowing into the canal, the water is wasted.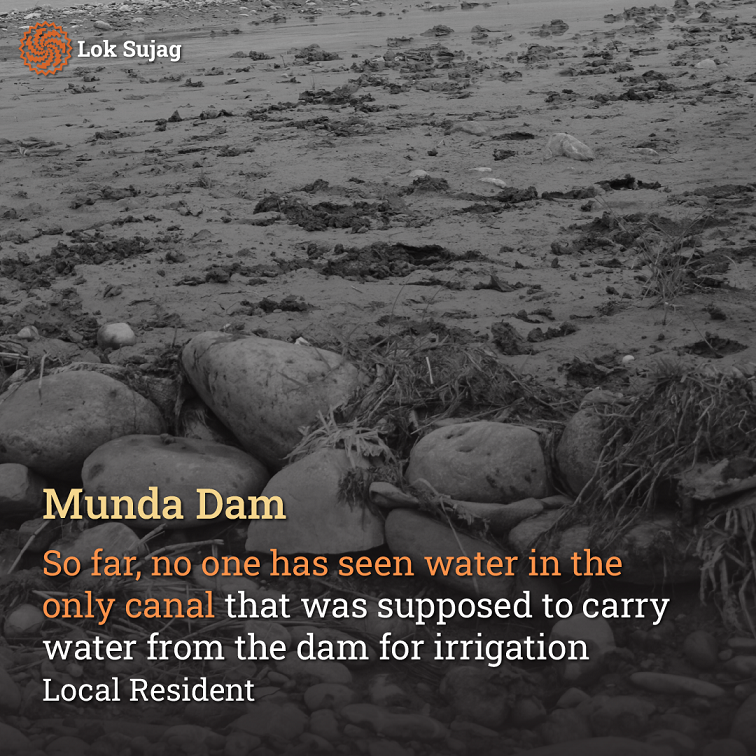 The Department of Agriculture, a senior official, claimed that the dam provides water to agricultural lands, and the barren lands near the dam are disputed between local tribes. They expressed ignorance about the cracks in the dam and water wastage.
Near the Munda Dam are three major villages: Munda, Kas, and Bel Ameen. Here, both Shia and Sunni communities live together. However, in 2007, a Shia-Sunni conflict arose, after which the Sunni population relocated to other areas.
Walumalik is originally from the people who have migrated. He mentioned that before leaving the area, he cultivated wheat, rice, maise, and vegetables on 130 acres of land with the help of local farmers in all three villages. However, when he returned to his village due to changing circumstances in 2013, the roads were damaged, and their houses were in disrepair. Large trees and bushes had grown on agricultural lands, and the irrigation system was completely dysfunctional.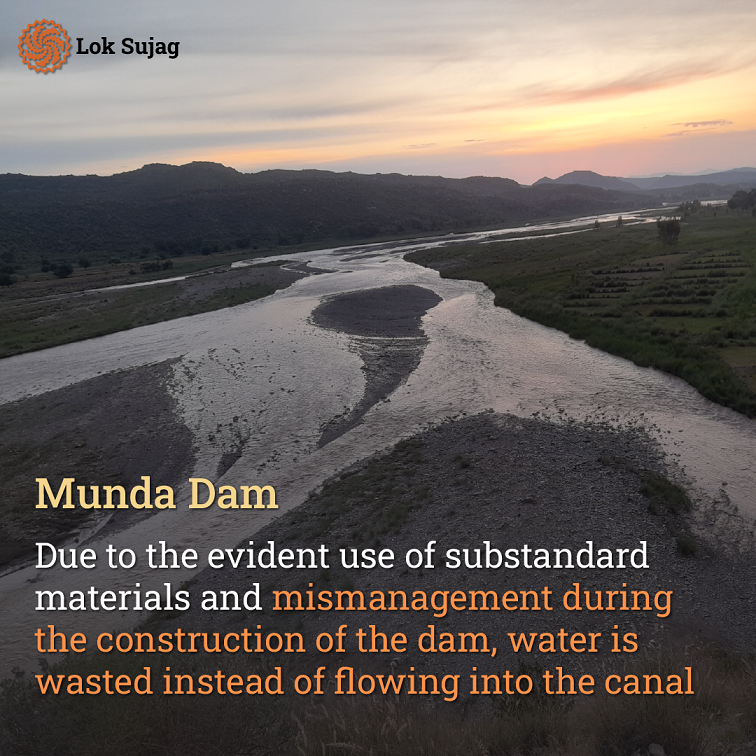 "We made efforts to persuade the government to undertake initiatives to improve basic amenities in the area, but no progress has been made in this regard. As a result, over a thousand families are still forced to live outside their villages because agriculture is the sole source of income for people, and the unavailability of water has left the agricultural land barren."
While discussing land ownership disputes, Wul Muluk mentioned that near the dam, there are jointly owned agricultural properties of local tribes where, after 1979, there used to be large settlements of Afghan refugees. In addition, some people had ongoing conflicts regarding the ownership of arable land.

In 1992, when some of the migrants returned or relocated to other areas, a decision was made through a jirga (tribal council) that no party would construct buildings here while people could use them for agricultural purposes. When this decision was violated, it led to a severe dispute that escalated over time.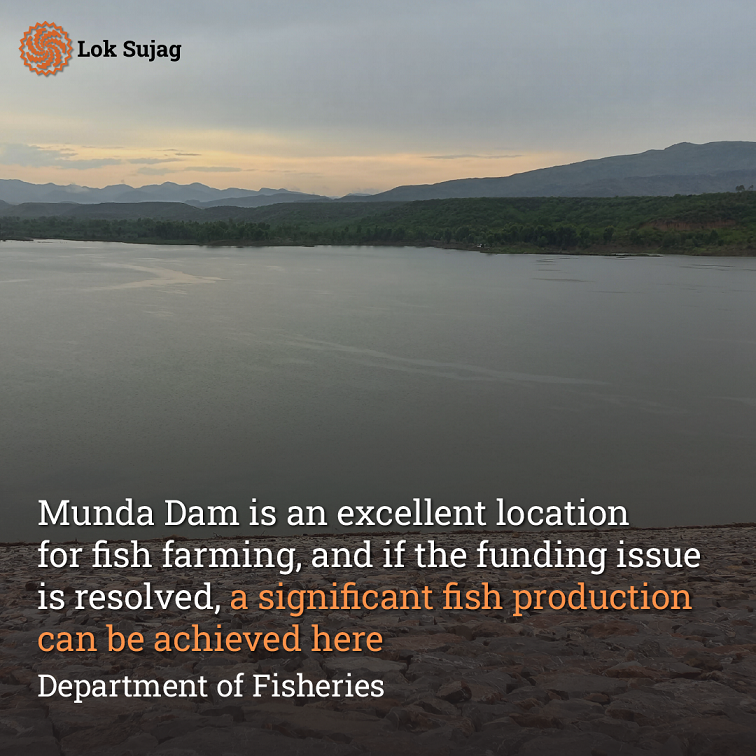 Mujib Rahman says that a significant portion of this land is uncontested and privately owned by individuals, but it has become barren due to the unavailability of water.
"The only benefit of the dam construction is that the underground water level has increased. Previously, water used to be available at fifty or a hundred feet depth, but now, a significant amount is available at a depth of thirty feet. In contrast, the underground water level in other areas has significantly decreased in various regions over the past several years."
In this area, Shakil Khan's ancestral property is also barren. He says that local people were unwilling to give their land for the dam, fearing that their lands would be ruined once it was constructed. However, they were given the hope that it would improve agriculture in their area. But the current situation is such that even an inch of agricultural land is not irrigated from the dam.
Also Read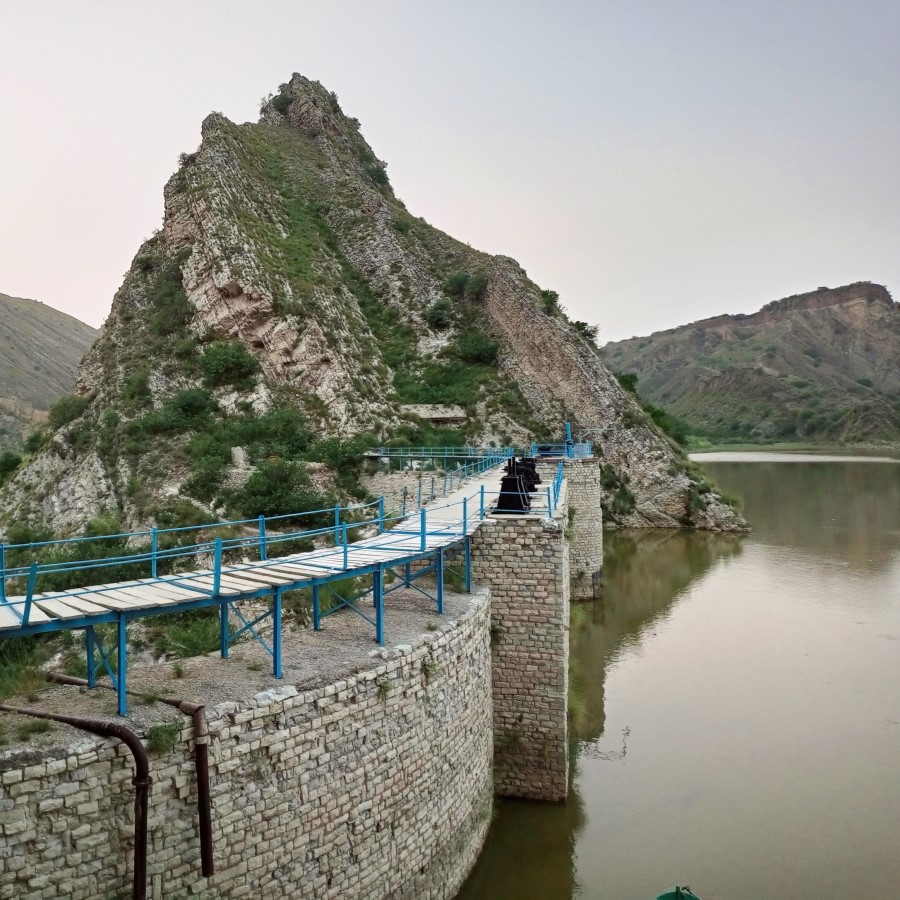 Dwindling waters: Silent struggle of Musa Khel farmers as Namal Dam's decline threatens livelihoods and ecosystems
He explained that the current benefit of Munda Dam for local people is that, on specific days, a large number of tourists come here for sightseeing and fishing. This has significantly boosted economic activity in the area.
For the districts of Kurram and Orakzai, the Assistant Director of the Fisheries Department, Noor Ali Khan, explained that in 2011, the government had entrusted the responsibility of fish augmentation in the Munda Dam to the Fisheries Department. Every year, it releases silver, grass, muri, and rohu fish into the dam, numbering between thirty to forty thousand. However, this work has been stalled for several years due to a lack of funds.
"The Munda Dam is a very suitable location for fish farming, and if the issue of funding is resolved, it can lead to significant fish production, benefiting the local people in terms of tourism and the fish business."
Efforts were made to discuss the issues related to the Mandha Dam and the agricultural lands near it with Sajid Hussain Toori, a former federal minister with connections to the Karim District. However, no response was received from him. Attempts were also made several times to contact the President's Office of Nepra regarding complaints about the use of subpar materials in the dam's construction and the formation of cracks, but the institution avoided discussing the matter.
There is conflicting information among local government agencies regarding the Mandha Dam, which may be the reason why no government department is willing to take responsibility for the dam's issues.