A portion of the road that facilitated trade between Delhi and Multan in the past is now known as Multan Vehari Road. On this road heading towards Vehari, milestones indicating the distance to Delhi can be seen.
Multan Vehari Road passes through seven constituencies of Punjab in the National Assembly. These include NA-162 from Burewala, NA-163 from Machhiwal, NA-164 from Vehari City, NA-165 from Tibba Sultanpur, NA-153 from Jahania, NA-156 and NA-157 from Multan.
The construction of this important road was last carried out 16 years ago. In Vehari 9 kilometres, 2 kilometres in Gadda Mor and 2.5 kilometres in Tibba Sultanpur is dual carriageway while the rest of the road is single carriageway.
Engineers suggest that this road had a lifespan of 12 years. According to them, carpeted road needs to be repaired almost after a decade and a regular road needs maintenance work after every five years.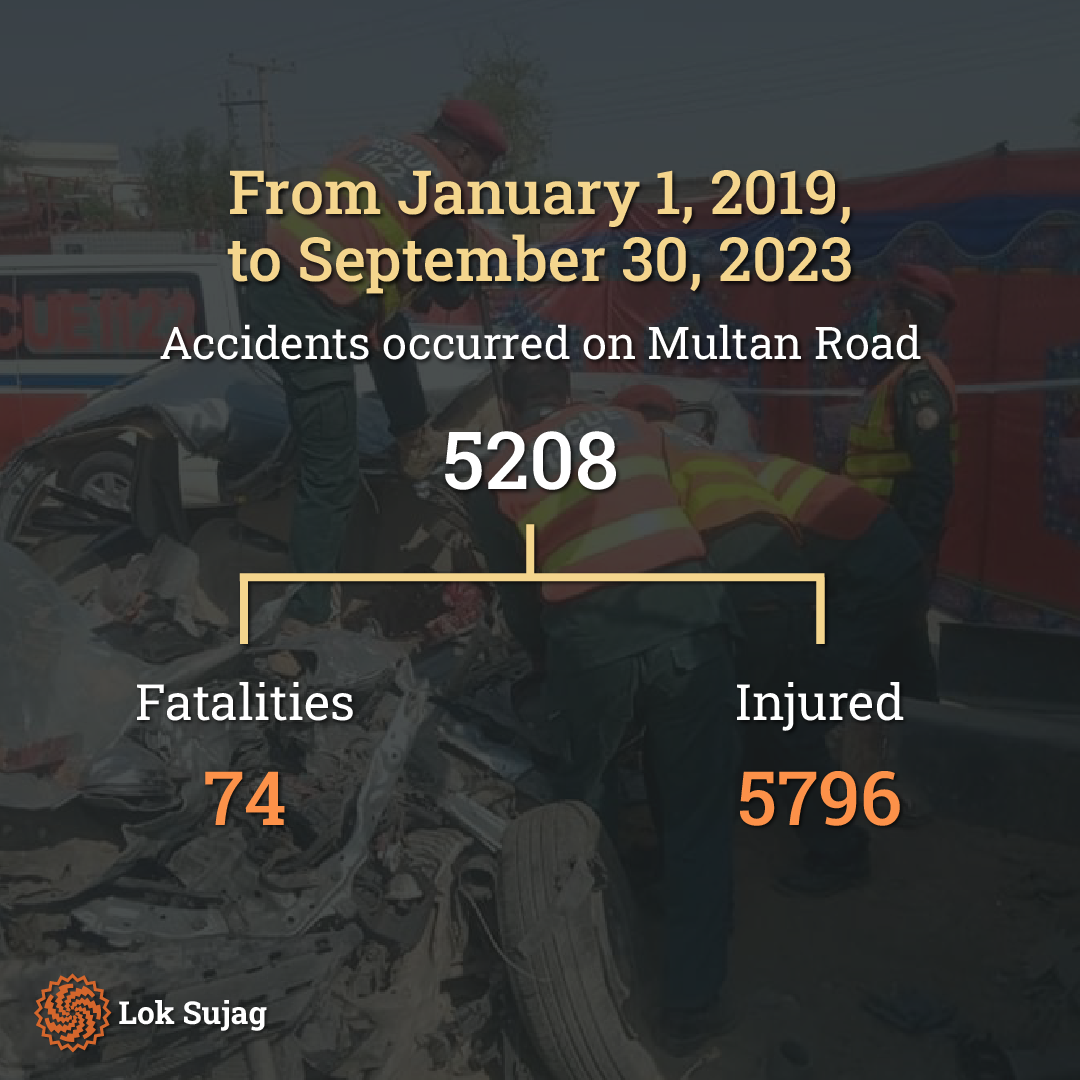 Rana Ejaz Ahmed, the president of the Vehari Transport Association, has mentioned that this road has been in a state of disrepair for a long time, leading to increased maintenance work for vehicles. Due to potholes and stones, tyres get damaged quickly.
"Our car tires typically last eight to nine months on other roads, but on this one, we have to replace them every two and a half months. The cost of four tires for a coaster is one lakh rupees, while for a bus, it's three lakh rupees. Passengers also complain about delays because of this."
According to him, on days when the road was in good condition, cars used to reach Multan from Vehari in about one and a half hours. However, now it takes two hours and fifteen minutes. Some vehicles have opted for an alternative route via Khaniwal Road, increasing travel distance by 30 kilometres.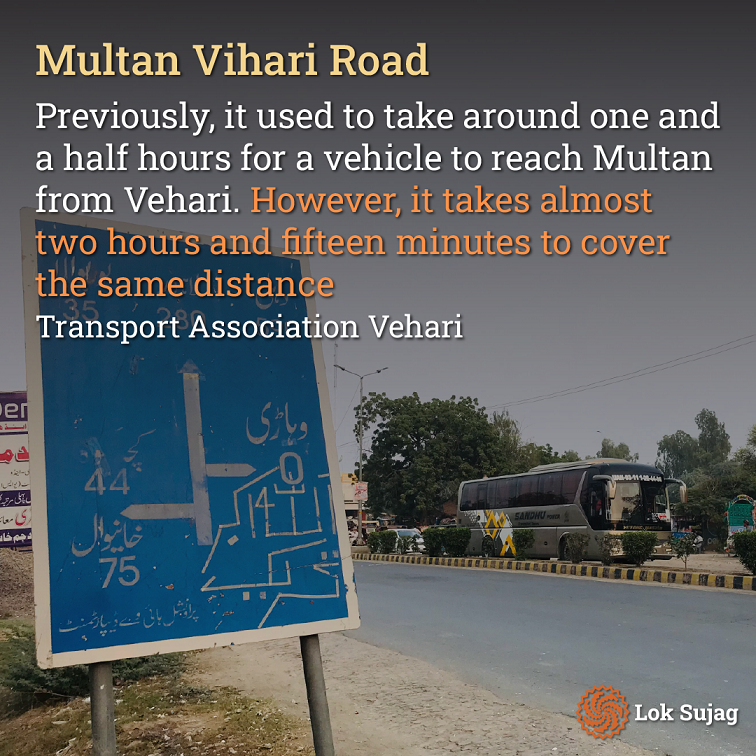 He says, "The most challenging part is Adha Thingi, where the road has sunken up to five feet where trucks often get stuck."
Dr Irfan Naik, the Medical Officer at Vihari District Hospital, says that patients face extreme difficulties while travelling on such deteriorated roads, especially the spinal cord, body's other bones, head, arterial injuries, and vascular surgery. Patients who require a ventilator face particular challenges as well.
Shift Incharge Muhammad Ijaz Khan of Rescue 1122 has mentioned that Multan Road has a high rate of accidents due to its extensive damage and dilapidated condition.
According to the spokesperson Muhammad Azim Jat of Rescue 1122, from January 1, 2019, to September 30, 2023, there were 5,208 accidents on Multan Road, with 13 of them being major accidents. These accidents resulted in injuries to 5,796 individuals, and 74 people lost their lives. Among the casualties, 3,150 vehicles and 7,234 motorcycles were damaged.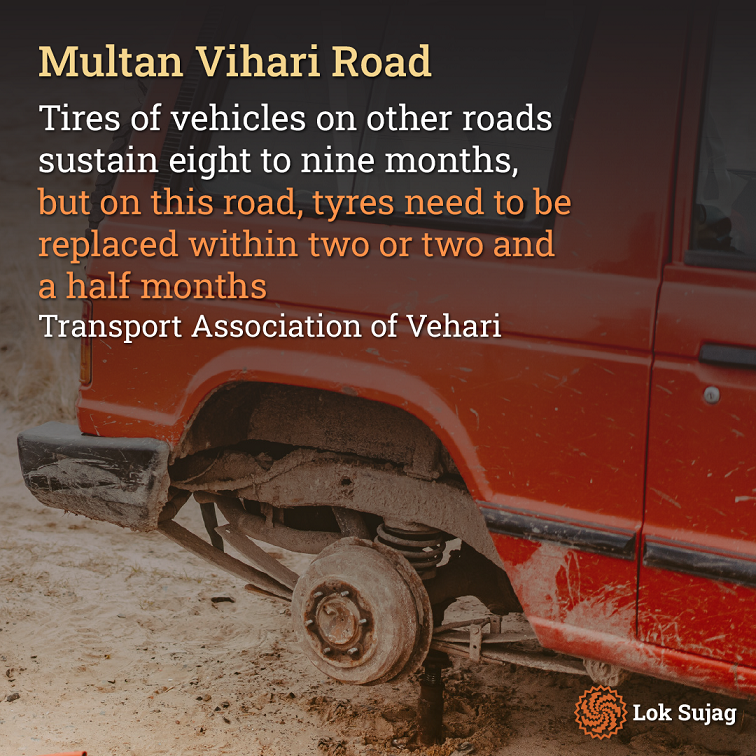 In 2021, a road construction project was initiated under a public-private partnership arrangement. However, the project faced delays, and the estimated costs increased, leaving the project incomplete.
For this purpose, the Punjab Project Management Unit has recently estimated the cost to be four and a half billion rupees. The 60 km road encompassing district Vihari up to Tibba Sultanpur will incur 1.7 billion rupees. Additionally, the construction of a 30-kilometer road from Sultanpur to Vihari Chowk in the Multan district is expected to cost around 2.8 billion Pakistani Rupees.
The increase in the estimated cost is attributed to the need to acquire additional land in the Multan district to build dual-carriageway roads, each with a width of 120 feet.
Also Read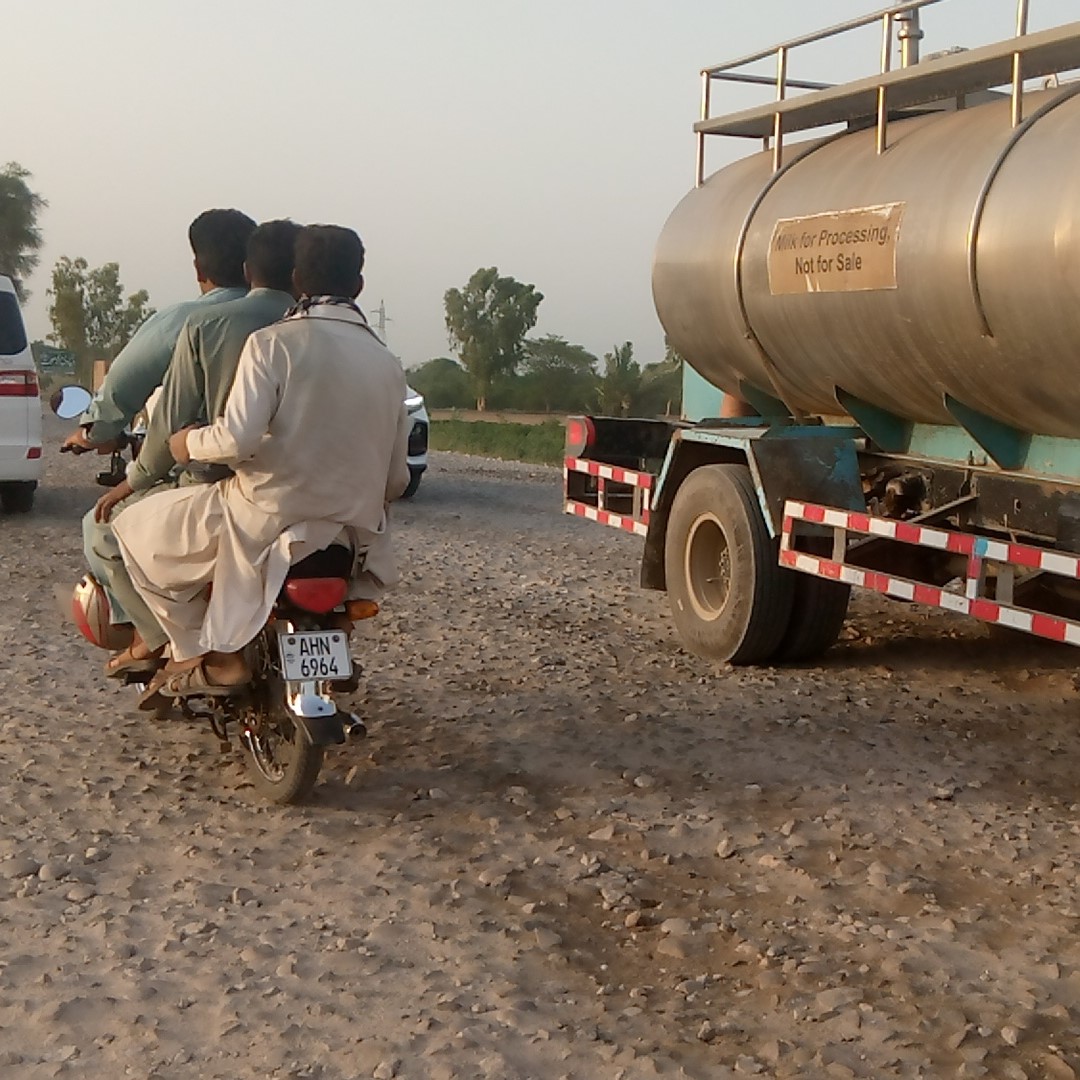 Perilous 'bloody road' in Rajanpur takes lives: pleas for repair go unanswered
According to the Vihari Highways Department, the estimated cost of 4 and a half billion Pakistani Rupees for the comprehensive maintenance and construction of the road has not been approved yet.
Former Member of the Provincial Assembly, Mian Saqib Khurshid, claims that in the past, a local Member of the National Assembly, Tahir Iqbal Chaudhry, inaugurated the road three times to appease the public. Initially, it was inaugurated by Imran Khan, followed by former Punjab Chief Minister Sardar Usman Buzdar and former Foreign Minister Shah Mahmood Qureshi, but the road couldn't be constructed. Tahir Iqbal Chaudhry, a Member of the National Assembly, was elected from this constituency as a member of Pakistan Tehreek-e-Insaf. However, he has remained low-profile since May, so his stance on the matter couldn't be ascertained.
Deputy Commissioner of Vehari Syed Asif Hussain Shah, has mentioned that the Punjab government is actively working on the construction of the road. A contract for road construction was signed two years ago with a company under a public-private partnership. However, the project couldn't progress further due to increased material prices. Now, an estimate has been sent to the Punjab government. Once the necessary approvals are granted, work will commence.