Fifty-five-year-old Badr Munir resides in Lahore's Johar Town area. He has dedicated many years to safeguarding wildlife. The lawn surrounding his office in Shadman, located on Canal Road, boasts diverse shade trees that provide a nesting place for birds. Badr Munir has thoughtfully installed artificial nests on these trees to encourage the avian population.
According to him, many years ago, the canal banks and the trees near his office were home to a wide variety of birds, such as parrots, mynas, bulbuls, hummingbirds, quails, Nile kanthas, common sparrows, laliyan, and fakhta. However, he laments that their numbers have significantly decreased over time.
"It appears that birds are not content with Lahore anymore. Canal Road, being a part of Lahore, used to host a vast number of thick and old trees. One would expect an abundance of birds in such an area, but sadly, these trees are now only inhabited by crows."
On both sides of this canal are thousands of trees, but none have bird nests. The same goes for the trees on Mall Road. However, you can still find old bird nests in places like Shalamar Bagh, Jinnah Bagh, Jalopark, Governor House, and the Zoo.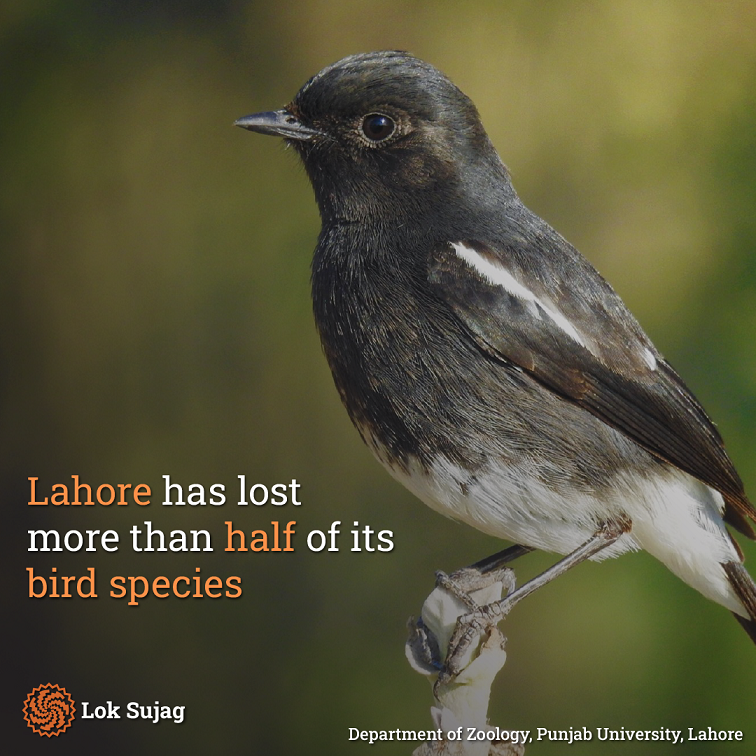 Mudassar Hasan, Deputy Director and Spokesperson of the Punjab Wildlife Department, explains that the birds living in cities are known as urban wildlife. The department has not conducted any surveys on these birds in Lahore, resulting in a lack of official data about the bird species in the city. Nevertheless, some educational institutions occasionally work on studying these birds.
In 1997, a survey by the Department of Zoology, Government College, Lahore, recorded 74 bird species within the city. Experts from Punjab University's Department of Zoology suggest that the count is now 85. However, in a survey from 1965, there were 240 bird species; in 1992, the recorded number was 101.
Where did the birds go?
According to Zahid Bhatti, another deputy director of the department, the bird species seen in Lahore twenty-five years ago have not disappeared; instead, they have shifted their habitats. Nowadays, most birds are spotted in the cantonment area of Lahore, where many old trees remain uncut. This area is home to more urban wildlife than other parts of the city.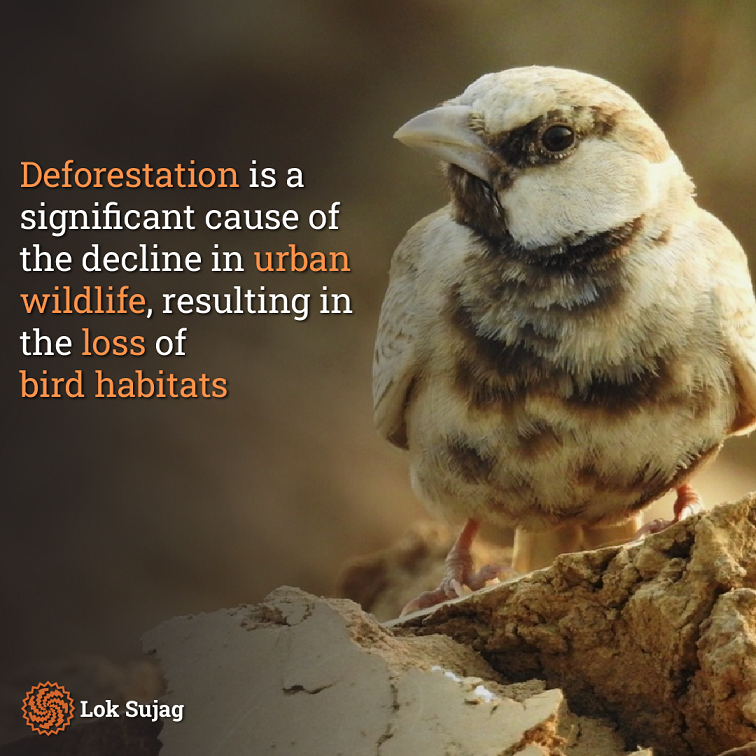 Fahd Malik, who works for wildlife protection, confirms that the main reason for the decline in urban wildlife is the destruction of their habitats. Most birds build their nests on native and old trees, but these trees were cut down, causing the bird nests to vanish. Another mistake was planting exotic and fancy plants during reforestation, which do not provide suitable bird nesting spots.
Similarly, the bright lights and noise in cities have also impacted the lives of birds. Birds require darkness and tranquillity in their nests for breeding, but the glare of towns has negatively affected their breeding habits.
Fahad mentions that charity meat is being sold in various parts of the city. The presence of herons and crows gathering to eat this meat has scared away other birds that used to be found in those areas. Moreover, hungry hawks sometimes attack small birds, which has led these birds to migrate from this place.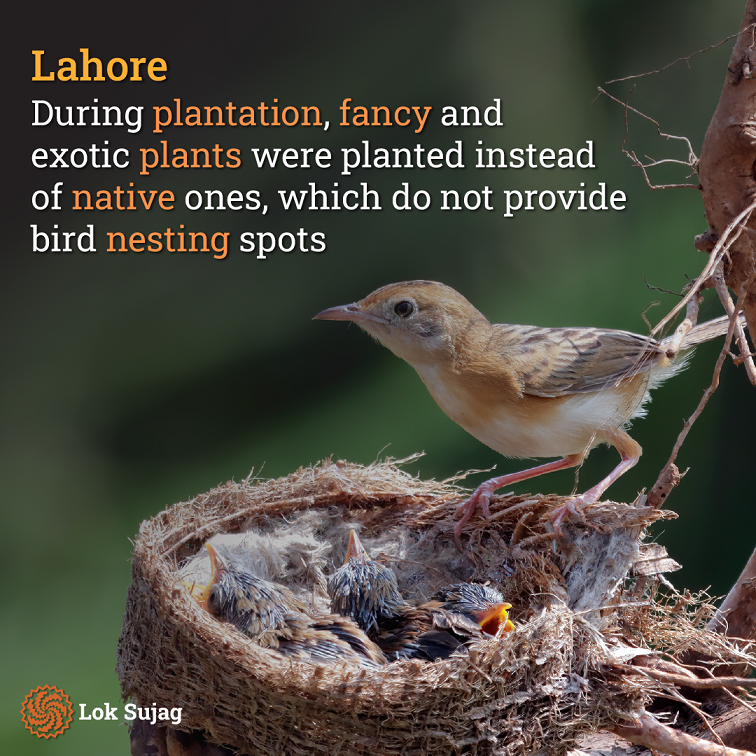 The Government College identified 44 local birds and 30 migratory birds. Among the migratory birds, 17 types arrived in winter, and 13 came in summer. Notable bird species include common sparrow, golden sparrow, quail, red-backed bulbul, parrots, woodpeckers, murres, black partridges, brown partridges, quails, hummingbirds, herons, myna, white-cheeked bulbuls, ram sparrows, kingfishers, fakhta, laliyan, Indian roller, crows, vultures, owls, sharks, pigeons, and bats.
Zahid Bhatti explains that the presence of crows has led to the disappearance of falcons from the local environment. Even though falcons are carnivores, the crows drive them away. The department tried releasing falcons into the air a few years ago to encourage breeding in their natural habitat. They even used firecrackers to scare away the crows, but unfortunately, the crows still didn't allow the falcons to stay in Lahore.
According to Dr Zulfikar Ali, the Head of the Department of Zoology at Punjab University, spraying poisons on crops in rural areas has harmed the bird species that used to eat insects. In addition, the presence of cats, dogs, and rats in villages has led to them eating baby birds and eggs, causing a decline in their numbers.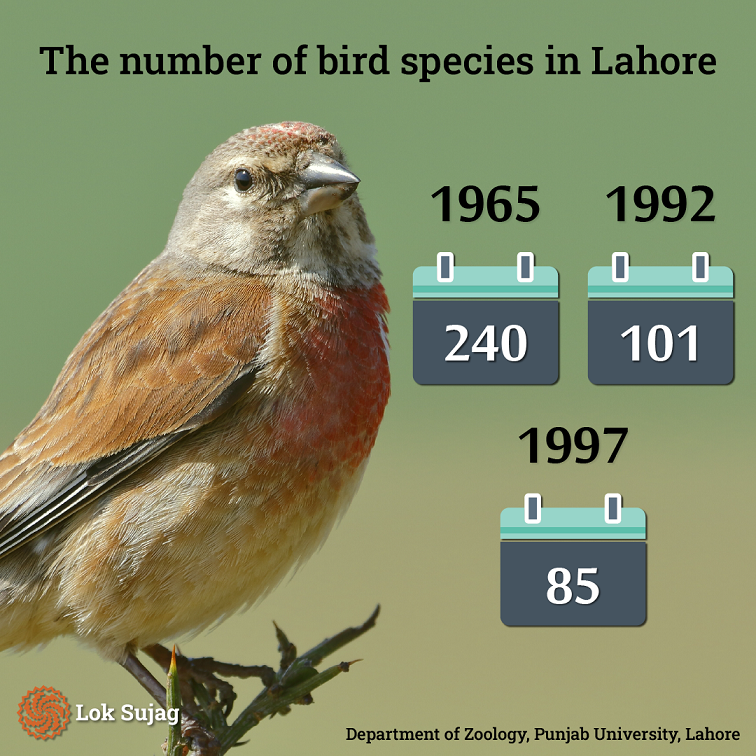 Badr explains that climate change, a growing population, and the rapid expansion of housing schemes have compelled the birds to migrate from Lahore. Among them, the parrot and the native parrot have been significantly affected. The Raw parrots, migrating from India for food, often get caught in nets in the border area.
He further reveals that hunters set large nets in the border areas of Sialkot, Shakargarh, Narowal, Zafarwal, Kasur, and Lahore to trap these parrots. Raw parrots are highly poached because they fetch high prices in the market. They are bred and sold, which is why parrots are now commonly seen all over Lahore.
Mudassar Hasan mentions that according to the Punjab Wildlife (Protection, Preservation, Conservation, and Management) Act, hunting or capturing most of the birds found in urban areas, like parrots, laliyan, doves, and common birds, is considered an offence. However, he also pointed out that this law is not fully implemented.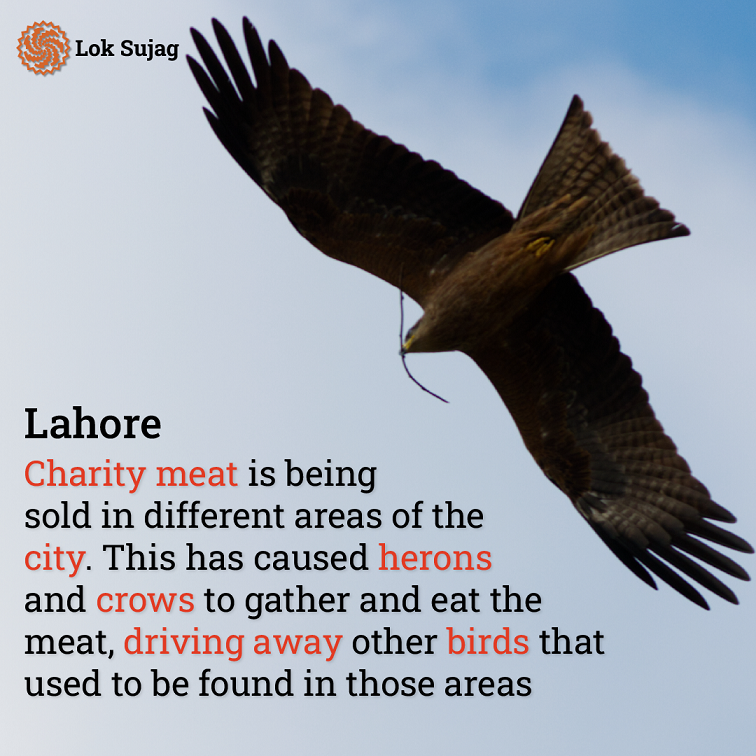 Badr suggests that to boost the bird population and attract back estranged birds, Lahore should focus on planting more indigenous trees. Cutting down old trees should be strictly prohibited; fruit trees should be grown. Peaceful bird areas, such as Jalopark, Jilani Park, Bagh Jinnah, Shalamarbagh, and Mayo Garden, can be maintained. Additionally, planting shrubs is essential as many birds prefer living in bushes and need straw to build their nests.
Also Read
Under attack: The Kalasha tradition
In addition, the wildlife department must act against illegal bird hunters. Water and food for birds should be arranged on the roofs of large city buildings. To encourage birds, artificial nests can be placed in lawns of homes and offices, and more birdhouses can be set up. Moreover, including wildlife topics in children's curriculum can also play a part in bringing birds back to the city.
Dr Zulfikar Ali mentions that his department's students recently attempted to identify the bird species in Lahore. After a week of study, they could only find about 50 bird species. If migratory birds are also counted, the number may reach up to 80 species. Nonetheless, the fact that Lahore has lost more than half of its bird species is concerning for the local ecosystem.