Political workers are excited about the new constituencies. Adding a provincial seat in the Khushab district and the 'reorganisation' of constituencies are under discussion. Concerns are being surfaced and complaints submitted.
In the 2018 elections, Khushab district had two National Assembly and three Provincial Assembly constituencies. While maintaining both National Assembly constituencies, some areas have changed in the new delimitations. The previous NA-93 and NA-94 constituencies are now designated as NA-87 and NA-88.
In the new delimitation, the number of provincial constituencies here has been increased to four. Interestingly, from 2002, Khushab district had been represented by four provincial seats. However, just before the last election, one constituency was suddenly reduced. Now, four constituencies have been reinstated.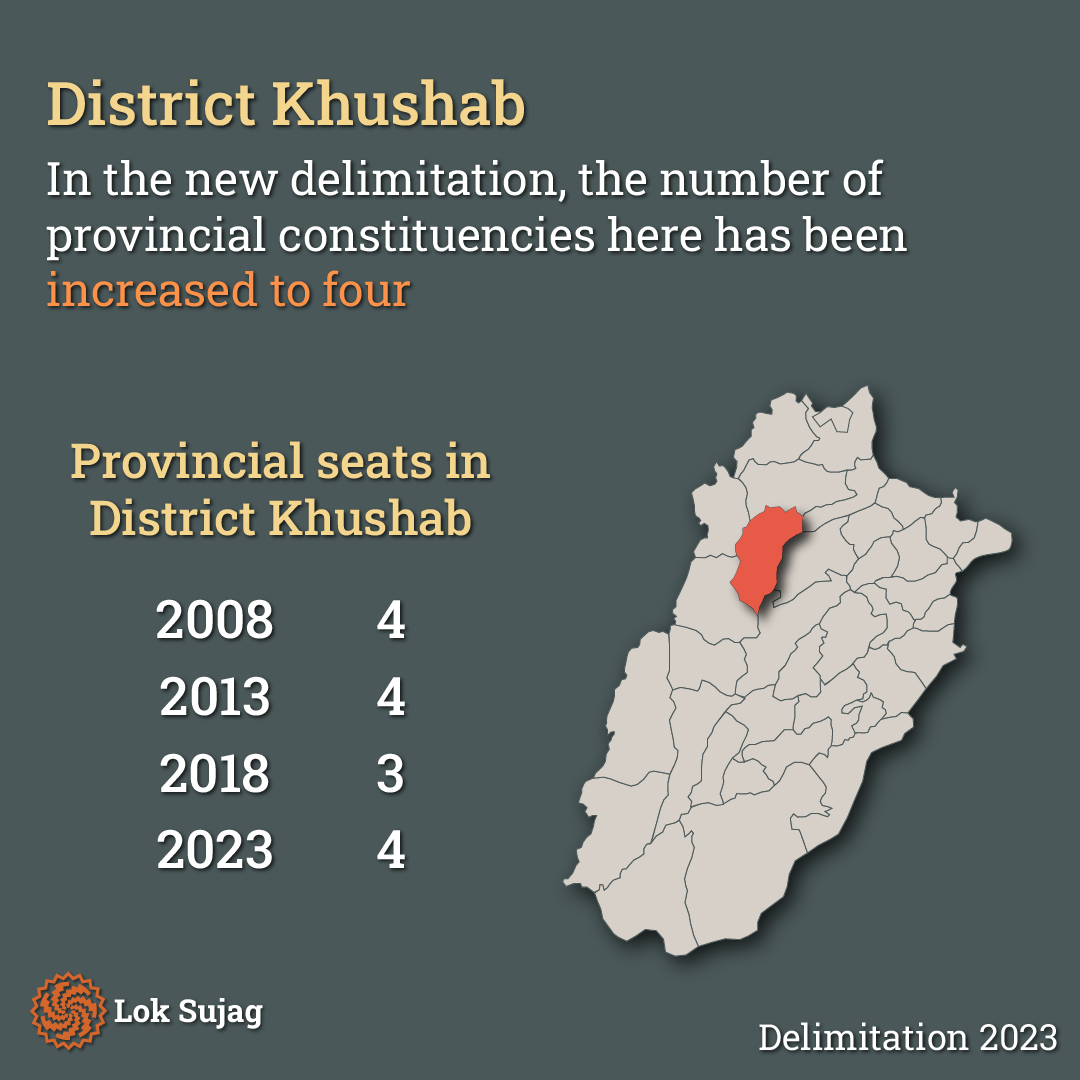 In the last general elections, the provincial constituencies in Khushab ranged from PP-82 to PP-84. Now, PP-81 has been added to these constituencies. Areas have been taken from all three previous constituencies to form this new constituency.
PP-81 Khushab 1 includes the Wadi Soon and other mountainous regions in Khushab. This constituency comprises Tehsil Noshehra, Katha Saghral Qanungoi Halqa, Kund Shumali Qanungoi Halqa, Khushab-1 Qanungoi Halqa and Khushab-2 Qanungoi.
PP-82 in Khushab-2 includes the Municipal Committee Khushab charge of 15 to 17, the Municipal Committee Joharabad charge of 13 and 14, Municipal Committee Hadali charge of 10,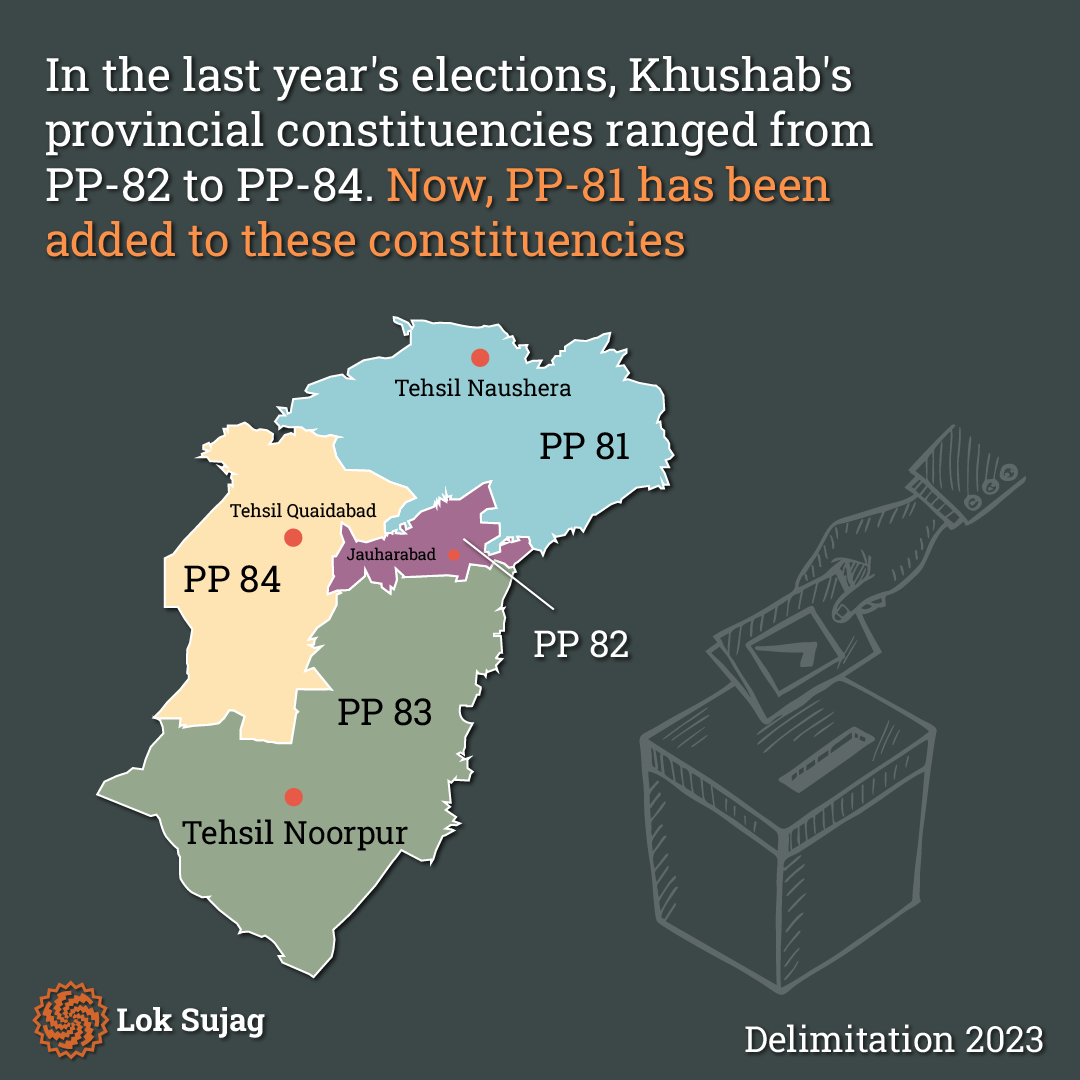 Municipal Committee Mitha Tiwana charge of 11, some areas of Joharabad Qanungoi, and the Patwari Circle Botala and Bajjar South in Mitha Tiwana Qanungoi.
PP-83 in Khushab-3 comprises Thal's areas, Town Committee Gharot, Gharot Qanungoi Halqa, the entire area of Mitha Tiwana Qanungoi except for the Patwar Circle Botala and Bajjar South, and some areas in Joharabad Qanungoi including Patwar Circle Chak 39 MB, 45 MB, Chak 48 MB, 50 MB, and Chak 51 MB.
Additionally, Norpor Thal Tehsil is also included in PP-83. However, some Adhi Pur Qanungoi and RangPur Qanungoi areas have been excluded.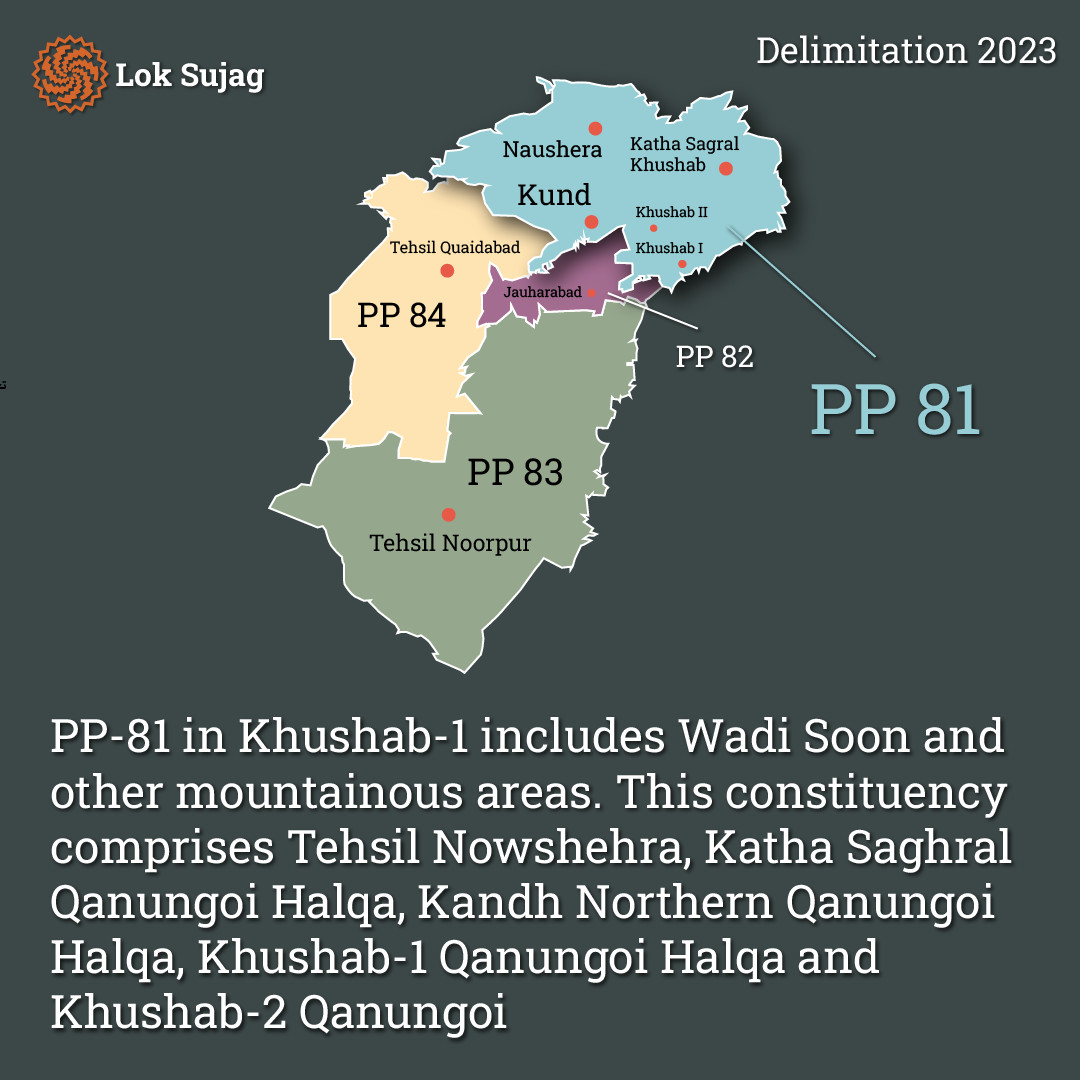 PP-84 in Khushab-4 will comprise Qaidabad Tehsil, half of Norpor Thal Tehsil Kot Qanungoi and the Patwar Circle Rang Pep Baghore in Rangpur Qanungoi, Chak Number 41 BD, and 49 BD.
So far, candidates and citizens have submitted 16 formal objections regarding the district's delimitation. Including areas from Norpor Thal Tehsil in PP-84 Khushab Four has been the most contentious issue.
Most of the objections have also been raised by Norpor Thal, Rangpur Thal and Chakok residents, who wish to be included in PP-83.
Similarly, former MPA Karam Ali Bandial has also lodged an objection, stating that in Norpor Thal, his ancestral union council, Adhi Kot, has been carved out from PP-83 Norpor Thal and included in PP-84 Qaidabad.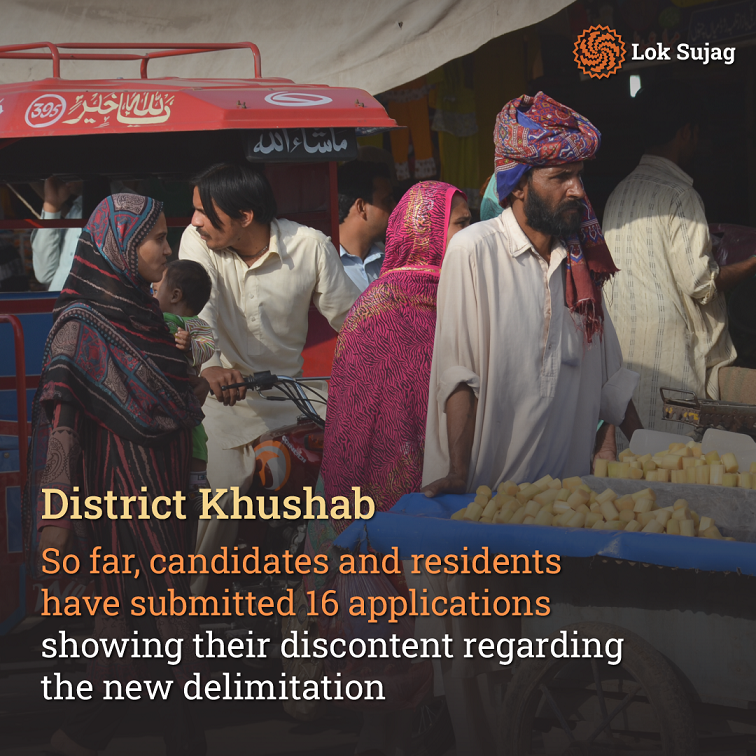 Professor Musarrat Abbas holds a deep interest in local politics. He believes that the new delimitation has addressed, to some extent, the mistakes of the 2018 elections. The public and the candidates faced significant challenges with the previous constituencies.
Political circles view the new delimitation as detrimental to the Pakistan Tehreek-e-Insaf's (PTI) former MPAs, Hasan Islam Awan and Fatah Khaliq Bandial. Hasan Islam's constituency was initially PP-83, which included all three municipal committees. Now, he will contest from PP-81, which comprises Tehsil Noshehra, Katha Saghral, Kandh Shumali, etc.
Similarly, Fatah Khaliq Bandial's constituency was PP-82, which extended from Qaidabad to Tehsil Noshehra and mountainous areas. However, his constituency PP-84 now includes Qaidabad, Adhi Kot, and Rangpur Thal areas. Therefore, both Hasan Islam and Fatah Khaliq may be unable to leverage their developmental work for their benefit.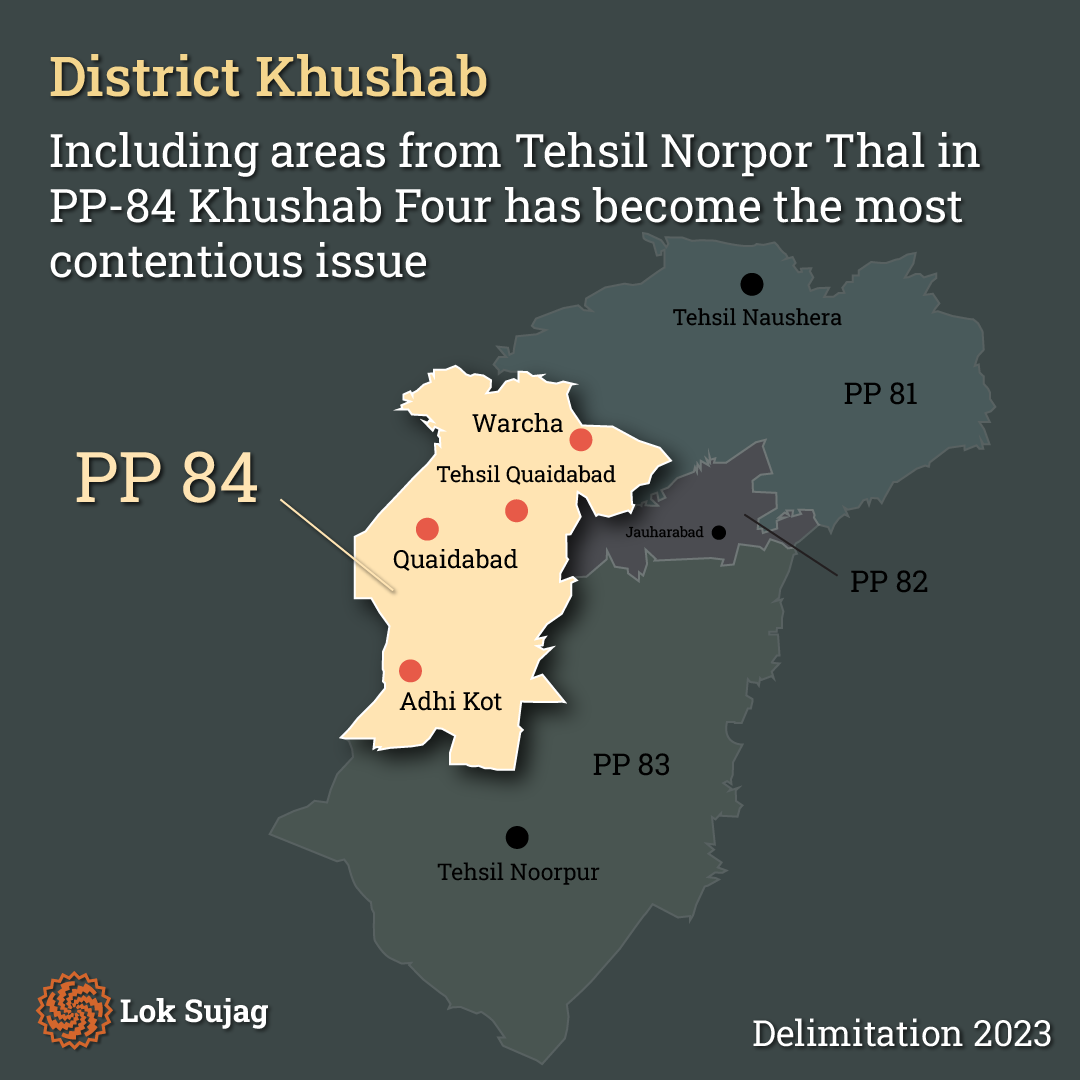 In PP-83, Malik Waris (late) and his son Muazzam Sher of Pakistan Muslim League-Nawaz (PML-N) became Members of the Provincial Assembly (MPAs). With the redrawing of constituencies, they, too, have been deprived of some supporters in the areas.
Joharabad District Bar member Ataullah Jassra mentions that the PML-N candidates and their supporters have challenged the Khushab district's delimitation. However, the PTI has not filed such an application.
PP-84 candidate and PTI leader Amjad Raza Gujjar is satisfied with the new delimitations. He asserts that there is no issue with the delimitations, and the demand for changes only comes from PML-N supporters.
PML-N's district senior vice president, Malik Asif Nawaz, states that among the raised objections, there are no allegations of exploitation or political interference. Most objections have been collected for the convenience of residents to have easy access to their representatives.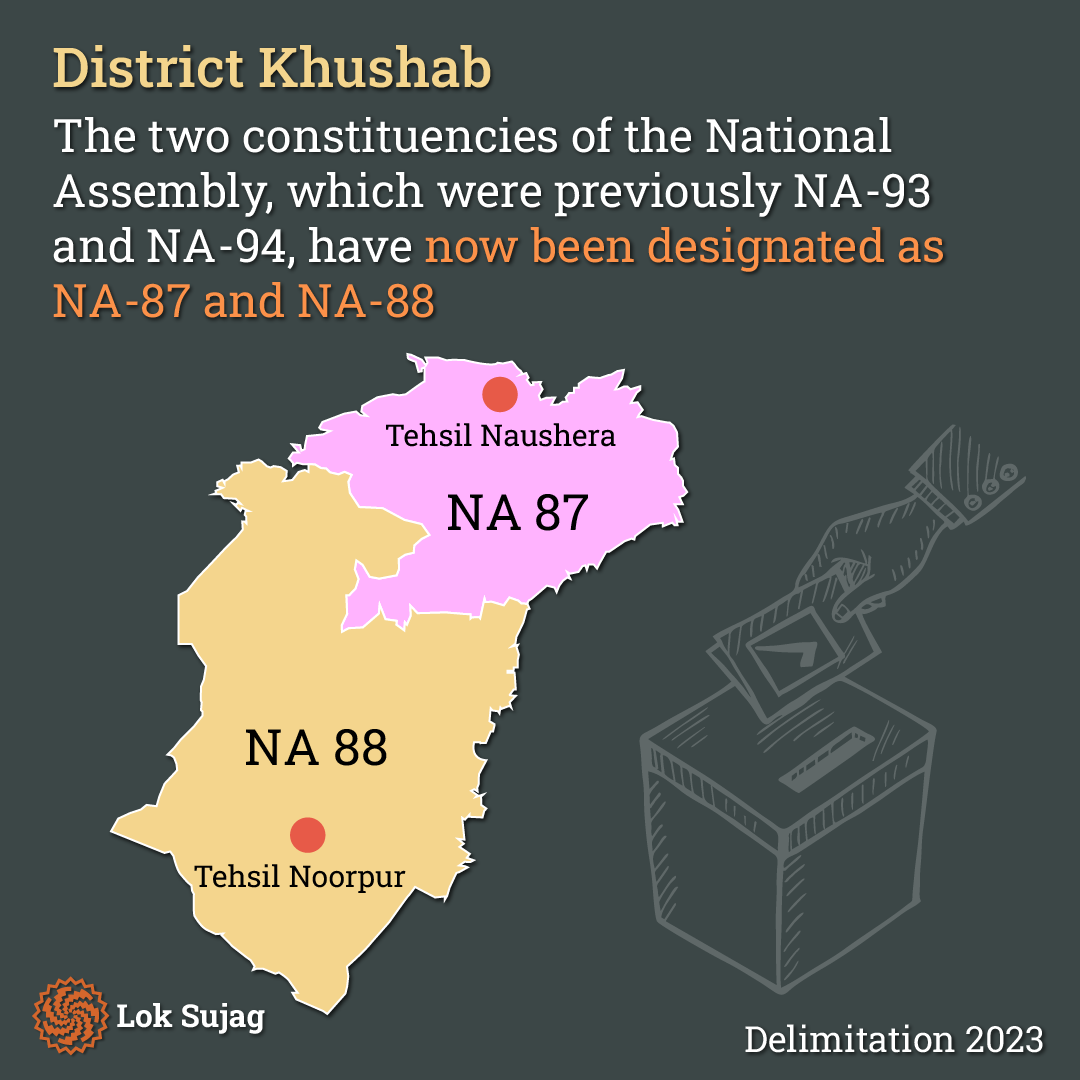 The national constituencies in Khushab have also been "reorganised." NA-87 now extends from Wadi Soon to Daman Pahar, including Tehsil Noshehra, Katha Saghral Qanungo Halqa, Kandh Southern Qanungoi, Municipal Committee Khushab, Municipal Committee Joharabad, Municipal Committee Hadali, Municipal Committee Mitha Tiwana, etc.
Similarly, NA-88 includes Tehsil Norpor Thal, Tehsil Qaidabad, and Tehsil Khushab's Gharot Qanungoi along with Joharabad Qanungoi Halqa Patwar Circle 39 MB, 45 MB, 50 MB, 51 MB, and Town Committee Gharot.
Also Read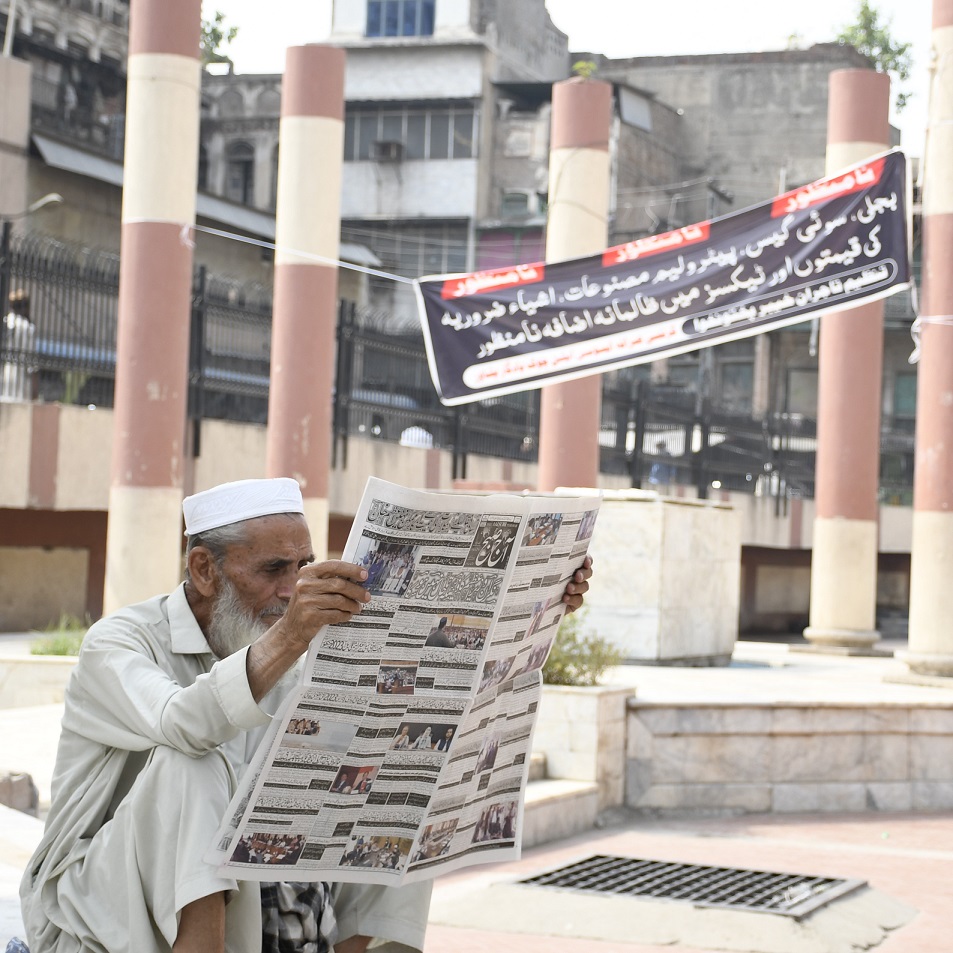 Peshawar's political shift: Mystery behind disappearing constituency
Regarding the National Assembly seats, Malik Tahir Sarfraz, Malik Zafar, and Malik Khan Tariq Muhammad have raised objections. They have demanded changes in some areas of NA-87 and NA-88.
From NA-87, National Assembly candidate and Pakistan People Party's ticket holder Muhammad Ali Sawal states that there are reservations in some areas. The Awan tribe areas in the mountainous belt, including Choha, Dhokri, Goleywali, and Warchha, have been included in NA-88 instead of NA-87.
He believes that there has been no interference in the delimitation process. Those individuals who have challenged the delimitations have also demanded rectification of cultural or tribal divisions.
Journalist Naematullah Masood has a different opinion. He believes that politicians have worked hard in their respective constituencies over the past five years.
"Disruption in the constituencies has caused the hard work of political workers to go in vain. Now, they must build their political capital anew in the newly defined areas."