The new delimitation has stirred a political storm in the three northern districts of Sindh located west of the river. In Kashmore district, where opponents of the Pakistan Peoples' Party (PPP) seem pleased, the Election Commission of Pakistan (ECP) has set PPP leaders against each other in Shikarpur district.
Before the last elections, the population of Jacobabad district was approximately 1 million, Kashmore had around 1.1 million, and Shikarpur district had roughly 1.2 million. At that time, including Shikarpur's two seats, these three districts were allocated four seats in the National Assembly (NA) and nine in the Provincial Assembly (PA).
In the recent census, Jacobabad district's population is 1,17,497, Kashmore's population is 1,233,957, and Shikarpur district's population is 1,386,303. Although the PA seats for these three districts were maintained in the new delimitation, the ECP, in its attempt to rationalise the population proportion, clubbed Jacobabad, Kashmore, and Shikarpur to create four constituencies for the NA.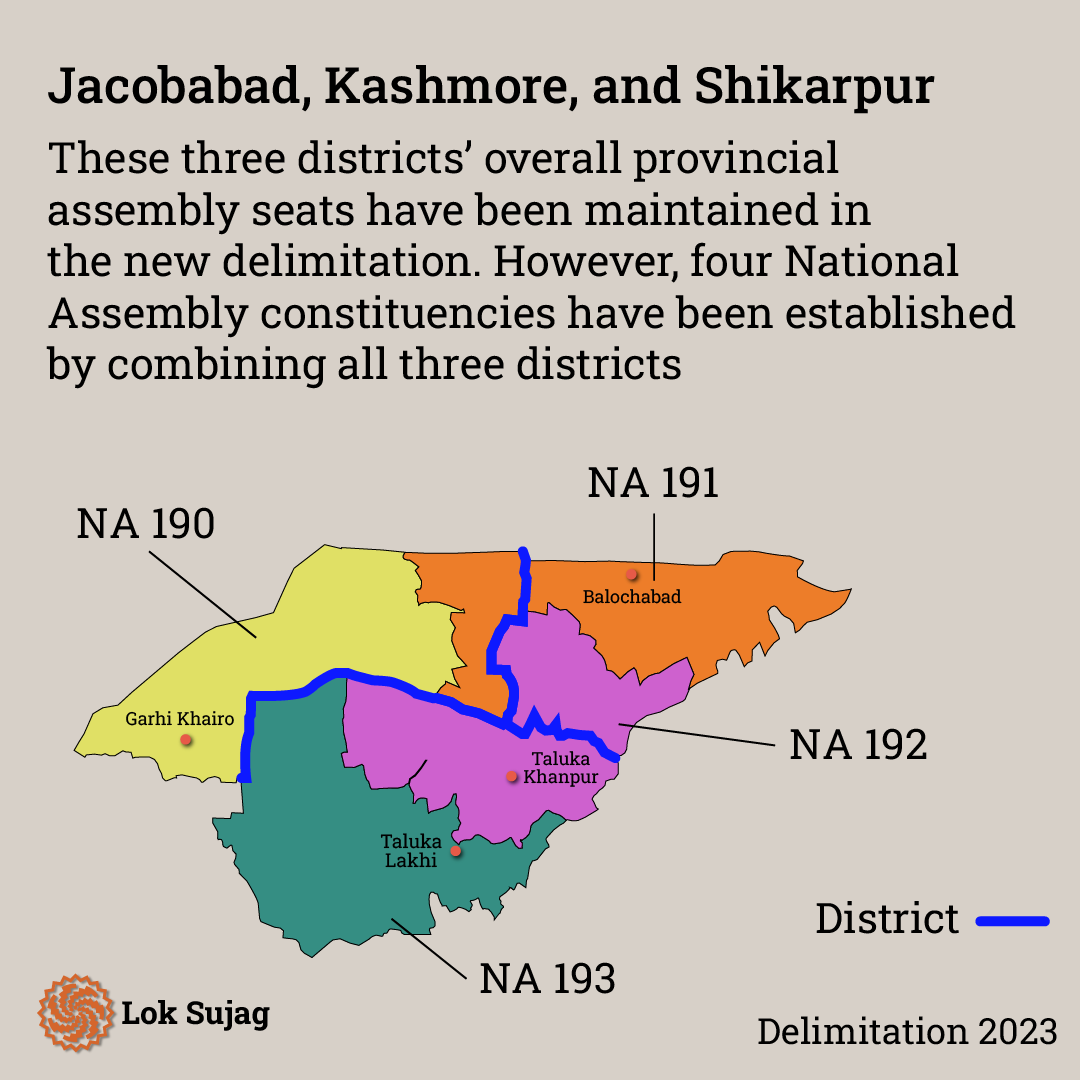 According to the new delimitation proposals, NA-190 will only consist of the areas of the Jacobabad district, out of which some areas have been taken out and included in NA-191.
The second constituency, NA-191, is Jacobabad cum Kashmore. It includes Thul from Jacobabad district, Misri Pur, Murad Pur, Thul Bharano, Gulbalu and Bhunr from Kashmore district. It also encompasses the entire Kashmore tehsil and Kundh Kot, except for Ghauspur Town and Ghauspur Tapa.
NA-192 Kashmore cum Shikarpur consists of Tangwani Town, Dunya Pur, and Karampur Town from the Tehsil Tangwani in the Kashmore district's tehsil Tangwani, while from Kandh Kot Taluqa, Ghauspur Town and Shikarpur, Khanpur, Sultan Kot, Lalyun Rustam Town and Lakhi Ghulam Shah have been included.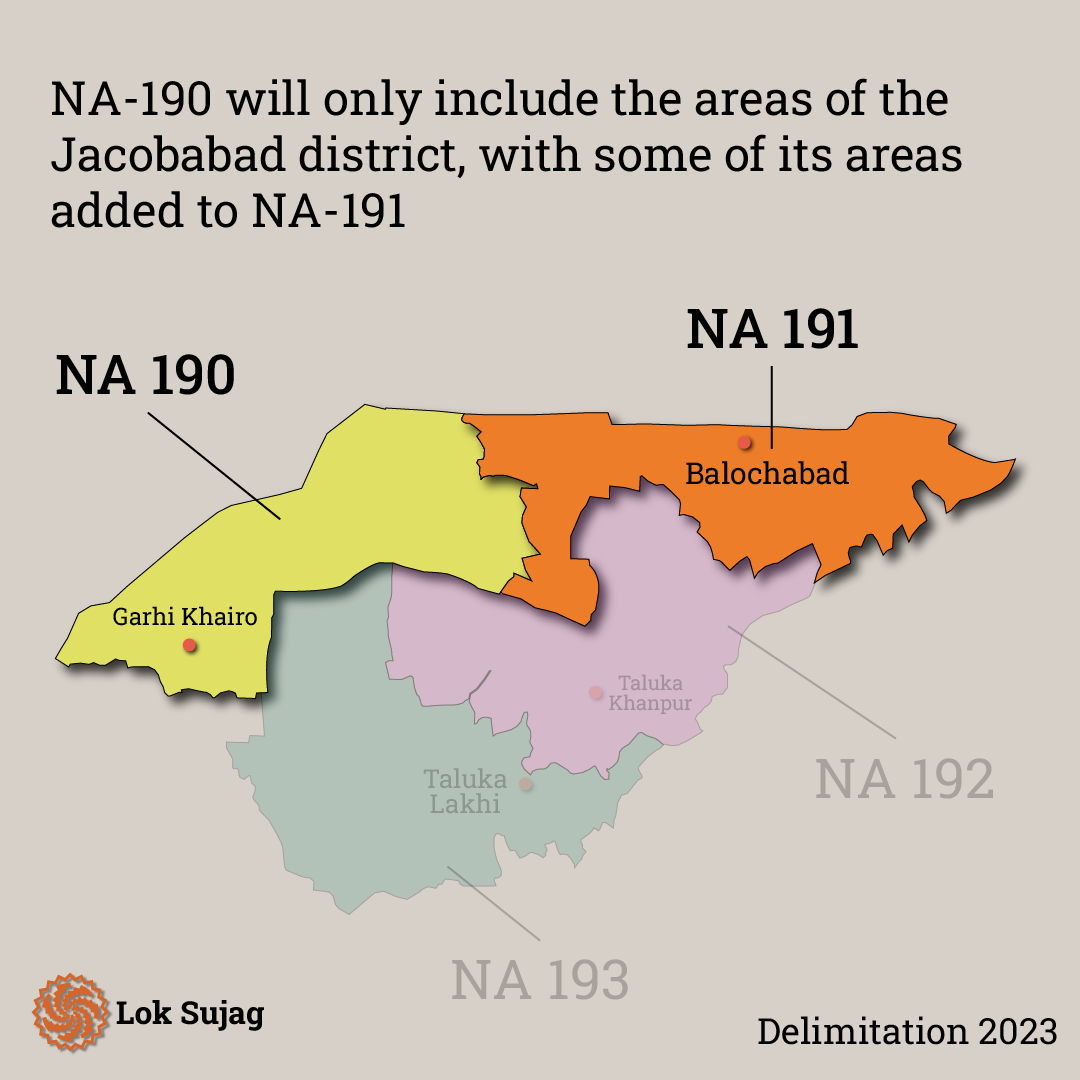 NA-193 Shikarpur will comprise all regions of the Shikarpur district, excluding Khanpur, Sultan Kot, Lalyun, Rustam Town, and Lakhi Ghulam Shah.
The politics of Kashmore, Shikarpur and Jacobabad have been disrupted due to the division of parts of the Kashmore district.
This means that the district, with a population of 1,233,957, has been split into two national constituencies, but it does not have its own separate national constituency.
In the situation created after the new constituency delimitation, former MPAs and PPP rivals, Ijaz Jatoi and Agha Timur Khan, are satisfied and united. However, there are visible internal disagreements among PPP leaders.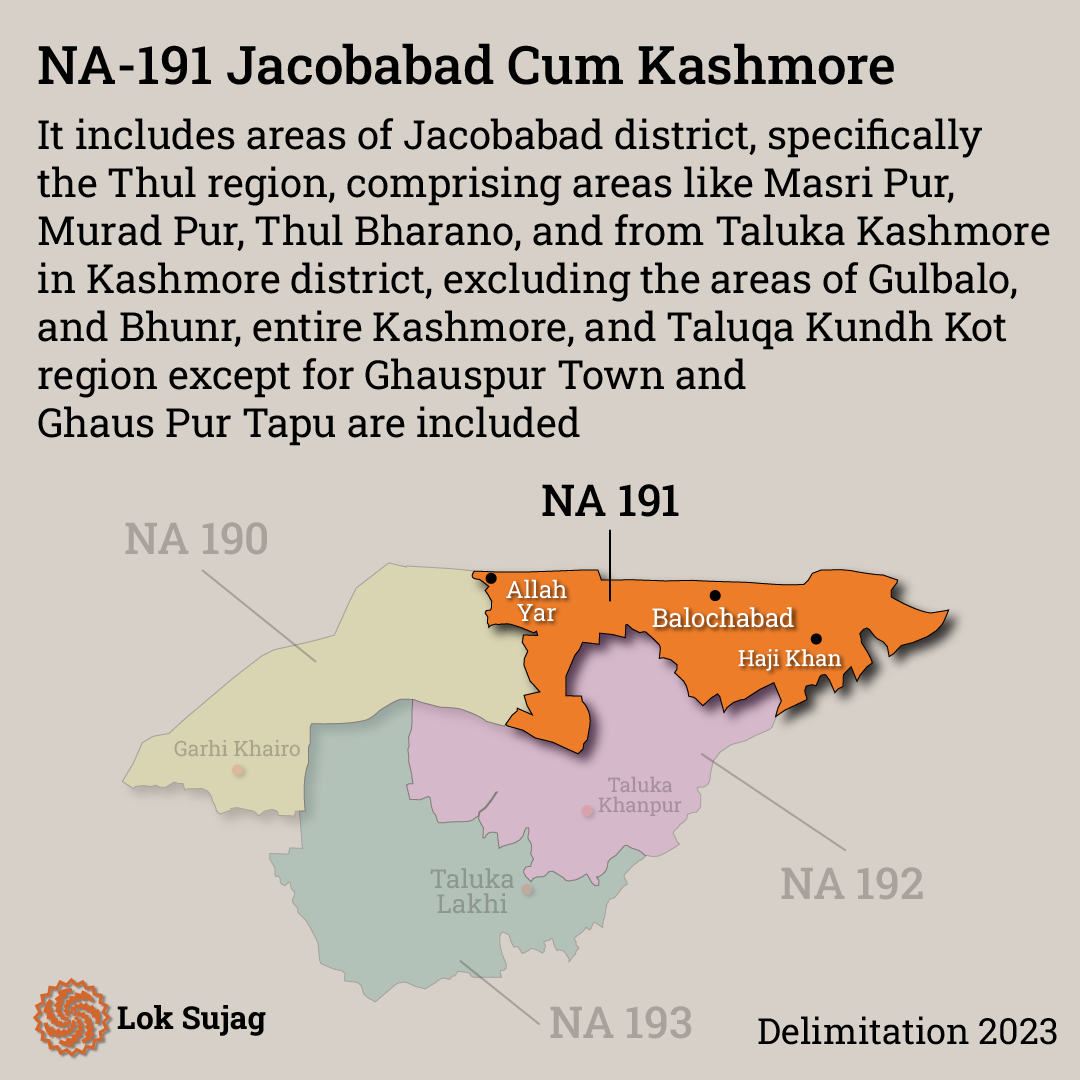 Former MNA Ghaus Bakhsh Khan Mehr, former provincial minister Imtiaz Ahmed Sheikh, former speaker of the Sindh Assembly Agha Siraj Khan Durrani, and former MPA Meer Babul Khan Bhayo have raised separate objections with the ECP to include their traditionally supported areas in their respective constituencies based on personal influence and stronghold.
A significant vote bank of Mir Shabir Khan Bijarani, who has always been successful on the PPP ticket in Kashmore district, has been included in the Shikarpur district constituency.
Mir Shabbir Khan Bijarani was a candidate for the NA in the recent elections. His late father, Mir Hazar Khan Bijarani, had been a former MNA from this area.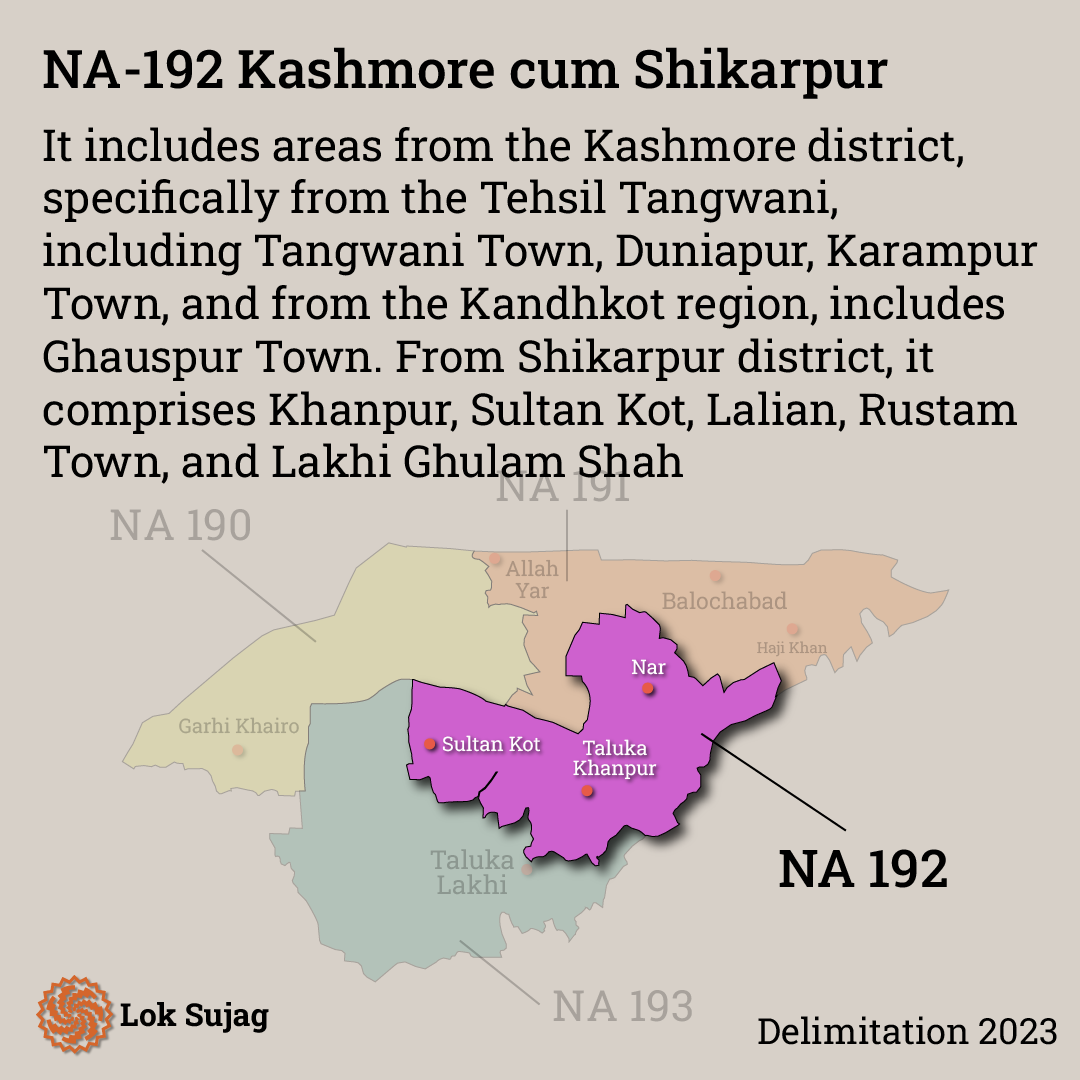 Journalist Ali Hassan Malik says that Mir Shabbir Bajarani is suffering the most due to the new constituencies.
"In Tangwani and Ghauspur Town, the population consists mainly of supporters of Shabbir Ali Bajrani, including Bajrani, Sundrani, Dhani, Tighani, Bajakani, Sherani, Bhulkani, Malik Gola, Khosa, and other families. These votes have been shifted to the NA constituency NA-192 of Shikarpur district."
He says that the new delimitation will benefit former MNA Ehsan-ur-Rehman Mazari. However, the Mazari group may be competing with the PPP's Abid Khan Bhayo.
"At the moment, Ehsan Mazari is in the PPP, but his uncle Salim Jan Mazari can call him back at any time. However, the next election will be a big test for political feudals."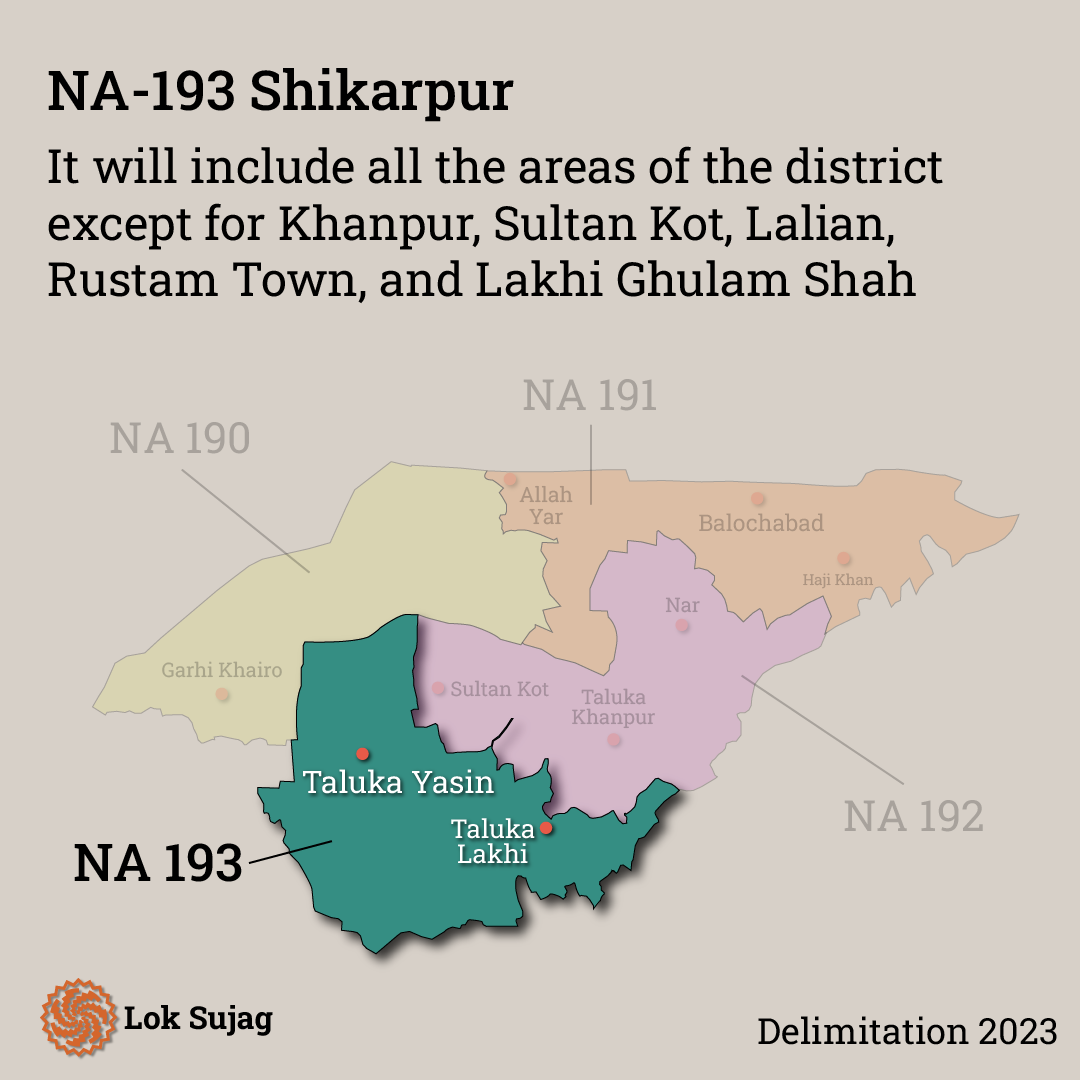 On the other hand, candidates from Shikarpur and Kashmore, who are affiliated with the PPP, have submitted their objections regarding constituency delimitation to the ECP.
Among them, a recently joined PPP member, Ghaus Bhaksh Mehr, has requested that 'Jagan' and Rustam Circle from NA-192 be included in NA-193.
Former MNA Dr Muhammad Ibrahim also demands that Tepa Shahal, Humayun, and Jagan be shifted to NA-193 from NA-192.
Also Read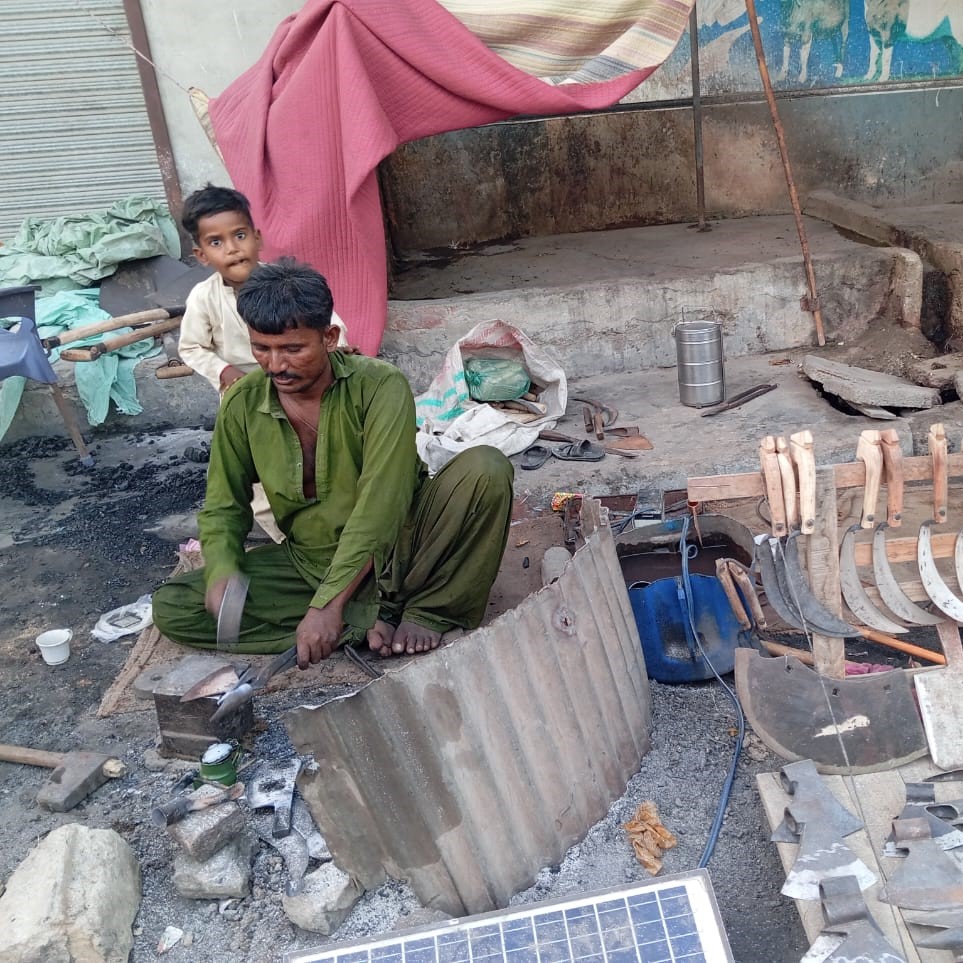 Sanghar district's political unrest: Decoding the impact of national and provincial seat shortages on PML-N and PPP
On the other hand, former MPA Babul Khan Bhayo has proposed the construction of NA 92 comprising Tepa Jo and Lakki taluqas of Khanpur, part of Kashmore district.
He has also requested the inclusion of Jagan City, Shikarpur, and Gaddi Yasin, as well as the remaining parts of Khanpur, to form NA-193.
Faraz Imtiaz Shaikh has submitted objections to the provincial constituencies of Shikarpur district that PS-9, PS-7 and PS-8 should be declared final.
Other members of the PPP have also submitted similar objections.
The social leader Javed Khoso from the Tangwani Taluqa says that dividing the voters of the Shikarpur district can cause significant harm to the public. Whoever wins from Shikarpur or Jacobabad will pay attention to their own area, neglecting other villages and towns.
Journalist Zahid Noon says that the new delimitations perturb both the representatives and people of Shikarpur district. The voters of Shikarpur and Kashmore have been combined to form a NA seat. The ECP has stated its position, but so far, political parties have not been able to clarify their positions.