Muhammad Tahir Khan lives in Dera Norang Khailanwala, 25 km east of Mianwali. This village is located at the foothills of Kohistan Namak in an area called Chadru. Tahir's family consists of five members, and he does farming on his ancestral land. This year, he planted cotton on twelve acres of land, which was ready when a small hailstorm on September 29 destroyed it.
Tahir says there were clouds in the sky that morning, and he was happy thinking that if it rained, his crop would benefit, and he'd save the cost of water, too. But along with the rain, it started hailing, which was unusual. After a while, the weather cleared, and his crop was destroyed when he reached their fields.
Yusuf Khan, a resident of the same village, had planted cotton on six acres. His crop was also ready for harvesting but was severely affected by the hailstorm.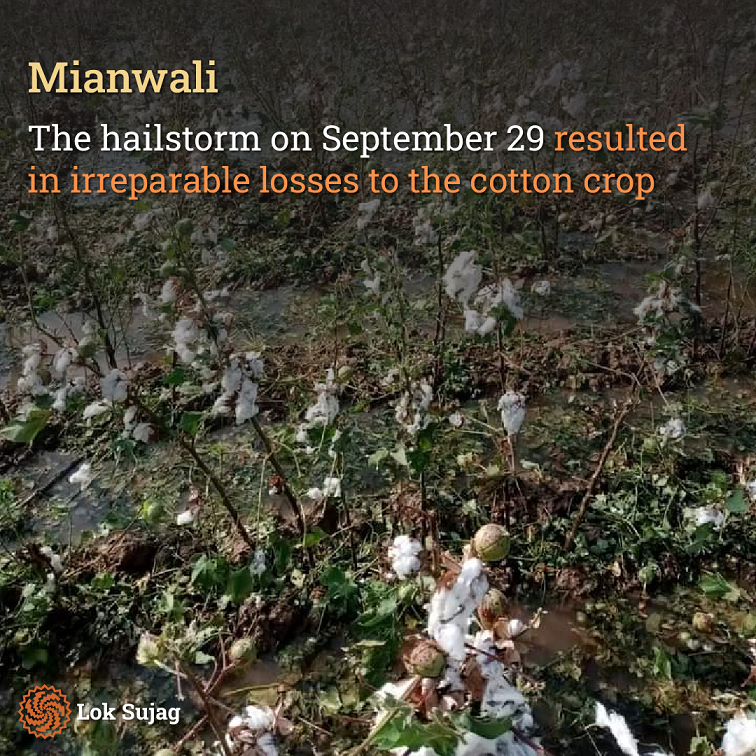 He says that he had spent up to 140,000 rupees per acre of land and hoped to get 17 to 20 maunds of cotton per acre, but now he will barely be able to raise four to six maunds of cotton.
He says that the rates of fertiliser, spray, water, plough, etc., have increased significantly due to inflation. He had borrowed money for these expenses, but now, after this disaster, he does not have the courage to cultivate wheat because it will not recover the money they have spent. Yusuf Khan is concerned that the government's fixed rate is meagre, and now they are offering an even lower rate."
He and other hailstorm-affected small farmers have demanded that the government take steps to redress their losses as the investment they had invested in the crop is no longer expected to give any returns.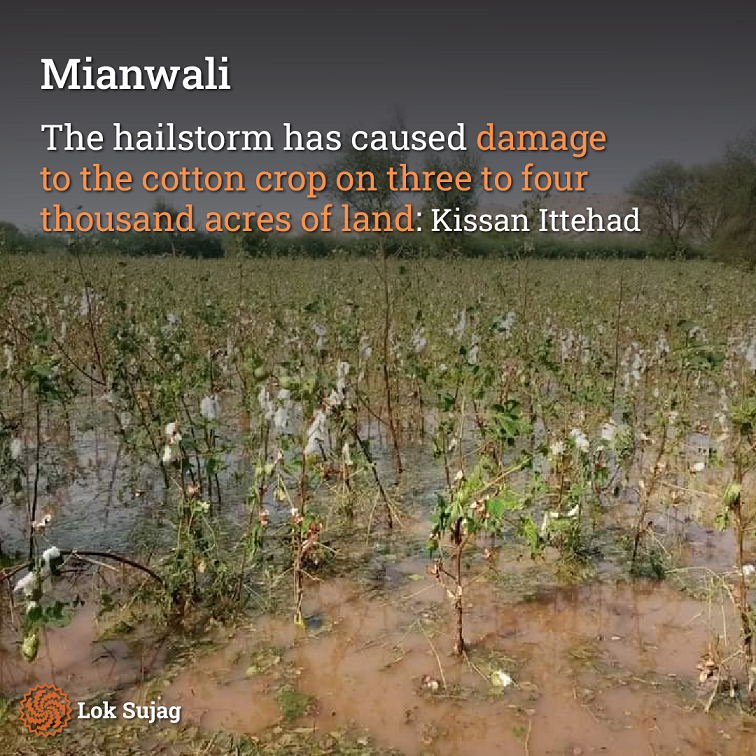 The source of employment for the residents of Chhadro is agriculture. Farmers here irrigate their crops with tubewell water. Two crops are grown here in the form of wheat and cotton in a year. Most people here are engaged in cotton farming, so their cotton picking usually begins in the first week of October.
However, recent climatic changes have started to affect their farming practices significantly. Farmers' organisation, "Kisan Ittehad," Vice President Nawaz Khan, says that the hailstorm has caused losses to cotton crops on three to four thousand acres of land. Farmers were already distressed due to high tube well electricity bills and low government rates for cotton, and the hailstorm has only exacerbated their difficulties. Following these losses, affected farmers are demanding a two-month waiver on their electricity bills and an increase in cotton rates to recover and cultivate the wheat crop.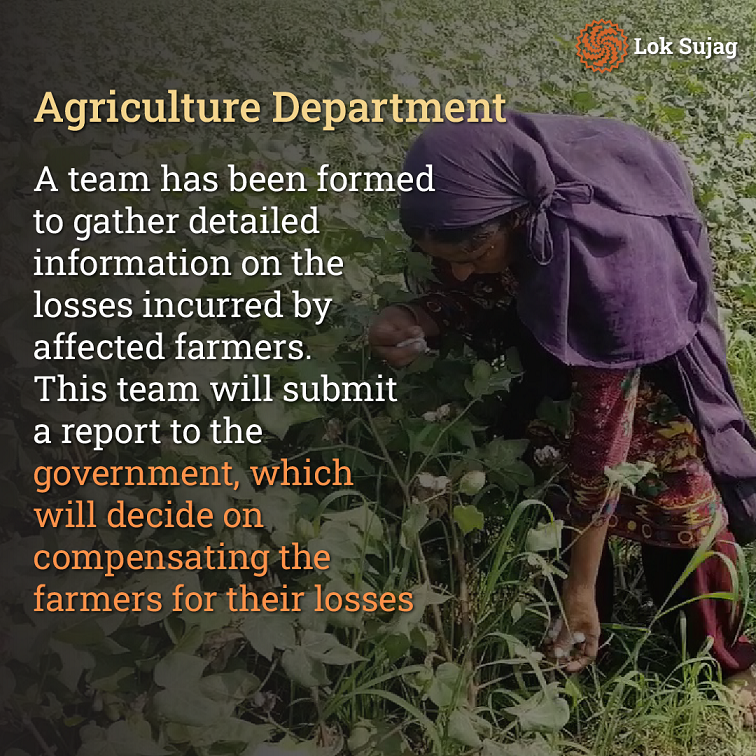 Muhammad Tariq Khan, assistant director of agriculture, Mianwali, says that he has visited the crops affected by the hailstorm and formed a team to assess the damage and provide information to the affected farmers along with the details of their damage. The team will submit its report to the government, in the light of which a decision will be taken on the issue of compensation to the farmers.
Forty-year-old Naziran Bibi of the same village is a mother of four children. During the cotton season, she and her elder daughter work as masons.
Also Read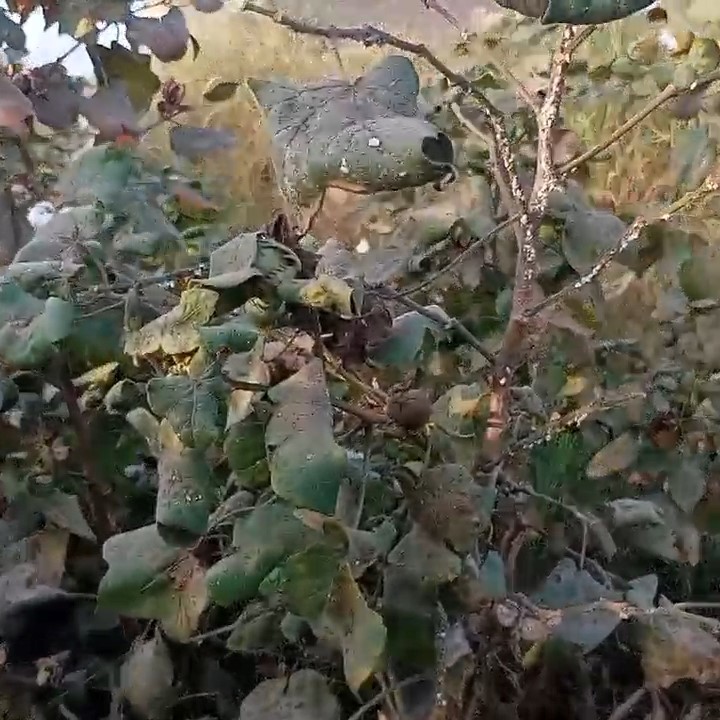 Whiteflies threaten Rajanpur's cotton crop: Government initiatives to safeguard
She says that she does not go outside her area to pick cotton but only works in nearby areas. Cotton season benefits her as it allows her to earn some surplus money. But the recent hailstorm has ended her hope.
She says that a woman usually picks twenty to twenty-five thousand rupees of cotton during the cotton season, with which most women buy something for their daughters' dowries. This year, the cotton picking rate increased per kg, but no one asked her to pick cotton because the farmers have suffered a lot. The families of farmers are picking cotton themselves.
According to the Department of Agriculture, the cotton crop has been cultivated in an area of 1,54,490 acres in Mianwali this year. Production in Pakistan last year was 4.8 million bales due to floods in southern Punjab and Sindh, which was the lowest production in history, but this time, Pakistan is expected to produce 12 million bales.