About 7.1 million people are affected in Gilgit-Baltistan and Khyber Pakhtunkhwa every year by some kind of natural disaster caused by either a melting glacier or landsliding.
This is revealed by Fahad Bashir Bangash, provincial coordinator of GLOF-II, a project aimed at limiting the damage caused by these disasters. He also says there are about 3,000 glacier lakes in Gilgit-Baltistan and Khyber Pakhtunkhwa, out of which 33 are melting rapidly due to rising temperature in those areas. The rising temperature could cause them to burst any time and result in widespread destruction.
In Khyber Pakhtunkhwa, three areas of Chitral district- Madak Lasht, Reshun and Arkari - two areas of Upper Dir district - Kumrat and Biar - three areas of Swat district - Mittaltan, Mankial and Utror - one area of Upper Kohistan district - Kandia - and seven areas of Gilgit-Baltistan have lakes formed out of glaciers, he says. The government launched a program called GLOF-I in 2011 with the help of the United Nations Development Program (UNDP) to educate people living around these lakes about climate change and the ways to deal with its possible effects. The second phase of the program, GLOF-II, was launched in 2017. Under this phase, not only an early warning system for natural disasters has been set up but weather forecasting systems, rain gauges and water depth gauges are also being installed on various lakes and rivers.
Khyber Pakhtunkhwa's Provincial Disaster Management Authority (PDMA) used this system to issue a warning on June 19th, 2022 to inform people about heavy rains, floods in streams and landslides that might occur in many parts of the province this summer. In view of this warning, all the concerned departments have been directed to take steps to protect local populations from the dangers posed by these natural disasters and tourists have also been discouraged from visiting areas where there is a risk of landsliding and flooding.
On the brink of disaster
Ikramullah is a 36 years old teacher in a government college in Biar, located in Upper Dir district. He says this area has been flooded several times since 2015 and these floods have damaged a large number of houses, agricultural land, bridges, roads and schools besides killing five people. The bursting of a glacier at Shandur Lake in the same district a few years ago also affected the local population a lot, he says.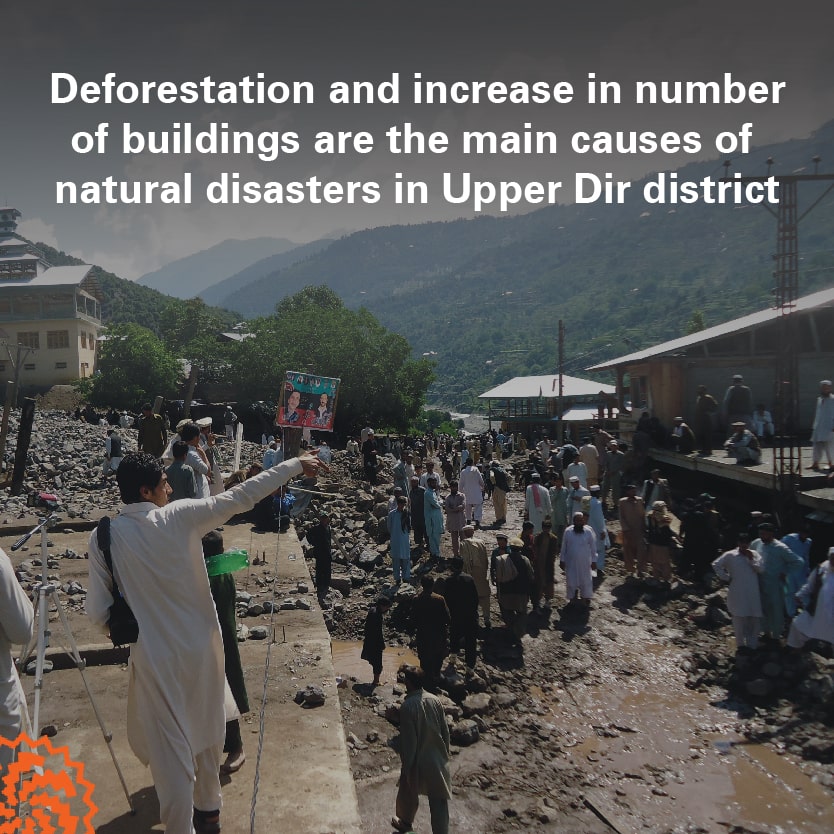 He explains how, while pursuing higher education, he realised that the two main causes of these natural disasters are deforestation and increase in the number of residential and commercial buildings in his native area. Professor Juma Muhammad, chairman of the environmental sciences department at Shaheed Benazir Bhutto University in Sheringal, Upper Dir, also agrees.
Due to an increase in local population, he says, timber's demand for construction and fuel is increasing and this demand is being met by cutting down trees. But, he argues, "when trees are cut down, the carbon stored in them is released into the atmosphere which increases the air temperature. This, in turn, raises the overall temperature of the area and makes the glaciers melt." Not only this, the glacial floods carry with them huge mountain rocks that cause immense loss to life and property. He, however, says the damage caused by a sudden glacial outburst is always worse than the one caused by a slowly melting glacier as the former causes unexpected and deadly landslides.
Such incidents are still few in Upper Dir, Muhammad says, because "forests are still present here on a large scale; they not only obstruct the flow of flood waters but are also able, to a large extent, to stop the huge rocks flowing in them." He, however, warns: "if deforestation is not stopped, glaciers will also start erupting in this area, causing loss of life and damaging property on a grand scale."
Ground realities suggest that these concerns may materialise sooner rather than later.
Although provincial forest officials do not have any data on how much of the local area is under forests in Upper Dir and how much this area has decreased in recent years, residents of the district complain that their forests are getting thinner. This, in turn, is causing the local climate to change.
Also Read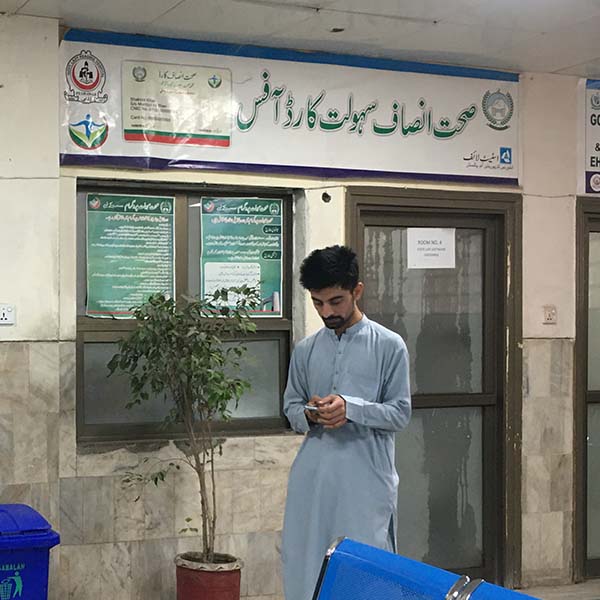 Report card: How the government-funded health insurance scheme is not working for many across Punjab
Muzaffar Khan, 62, a resident of Kochkal village located south of Dir city, says at least three to four feet of snow fell in his area during winters when he was young - around three decades ago. In those days, he says, "six months of winter were so cold that life would come to a total halt during them." But now the situation is such that "even in February and March, local weather gets as hot as it does in the plains."
The recent meteorological data confirm his claim. According to the Meteorological Department, average temperature in both Upper Dir and Lower Dir districts was 32 degrees Celsius on March 18th this year. Such high temperature has never been seen before in this region during this month. Although on March 31st, 2018, maximum temperature here rose to 31 degrees Celsius but maximum local temperature in this month never exceeded 23.9 degrees Celsius between 1967 and 2010.