Bahawalpur landowner, Mohammad Amin, took inspiration from the government's Grow Cotton, Save the Economy campaign and planted this crop on 27 acres of land. Despite his efforts, he now worries that low production may result from a shortage of canal water. Although he has a tube well installed in their fields, operating it frequently poses a challenge due to the high cost of diesel. He now has concerns about the fate of his crops.
Muhammad Amin belongs to Dera Warwah, where the 3 LBC canal irrigates the agricultural area. He mentions that despite being an annual canal, it operates for one week and remains closed for two weeks. This schedule hinders his ability to water his crops promptly as needed.
He explains that the recent rains have provided some relief from the water shortage, which would have otherwise caused damage to the crop. The rainfall received so far has been beneficial for the cotton. However, additional heavy rains could be detrimental as the cotton is currently at a vulnerable stage and cannot withstand prolonged water exposure. In such a scenario, the risk of harmful insects like whitefly infestation may escalate to dangerous levels.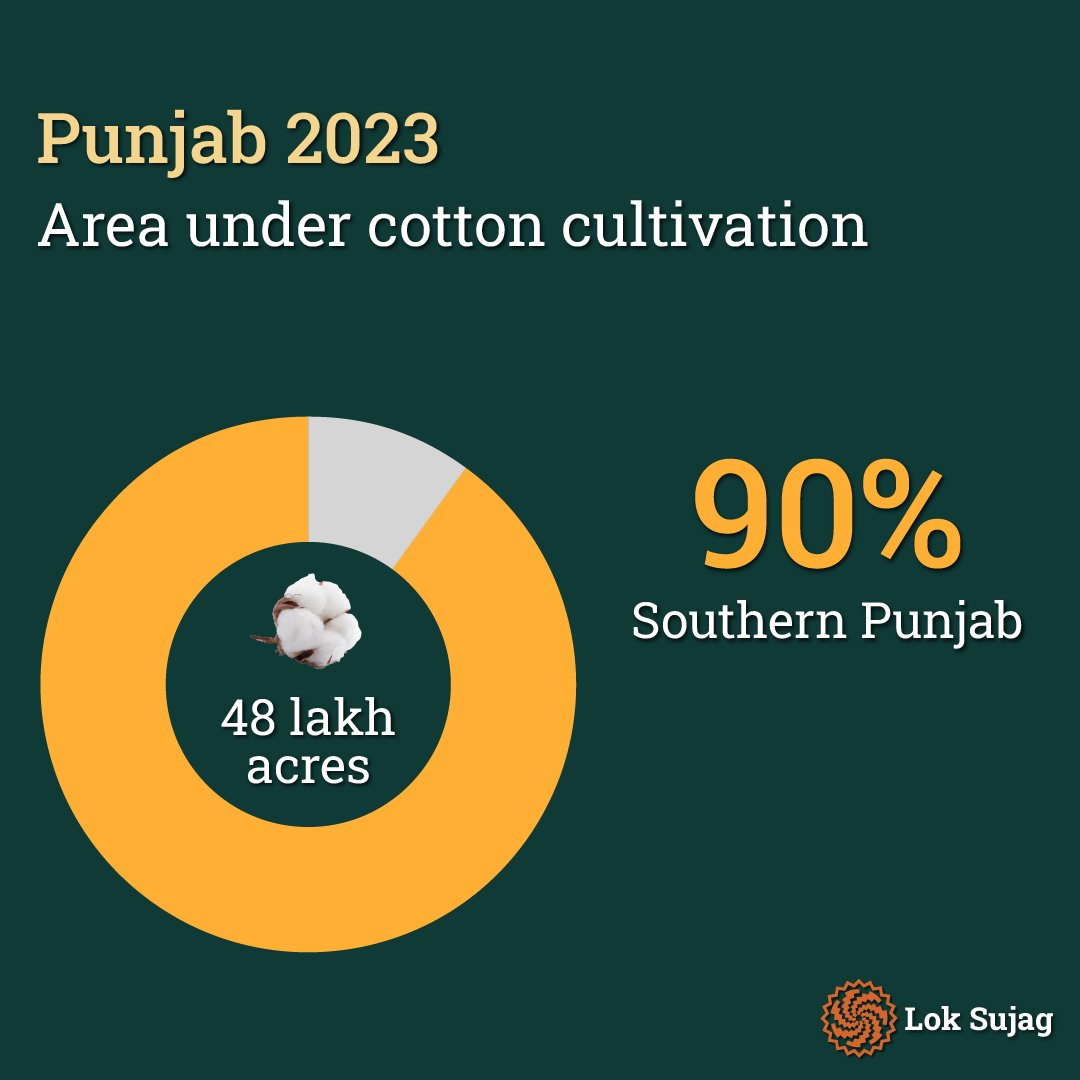 Chaudhry Javed Rasool from Chak 33 BC Allah Din Wali, who irrigates his crop from the same canal, is encountering a similar situation. He has cultivated cotton on 35 acres of land, 10 acres more than what he cultivated last year.
He explains that before commencing cultivation, both the agriculture department and the local district administration had assured them of an uninterrupted supply of canal water for their crops.
Additionally, they were promised no reduction in the quality and availability of seeds, fertilisers, and agricultural chemicals. However, contrary to these assurances, none of the promises were fulfilled. As a result, the cotton plants have started shedding fruits and leaves due to the scarcity of canal water.
Grow Cotton, Save the Economy
The Punjab government initiated a campaign to boost cotton cultivation this year by setting a minimum price of eight and a half thousand rupees per maund. In addition, farmers were assured of access to quality seeds and medicines at official rates, and rewards were promised to those who achieved high cotton production.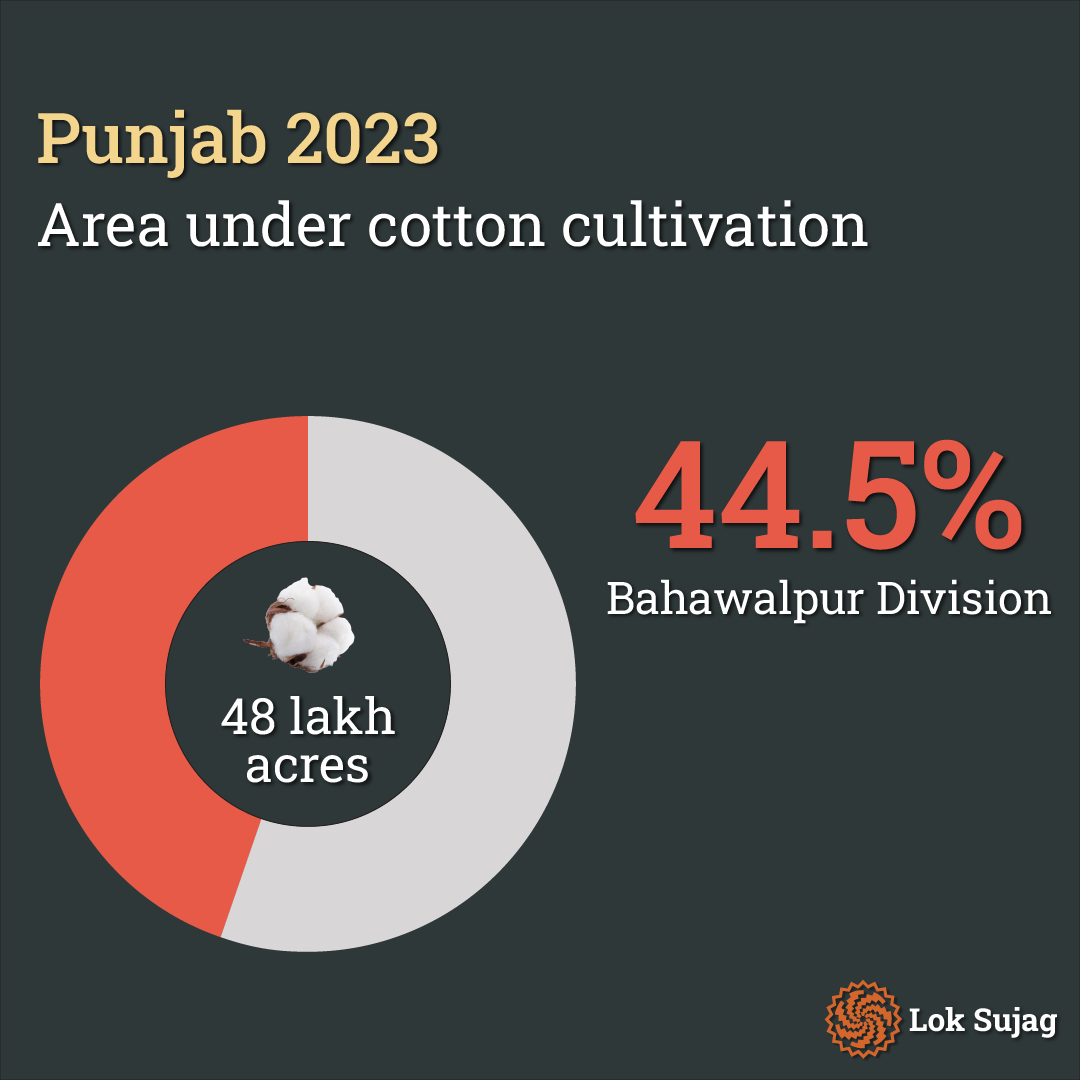 As part of this campaign, a target was set to cultivate cotton on an area of 50 lakh acres in the province, with South Punjab's target being 45 lakh 54 thousand acres.
As per the report issued by the Department of Agriculture on June 21, 2023, cotton cultivation has been accomplished on an area exceeding 43 lakh 44 thousand acres in Bahawalpur, Dera Ghazi Khan, and Multan divisions in South Punjab, signifying the attainment of 95 per cent of the set target.
In South Punjab, the majority of cotton is cultivated in the Bahawalpur Division, which holds 44.5 per cent of the total cotton area in Punjab this year. This division encompasses the districts of Bahawalpur, Bahawalnagar, and Rahim Yar Khan. The combined cotton cultivation area in these districts exceeds 21 lakh 38 thousand acres this year, reflecting a 20 per cent increase compared to last year.
However, numerous cotton farmers express their grievances about receiving canal water, which is less than 50 per cent of the prescribed amount. Information provided by the irrigation department further validates this concern.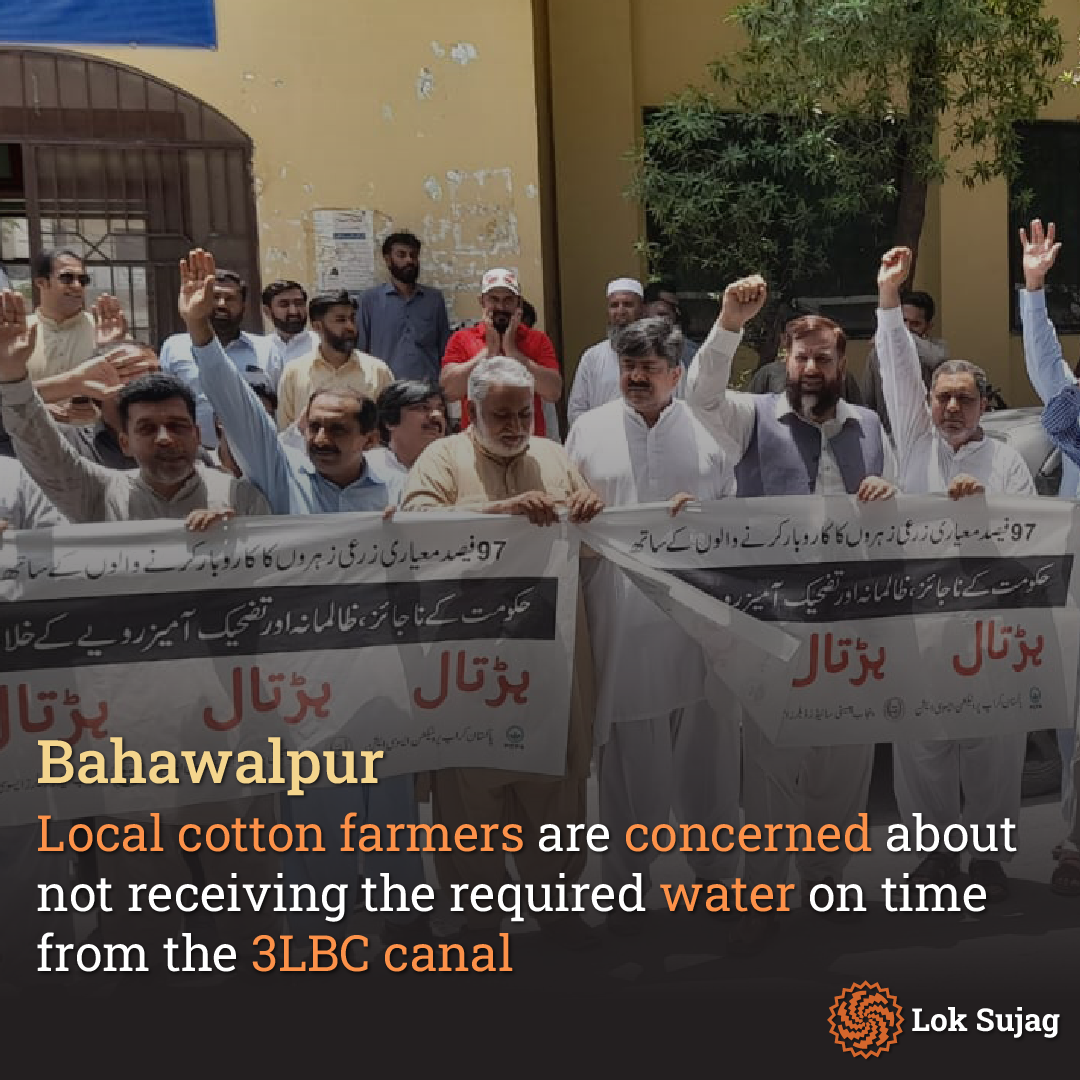 Akhtar Kahilon, the sub-engineer of the department, states that the prescribed quantity of water for the canals in the Bahawalpur division is 6500 cusecs. However, the actual water release ranges from 2800 to 3400 cusecs at the head regulator Lal Sohanra. These figures were recorded last month during the fruiting stage of cotton.
Akhtar Kahlon informs that 3000 cusecs have been sanctioned in the Nahar desert branch from Chief Regulator Lal Sohanra, but only 1300 cusecs are being released.
Similarly, the Ahmedpur branch requires 2200 cusecs of water, but only 12 cusecs are being sent to it. Moreover, the water level in 30 small canals is significantly lower than the prescribed quantity.
Farmers claim that the chief engineer of the Inhar department in Multan prioritises releasing water from other head mills' siphons to different regions only after completing the canals of his zone. Until two years ago, the chief engineer in Bahawalpur had the authority to distribute water from the Hadmelsi siphon, ensuring adequate water supply in the area's canals as needed.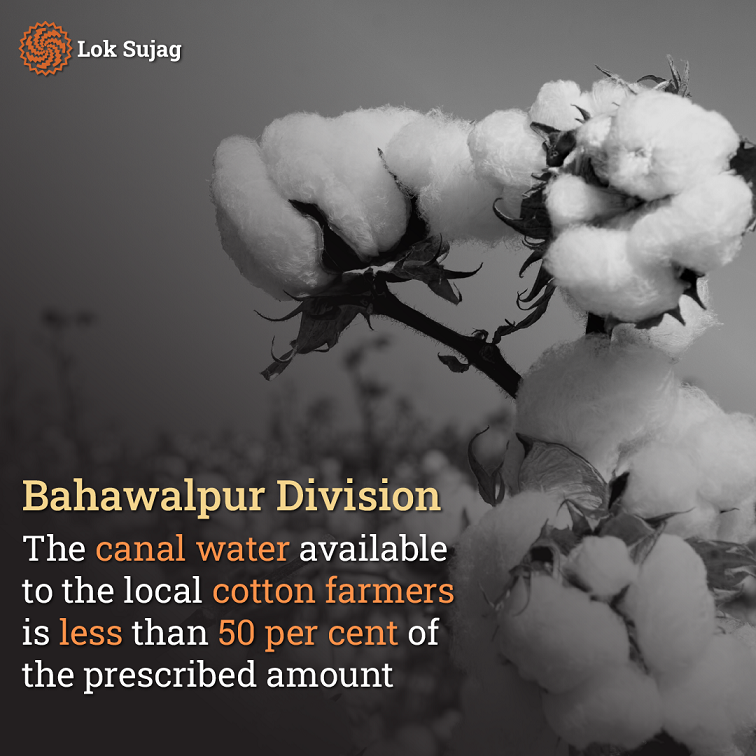 Javed Rasool believes that the government's campaign to increase the area under cotton cultivation can benefit the country and the rural economy. Cotton is a cash crop that improves the livelihood of the landless people in the villages, especially women, and provides employment opportunities for farmers. Additionally, promoting cotton cultivation can help the textile industry of Pakistan become self-sufficient, ultimately providing jobs for millions of people.
However, he does not see it happening because, according to him, several reasons might hinder progress. He points out the shortage of canal water, the increase in prices of agricultural inputs, and the non-availability of agricultural medicines as potential factors that could also lead to an abnormal decrease in production this year.
According to official data, cotton is cultivated in Punjab in this area after a gap of five years. Previously, in 2018, this crop was grown on an area of 5 million 72 thousand acres.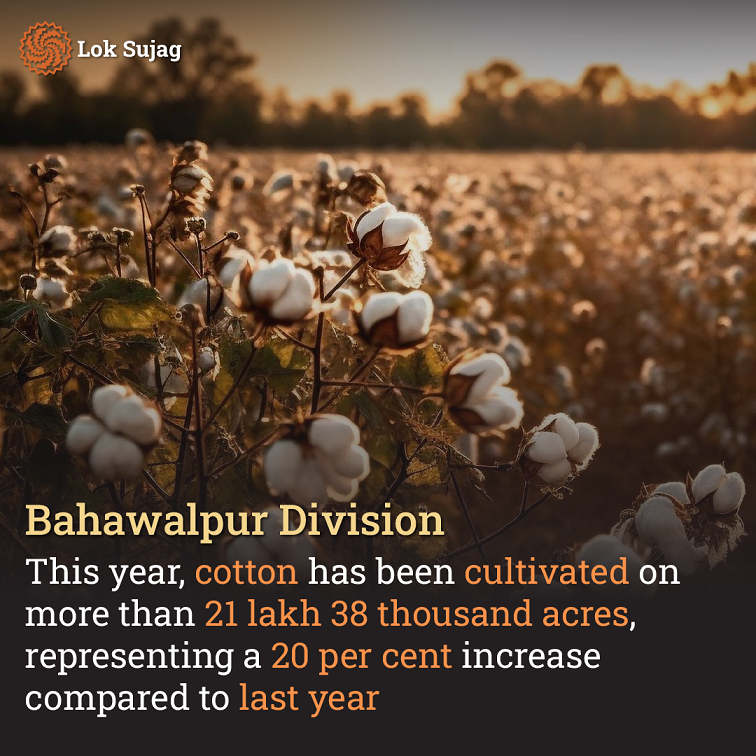 Regarding the issues of water scarcity, increasing prices of agricultural inputs, and non-availability of agricultural medicines, the director of agriculture in Bahawalpur asserts that his department is extending full support to farmers in every possible way to safeguard the cotton crop from damage.
According to Mohammad Iqbal Shahid, Deputy Director of the Pest Warning Department in Bahawalpur Division, raids are being conducted on warehouses of pesticide companies and dealers' shops to ensure the quality of agricultural drugs. Additionally, comprehensive awareness programs are being provided to farmers about identifying and eradicating harmful insects and implementing an Integrated Pest Management (IPM) program.
In a press conference, Nasir Shakeel Kahlon, the regional coordinator of the Pakistan Crop Protection Association (PCPA) - the representative organisation of agricultural medicine manufacturing companies, refuted the allegations made by farmers concerning the use of substandard agricultural medicines.
Also Read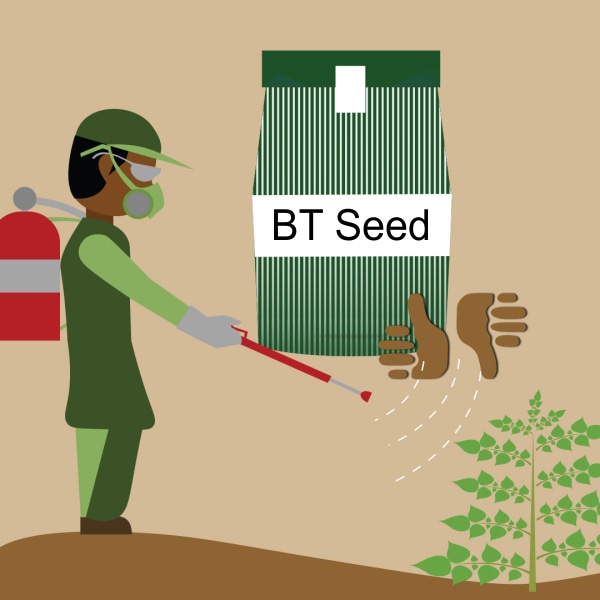 Genetically modified seeds: How has BT cotton ruined Pakistan's white gold
According to him, during the last year, the Pest Warning Department collected 12,000 samples. Of these samples, 97 per cent were found to be of good quality, 2.5 per cent were considered substandard, and only 0.5 per cent were identified as adulterated.
He further disputes the claim made by the Punjab Agriculture Department that cotton has been cultivated on 48 or 5 million acres in Punjab. According to him, cotton has only been grown on 28 lakh acres across Punjab this year.
According to him, whenever there is no excess production, all the blame is directed towards the pesticide companies and dealers.
However, Pakistan Genres Association Chairman, Chaudhry Waheed Arshad, disagrees with this. He claims that cotton has been cultivated this year on approximately 4.8 million acres in Punjab, 1.4 million in Sindh, 2.5 million in Balochistan, and 60 thousand acres in Khyber Pakhtunkhwa. He further states that the government has set a production target of 82 lakh bales after observing the increase in the cultivated area.