Twenty-year-old Samreen*, from the kundian area of Mianwali, has graduated from a local girls' degree college. One day at the start of this year, she suddenly felt someone attempting to touch her from behind as she waited on the road with her friends to return home from college. When she turned around, she saw a stranger standing there. Filled with fear upon seeing him, she froze. Meanwhile, her friends also arrived at the scene, and upon spotting them, the stranger fled.
Samreen says that when such an incident suddenly occurs with a woman, it is initially difficult to understand what to do. In such incidents, women lose their confidence temporarily and cannot raise their voices.
Samreen explained that she did not mention this incident to anyone at home, fearing that her family might stop her from attending college. However, she did inform the college principal about it, after which security personnel were stationed outside the college to ensure the safety of the students. This incident is not unique to any Government Girls' College student. A few months ago, another FSc student, Samina*, faced a similar situation.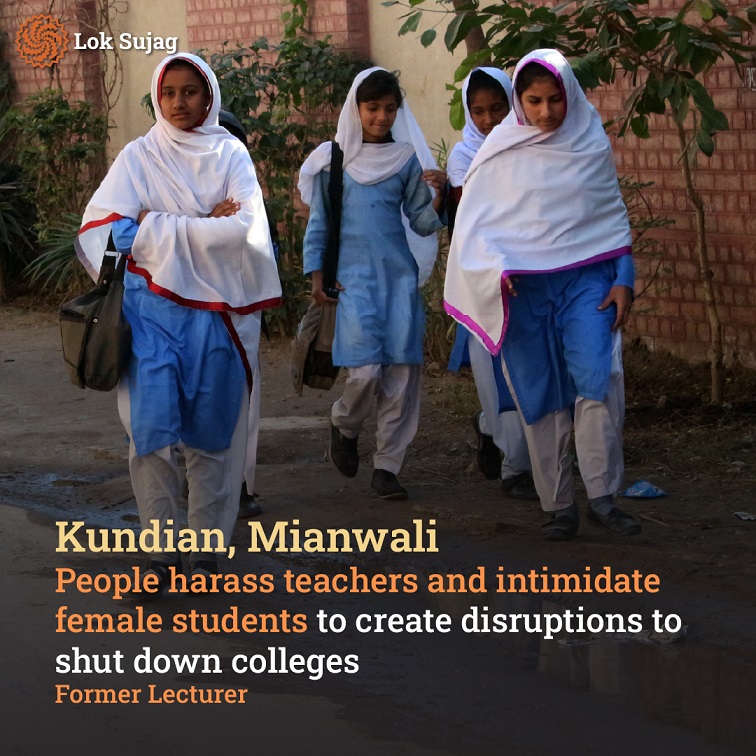 Nineteen-year-old Samina doesn't live far from her home at Government Girls' College, so she often walks to college. She recounts one day when she was returning home after college as usual. She had just left the college when she heard catcalls from a group of boys in the alley, who followed her for quite a distance. Terrified, she finally reached home and informed her mother about the incident.
She says that even though her mother has arranged a rickshaw for her since then, she doesn't feel comfortable using it. Her parents are daily wage labourers and can't afford the extra expense. However, she can't walk to college anymore because the fear of that incident has settled in her heart.
In the district of Mianwali, Punjab, there is a stark gender disparity in formal education. The literacy rate here is 73 per cent among men and only 41 per cent among women. Incidents of harassment deter aspiring female students from pursuing education, and it remains a pressing issue for female students in schools and colleges in this region.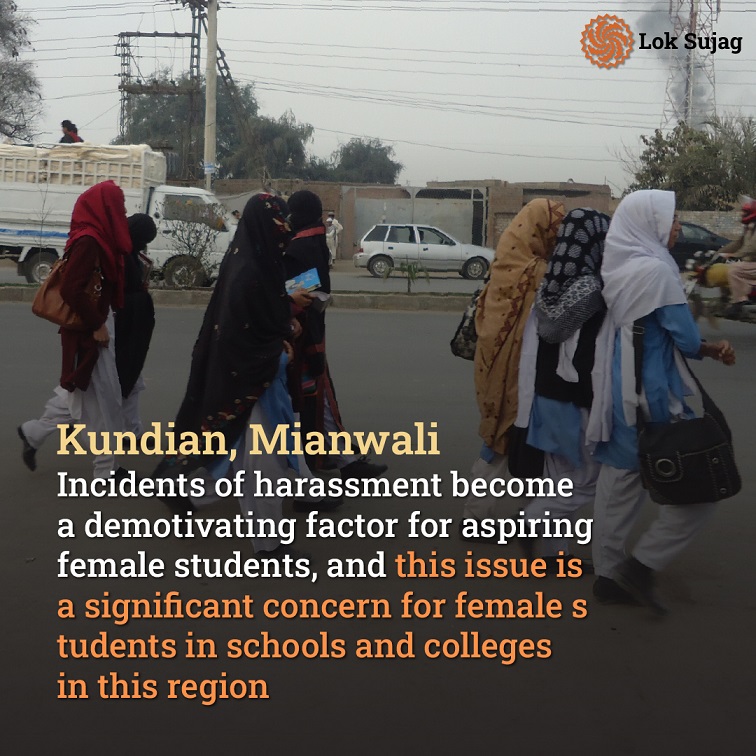 Kundian is the second-largest city in the district, with a population of around 1.5 lakh. Government Girls Degree College is the only government college in the area. Currently, there are more than four hundred students enrolled here. Girls College in Kundian was established in 2016. The college building was situated at Kundian Mor, 9 kilometres from the city. However, when classes started here, city residents began criticising the location, saying girls could not come so far from the city for education.
At that time, provincial assembly member and former minister Sabtain Khan shifted Boys Degree College to this new building in December 2018. They relocated the Girls' College to the Islam Abad neighbourhood of the city in place of Boys' College.
Girls College has finally relocated to the city, but the issues of "college-goers" have not diminished due to the densely populated area. The college covers an area of eight canals, and there is no space for parking. Narrow streets leave little room for a car to pass, and local residents often express frustration with the girls coming to the college.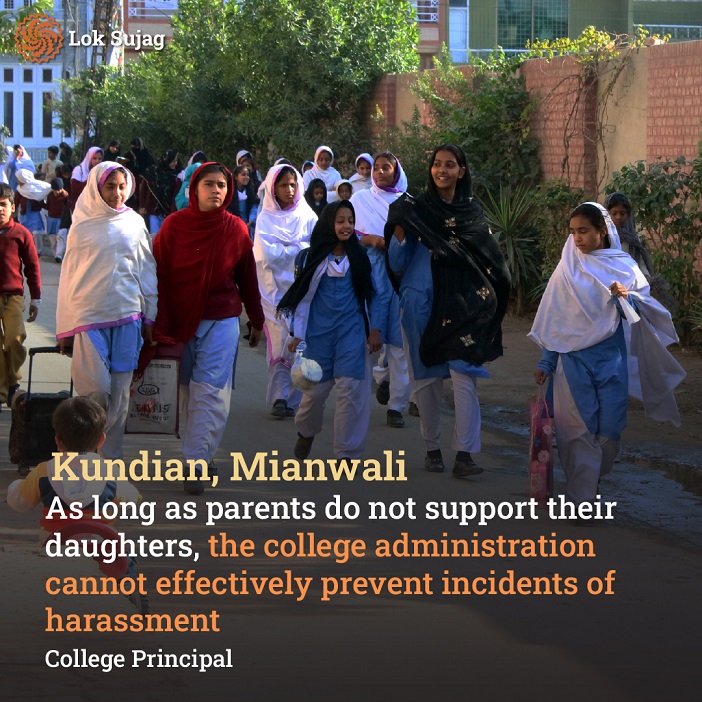 Miss Tooba Ahmed used to work here as a lecturer. Now, she is fulfilling her teaching duties at Mianwali Degree College. She recounts that last year, a resident of the same area collided with her parked car in front of the college and, instead, threatened her.
Tooba Ahmed informed the principal about the incident and expressed her intention to file a report at the police station. However, her family advised her to get transferred to Mianwali; otherwise, she might end up dealing with police matters regardless of who was right or wrong.
She says that she has shifted to Mianwali. However, many people do not want girls to study here. She alleges that people harass teachers and students to the point where the college could be forced to close.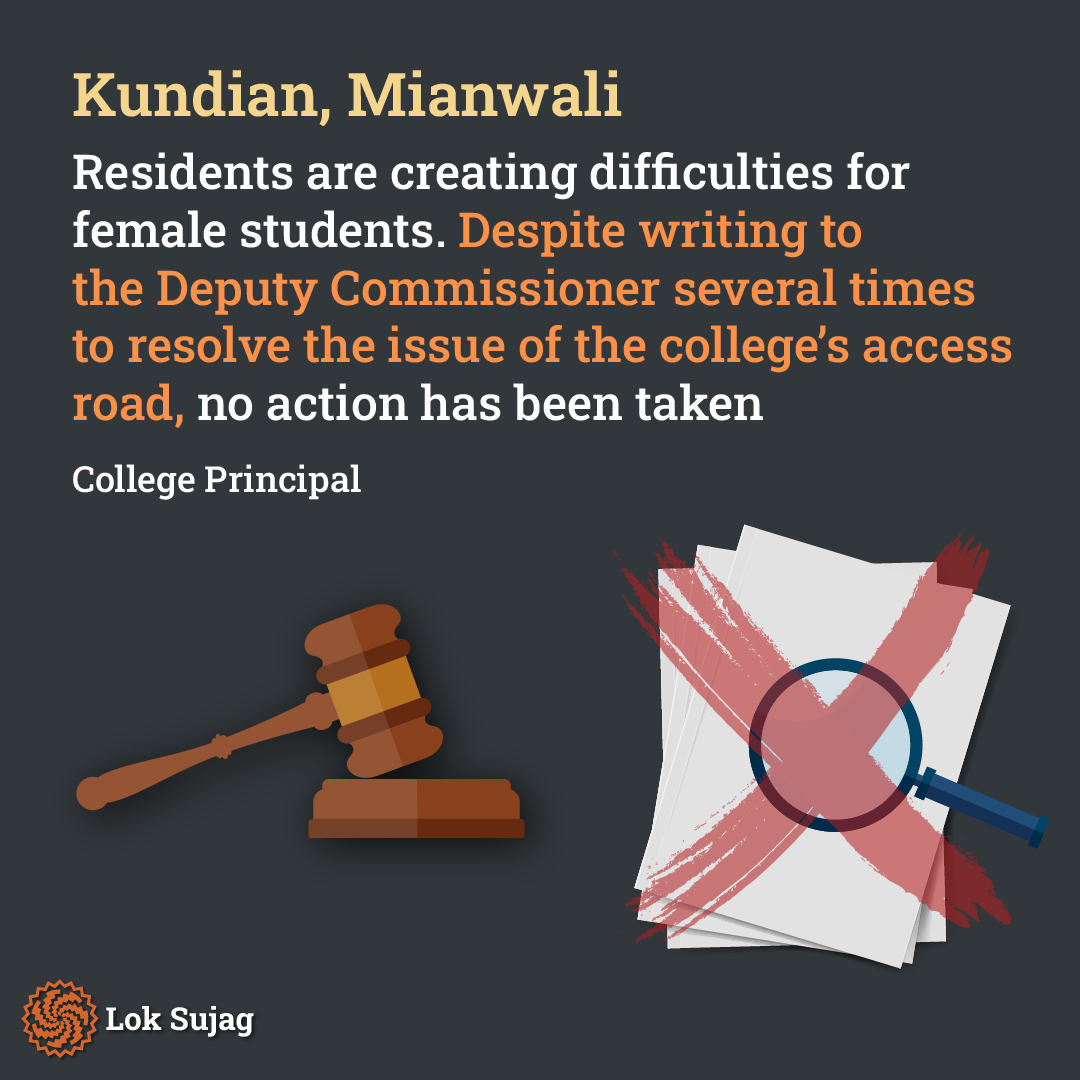 The principal of this college, Shazia, did not seek assistance from the district administration when the students were being harassed. She says that she can't do much if parents do not support their daughters. Most girls do not even mention such incidents out of fear. The principal acknowledges such incidents and says that she has stationed a guard in the street and installed CCTV cameras, which she can do more than this.
She says that local residents are creating difficulties for female students. To resolve the issue of the college road, she has written to the Deputy Commissioner several times, but action still needs to be taken. The Higher Secondary Girls School is located on Colonel Road and is connected to the Girls College. The school also covers an area of 52 kanals. If a road is constructed from there, the problems will be reduced.
Also Read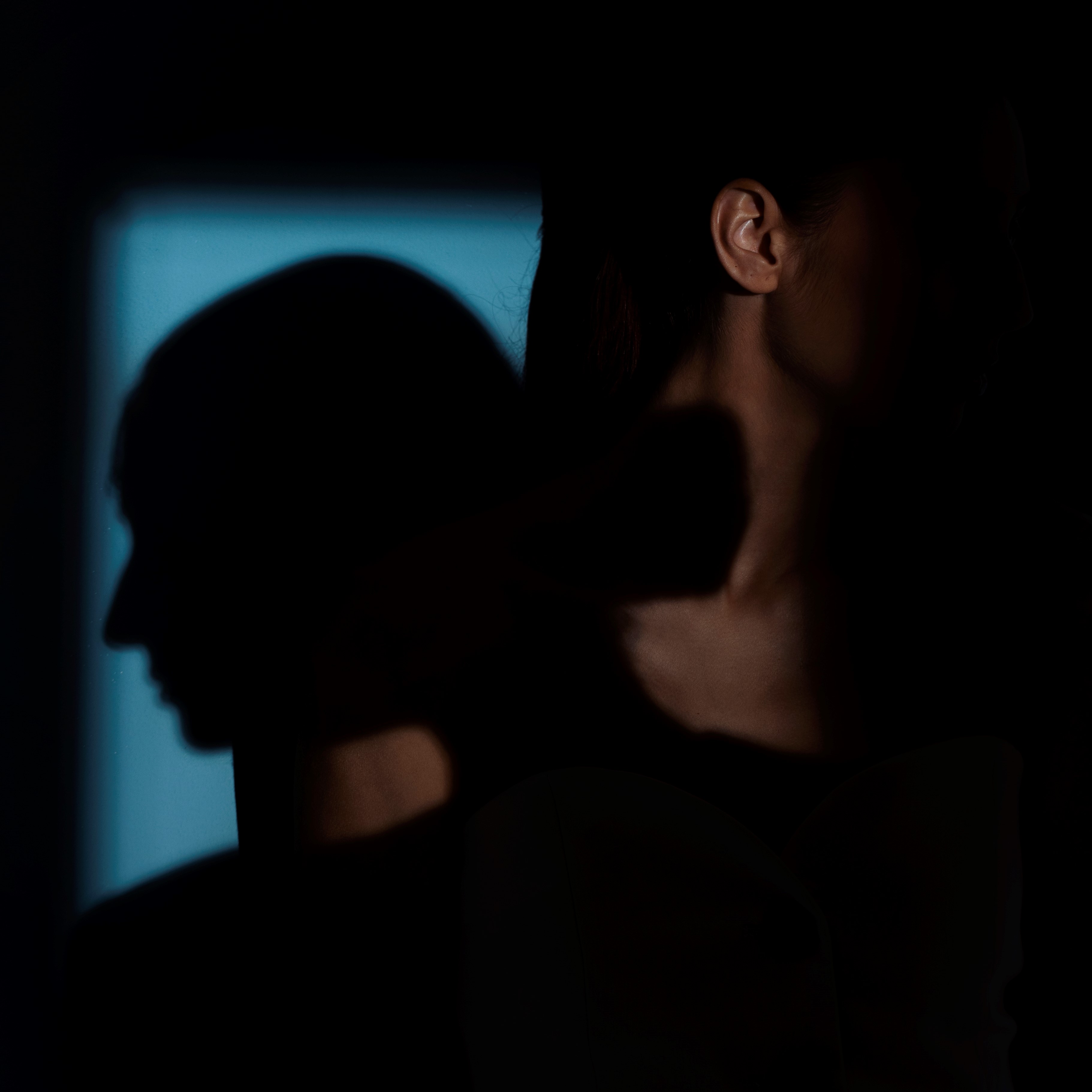 Troubling pattern: Female student breaks silence on harassment at Ghazi University
Mohammad Munir, a 40-year-old jeweller, has been living in the previous lane of Muhammad Munir Zargar College for forty years and has been doing the jewellery business here for the past ten years. He explains that the college's vehicles have blocked the way for local people in this area. Buyers have to disembark from the rickshaw and walk to the market. He says that there are fewer customers at his shop. If an alternative route is provided, the issue for the local residents and the college will be resolved.
Former Nazim of Kundian, Malik Habib, mentioned that previously, his daughters had to go to Mianwali for education. Now that the city has a facility, some people are still creating problems. Parents of girls need to come forward.
Psychologist Nazia Nahid says that harassment is a negative societal behaviour. Men, wherever they see a vulnerable woman, begin to harass her. Young students often cannot report such incidents. Parents should instil confidence in their daughters.
Advocate Mrs Naila Mushtaq Dhon mentions that there are laws against harassment of women in public places, alleys, or anywhere else. However, there needs to be more awareness and intent in this regard.
She says that under Pakistan's Penal Code Section 509, if someone sexually harasses a woman through words or actions, they can face imprisonment for up to three years and a fine. Under Section 294 A, those singing inappropriate songs can also face a three-month sentence.
*Names have been changed for privacy.