Deepa was playing in her courtyard when some guests visited her home. Her mother called her and, showing her to them, said, "Here is Deepa". The guests gave her mother some clothes and a box of sweets and left. That night her mother told her that she was getting married in three days.
Deepa was only 13 at the time. As soon as she heard the news of her marriage, she started crying. Her elder sister Shakuntla had also been married at the age of 13 and she often told her not to get married young no matter what the parents said. Whenever she came to visit Deepa, she showed her marks on her body and told her how her husband beat her up severely.
Deepa says her parents wanted to expedite her marriage because of their poverty. "All my brothers and two sisters were married and living in their own homes while my parents still had three more daughters, including me, to marry off. My father, however, was constantly unwell and had no money to get himself treated. It was in such a situation that an acquaintance suggested to him to marry me off to Vishnu," she says by way of an explanation.
She says her father accepted the suggestion even though Vishnu neither lived in her village, Shivoo Kolhi (located in Sindh's Badin district), nor did anyone in her family know him. He gave money to her father for his treatment and, in return, her father agreed to give her hand in marriage to him.
Sitting on the ground, frightened and scared, Deepa says she protested a lot in front of her parents but no one listened to her. So, in May 2019, she was married to Vishnu who is 23 years older than her.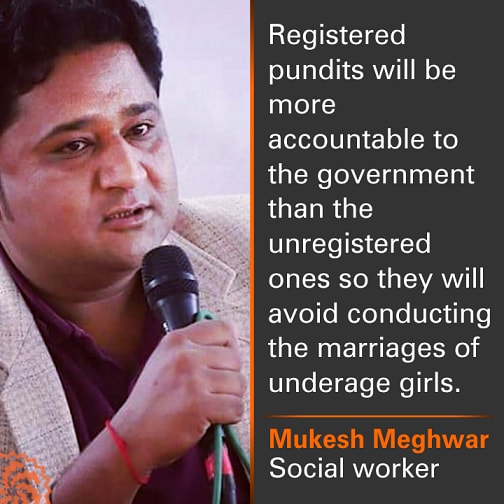 Thereafter Deepa, fond of playing with clay toys, moved to Bakho Khaddi, a backward village 12 kilometers north of Kadhan town in Badin, where her husband lives with other members of his family. She brought some of her toys with her too.
When her mother-in-law saw the toys a day after Deepa's arrival in Bakho Khaddi, she shatter them all and said: "Married women do not play with toys."
Since then, Deepa has been forced to do things much bigger than her age should permit. Every morning, she cleans the house, takes care of the cattle and then walks six kilometers to fetch drinking water. She spends the rest of her day working in fields along with her mother-in-law, father-in-law and husband.
A few months ago, Deepa had a miscarriage while working in fields. She says she started bleeding all of a sudden during work so her in-laws put her in a motorcycle rickshaw and took her to a nearby hospital. The doctor there said at first that she had lost so much blood that she could die. After a few hours of treatment, however, her condition improved.
Dr Najma Ali, a gynecologist based in Badin, also believes that Deepa could have died during the miscarriage. Everyday young pregnant girls are brought to me, she says. "Many of them die".
One of the main reasons for these deaths, according to her, is that "underage married girls in rural areas are made to work in their homes and fields all day long while the diet they get is not sufficient for their physical needs". This causes anemia. "If they bleed a lot during childbirth or miscarriage, it can be fatal for them," says Ali.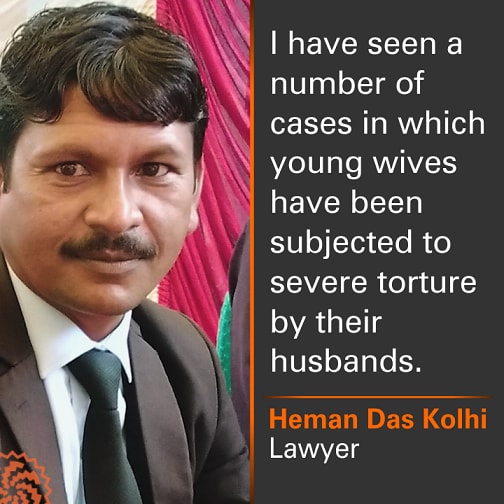 Despite that danger, Deepa's mother-in-law has been insisting since the first day of her marriage that she should give birth to a child as soon as possible. "It is not because my mother-in-law loves children but because she wants a farm laborer added to her family in the form of my child," says Deepa.
She certainly cannot resist her mother-in-law's diktat but she strongly wishes that she gives birth to a boy rather than to a girl because "the same thing will happen to her that has been happening to many girls like me".
The root cause: unregistered pundits or poverty?
Heman Das Kolhi hails from Mitthi town in Tharparkar district but works as a lawyer in Mirpur Khas district courts. He says scheduled caste Hindu communities, including the community that Deepa belongs to, marry off their daughters as early as possible. In his 15-year long professional career, he says, he has seen a number of cases in which these young wives have been subjected to severe torture by their husbands.
Kolhi also says the Hindu Marriage Act, passed by Sindh Assembly in 2016, has not yet changed the situation for the better even though it emphasizes that girls under the age of 18 cannot be married. The law is not being implemented because the public is neither aware of its existence nor understands its importance, he says.
Kolhi also believes the government's inability to register pundits at the local level is a major obstacle to the implementation of the act. "These pundits are usually associated with religious associations, such as Shiv Mandir Mandli, Rama Pir Mandli and Kali Mata Mandir Mandli, which are working in their respective areas but are not registered with the government. The marriages conducted by these pundits, therefore, are neither monitored by the government nor are they recorded in any official document," he explains.
Deepa's marriage was also conducted by a pundit who was only interested in his fee and did not care for the fact that the bride was still a minor. Her wedding also took place in the dark of the night so that no government agency or government official would know that a child was being married in violation of the law.
Also Read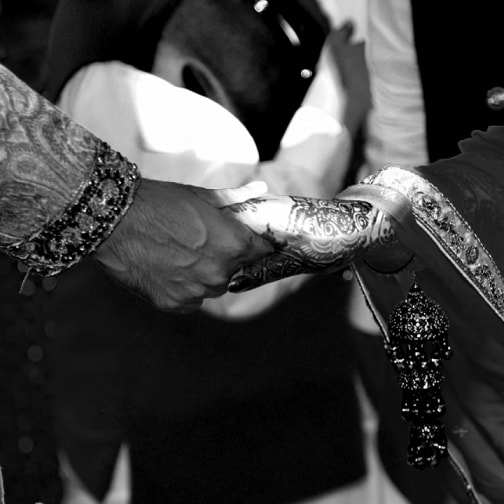 The nightmare of an inter-caste marriage: 'Being alive was as bad as being dead'
Mukesh Meghwar, a social worker from Hindu community and a senior program officer at the Legal Aid Society in Karachi, also argues that registered pundits will be more accountable to the government than the unregistered ones so they will avoid conducting the marriages of underage girls.
He, however, says that only the registration of pundits will not end underage marriages among scheduled caste Hindu communities. "Poverty in these communities is the biggest reason why parents marry off their minor daughters. Since they cannot afford to feed and nurture their daughters, they want to marry them off as soon as possible," he says.
Many parents, according to him, are also scared that a Muslim man might force their daughter to change her religion and marry him. "So, before such a situation arises, they marry her off to someone from their own community."
Meghwar also believes that law enforcement agencies should effectively intervene in some cases of underage marriage and punish those involved in them. "Others will learn from this example and this social evil will thus be eradicated."
This report was first published by Lok Sujag on 3rd July 2021, on its old website.