In Khyber Pakhtunkhwa, more than half of the established brick kilns operate illegally. Many of these kilns are located in the districts of Peshawar, Nowshera, DI Khan, Tank, and Lucky Marwat districts. These kilns are not registered with any provincial government department, and people are suffering from diseases affecting the skin, chest, throat, and stomach due to pollution caused by them.
According to an official from the Environmental Department, there are approximately 1200 unregistered brick kilns in Khyber Pakhtunkhwa, but they do not have any formal records with the Department of Industries, Social Welfare, Environmental Department, or any other relevant authority.
Most of these 450 unregistered brick kilns (approximately) are located in Nowshera and Peshawar, with the count reaching around 250 in Bannu, DI Khan, and Lakki Marwat.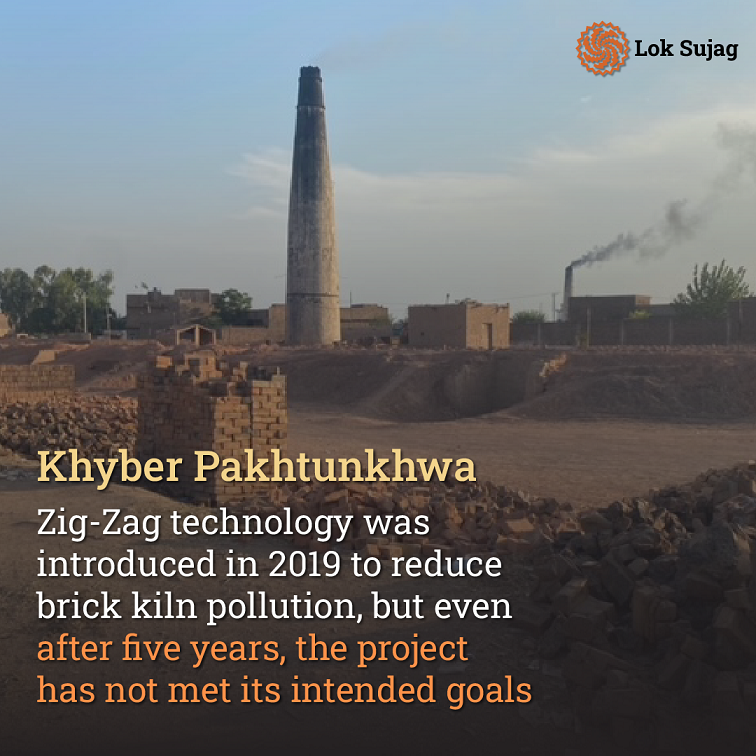 Similarly, brick kilns can also be observed in Kohat, Swabi, Charsadda, and other adjacent areas of the province.
The emissions from these kilns consist of carbon dioxide, carbon monoxide, sulfur dioxide, nitrogen dioxide, and other pollutants.
A project to introduce zig-zag technology to control emissions was initiated on June 1, 2019. However, even after five years, this project has failed to achieve its objectives.
Under this two-year project, zig-zag technology was introduced in brick kilns in Khyber Pakhtunkhwa to control pollution and to register unregistered kilns. The zig-zag technology was introduced in 2019 for 11 million rupees.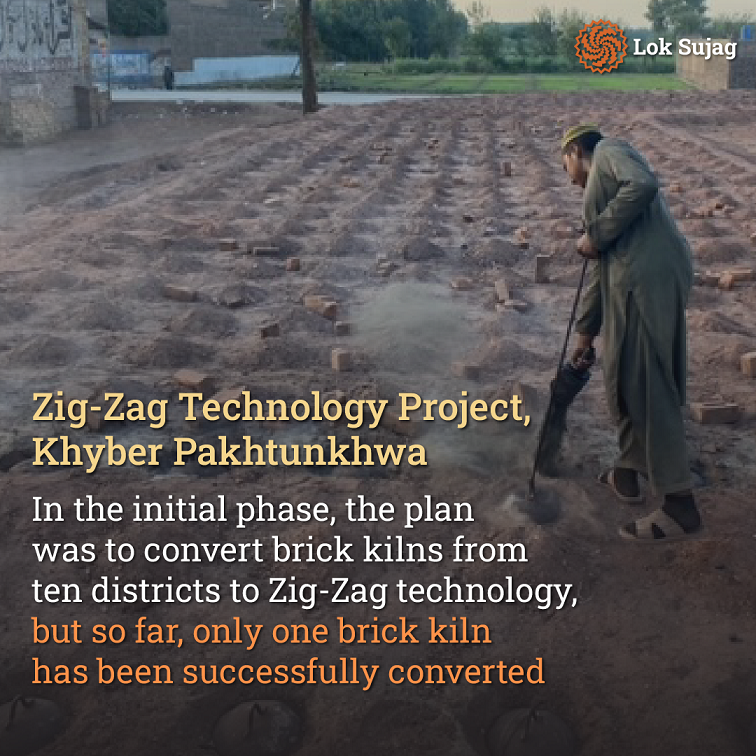 Given the importance of this project, the government extended it for five years and increased its cost to 52 million rupees. Initially, the two-year project aimed to convert every brick kiln factory to zig-zag technology in each of the province's ten districts. These districts included Nowshera, Mardan, Swabi, Haripur, Bannu, Lakki Marwat, Dera Ismail Khan, Tank, Malakand, and Mardan. However, even after five years and an expenditure of 13 million rupees out of the allocated 53 million rupees, the target of shifting designated brick kilns to zig-zag technology could not be achieved. Infact, only one brick kiln has been shifted to this technology so far.
According to the Environmental Department's sources, due to the non-achievement of project goals, the millions of rupees spent have gone to waste, and controlling pollution has become an unattainable dream. The objectives for which zig-zag technology was introduced have still not been achieved even after years. This is why no suitable solution is currently available to control the pollution emanating from brick kilns.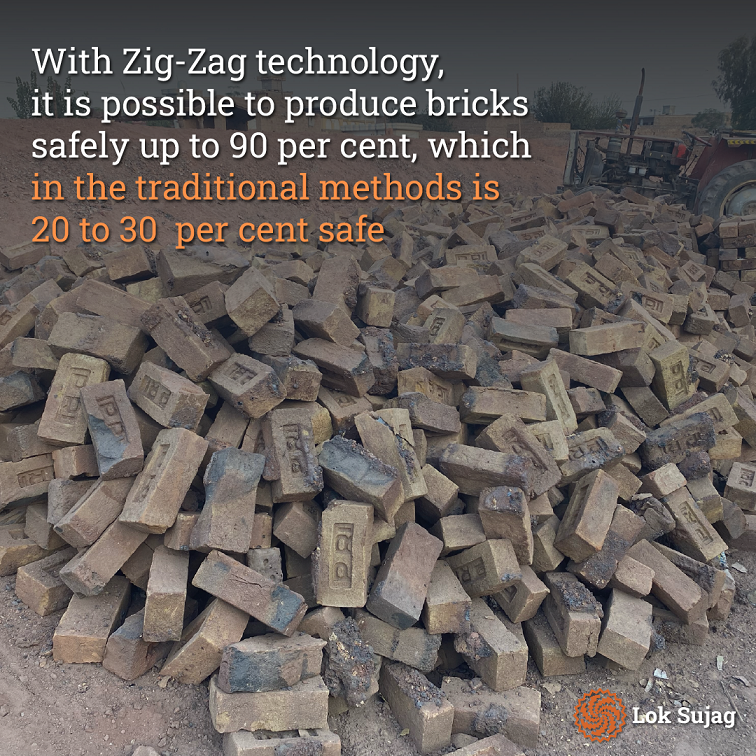 According to health experts, pollution emanating from brick kilns is more hazardous to local residents than to other people because the chances of them developing skin, respiratory, stomach, throat, or lung diseases are significantly higher.
The local residents of suburban areas around Peshawar, such as Matani, Bazid Khel, and regions of Phandu and Nowshera like Pabbi, Taru Jabba, Charat, and other areas, suffer from various diseases due to pollution emitted from these brick kilns.
According to the Khyber Pakhtunkhwa Environmental Department, the project to transition the province's brick kilns to modern technology initially planned for two years, has been extended for an additional three years (a total of five years).
However, despite allocating funds for the project, a lack of interest from the relevant department or the required staff has prevented the achievement of the project's objectives. It is believed that the non-implementation of Zig-Zag technology is due to both the department's lack of interest and the non-cooperation of brick kiln owners. If the government and the department take decisive action while recognising the importance of this technology, introducing Zig-Zag technology is not a challenging task.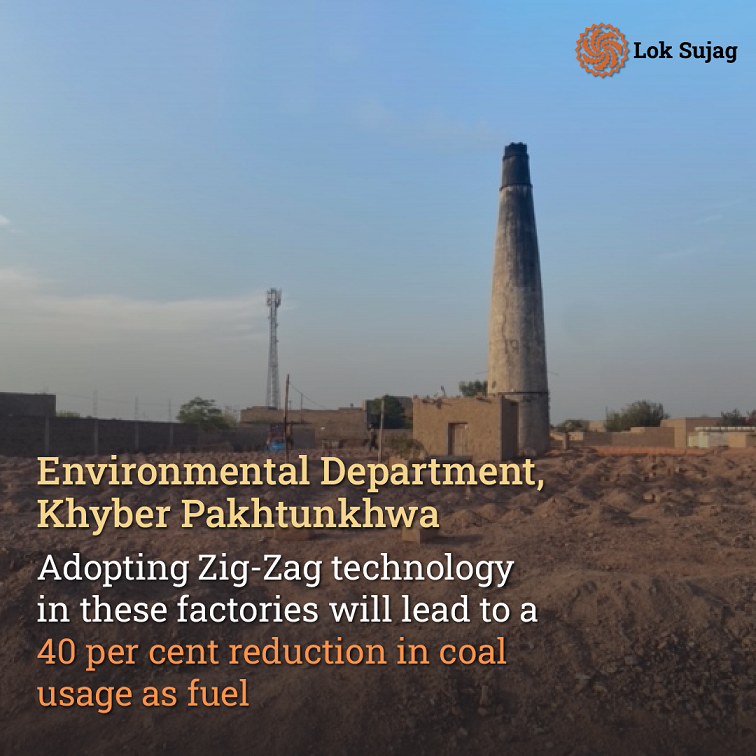 According to the documents from the Environmental Department, the introduction of Zig-Zag technology in these factories will result in a 40 per cent reduction in coal usage as fuel, leading to a nearly 50 per cent reduction in greenhouse gas emissions. This reduces the raw material costs for brick kiln owners and increases their productivity. Zig-Zag technology allows for the extraction of 90 per cent of the bricks in a more environmentally friendly manner, which is 20 per cent to 30 per cent more efficient than traditional methods.
The project manager for the Zig-Zag technology project in unregistered brick kilns, Engineer Faizan, mentioned that the project couldn't be successfully implemented due to a lack of cooperation from brick kiln owners and a shortage of staff. This is why the transition of 10 brick kilns to the new technology was not possible in the initial phase.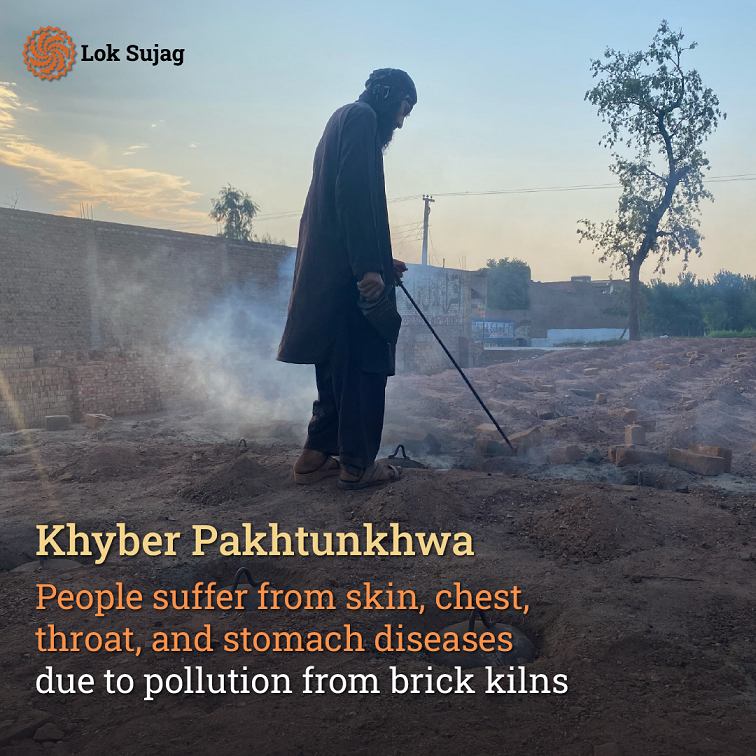 According to him, now action is being taken against the brick kilns that refuse to register or implement Zig-Zag technology. In various districts of the province, more than 35 brick kilns have been closed with the cooperation of the district administration.
According to Engineer Faizan, under Section 17 of the Khyber Pakhtunkhwa Environmental Protection Act 2014, action is taken against these unregistered factories, and they are compelled to increase their production by implementing Zig-Zag technology and reduce environmental pollution.
"Traditional brick kiln workers were trained to understand Zig-Zag technology, and so far, 14 workers have been given training in Punjab for one month, costing millions of rupees."
Also Read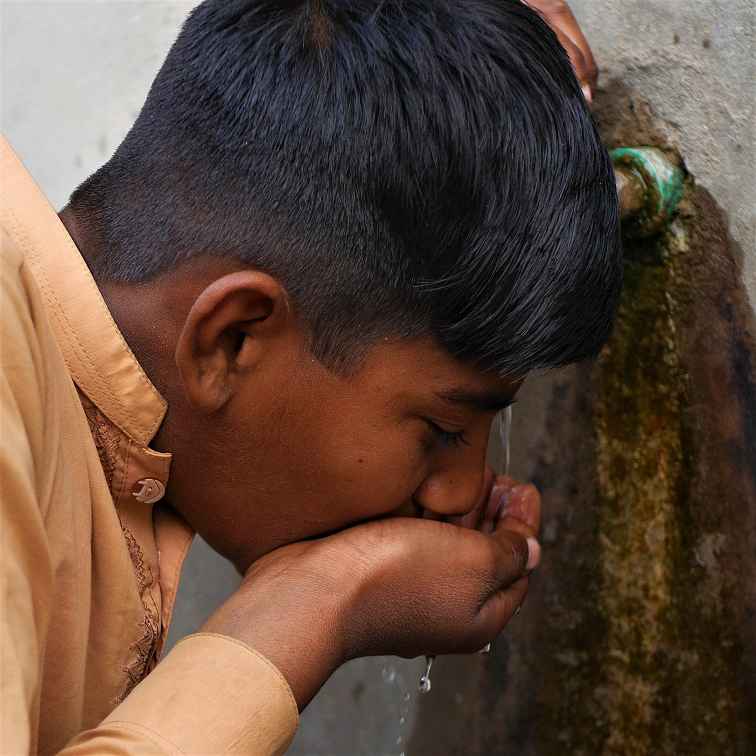 Emitting poison: How foundries in northern Lahore are polluting ground water and making people sick
In the province, emissions from factories and brick kilns after being discharged from vehicles are the largest contributors to air pollution.
Regarding the pollution emitted from brick kilns, Professor Dr Nafees, the Department of Environmental Sciences Chairman at the University of Peshawar, stated that factories and brick kilns account for 30 per cent of the total pollution.
He mentioned that zig-zag technology is very old, first introduced in Switzerland in 1868 and it was introduced in India in 1970. In Pakistan, this technology arrived in 2019, but it is still not being used effectively due to a lack of consensus between the government and brick kiln owners. According to him, old tires are burned in these kilns, which produce harmful smoke, rendering any modern technology used for this purpose ineffective.
In Khyber Pakhtunkhwa, there is no adequate system at the government level to monitor pollution. According to data collected by students or researchers, the air in Peshawar contains PPM2 and PPM10 particulate matter, which are highly hazardous.
Dr Nafees suggests that it costs around 5 million PKR to convert one brick kiln to Zig-Zag technology. He believes that this high cost might be one of the reasons for the project's failure.