For the past two months, there has been a ban on the export of Pakistani mangoes to Iran, causing distress among mango farmers and exporters in Multan.
Retired Major Tariq Khan, who is involved in the mango export business, explains that the Department of Plant Protection, a government body, has introduced restrictions to enforce international regulations. These measures have hindered the shipment of mangoes to Iran.
The suspension of mango export to Iran has also caused a decline in the local market, impacting local farmers. The price of mangoes, which ranged from Rs 5,000 to Rs 6,000, has now dropped from Rs 3,000 to Rs 3,500 per maund.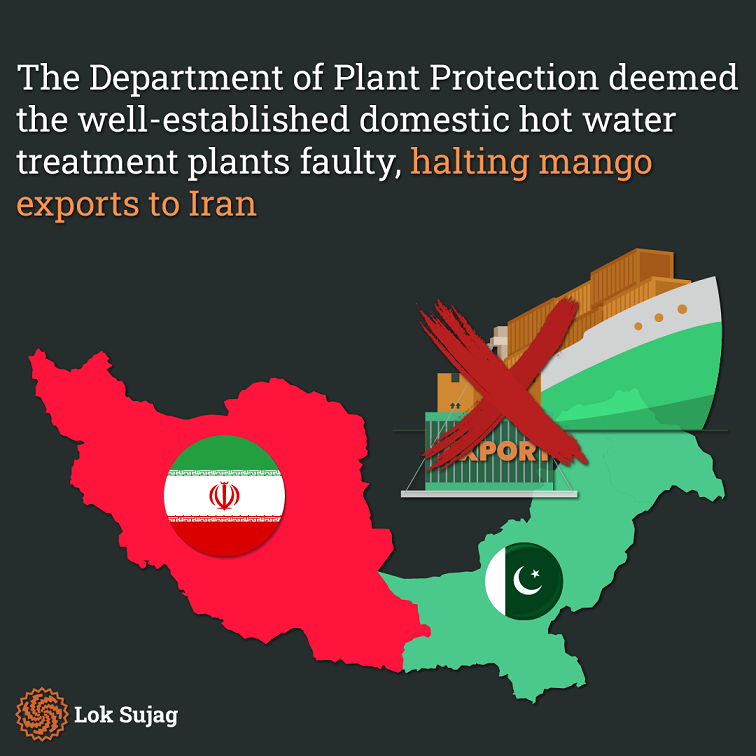 Tariq Khan points out that the government and the State Bank of Pakistan, in compliance with FATF (Financial Action Task Force) conditions, have already implemented a strict regulatory framework. According to the new framework, the exporter's account is blocked if the payment for the exported mangoes is not made within a week.
Azam Sabri, a member of the executive committee of the Multan Chamber of Commerce and an active mango exporter, reveals that the country has approximately twenty hot water treatment plants designed specifically for cleaning mangoes.
Before this, mangoes were being sent abroad after washing and even without washing. Over the past eight years, substantial quantities of mangoes have been sent to Iran in this manner. But the Department of Plant Protection suddenly deemed these well-established domestic hot water treatment plants faulty. Sabri argues that the department unjustly raised objections, referring to Iran's protocols, thus limiting mango exports. He says that this has deprived the country of foreign exchange.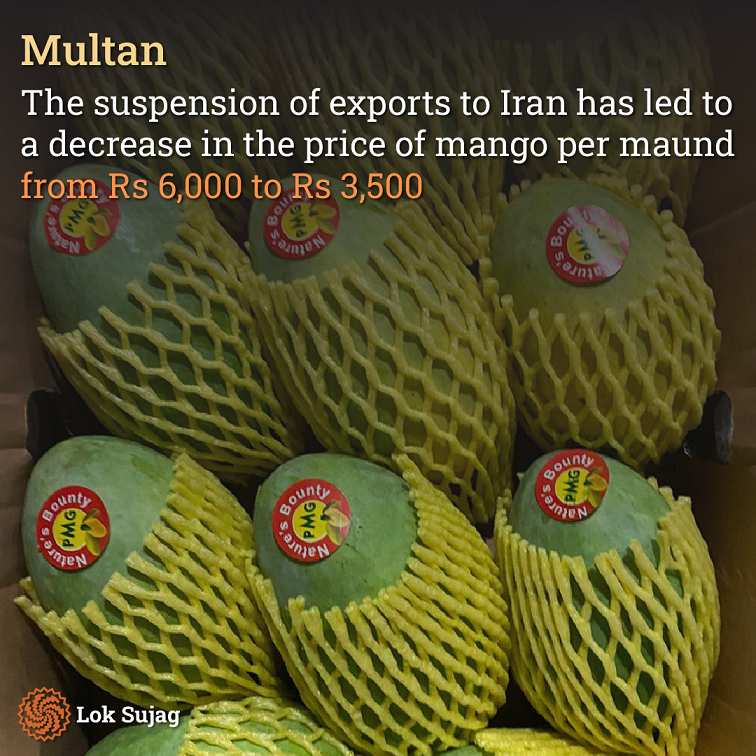 Sabri further explains that mango exporters are facing significant financial losses due to shortcomings in the export policy. Since the domestic market is weak, exports serve as the primary source of economic sustenance for mango farmers.
On the other hand, Priyanka Oude, the head of the Department of Plant Protection in Multan, holds a different view. Oude attributes the suspension of mango exports to Iran to strict regulations imposed by the Iranian government. She states,
"Exports have been allowed after inspecting ten different orchards across multiple cities in South Punjab, including Multan. The goal is to ensure the export of high-quality Pakistani mangoes that meet the standards of various global countries, including Iran. Considering the perishable nature of the fruit, exports are permitted only following thorough assessments."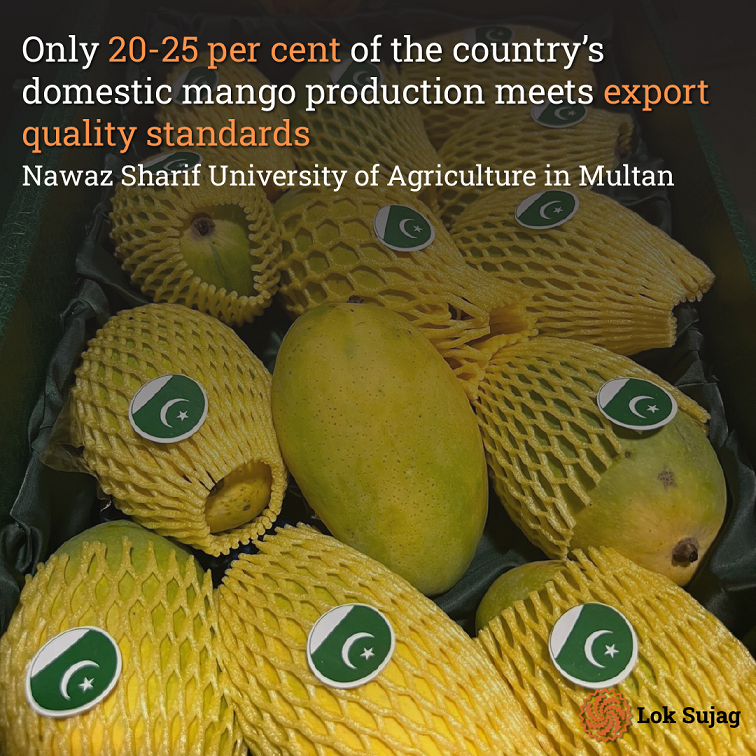 She asserts that the halt in mango shipments to Iran is because the exporters are unable to meet customer requirements.
Dr Kashif Raza, an associate professor at Nawaz Sharif Agricultural University in Multan, emphasises the importance of adhering to international rules and regulations regarding mango exports. These regulations prohibit using calcium carbide and require packaging in cardboard boxes instead of wooden crates for mangoes that are being exported.
Syed Rashid Gilani, Area Manager of the Trade Development Authority of Pakistan, highlights the need to consider the specific export requirements of different countries. He points out that the export demands of the United States differ from those of Gulf nations.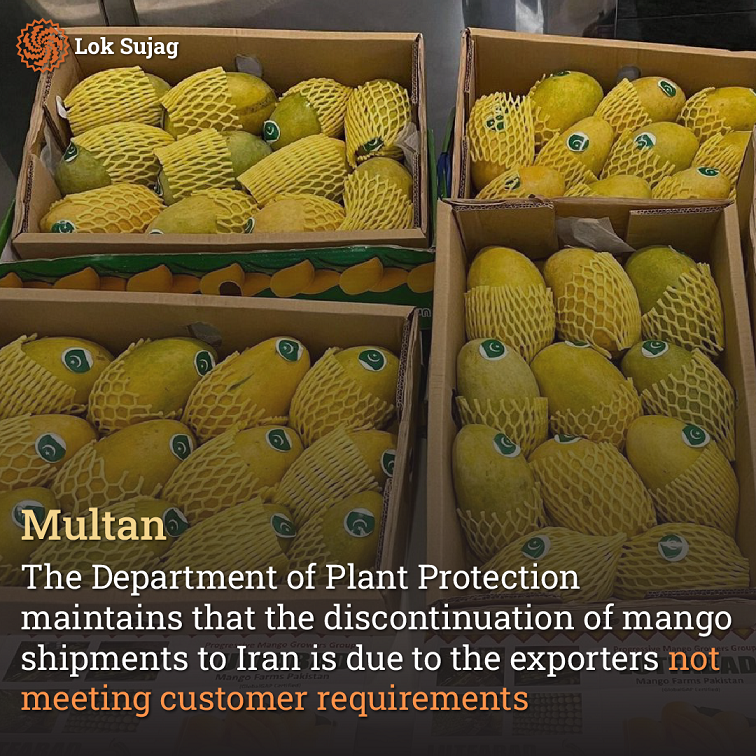 According to Dr Kashif Raza, only 20 to 25 per cent of the country's mango production meets the standards for export. "Climate change has further impacted this aspect, as heatwaves and hailstorms have recently affected mango production."
Syed Zahid Hussain Gardizi, the President of the Mango Growers' Cooperative Society, expresses concern over the decrease in Chaunsa mango production due to climate change. Previously yielding 200 maunds per acre, it has now dropped to just 50 maunds per acre.
"In Pakistan, there are 298,000 mango orchards in all. But these orchards are now being sold to housing development societies due to reduced profits. To enhance exports, it is crucial to elevate the status of mangoes to a high-value crop. Substantial research and investment is also essential to increase production."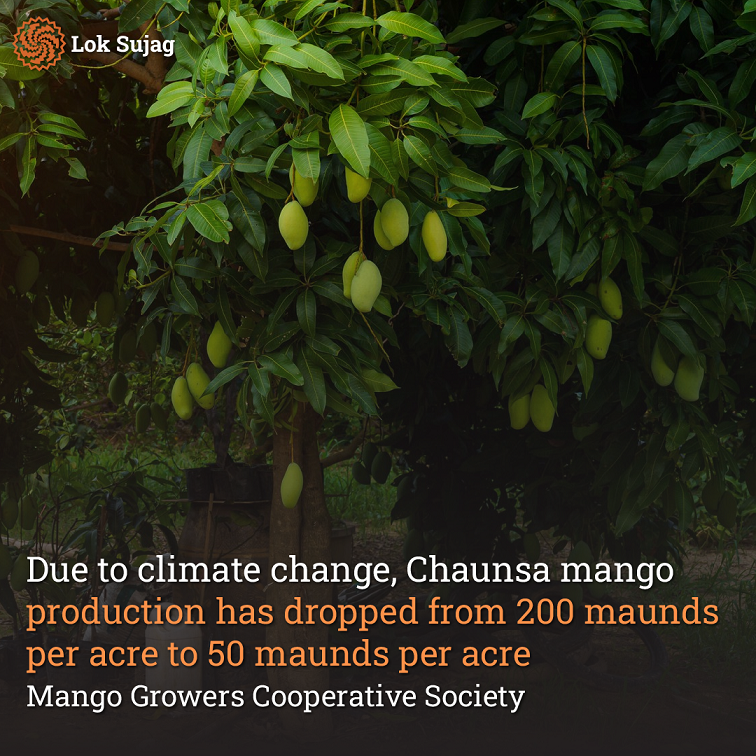 Dr Rao Muhammad Wali, a Pakistan Agriculture Research Council professor, advocates for focusing on popular mango varieties.
"We should focus on producing more seasonal chaunsa, white chaunsa, and great chaunsa varieties since these are liked worldwide. We must also diversify mango products, including mango pulp, frozen and dried mangoes, oil, and mango butter. There is also a dire need for advanced digital marketing strategies to facilitate growth."
Also Read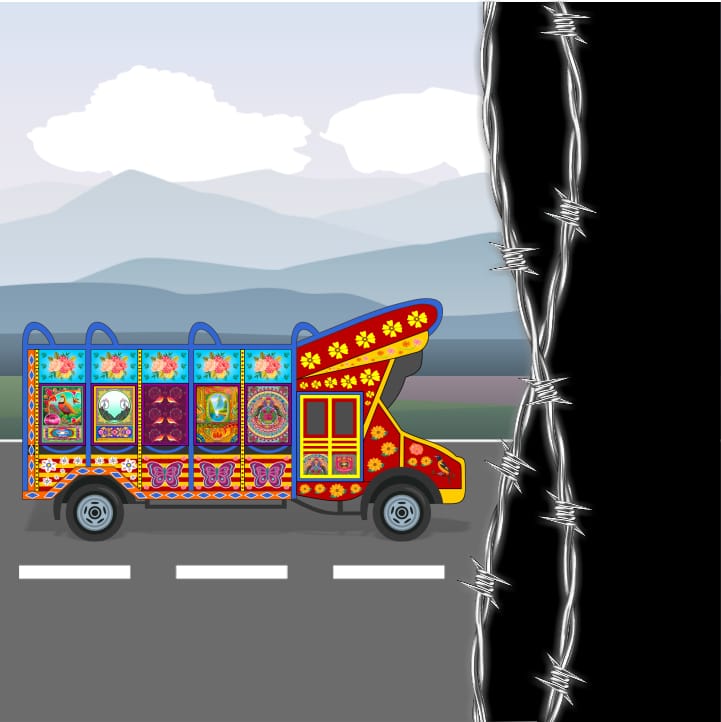 Suspension of trade across the Line of Control: Thousands of Kashmiri traders and laborers lose their livelihood
Ghulam Hasan, the owner of a clearing agent, Shalimar Enterprise Company, expresses concern about the absence of export facilities at Multan International Airport. The shelf life of mangoes is short, yet they are kept outside the airport sheds despite that. Only flights to Gulf countries are available from Multan. For other countries, instead of sending mangoes from Multan, they have to be sent from cities like Lahore, Faisalabad, and others.
He reveals that merely one per cent of the country's mango exports are transported via cargo flights, which entail high charges of at least Rs 260 per kilogramme. "There has been a decrease in mango production due to these export policies. These problems need to be addressed first to increase the exports."