In the district of Washuk in Balochistan, 55-year-old Kareem Bahksh's house was washed away in a flood two months ago. Now, he and his wife and their seven children reside in a makeshift camp. Before the flood, they earned their livelihood by farming in their village, Gharibabad. However, the flood destroyed fields, leaving them feeling like their lives had also been upended.
Gharibabad is located about 35 kilometres from the border of Iran, where, after ten years of hard work, Kareem Baksh had built a small two-room house, which has now turned into a pile of rubble. After the flood, some government officials visited their village, took pictures, and provided a few expired packets of food and supplies.
They say that after the flood, even the shelter of a tree was not available. The children endured the scorching heat in tents. Now, the winters are approaching, and they don't know how they will spend the season.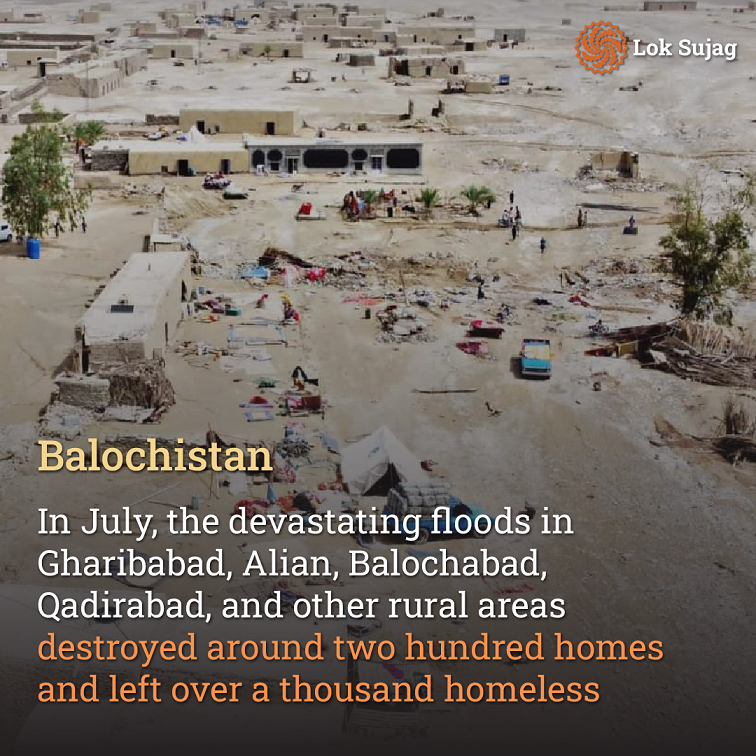 Washuk was previously a tehsil of the Kharaan district. In 2005, it became a separate district comprising three tehsils: Washuk, Mashkhel, and Naag. Currently, the total population of this district is approximately 176,000. To the west, it shares a border with Iran, while to the east, it is adjacent to the Khuzdar district. It is bordered to the north by Chagi and to the south by Panjgur district.
According to estimates, around ten crore worth of dates are supplied to the domestic market annually from the Washuk district. Approximately 80 per cent of the local population is involved in date farming, while the remaining 20 per cent rely on the Iranian petrol business.
Rainfall is crucial for the irrigation of date palm orchards here. Local landowners construct large dams to collect rainwater during the monsoon season. Subsequently, this collected water is used to irrigate the date orchards through a system of canals. In July, due to unusually heavy rainfall, these "landowner dams" were breached, causing the released water to wreak havoc in the area.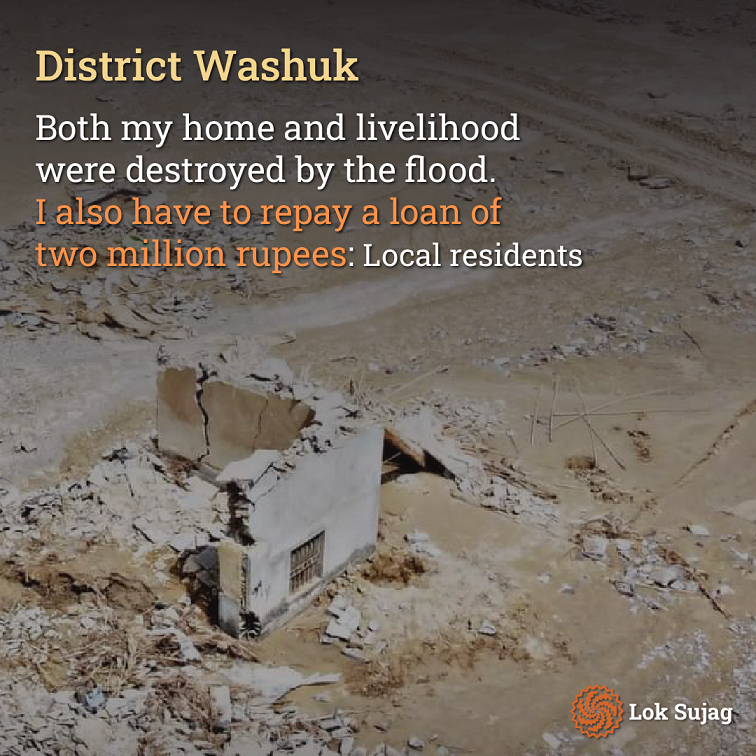 The floods have devastated the villages of Gharibabad, Alian, Balochabad, Qadirabad, and other rural areas, with over two hundred homes destroyed. More than a thousand people have been left homeless due to this disaster. Most affected individuals belong to the Ali Zai, Loraaj, Mohammad Hasni, and Reki tribes.
Resident Malang Baloch of this area is primarily engaged in the Iranian oil trade. He had borrowed a significant amount of money, around 2 million rupees, from friends to purchase a 'Zambad' (a vehicle used to transport Iranian oil). He would bring oil from the border and sell it to support his family of ten individuals.
He mentions that he and others like him earn their livelihoods at the risk of their lives. They never know when the Iranian military might open fire on the oil-carrying vehicles. He had just returned from the border a day earlier when the flood came and was preparing to return.
"When the flood came, it knocked down the walls of my house, and my Zambad vehicle was crushed. Both my home and livelihood were destroyed. I also have to repay a loan of 2 million rupees. Repairing the vehicle will require a significant expense that I cannot afford. I am worried about how to sustain my household and clear my debts now."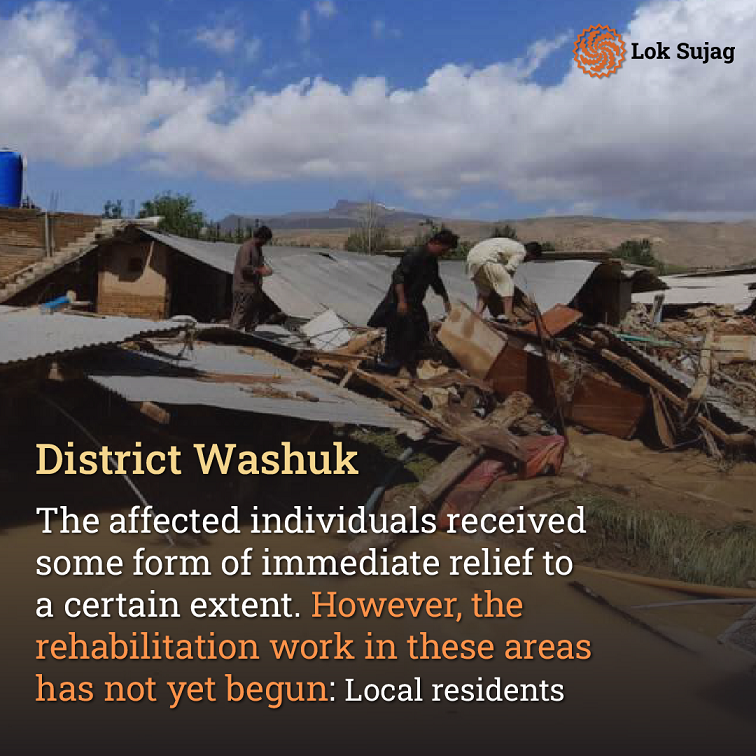 Gul Muhammad, a 35-year-old agricultural labourer, explains that after the flood, the Disaster Management Department provided them and other affected individuals with tents and some rations. NGOs and Former Members of the Assembly, including Esa Raki, Majeeb Muhammad Hasni, Qadir Baloch, and Zahid Ali Raki, personally assisted the affected people. However, the three-four thousand rupees of aid received was insufficient for the urgent needs of the people.
He says that while some relief has reached the affected people to some extent, the rehabilitation work in these areas has not yet begun. Some are forced to stay with relatives, and most makeshift camps lack proper facilities. There is a significant mosquito problem at night. Children are falling ill, and there is no access to medical treatment.
Also Read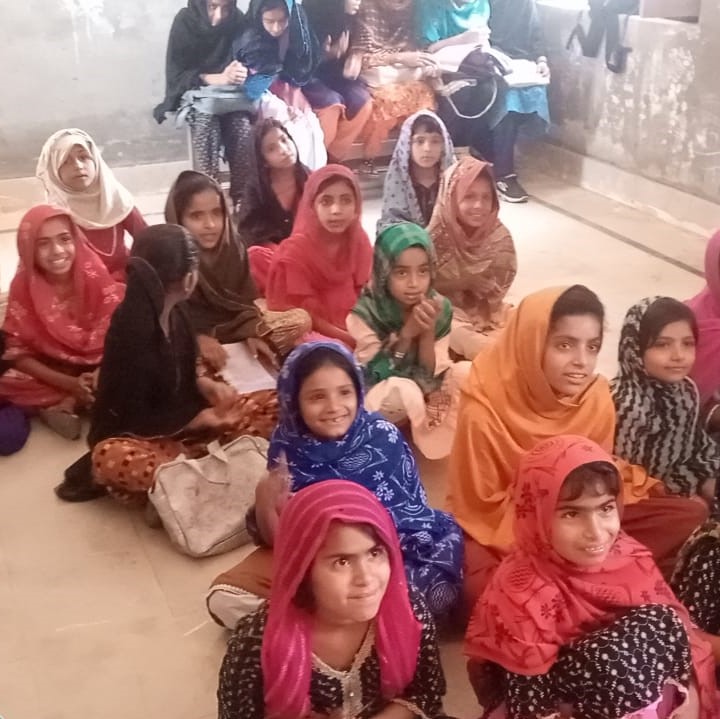 Devastating floods impact education in Khairpur Nathan Shah Tehsil: Urgent measures needed for school rehabilitation
Farid, a 30-year-old resident and social worker from the village of Blochabad, is also one of the flood-affected individuals. He explains that Deputy Commissioner Abdul Qudus Achakzai of Washuk district has visited the area and promised to compensate for the losses of the people. Some political representatives also stated that they would rebuild these houses. However, there hasn't been any practical progress on this front yet.
He mentions that a social organisation has provided some people with five thousand rupees each, while another organisation has provided doors and windows to thirty families to construct homes. However, until the government takes concrete steps, the challenges the affected people face are far from resolved.
Sajjad Alam, recently appointed Deputy Commissioner of Washuk, states that the district administration is actively working to address the issues faced by the nearly two hundred homeless families affected by the floods.
"During the flood, we visited the affected areas. We understand the challenges faced by the people. Rations and medicines were also delivered here, and the basic needs of the homeless people were met. What was within our capacity, we have done. InshaAllah, the government will soon begin rebuilding homes for these flood-affected individuals."