When Ahmad told his parents that he had something important to tell them about himself, they immediately assumed that it was related to a life-threatening disease like AIDS. Instead, Ahmad told them that he identified not as a man but a transgender woman, which was even more astonishing for them.
Ahmad also told his parents that he would want to be called by the name 'Sara' and have she/her pronouns used to address her.
This was back in 2015. Now Sara studies at a public sector university. While sitting in its café, sipping a cup of tea, she told Sujag that her parents were very scared that if people found out that she was a transgender woman, they would harass her. This was true in her case because while sitting in the university café, not only did students turn back to stare at her but some male students also made derogatory remarks about her.
Without caring about any of it, she said that while her parents were still struggling to accept her as a transgender woman, she insisted on getting Hormonal Replacement Treatment that would help enhance her feminine features. According to her, receiving this hormonal treatment will allow her to deal with the discomfort and mental distress which is experienced by people whose physical body is different than the gender they identify with. Their physical body may be of a man but they don't feel masculine or that their body is of a woman but they don't feel feminine. People who experience this issue often experience anxiety, depression and mental distress which is medically known as Gender Dysphoria.
She says that her parents were aware of her pain so they agreed to her treatment. During this time, she got to learn that in order to receive the treatment, she had to prove that she was a transgender woman. She says that for this verification, she went to a reputable rehabilitation clinic in Gulberg for almost 6 months where she presented her innermost emotions to medical practitioners and psychiatrists. Unexpectedly, these medical practitioners declared her to be suffering from Schizophrenia and prevented her from receiving the hormonal treatment.
When the Parliament approved the Transgender Persons Protection Act in 2018, Sara was very happy because now she would not have to get a medical and psychological analysis in order to receive hormonal treatment. Rather, this Act would allow her to choose her own gender identity and change her body accordingly. (Later onwards we will get to know about the events that caused this happiness to be short-lived.)
The basic purpose of this Act is to provide protection to the gender and bodily rights of transgender persons and improve their psychological, social and economic lives. Transgender persons are either not completely male or female or they do not identify with the sex they have been assigned on the basis of their physical body.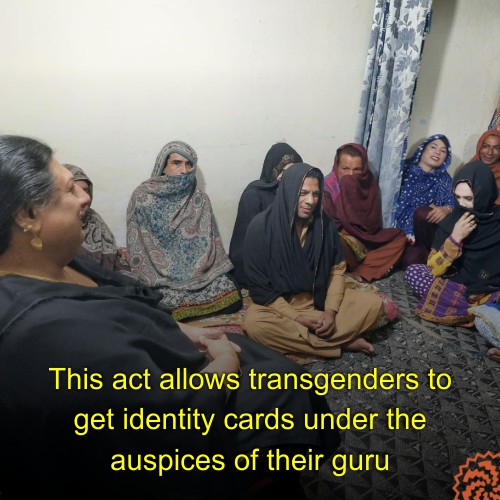 While talking about the advantages of this law, transgender rights activist Jannat Ali said that before the approval of this law, transgender persons could not get their CNICs made because it requires parents to be present and a majority of them are disowned by their families. She says, "Now transgender persons can get their identity cards issued if they are accompanied by their Guru."
Jannat Ali who has been a part of the national task force that was created to prepare the Transgender Protection Act, says that the term Transgender has been used as an umbrella term that is inclusive of different gender identities. Hence according to this, transgender persons can register themselves as either transgender male, transgender female or intersex.
This law which is the result of two years of constant struggle of many human rights activists protects transgender persons against any discriminatory behaviour be it in education, employment opportunities or inheritance of property.
Religious Objections
Muhammad Irfan Khan, a 40-year-old resident of Wah Cantt district Rawalpindi is a rehab specialist who is doing his PhD in Physical Disorders including birth deformities. In 2020 he filed a petition in the Federal Shariah court in which he stated that Transgender Persons (Protection of Rights) Act is "providing legal recognition of gays and lesbians rights in the name of transgender rights." He also said that this Act has many issues such as "Firstly, the definition of a transgender person is not limited to real transgenders but also includes lesbians and gays. Secondly, the requirement of a medical board authorization for recognition of a transgender person is absent and thirdly, every citizen of the country has been given the right to be recognized as transgender."
On the contrary, Muhammad Irfan Khan claims that being transgender is a mental illness that is treatable through psychological and hormonal therapy. Hence, according to him "Giving these people the right to identify with a gender of their choice is unIslamic."
Another petition was filed against this Act in the Federal Shariat Court this year by the 22-year-old Muhammad Bin Sajid who is a student at the International Islamic University. He says that he decided to file this petition when his friend told him that this law "endangers the principles of Islam and promotes homosexuality". He believes that "it is his duty to stand up against any lawmaking that goes against Islam."
He also believes that "any person who does not identify with the gender assigned to them at birth is homosexual". Hence, according to him, a law that allows one to change their gender is not correct Islamically.
Jamat-e-Islami's senator Mushtaq Ahmad has also presented a draft bill in the Senate on 15 November 2021, which states that those individuals seeking to change their gender must get their medical evaluation done and that nobody should be allowed to change their gender on their CNICs nor have any surgery or medical treatment done that changes their body without medical evaluation.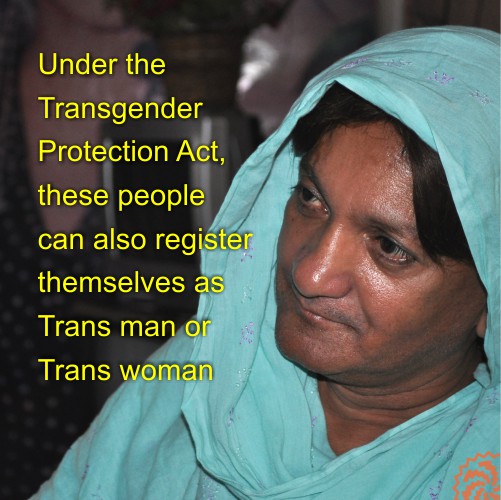 He says that "only those people should be categorized as transgenders whose physical organs are neither that of a male or female as Islamically only intersex people are considered transgenders" while on the other hand, "the current law gives everyone the right to change their gender."
According to him, such changes have many social and religious implications. In his explanation, he said that if a man calls himself a woman on the basis of his feelings and characteristics then according to this law, he will not only be considered a woman but also allowed to go to women-only spaces as well which "goes against the dignity of women."
Some transgender persons along with Nadeem Kashish, who has been working as a makeup artist in Express News for the last 13 years, also agree with these objections. She believes that anyone with the ability to give birth to a child should not be considered a transgender person. Hence, according to her, the right to identify as a transgender person on their own and change their body which has been provided by this Act is not correct religiously. She gives her personal example when in 1987 she ran away from her house in Multan at the young age of 16. She came to Heera Mandi where her Guru recommended her to get surgery done in order to have a more feminine appearance. She says that she did not take her advice and lived her life as a Moorat, "female spirit in a male body" because according to her changing one's gender is not allowed by Islam.
Transgender rights activist, Noshi Khan also believes that people who fall on the spectrum of gender have a wide variety instead of the transgender binary of male and female and that all of them cannot be called transgenders. In her opinion, privileged people are taking advantage of the Transgender Persons (Protection of Rights) Act to get surgeries done to change their sex when the original intention of the law was to provide safe shelter and employment to marginalized transgenders.
Gender: A Religious Question or a Social Issue?
On the other hand, Jannat Ali says "gender is not between one's legs but in our mind and spirit which cannot be verified by any medical or psychological tests". She does accept that there are people in the transgender community who have male or female appearance but do not consider their use to be either male or female.
Jannat Ali also says "the people who are trying to challenge the Transgender Persons (Protection of Rights) Act by filing petitions against it do not truly understand it."
Ayesha Mughal also thinks that the petitioners do not know the context of this law.
By representing Pakistan in a National Delegation at the UN CEDAW (Convention on Elimination of Discrimination Against Women) committee in Geneva, Switzerland in 2020, she became the first transgender to represent Pakistan on an international forum. She says that the draft for the Transgender Persons (Protection of Rights) Act was thoroughly discussed with the chairman of the Council of Islamic ideology, Qibla Ayaz and sent to the senate with his cooperation and support.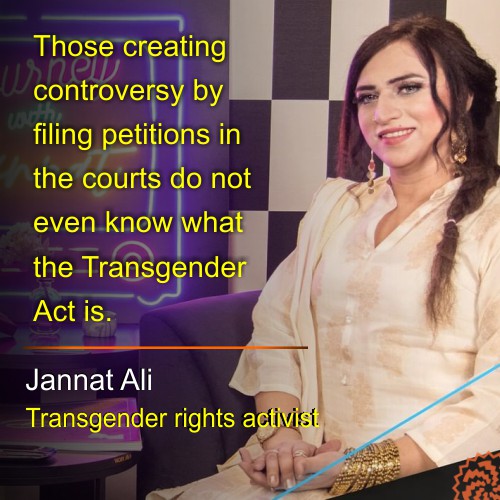 Currently, she is working with lawyers and religious clerics to file her response to the petitions challenging the Act.
Supreme court lawyer, Sabahat Rizvi who was also part of the group that worked on getting the Act approved said that they settled all the religious objections that were raised during the parliament session when this Act was being discussed. She also says that after this act was approved by the National Assembly and it was sent to the Senate, many senators including Jamiat Ulema-e-Islam's senator Hafiz Hamdullah criticized the Act for paving way to promote homosexuality. She says that "we utilized extensive religious research to placate the senators and explain to them how the Act was not unIslamic at all and that its sole purpose was to provide legal protection to the transgender community."
Dr Muhammad Aslam Khaki also agrees with this position. He is an Islamic scholar and an advocate of the Supreme Court. He filed the first petition in Pakistan for the rights of transgender community in 2009. He says that "this is not a religious issue rather it is a social one and hence it needs to be dealt in that way."
He says that we should not challenge Transgender Persons (Protection of Rights) Act just because some homosexual individuals can register themselves as transgender persons and misuse this law because every law has the potential to be misused but no law has ever been struck down based on this reason.