Shahzadi Rai and Zehrish Khanzadi were booked to fly from Jinnah International Airport, Karachi to Nepal on a Flydubai flight. Their connecting flight was schedule to depart on 9:55 AM, 20 January 2023, to Dubai. When Rai and Khanzadi attempted to board the plane, they were told to wait. Approximately 15 minutes before takeoff, they were refused passage on the plane, as they were transgender persons and their passports identified them with the third-gender marker 'X'. "We were told to wait at the gate while other passengers boarded the plane. There was no communication apart from this. When we began asking questions, we were told to stop the commotion. It was humiliating," says Rai, who is an activist working at the Gender Interactive Alliance (GIA).
Rai and Khanzadi were told that they couldn't travel on Flydubai, as the United Arab Emirates (UAE)'s immigration policy no longer allows transgender and non-binary persons who identify with a third gender to travel to Dubai. However, while booking their tickets, entering their passport information and confirming their booking – neither Flydubai nor their travel agent had informed them of any such policies, or cancelled and refunded their bookings beforehand.
Flydubai's ground staff asked them to leave the terminal, without giving a written reasoning or guidance for a refund. "They told us that we aren't their responsibility and they had already suffered delays due to our dilemma". Rai and Khanzadi were travelling with their transgender colleagues whose passports identified them as male and they were allowed to board and travel onwards to Nepal.
"This conference was crucial for us, I left my son's wedding reception early to catch this flight. But after waiting for hours, we weren't even given the documents needed to exit Karachi airport, which are required once you clear security," says Khanzadi. "The Flydubai ground staff was extremely unprofessional and used transphobic slurs speaking to us", added Khanzadi. After spending five hours trying to speak to relevant authorities and arrive at a possible solution, they had no choice but to return home without any answers.
According to Khanzadi, the airport security personnel who escorted them out of the airport initially looked supportive, "but once we were out of public view, they too became abusive. It became clear that they only wanted to stop us from making a public spectacle. Once we were outside, they began to sexually harass us", says Khanzadi. Since the incident, Rai has been receiving harassing calls from the airport security personnel. Rai claims that some have gone to the extent of demanding sexual favours.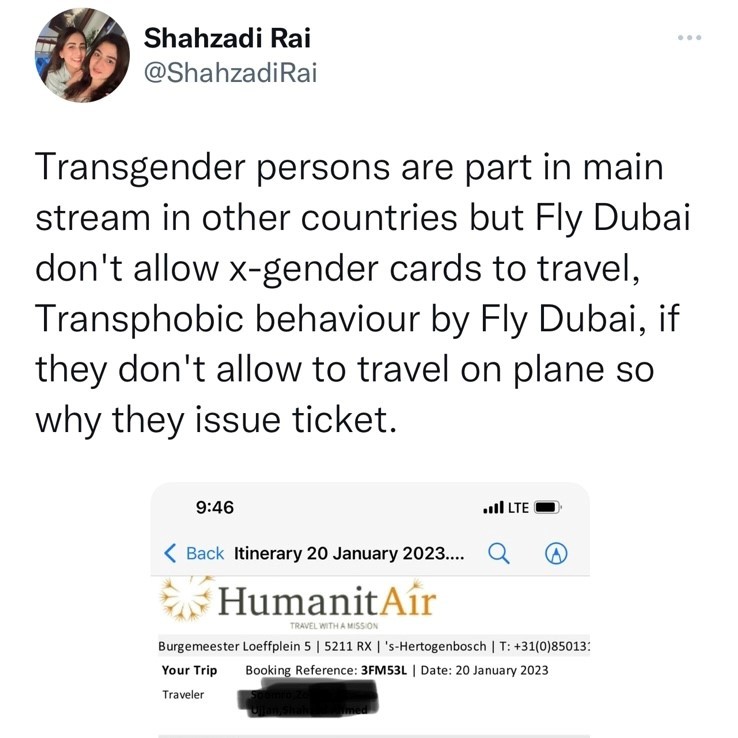 An airport security official, present at the scene says that, "the Flydubai desk, informed me that the UAE government had imposed a ban on the entry of transgender persons who identify with the third gender on their official documentation." He went on to say that, "Flydubai's Karachi airport office denies any responsibility in the matter, saying that they were acting on orders from the headquarters in Dubai, and had to follow procedure." Without any further probing, the official added "in my opinion, these **** should know such policies, so booking such a ticket is their fault". The airport security official had agreed to go on record with his account but requested anonymity twelve hours later. Since the incident, activists have created a stir on social media, and many civil society organizations and media houses have highlighted the issue by expressing their solidarity with Rai and Khanzada.
There is no policy against transgender persons on the Dubai government's website. Sujag reached out to both Flydubai's Regional Middle East Office and the Flydubai media team. The Flydubai media team responded with the following statement: "Flydubai follows the guidelines outlined by the relevant authorities in the United Arab Emirates with regard to the documentation passengers require for travel". When asked why Flydubai did not run sufficient checks on their customers, their representative said that Rai and Khanzada's tickets were booked by a travel agent.
Rai and Khanzadi firmly believe that it is Flydubai's responsibility to be transparent and give clarity about travel laws and policies which affect their customers, especially those from marginalized communities. Moreover, from the ground staff's transphobic comments and discriminatory treatment of them, it is obvious that the multi-million dollar international company, serving over 90 destinations worldwide, has provided no gender-sensitivity trainings to its staff in Pakistan.
According to Zohra Yusuf, council member and former chair of the Human Rights Commission of Pakistan (HRCP); "in denying trans activist Shahzadi Rai permission to board her flight, Flydubai has violated her right to freedom of movement. Both she and her traveling companion, also a trans person, are citizens of Pakistan and had clearly presented all the necessary documents needed to board the plane. To have singled them out in this manner was a disgraceful, transphobic act."
Harris Khalique, the secretary-general of HRCP, says that the airline should apologize to both passengers and has called for the Civil Aviation Authority to take up the matter with Flydubai and ensure this does not recur.
Also read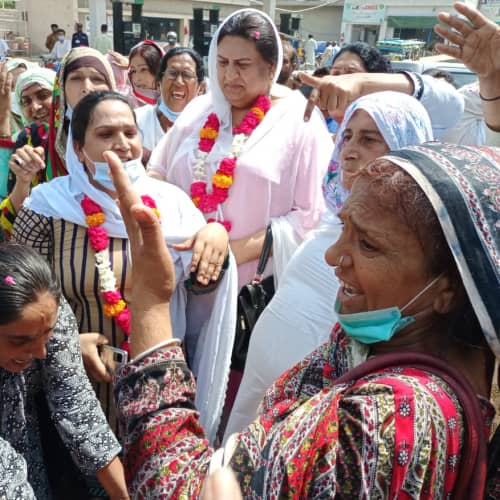 ''Critics of the law do not know the law': Transgender people decry objections to rights bill
According to the Official Airline Guide (OAG) Analyser, Flydubai had over 40,000 departures from Pakistan in 2019. The airline tracking website, says that 83 percent of all international travel from Pakistan in 2019, was to destinations in the Middle East, led by Dubai International Airport (DXB) with 2.2 million incoming Pakistani travelers.

In August 2022, the Migration Policy Institute said that travel policies for trans and non-binary travelers vary by country. They also highlight that an 'X' passport has negative consequences on the migratory possibilities, for trans persons in countries which are hostile to their rights. The institute says that, "even countries that offer X in their passports, cannot guarantee that border control in other countries will allow entry, transit or even legal protection."
According to Rai, air travel, domestic and international, has always been a sensitive issue for the trans community. "We are usually subject to derogatory questioning. Clearing security is a violent affair as we are often shuttled between female and male officers." However, refusal from boarding is a first for Rai and others she knows, having previously flown to multiple international destinations via Dubai. "This is the result of a new policy, which is here to remind us that our existence isn't tolerable, not even in transit".