Ayesha, a thirty-five-year-old transgender person who also goes by the name Aishwarya, makes a living by singing songs at weddings and other joyous occasions. Previously, she used to dance at various events, but after performing Hajj four years ago, she stopped dancing and focused solely on her singing career.
Aishwarya says she is no longer interested in pursuing her previous work. She desires to be treated with respect by others.
A resident of Mohalla Khawajgan in Gujrat, she faced the loss of her mother at the age of 14. Her lawyer father raised her with four brothers and two sisters, making her the fifth among the siblings.
She says that due to her girlish demeanour, despite being perceived as a boy, her brothers used to restrict and mistreat her for not conforming to their expectations.
Furthermore, the behaviour of the people in the neighbourhood caused her significant mental distress.
As a result, at 16, she left home and sought refuge in a transgender daira (a gathering place) in the Fatehpur area of Lahore.
Aishwarya says that in this community, Guru Muhammad Ilyas mentored her and taught her dance. She spent ten years there, earning lakhs of rupees, which she then returned to the Guru.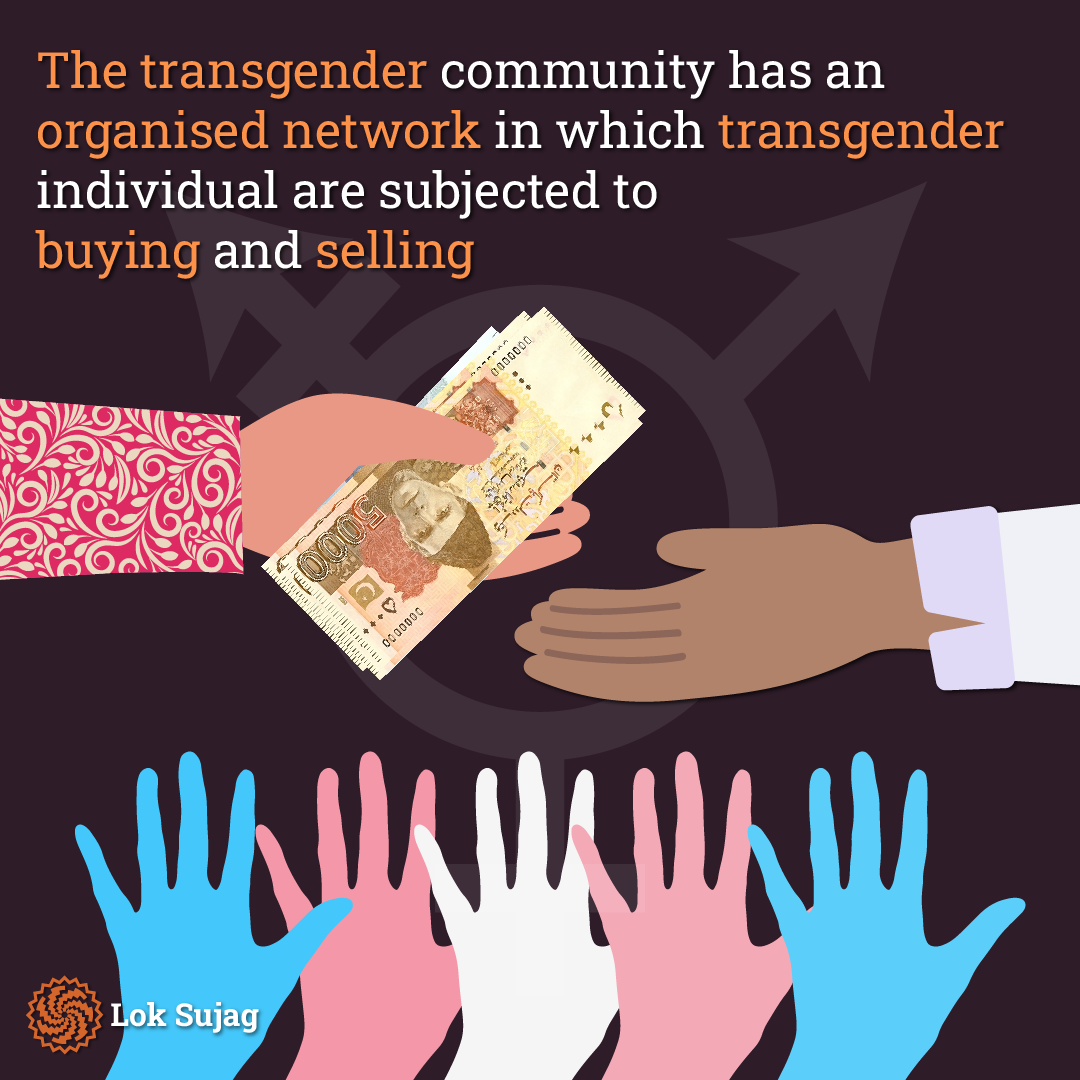 One day, following a disagreement with a fellow transgender individual, Guru Ilyas prohibited her from working. She subsequently sought mentorship from another Guru in the Bhatta Chowk area of Lahore. The new Guru paid her old Guru Ilyas five lakh rupees as a gesture of appreciation.
"After some time, the new Guru sold me for seven lakhs in Daska. Two years later, Guru Nisar alias Nisari of Pasrur bought me for seven lakhs. Transgender individuals have an organised network of community. If a transgender person leaves one Guru and joins another, the new Guru must pay money to the previous one. Transgender individuals face restrictions and cannot establish their own gathering places or work independently."
Aishwarya shares her frustration with the practice of buying and selling in her situation. She expresses her desire to break free from this trap but finds it incredibly challenging to do so, as her Guru demands Rs 12 lakhs for her 'release'.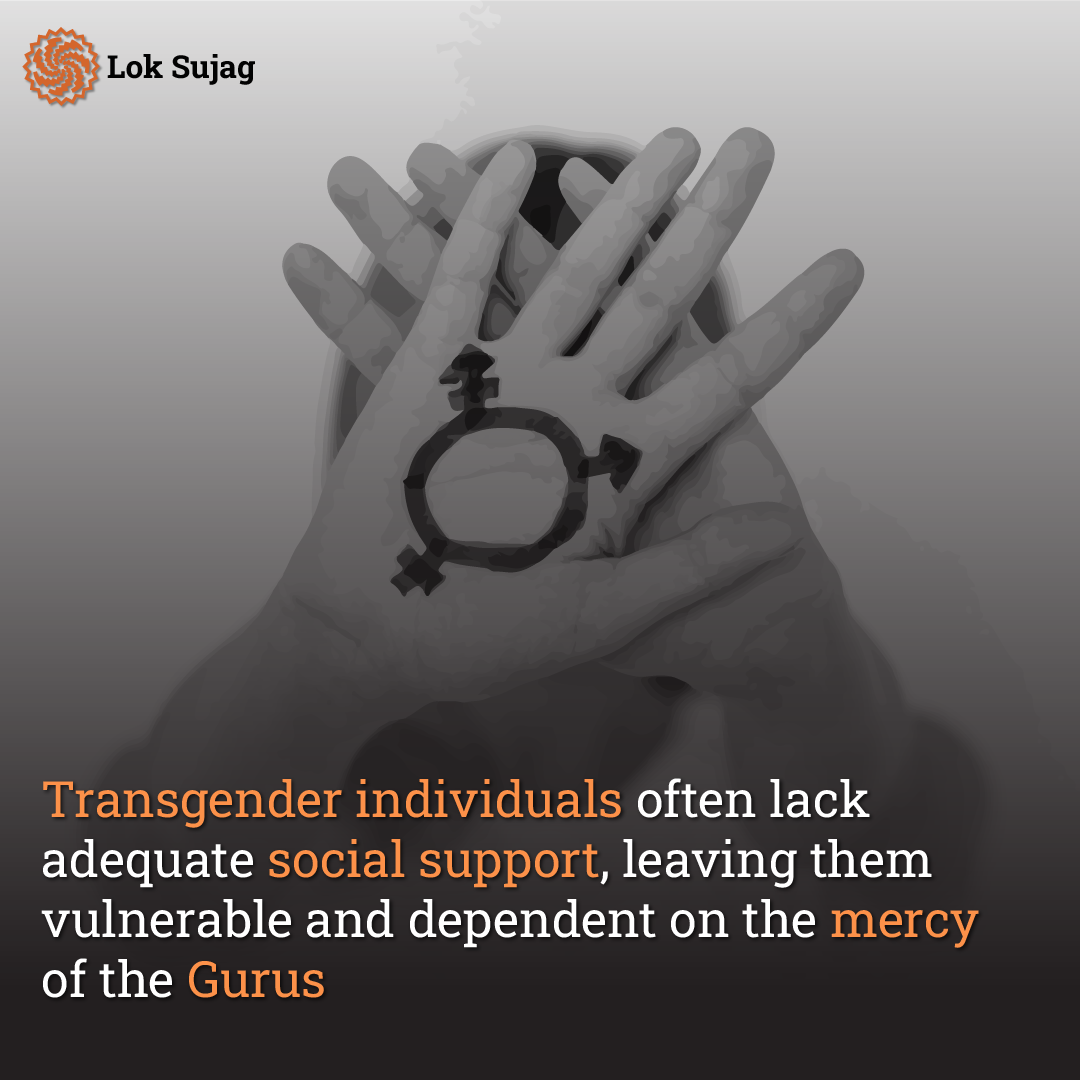 The story of 24-year-old transgender individual Nadeem, also known as Amber Princess from Jhelum, bears similarities to Aishwarya's. She shares that she earns substantial money, which she then gives to their Guru.
Despite receiving a good job offer from an NGO, her Guru forbade her from pursuing it. He now demands 25 lakh rupees for her 'release', which Amber cannot pay.
Amber says that if her family's attitude were more supportive, she would not have been compelled to live a life of servitude. The traditions and mutual relations among the Gurus are powerful, making it challenging for transgender individuals to attain independence on their own terms.
Guru Nargis, also known as Nari, who leads the transgender community in Narowal district, denies the allegations of trafficking. She states that when a transgender person runs away from home and seeks refuge with them, they provide protection, training and meet their every requirement.
"When we transfer the responsibility of caring for a transgender person to another Guru, it does not imply that we are selling her. Instead, it is to recover the money we have spent on her well-being. Transgender people face no restrictions, and they have the freedom to choose their path and go wherever they wish."
Nari explains that some transgender people have borrowed lakhs of rupees from the Guru, so settling all financial matters before leaving the daira becomes essential.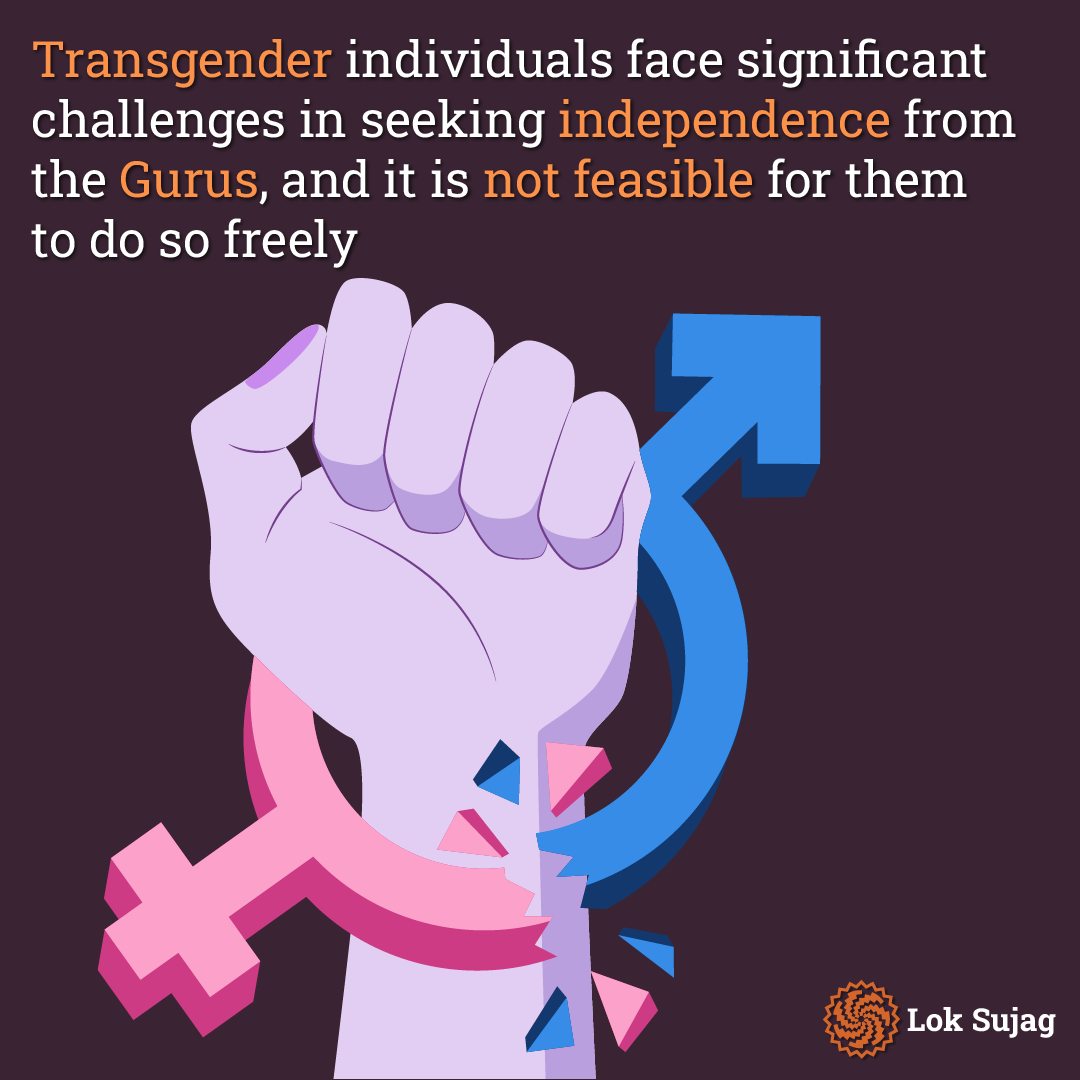 Psychologist Dr Mumtaz Ahmad Butt points out that in our society, parents usually do not accept their children as transgender, leading to ill-treatment of such children.
Consequently, these children often run away from their homes and fall victim to the influence of Gurus. Due to a lack of possessions and social support, they find themselves at the mercy of these Gurus, who then exploit them and turn them into a source of income.
Twenty-seven-year-old Aslam, who identifies as Nishili, from Qiampur village in Narowal, faced slavery and sexual violence perpetrated by her Guru. She resides at the daira of Guru Imran, also known as Imrani Nathali, near Sheeranwala in Gujranwala.
Nishili, who identifies as a transgender individual, recounts her journey, leaving home at 18 to work at a transgender daira in Sialkot. During this period, her Guru Imrani Nathali and her friends subjected her to continuous sexual assaults. After enduring this painful experience for five years, when she decided to reject such a life, the Guru handed her over to another Guru in Lahore for two lakh rupees.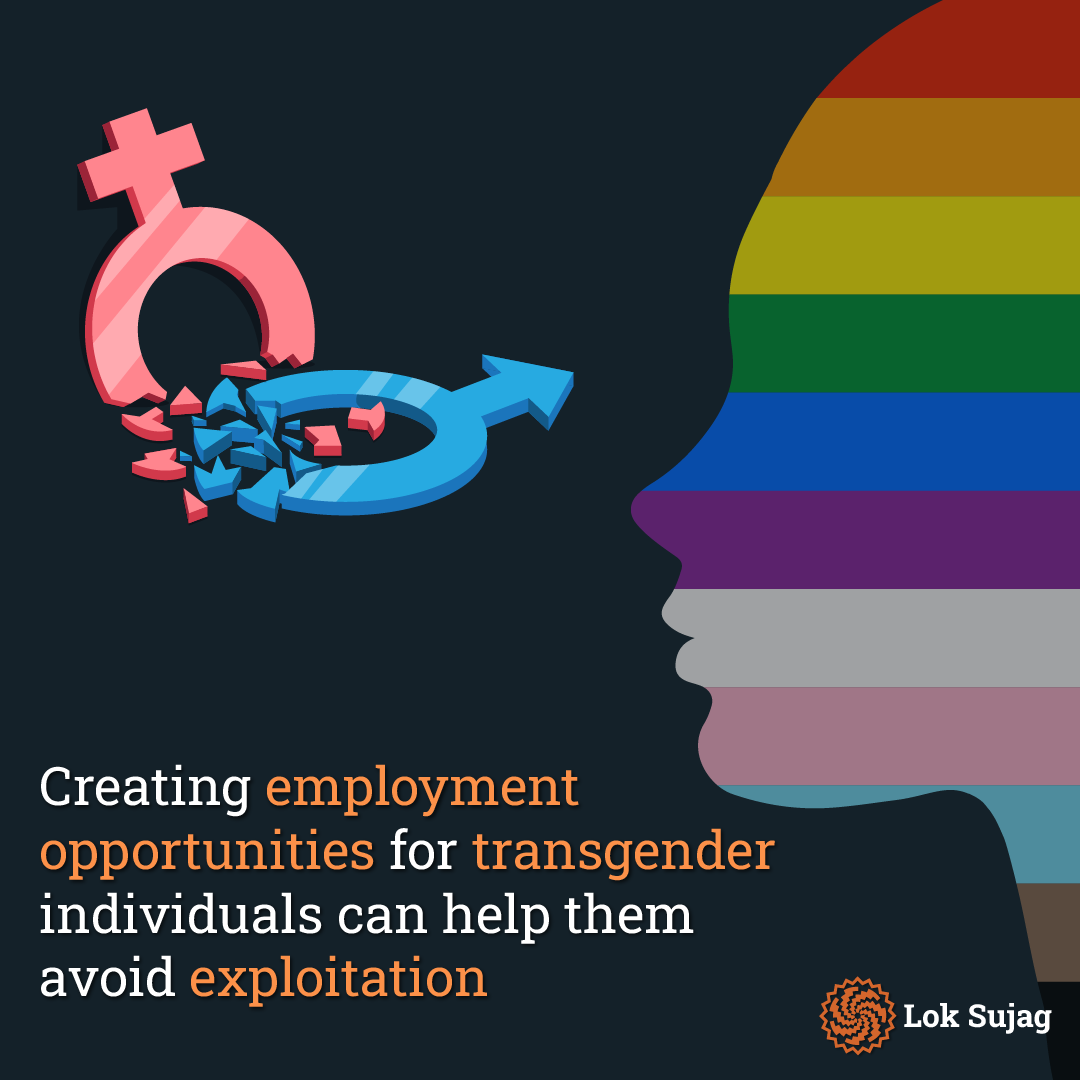 After two years, Guru Imrani regained control by paying three lakhs for her, leaving her with no agency over her situation. In addition to dancing, the Guru now coerces her into engaging in prostitution during concerts.
Sharing her experience, Nishili states that ever since leaving home, she has lived a life of constant slavery with little hope of breaking free from these oppressive circumstances. She emphasises that for transgender individuals, achieving independence seems like an unattainable goal from the very beginning.
District Police Officer Narowal, Rana Tahirur Rehman, acknowledges that over the past three years, no FIR has been registered regarding the sale and purchase of transgender persons in this district.
Mohammad Hasan Iqbal, DPO of the nearby Sialkot district, emphasises that if there is a complaint of buying and selling of a transgender person or blackmailing by a Guru, the law will take immediate action. Abusing transgender individuals is a serious crime, as it is for anyone else. He further assures that if a transgender person's life is in danger, they can seek shelter and support in the protection centre established in every district.
Also Read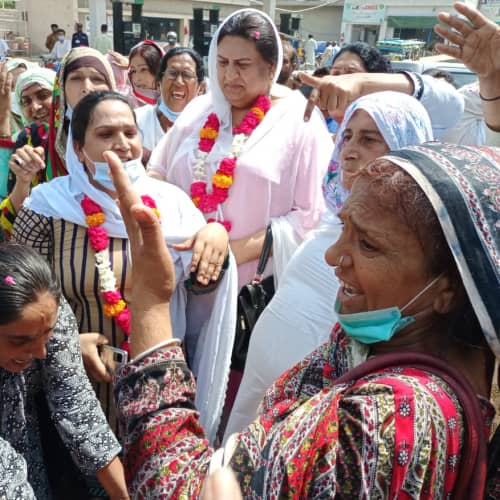 ''Critics of the law do not know the law': Transgender people decry objections to rights bill
However, Ali Raza, District Officer of the Social Welfare Department in Narowal, explains that the existing shelters under their purview are primarily for children (boys and girls) and elderly individuals (females and males). He highlights that if the government permits, appropriate accommodations can also be arranged for transgender individuals in these shelters. Alternatively, they can explore the possibility of establishing a new institution specifically to cater to the needs of transgender individuals.
Mirza Muqim Baig, Chief Executive of the National Rural Development Program, highlights the importance of creating employment opportunities for transgender individuals to prevent exploitation. Currently, government efforts for their education and protection are inadequate. Baig stresses that establishing specific government institutions for their welfare would significantly enhance their social standing and well-being.
Narowal Deputy Commissioner Mohammad Ashraf shares the district administration's plan to initiate a project to provide technical education to transgender individuals. This progressive effort is designed to empower transgender people by equipping them with valuable skills, thus enhancing their employment opportunities and promoting their inclusion in the workforce.