Ismaeel Kumhar, a 45-year-old man, brought his pregnant wife to the Tando Mohammad Khan District Hospital three days before the child's birth. He says that after admitting his wife, he was told to arrange for a blood transfusion. When he got that done, he was asked to keep it in a private hospital because there was no provision for keeping blood safe at the District Hospital. The next day, the doctor gave him a list of equipment for the operation and told him to buy them from a private medical store. Besides medicines, other expenses were incurred as well.
Ismaeel, who lives near Sindh Abadgar Sugar Mills in Baladi Shah Kareem, about 30 kilometres from Tando Mohammad Khan, says that people like him come to government hospitals for free treatment, but the expenses are the same as private hospitals; there's additional suffering too.
According to the 2023 census, the population of Tando Mohammad Khan, a district separate from Hyderabad, is 7,26,119. Tando Muhammad Khan city has a population of over 100,000 people, but the largest government hospital in the district does not even have the facility to store blood.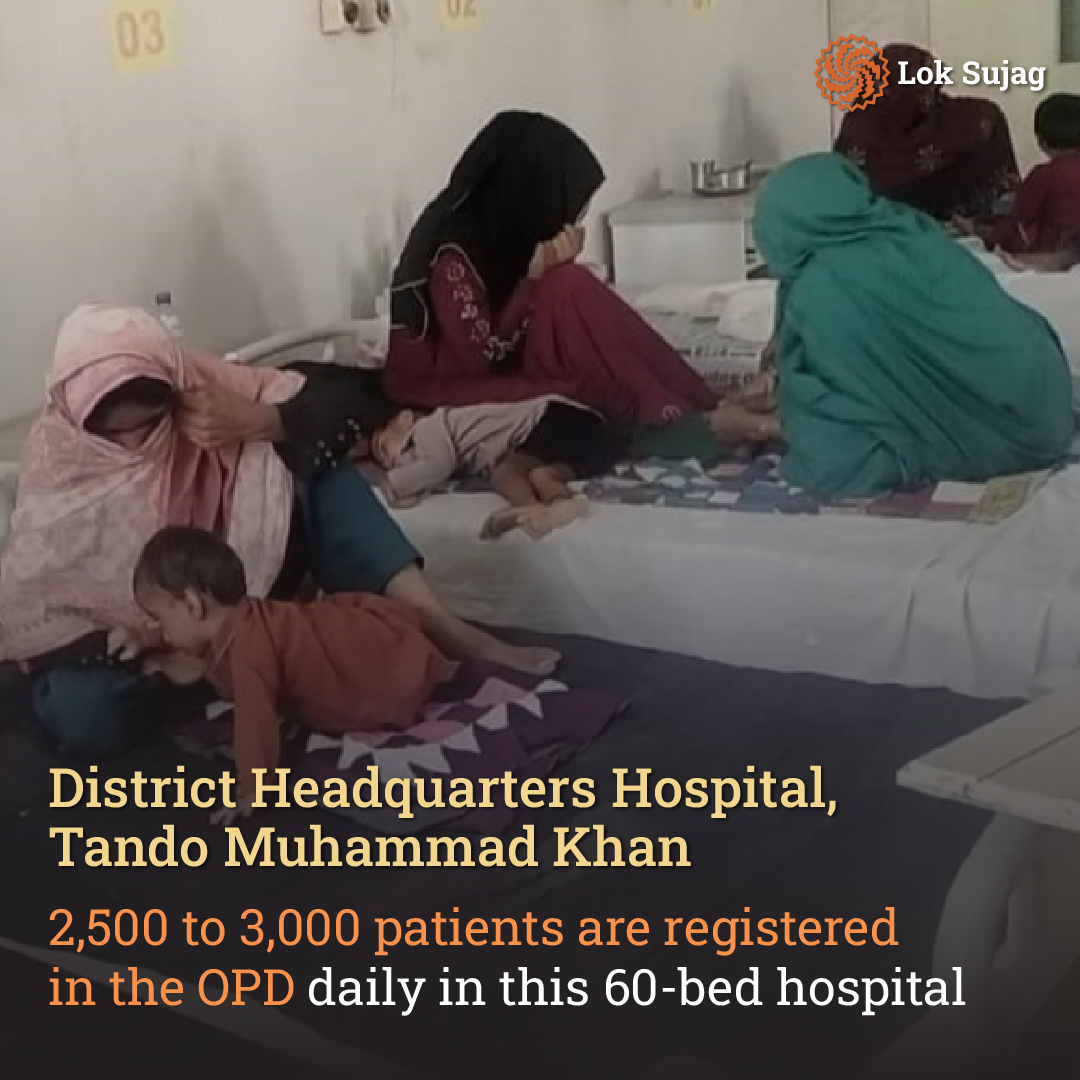 50-year-old Zulfiqar Chandio, a journalist from Tando Muhammad Khan and district reporter of the daily Ibrat, says that due to inattention, the x-ray section of the hospital is closed and no x-ray technician has been appointed. Because of the absence of laboratory technicians, tests for dangerous diseases like Hepatitis B and C are not being conducted. He stated that patients often complain about inadequate lighting and high temperatures due to the shortage of bulbs and fans.
According to the data of the hospital, 2500 to 3000 patients are registered in the OPD every day in this 60-bed hospital. From July 2022 to June 2023, the hospital treated 3,006,975 patients. The hospital has only 14 beds for children, 14 beds in the nutrition ward, 22 for women, and 10 for men.
According to hospital records, it has 468 posts of doctors, paramedical staff and lower staff, but 155 staff are serving, and the remaining 313 posts are vacant.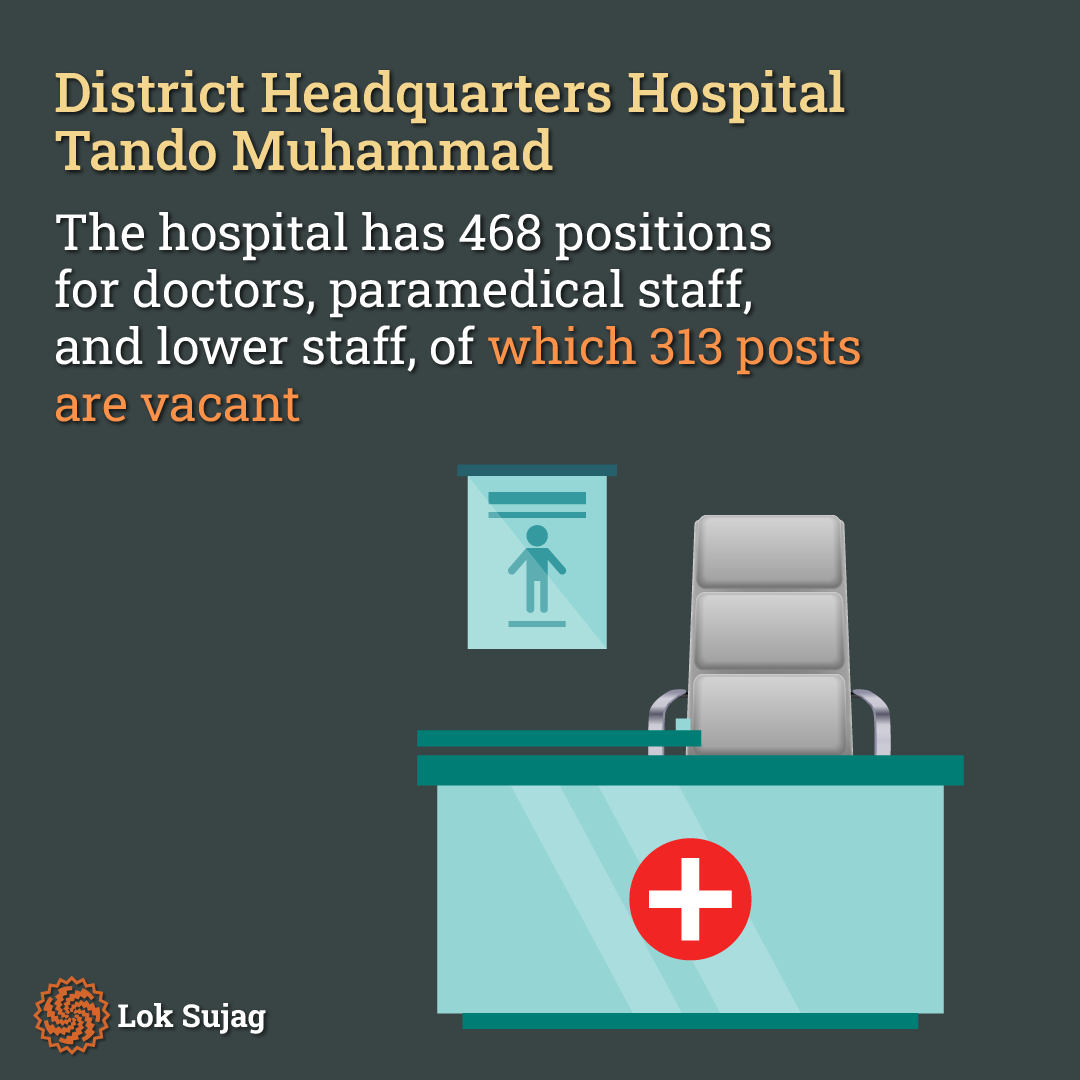 The hospital's absence of specialists such as cardiologists, senior dental surgeons, ENT specialists, family physicians, and AMS specialists is a significant issue, as patients are forced to seek medical treatment in other cities.
There are 28 seats for sweepers to clean the hospital, but only six have been deployed, so the hospital is littered with garbage.
The hospital has not appointed a washerman to wash the bedsheets used by the patients and the clothes of the staff, so washing is done from outside. The post of electrician in the hospital has been vacant for 18 years.
Despite having a budget of 9 crore rupees for the annual purchasing of medicines, patients complain that they are asked to purchase medications from private medical stores.
Also Read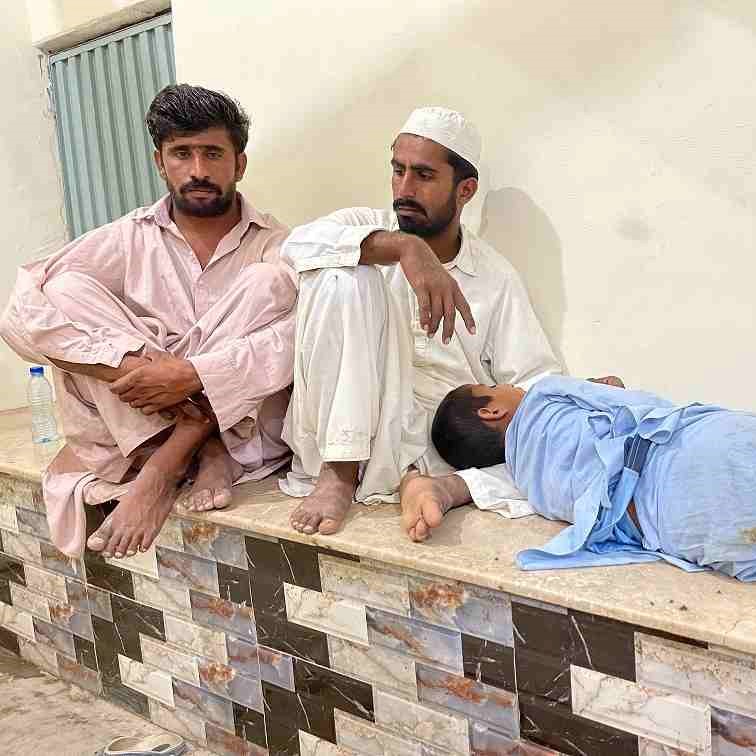 Tharparkar's healthcare despair: Islamkot THQ hospital leaves residents disillusioned with lack of treatment
22-year-old Ovais Ahmed from Tando Muhammad Khan City says, "My uncle has diabetes, but there is no insulin available in this hospital. Medicines for scabies have been prescribed to be bought from outside. Only one multivitamin pill and one antibiotic capsule have been given from the hospital store."
Vinod Kumar Meghwar, 32, a social worker, said that the hospital has been made a DHQ to the extent of the declaration. "Before this, it was a Tehsil Hospital, and even then, it was not fully staffed. Now, it has been turned into a district headquarters hospital."
Upon contacting Dr Yusuf Jhejo, the District Health Officer of Tando Muhammad Khan, admitted that he has not made appointments for laboratory and X-ray technicians.
"We call an X-ray technician from Matli three days a week who comes and performs X-rays for the patients. However, the remaining three days remain quite challenging for the patients."
He said that he had written to the Sindh government that there is no physician, no specialist in heart diseases, no ENT specialist, and no skin specialist in the hospital. According to him, once the government makes appointments, there will be an improvement in the current situation.