Sadi Ahmed Yar planted sugarcane on 18 acres of land last year. Eight acres of it were his own, and the rest he leased. In January of this year, he sold his produce to the Ramzan Sugar Mill in Chiniot but has not received his full payments yet.

35-year-old Sadi hails from Bhawana Tehsil in Chiniot, and he is the father of four children. One of his daughters is a student at Government College University, Faisalabad with monthly educational expenses ranging from 20,000 to 25,000 rupees. One daughter is in ninth grade, and one son is in the tenth grade. He also have to buy medicine regularly for one of their daughters who is suffering from a mental condition.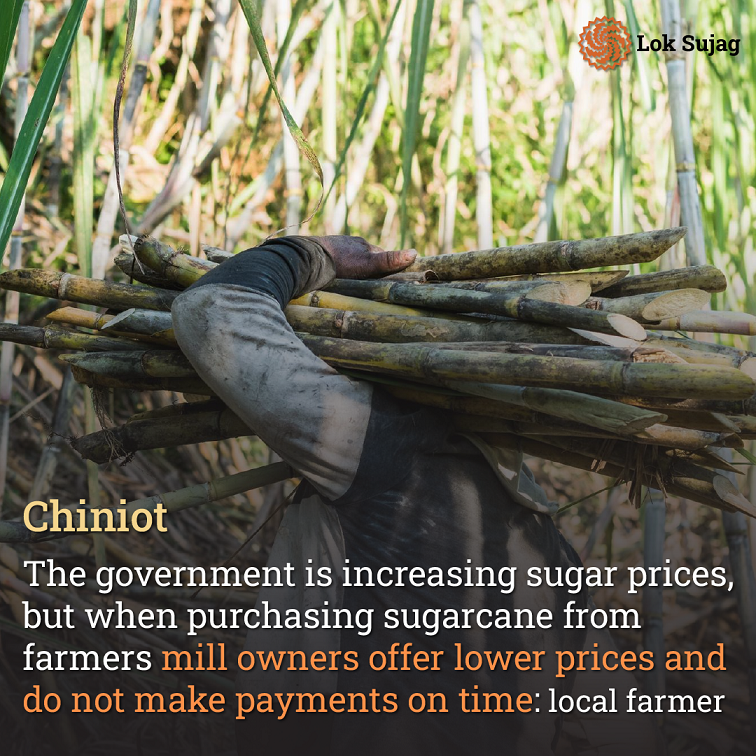 While discussing his financial difficulties, he explained that to meet the household expenses, children's education, and crop costs, he had taken a private bank loan of nine lakh rupees.
The new sugarcane season is hovering around the corner, but so far, he has only received approximately five lakhs out of the 18 lakhs from last year. He has approached the authorities and farmer leaders several times for the remaining payments, but he hasn't received his money.
"The mill administration is afraid of wealthy landowners and quickly pays them, while small farmers receive their payments very late,"
Ikhtiar Ali, who belongs to Chak-157 in Bhawana Tehsil, couldn't sow his crops on time this season due to not receiving the remaining dues from Ramzan Sugar Mill. He says that the unavailability of fertilizer to the crops on time has reduced the yield below half.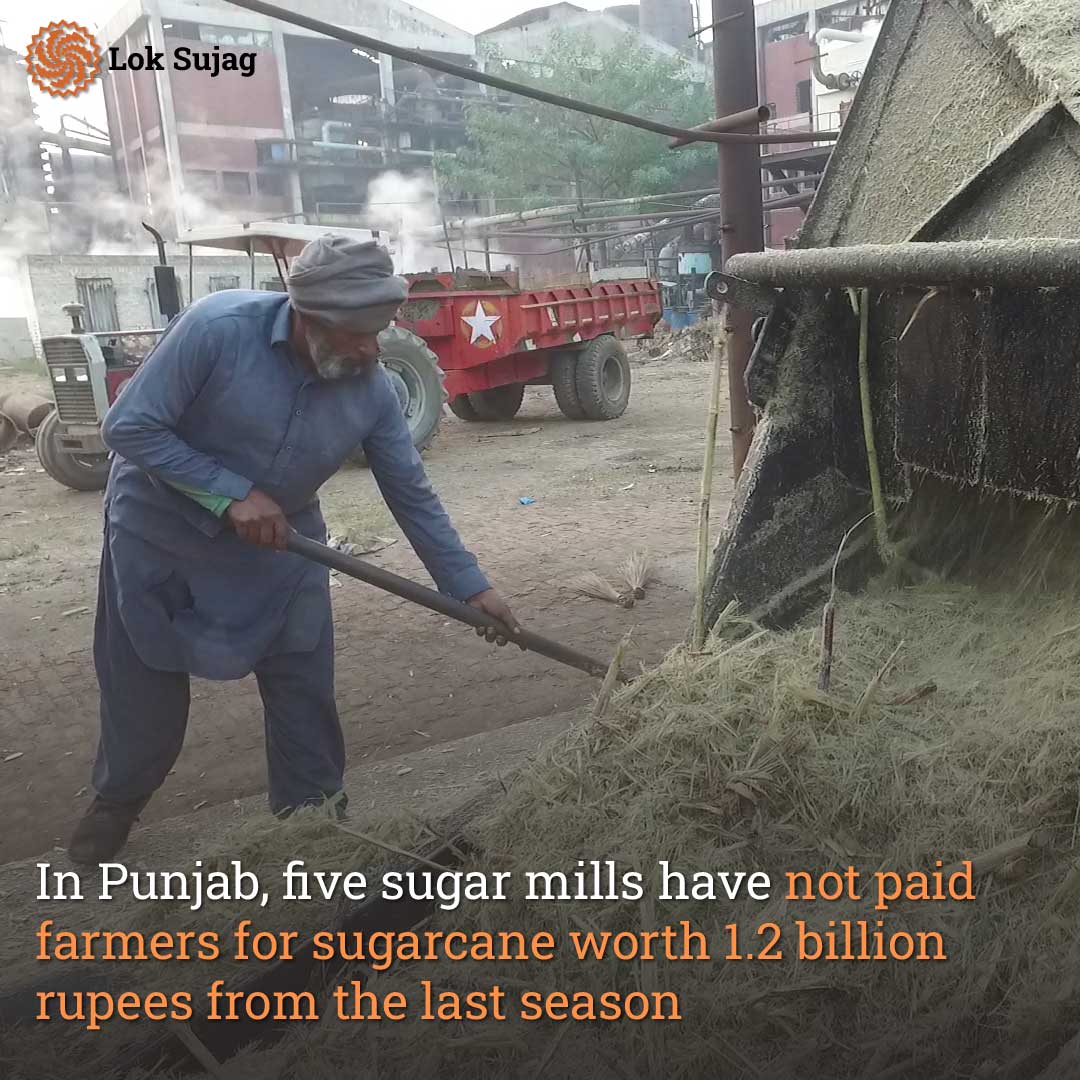 On the other hand, increased electricity bills have added to their expenses because their village is located at the end of the river Chenab, where there is very little canal water, forcing them to operate tube wells on electricity.
To make ends meet, Akhtar Ali mainly grows sugarcane on his 15-acre land. He says that although the sugar mill closed down in March, he still owed 4 lakh rupees out of the total 12 lakhs. He claims that to receive his money, he has to approach the mill administration repeatedly, almost begging for his dues.
"The government is increasing the rates of sugarcane, but when we sell it to mill owners, they offer lower prices and delay payments. Sugarcane farmers are suffering on both fronts. That's why many farmers did not cultivate sugarcane this year.
Pasrur Sugar Mill also has to pay Rs 15 lakh to Mukhtar Ahmed of Kot Alam area of Hafizabad. In January this year, he had sold the sugarcane to this mill and these days he is visiting various government offices to collect his money.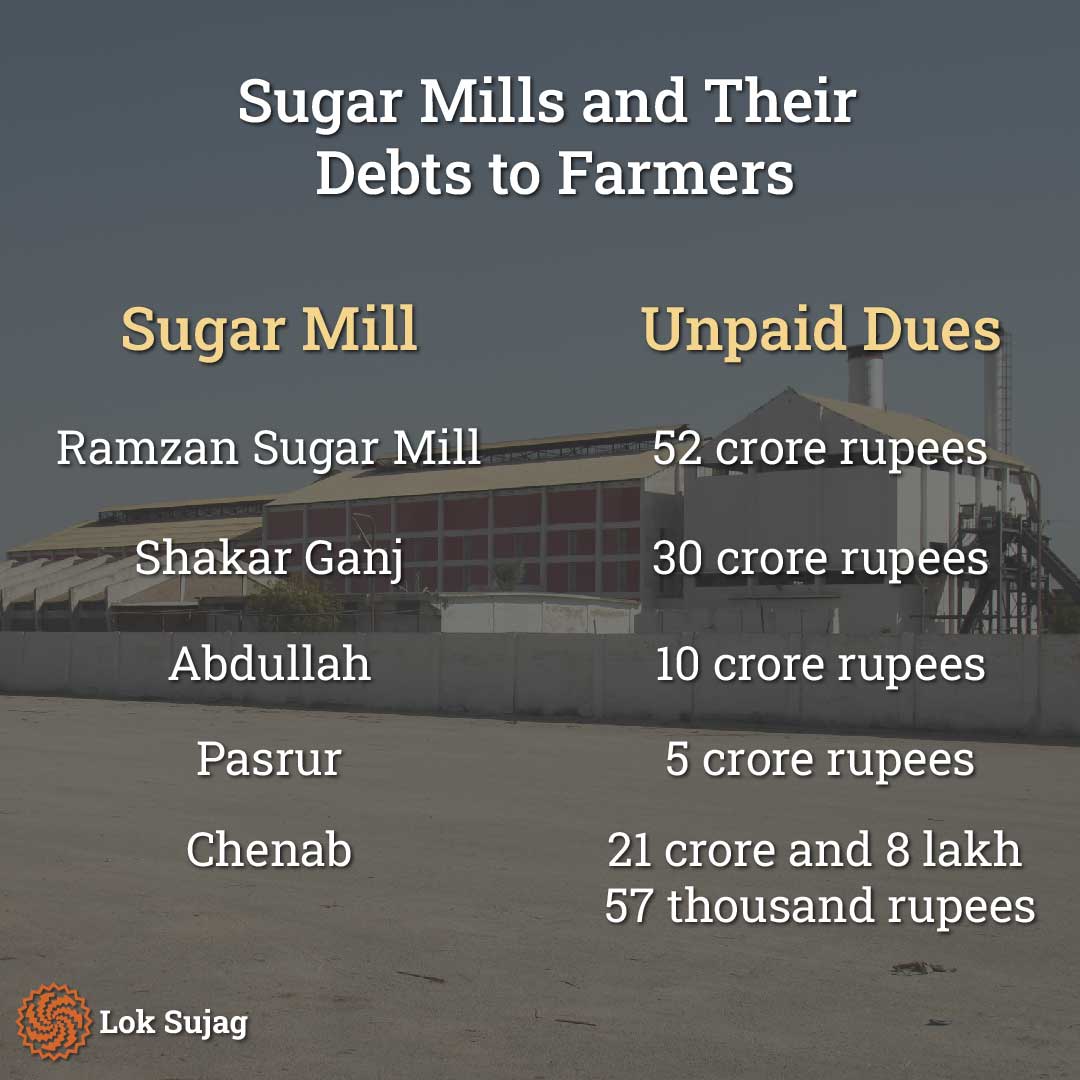 Apart from growing sugarcane, he also works as commission agent and take sugarcane from farmers and supply it to the mill. According to him, Pasrur Sugar Mill did not pay for the amount of sugar bought from him after January 2 this year.
He says he sold some of his animals and borrowed money from different people to pay off some of the farmers' dues. He went to the mill management and applied to the cane commissioner's office in Lahore, but was not heard.
According to official figures, till 31 August 2023, in Punjab, five sugar mills have not paid the farmers for sugarcane worth 1.2 billion rupees from the last season. Among them, Ramzan Sugar Mill owes the most, with payments of around 52 crores. Additionally, Crescent Sugar Mill, which belongs to the Crescent Group of Companies, owe 30 crores; Chenab Sugar Mill, Faisalabad, owe 21 crores and 8 lakh 57 thousand rupees; Abdullah Sugar Mill, Okara, owe 10 crores, and Pasrur Sugar Mill owe 5 crores.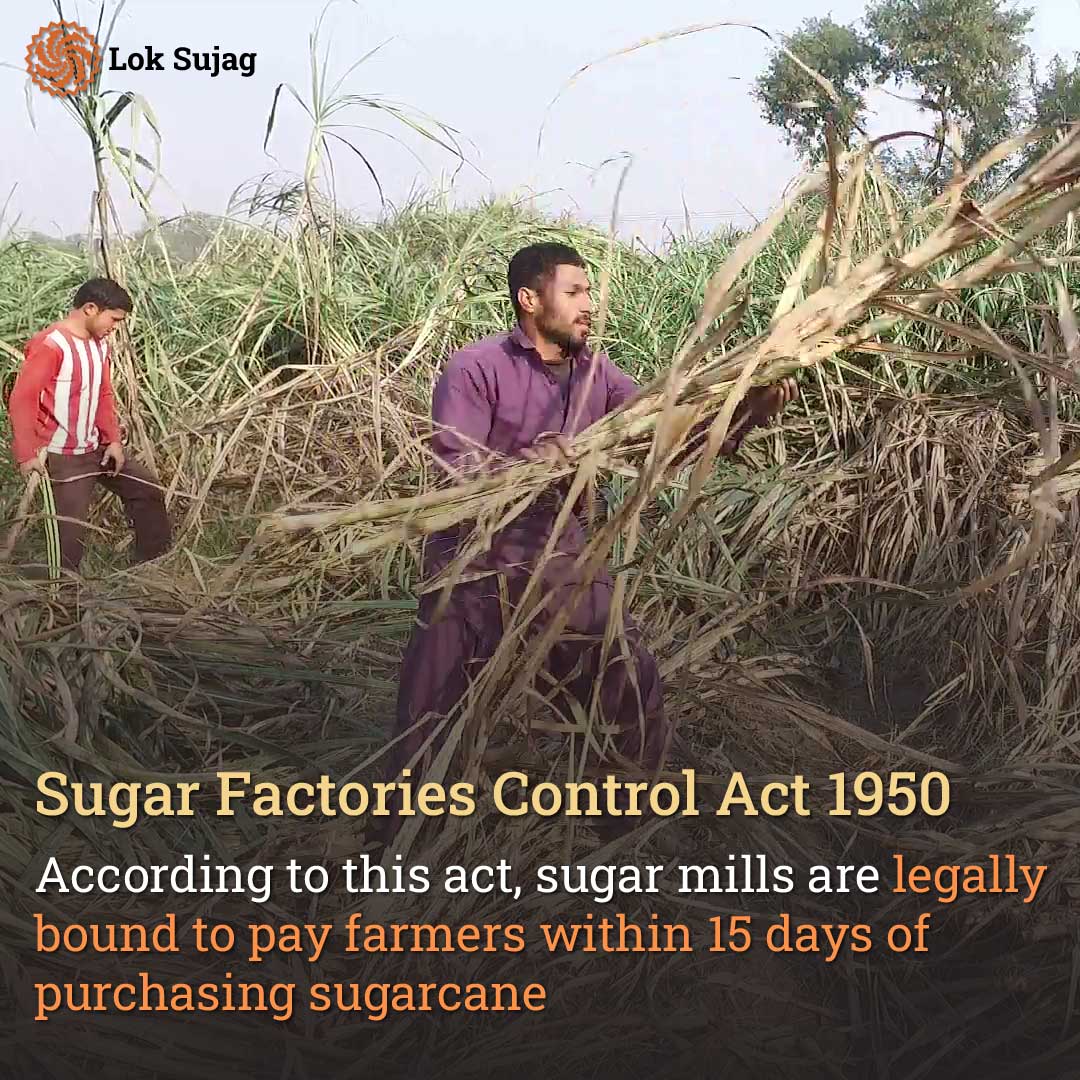 Ramzan Sugar Mill is owned by the Sharif family. Abdullah Sugar Mill's owner, Miyan Shahbaz Sharif, is the brother-in-law of former Prime Minister Nawaz Sharif.
Sugar mills are also a source of income for Salim Altaf, head of the Crescent Group of Companies, who served as the federal minister of privatization of industries and production during Pervez Musharraf's government. He was awarded the Sitara-i-Aisar for humanitarian services by the President of Pakistan in 2006.
According to Section 13 of the Sugar Factories Control Act 1950, sugar mills are bound to pay the farmers within 15 days of buying sugarcane. Violating this law can result in imprisonment for up to three years and/or a daily fine of 50 lakh rupees.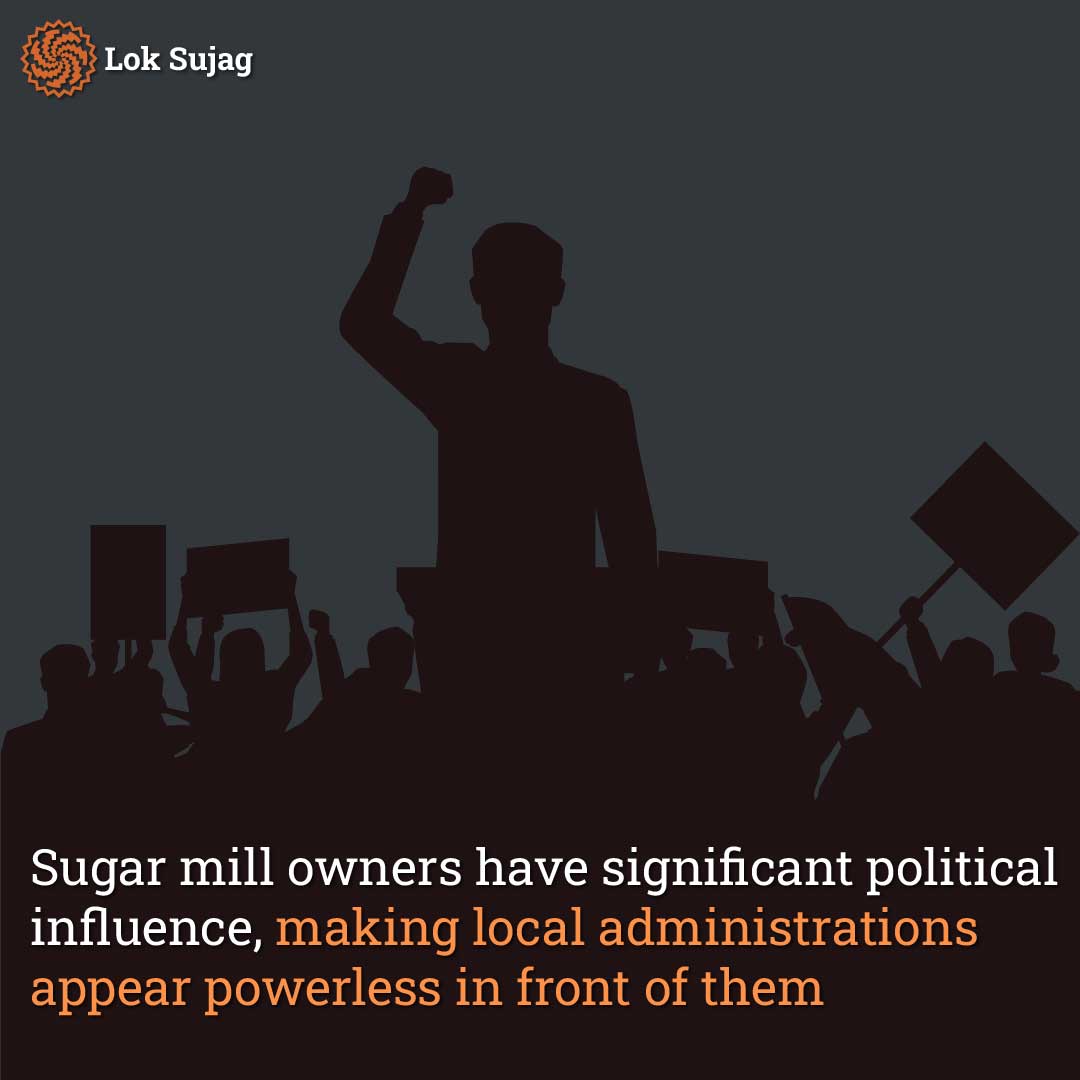 In Chiniot, local leaders of the Farmers' Board say that the Sugar Mill Administration unlawfully withholds farmers' payments so they can earn interest through banks and then pay the farmers with that money. On the other hand, farmers do not have enough money to cover their household and crop expenses.
According to them, all mill owners have significant political influence, which makes the local administration appear helpless in front of them.
When contacted, representatives of Ramzan Sugar Mill stated that they cannot provide any statement on this matter, and despite multiple efforts, there has been no communication with the representatives of Pasrur Sugar Mill.
Also Read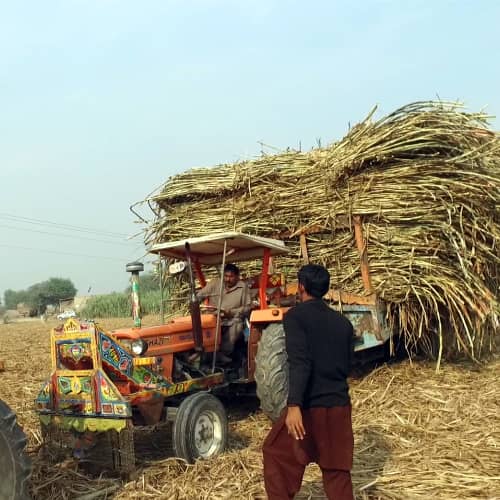 Growers await payment six months after selling their sugarcane crop to Pasrur Sugar Mill
Commissioner of Punjab, Abdul Rauf Chaudhry, acknowledges that many mills in Punjab violate the law by not paying farmers for months, despite the 15-day payment law. He claims that they have taken legal actions multiple times against this violation, but now the courts have issued orders in favor of the mill owners, disallowing them to take any further action.
He mentioned that in the last sugarcane season, they purchased sugarcane worth 3.5 billion rupees, which has not been paid in full yet, but after he took charge in May, only Rs 68 crore is outstanding.
"Sometimes, due to bad financial situation of the mills they request us to give them some time to get loans from the banks. We are in touch with the mills and they have assured that within 15 days they will pay all the remaining amount to the farmers."
Cane commissioner denies the allegations of political influence on local administration, stating that all these mills are owned by wealthy individuals, including prominent politicians, which naturally gives them influence in their regions. However, he claims that they are making every effort to resolve the issue for the farmers promptly.