Haleema Bibi, a 65-year-old resident of Changa Manga, Kasur district, has raised silkworms in her home for 40 years. This work provided her with an annual income of 40,000 to 50,000 rupees. However, last year, all the silkworms she was raising died.
Haleema Bibi's husband is weak and ill. Both husband and wife live with their son. Raising silkworms was their primary source of income, which has now ended.
Haleema explains that until three years ago, there was only one season for raising silkworms. However, now they rear silkworms in two seasons. Their grandchildren assist them when they return from school. This time, they did not have the required quantity of silk seeds (silkworm eggs) or mulberry leaves, so they could not continue their work.
This hasn't only happened with Haleema, but approximately 4,000 families in Punjab have become unemployed in the "Non-Timber Farming" field just like her. Most of them are rural women engaged in activities related to sericulture, beekeeping (raising honeybees), and mushroom farming.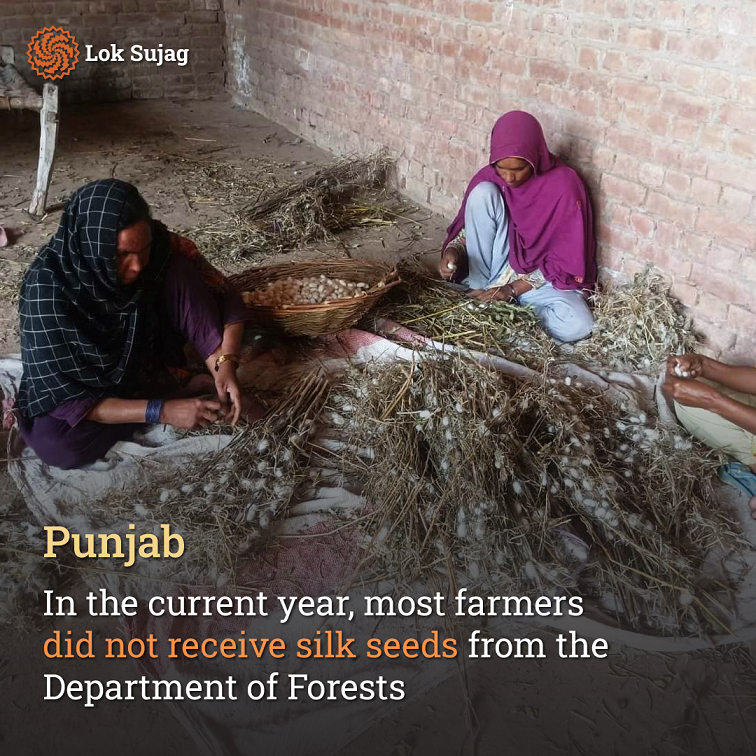 Nazira Bibi, from Changa Manga, is also distressed. She has been raising silkworms for 35 years. Her husband has passed away, and she lives with her married daughter in her home.
Nazira Bibi explains that one packet of silk seeds costs four thousand rupees. The silk made with it is sold for around 60,000 to 70,000 rupees. This amount is sufficient for her annual grain needs. However, she faced a shortage of silk seeds this year, which disrupted her work.
She explains that she was also trained in mushroom farming at home. She was happy to have another source of income. She planned to grow mushrooms in the same room where she raises silkworms. However, the authorities did not provide her with the necessary equipment to start mushroom cultivation again.
Abdul Rahman, too, is a resident of Changa Manga. His wife and children raise silkworms at home. He makes baskets with mulberry branches and sells them, which is the source of his household income. However, for several months now, he has been unemployed.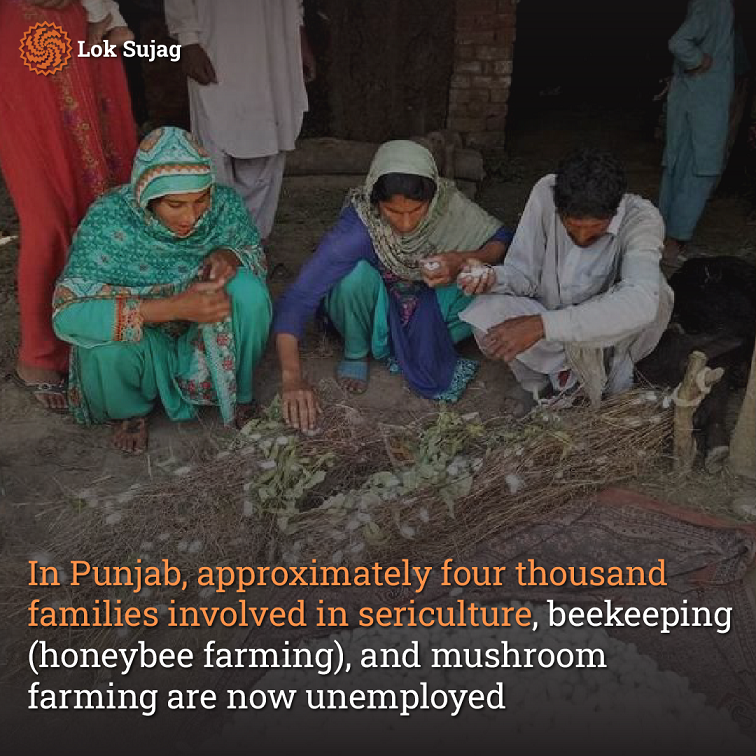 He explains that poverty has struck his household. He is considering raising honeybees but does not have the means to buy the necessary equipment.
Changa Manga is the largest man-made forest in the country. In this jungle, approximately one hundred acres are covered with hybrid mulberry trees. These trees not only produce high-quality fruit, but the leaves of these trees also serve as food for silkworms, and their branches are used to make baskets.
The Forest Department prunes the branches of mulberry trees twice a year. New leaves grow in March, April, and September-October, which marks the season for silkworm rearing. Similarly, the Sericulture Department distributes approximately two thousand packets of silk seeds among residents, which were not distributed this year.
This year, only three hundred packets of these seeds were given to farmers, and no one pruned the mulberry trees. As a result, there were no new leaves for silkworms, and most of the silkworms raised by farmers died.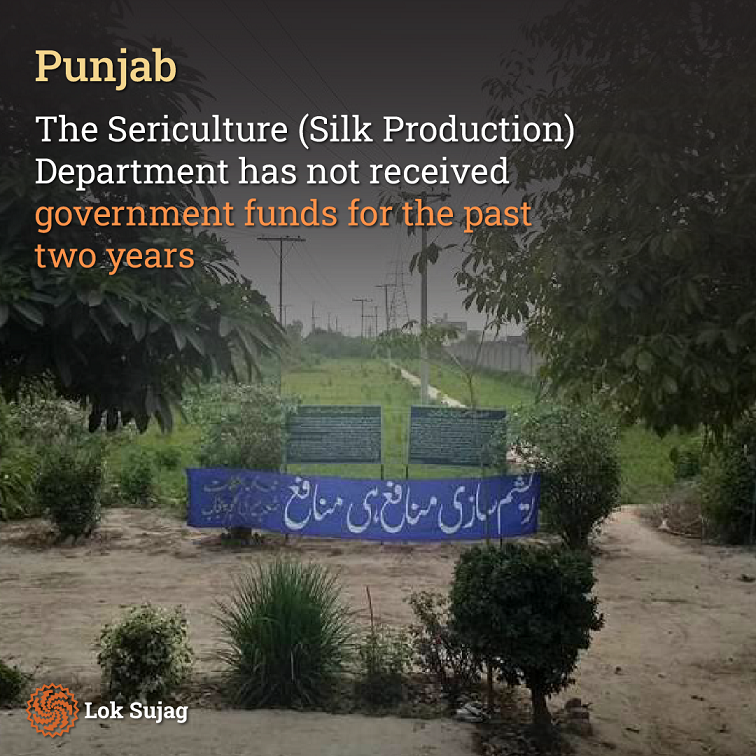 According to the Punjab Sericulture Department, Pakistan's textile industry requires approximately 500 metric tons of silk annually, mainly imported from China and Dubai. According to statistics from 2019, only 25 tons of silk were produced in Punjab in the Spring season.
Similarly, the government is spending on the import of honey and mushrooms. Herbs like fennel, sesame, moringa, aloe vera, fenugreek, and ajwain are also being imported from India via Dubai.
In Pakistan, the government initiated the cultivation of silkworms at the official level in Khyber Pakhtunkhwa, Islamabad, and Azad Kashmir in 1952. Initially, forestry, wildlife, and sericulture were all part of the same department in Khyber Pakhtunkhwa. However, in 2007, sericulture was established as a separate branch under the Non-Timber Forest Products Department.
Similarly, in 2020, the Punjab government restructured the sericulture sector by giving it the status of the Non-Timber Farming Directorate, following the example of Khyber Pakhtunkhwa. However, the following year, there was a dispute over the appointments in the Directorate, leading to the dissolution of the Directorate in 2022, and sericulture was reinstated.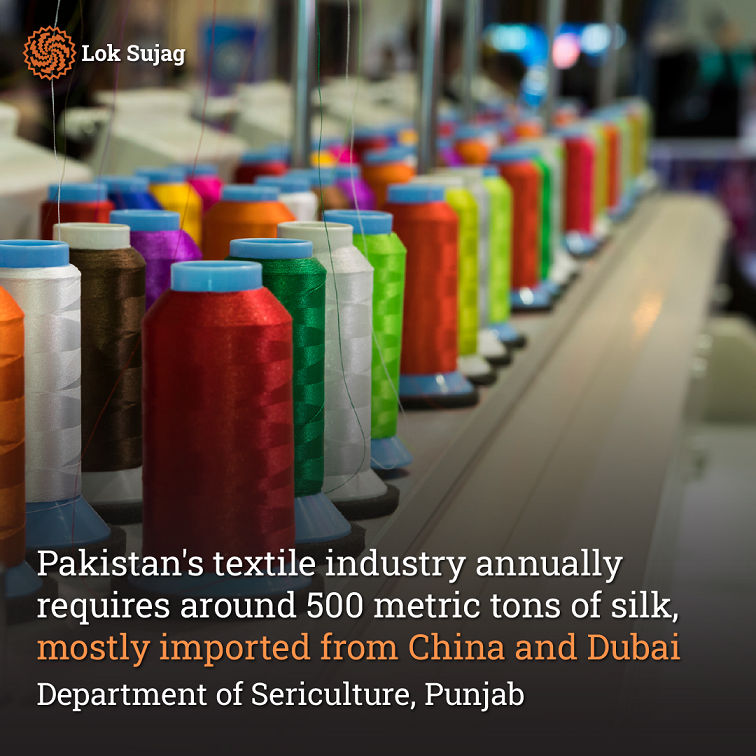 The head of the Sericulture Department holds the rank of a Grade 18 Deputy Director. When this department was given the status of the "Non-Timber Farming Directorate," it was decided to appoint a Forest Conservator in Grade 19 as its head. When the Deputy Director of sericulture and staff protested this move, the Secretary of Forests issued a notification dissolving the Directorate.
Former Deputy Director of the Sericulture Department, Farooq Bhatti, says that in 2022, funds amounting to 13 crore and 60 lakh rupees were allocated for the Non-Timber Farming Directorate. In the first phase, the "Non-Timber Forest Product Complex" was built in Murree, and master trainers were trained. Farmers were supposed to be trained in the second phase, but the Directorate was dissolved altogether.
The closure of the Non-Timber Farming and Traders Association challenged the termination of the Directorate NTF in the Lahore High Court and obtained an interim order. However, this matter is now pending in the courts, and the Sericulture Department has also become inactive.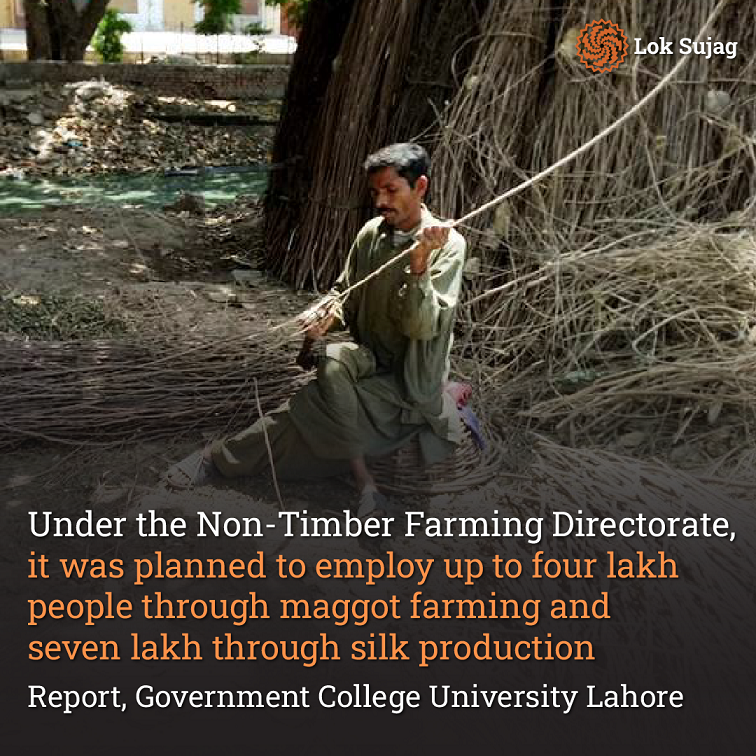 Rana Saeed Anwar, the president of the Silk Farming and Traders Association, states that in 2021 and 2022 when funds were approved, traders aimed to employ one hundred thousand families in the first phase through sericulture farming. In the second phase, they aimed to expand it to ten lakh families. Within a few months, two thousand families had registered for this initiative.
He says that traders had worked very hard for the Non-Timbre Farming Directorate. The project included sericulture, honey production, cultivation of medicinal herbs, and mushroom farming. Bee boxes for honeybees were also placed under mulberry trees cultivated for silk production.
Saeed Anwar recently imported machinery worth three crore rupees for silk production, which is currently idle. Several traders involved in silk farming and trading have incurred significant losses.
Also Read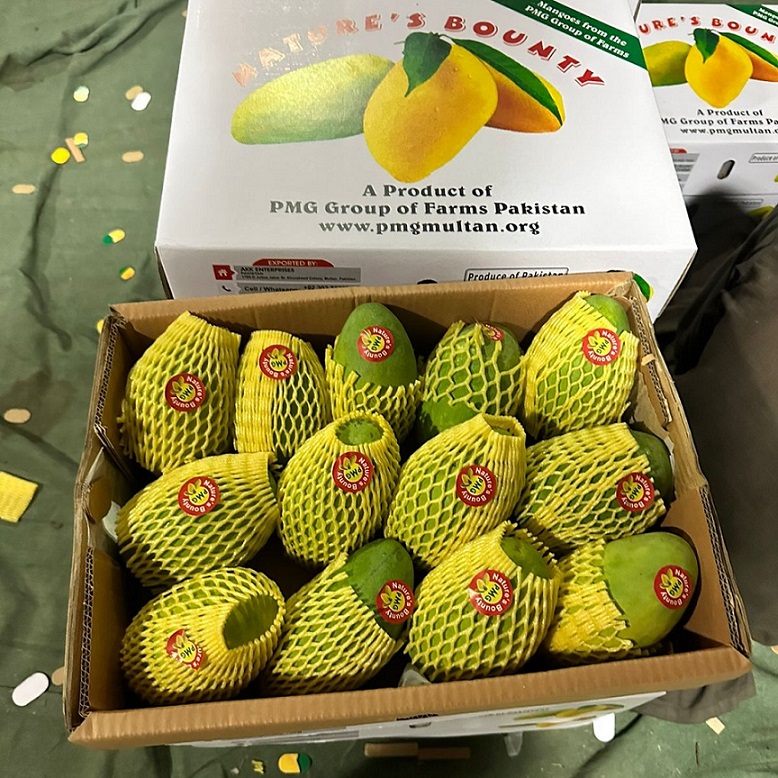 From Multan to Iran: Impact of mango export bans on farmers and exporters
Farooq Bhatti confirms that the preparation for this project involved collaboration between the Khyber Pakhtunkhwa government and Government College Lahore. According to Government College's report, under the supervision of the Non-Timbre Farming Directorate, the aim was to employ four hundred thousand individuals in maggot farming and seven hundred thousand in silk production.
He explains that it was a project similar to kitchen gardening for medicinal plants, aimed at employing 30,000 homemakers. However, now, in addition to Changa Manga, people involved in silk farming are unemployed even in the regions of Chichawatni, Mandi Bahauddin, Kamalia, Toba Tek Singh, Rajana, Faisalabad, and Sialkot.
Deputy Director of Sericulture, Nida Zahra, explains that the department has not received government funds for the past two years. Taking care of Japanese mulberry plants and trees that were planted in various locations, including Changa Manga, has become a challenge.
Secretary of Forests and Wildlife Mudassir Waheed Malik acknowledges that cultivating silkworms is impossible this year. However, he suggests that farmers can purchase silkworm seeds from anywhere, which will not pose any difficulty for them in raising silkworms.