After the issue of Seema Haider Jakhrani's conversion and marriage in India was made public through social media, the Hindu community residing in Sindh has found itself compelled to undertake some unusual measures. This arises from the threats issued by dacoits and certain armed individuals from the Jakhrani community. The threats assert that unless Seema is returned to Pakistan, the Hindu community's temples in Sindh will face attacks, accompanied by the abduction of women and children.
The individuals making these threats on social media include dacoits Monir Masrani, Faqir Sanaullah Shar, Rano Shar, and Omar Shar from Ghotki, Kandhkot, Kashmore, and Jacobabad.
In response, an emergency assembly was convened involving notable figures from the Hindu Panchayats of Sukkur, Mirpur Mathilo, Kandhkot, Kashmore, Ghoshpur, Ghotki, and Sangrar. Among these figures were Mukhi Ishwar Lal, Mukhi Dr Suresh Kumar Talreeja, Mukhi Nand Lal, Mukhi Kakka Ram, Mukhi Vasu Mal, and Mukhi Rajesh Kumar. Some unusual resolutions were passed during this assembly.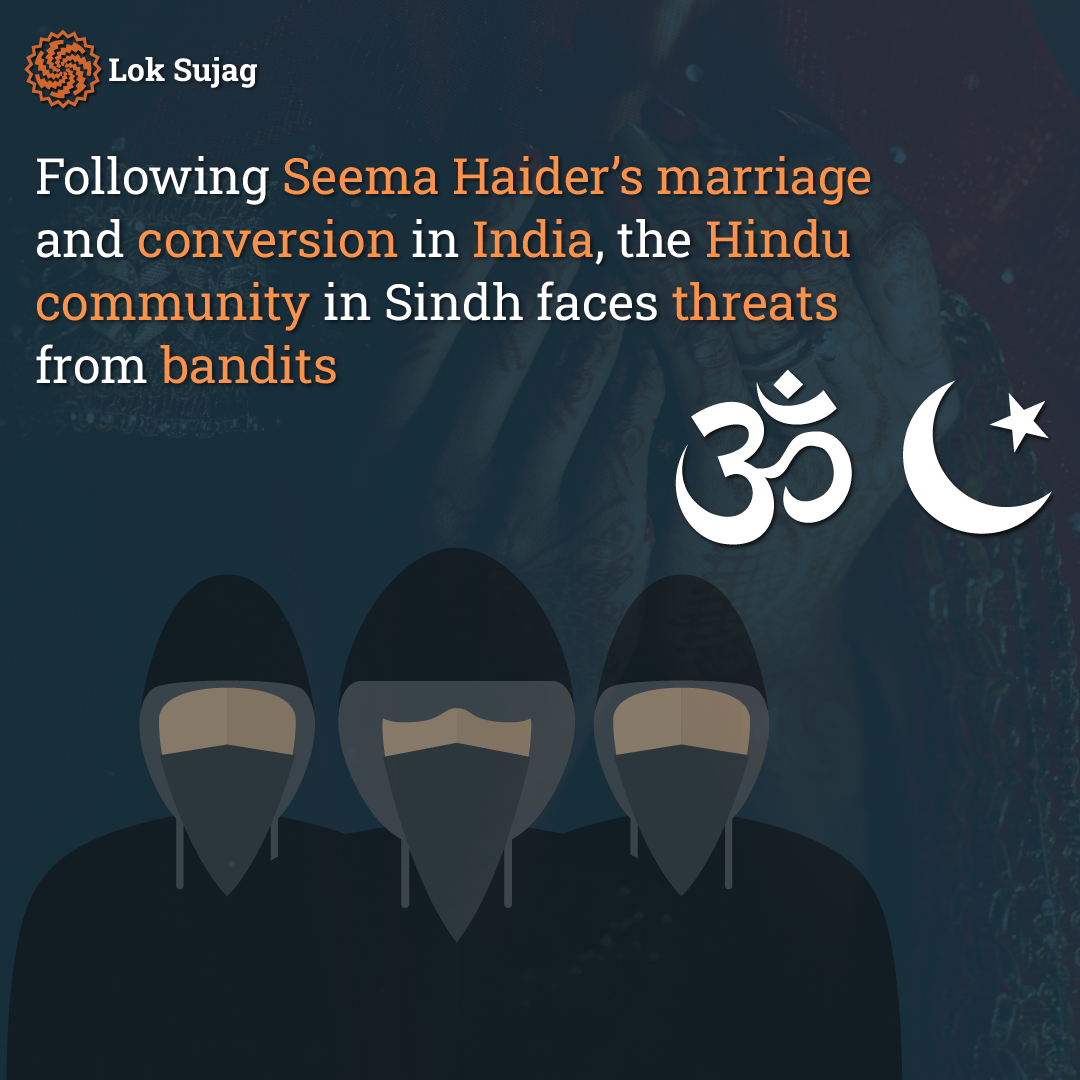 According to these decisions, women have been discouraged from partaking in religious ceremonies. Hindu community members have been advised against attending non-essential gatherings, engaging in leisure activities, or lodging in hotels outside or within the city limits.
Furthermore, the operation hours of shops have been restricted, and children have been cautioned to remain under supervision, refraining from venturing out alone.
Emphasis has been placed on restricting the movement of boys and girls to schools, colleges, academies, etc., on accompanying a male member of the family while travelling for educational or other purposes. It is advised to avoid sending boys and girls alone in a rickshaw.
Additionally, women are recommended not to attend religious rituals and other events and avoid travelling late at night.
Following Seema's case coming to the fore, a firing incident occurred at the shrine of Murshid Sanul Shah in the Bagri community of Ghoshpur. A report has been filed at the Ghoshpur police station, but no action has been taken yet.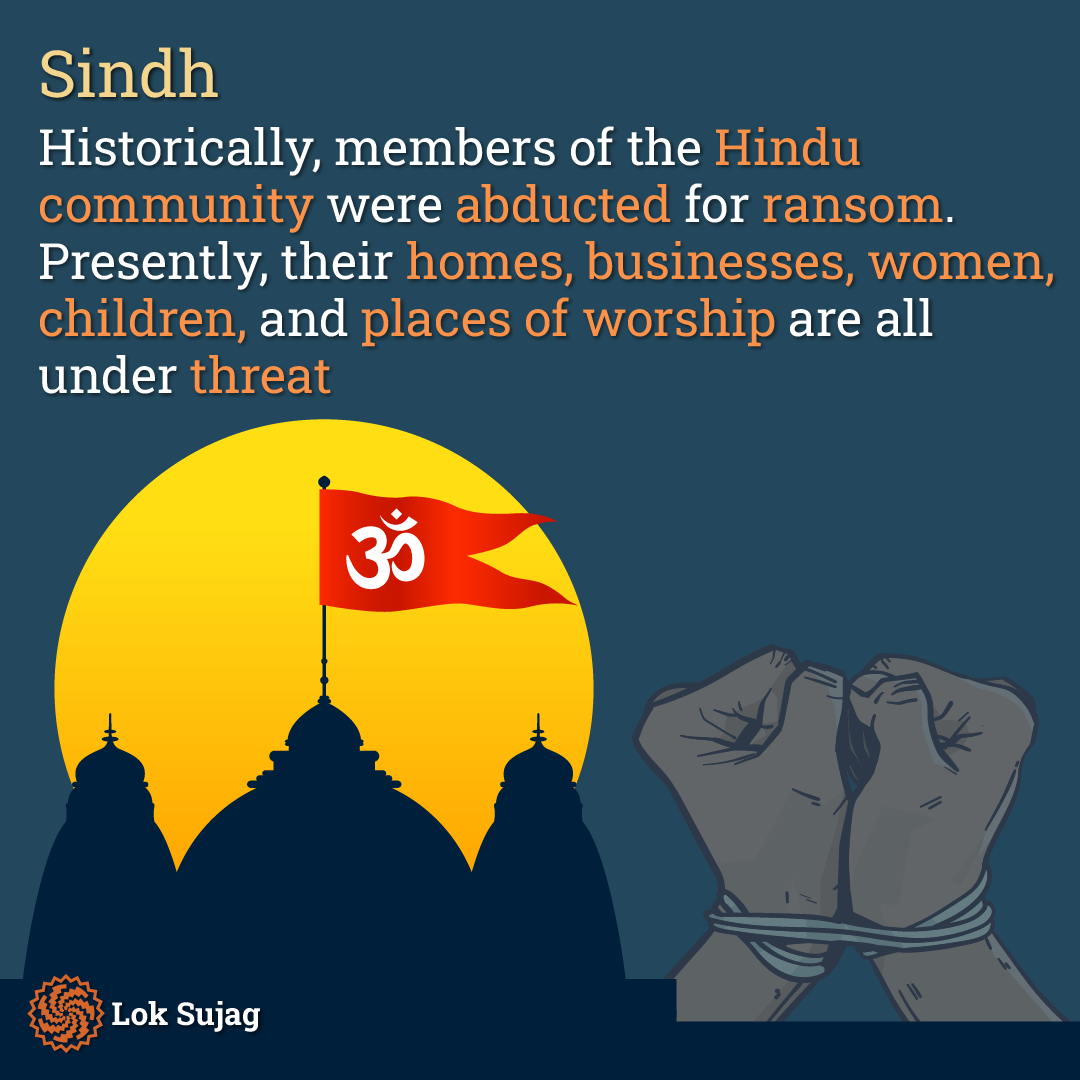 Speaking to Lok Sajag, Mukhi Ishwar Lal states, "There is a lot of fear in the Hindu community of Sindh. After leaving home, there is a fear of not knowing whether they will return safely or not."
He further says that Hindu community members had been kidnapped for ransom in the past. However, now their homes, businesses, women, children, and places of worship are also being targeted. According to him, 90 per cent of the businesses in the date (khajoor) market of Sukkur district belong to the Hindu community, which exports dates abroad.
Additionally, many food dealers, medicine suppliers, and doctors are also from the Hindu community.
The President of Pooj Hindu Panchayat Sukkur, Mukhi Ishwar Lal Makheja, mentions that on July 16, 2023, miscreants burned down a Hindu place of worship in Kandhkot Kashmir. Although an FIR has been registered, no action has been taken.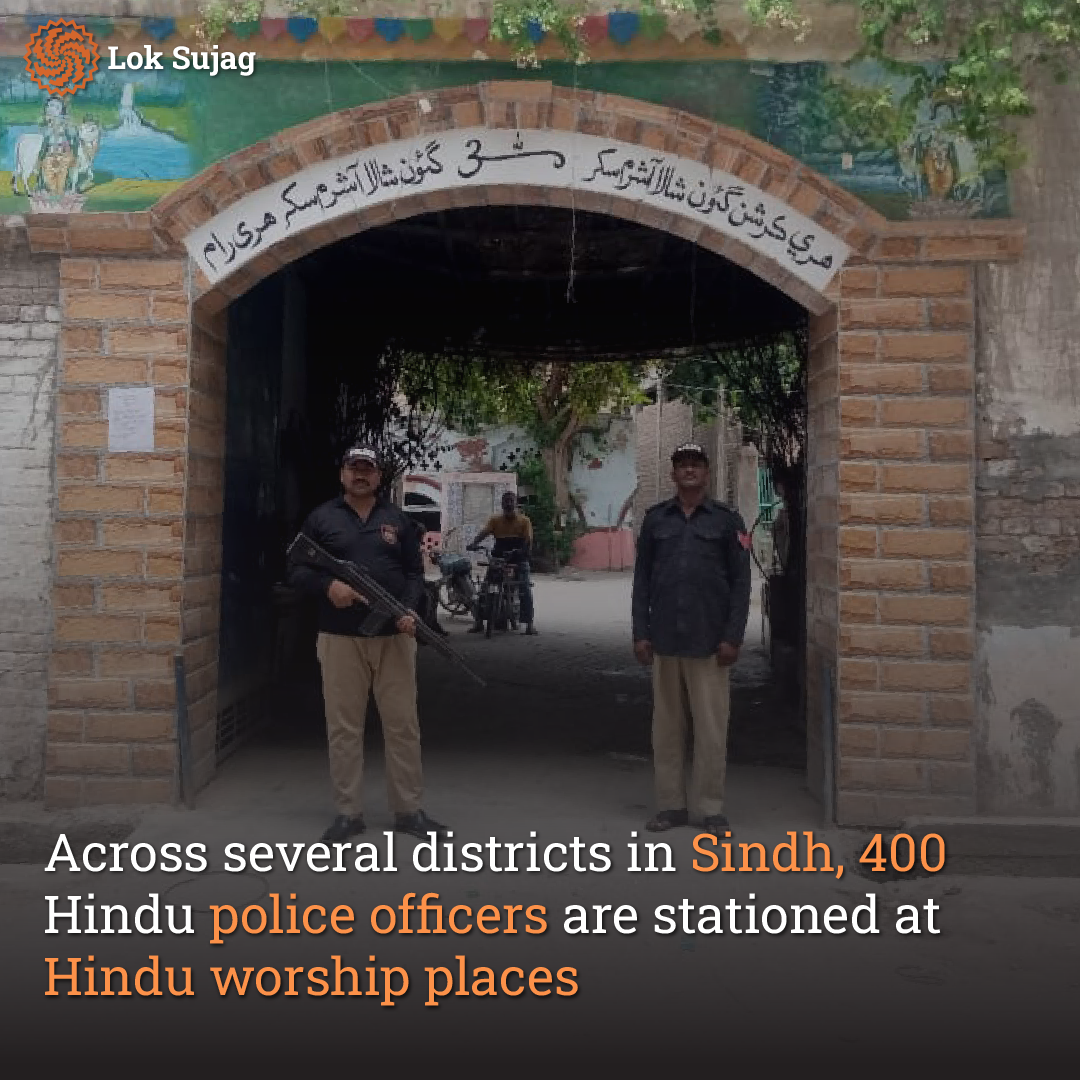 Rajkumar Wadhwani, a trader at Chhohara Market, states that the traders at Agha Qadir Dad Agricultural Market in Rohri have not received any security measures so far. Due to fear, the labouring poor have limited their work, and traders are closing their businesses in the evening. The palm business has been flourishing in recent months. The scarcity of workers and the premature closure of businesses affect people in business and the economy.
A business from the Anjuman Tajran Mobile Market Sukkur, Jaya Ram, mentions that many Hindu doctors, engineers, and businessmen in Sukkur, Ghotki, Kandhkot, Kashmore, and Shikarpur are shutting down their businesses and preparing to relocate. The series of kidnappings, murders, and forced conversions of people from the Hindu community have been ongoing for the last 40 years, prompting them to consider leaving the country.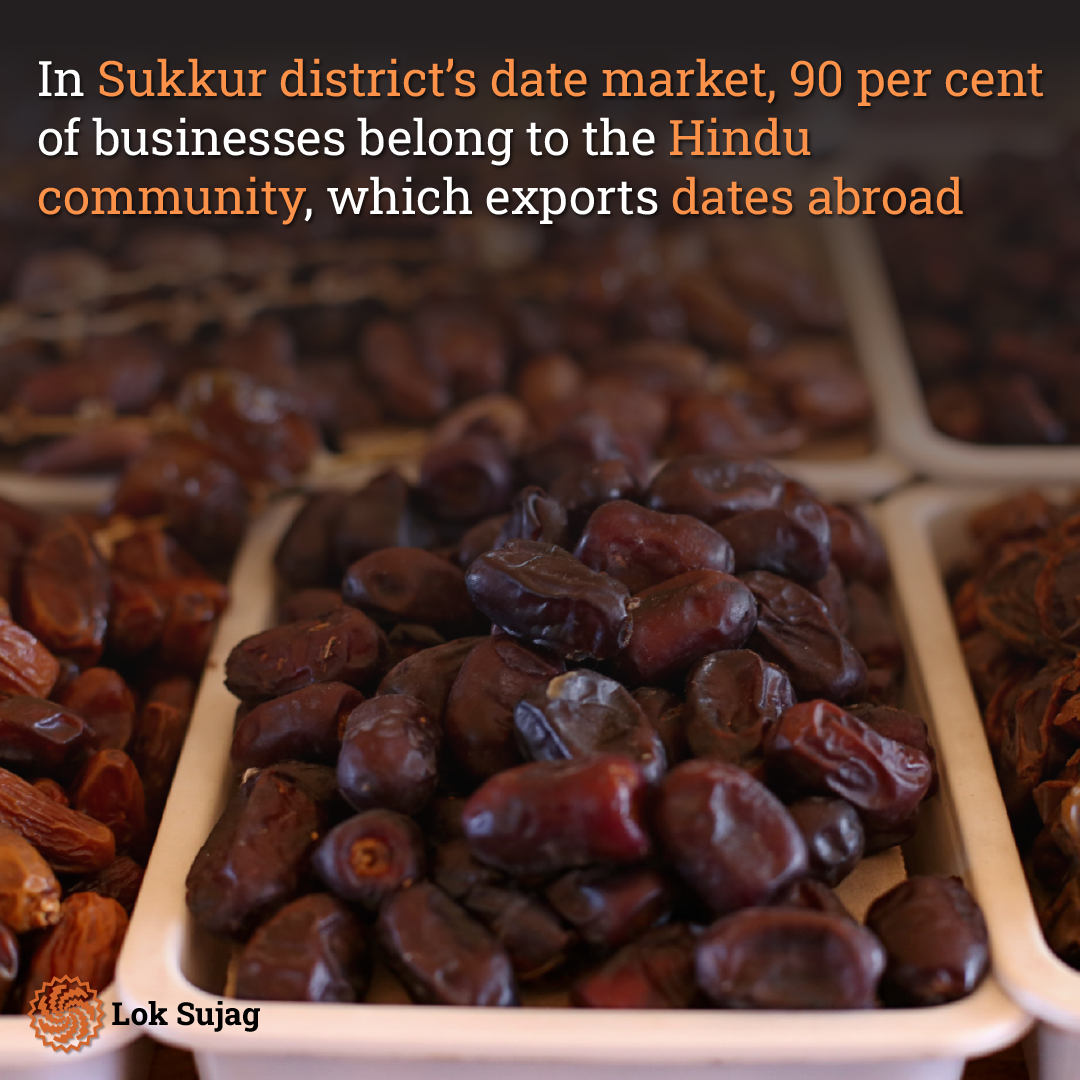 Adviser Chandra Bhan of Pooj Hindu Panchayat Sukkur expresses serious concerns about the Hindu community across various districts, including Sukkur. Hindu businessmen residing in Chak city of Shikarpur district have begun receiving allowances through chits. Given the situation, minority community members are preparing to send their children to Dubai, America, Canada, and Australia for education and business. Numerous educated individuals have already emigrated from the country.
Dr Suresh Kumar Talreeja, the Mukhi of Kandhkot and Kashmore, has stated that the shooting incidents at Ghoshpur temples deeply disturb the community. Although the Sindh government has now provided security to the temples, miscreants are still freely roaming.
Also Read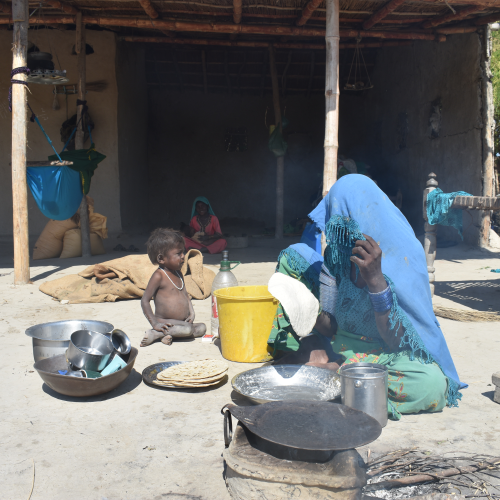 Where youth grows pale: Distressed Hindu youth resorting to suicide in eastern Sindh
Considering the situation, following orders from IG Sindh, 400 Hindu police personnel are being deployed to Hindu places of worship in Ghotki, Kashmore, Kundhkot, Sukkur, Jacobabad, and other districts. In connection with this, four hundred Hindu policemen from Sanghar, Mirpur Khas, Karachi, and Tharparkar districts have been selected.
Mukhi Nand Lal of Mirpur Mathilo has mentioned that security measures have not yet been extended to temples in the city. However, Mukhi Kakka Ram of Ghotki stated that policemen have already arrived in the city. SSP Sukkur Singhar Malik maintains continuous communication with the Mukhis, assuring them of all kinds of protection.
DIG Sukkur Javed Sonharu Jaskani explains that after the incident involving Seema's trip to India and subsequent marriage, dacoits first threatened the Raharki Darbar. Although security was already provided to the Durbar, the number of security personnel was tripled in response to the threats. Police presence is also heightened in Raharki City and on the surrounding roads. Security measures are in place at Hindu places of worship in Sukkur, Khairpur, Ghotki, and other districts. Coordination committees have been established to promptly address emergencies, maintain communication with the community, and take swift action if necessary.