Najibullah lives with his wife and three sons in the Sadaat Colony of Rajanpur. A few months ago, all family members started experiencing weight loss, and the children became lethargic, causing distress. He contacted the city's physician, Dr. Ayub Malik, who conducted several laboratory tests. Upon receiving the test results, Dr. Malik informed them that all family members had tested positive for H. pylori. This bacterium found in the body affects the digestive system.
In addition to prescribing medications, the doctor advised him to get a laboratory test done on the drinking water. The next day, he took a freshwater sample from his home and went to the government water testing laboratory in the city. The following day, he received the water test report, which indicated that the level of Total Dissolved Solids (TDS) level in the water was 1640 ppm, and the density (dissolved calcium and magnesium) was 850 ppm. Furthermore, the report showed a chloride level of 260.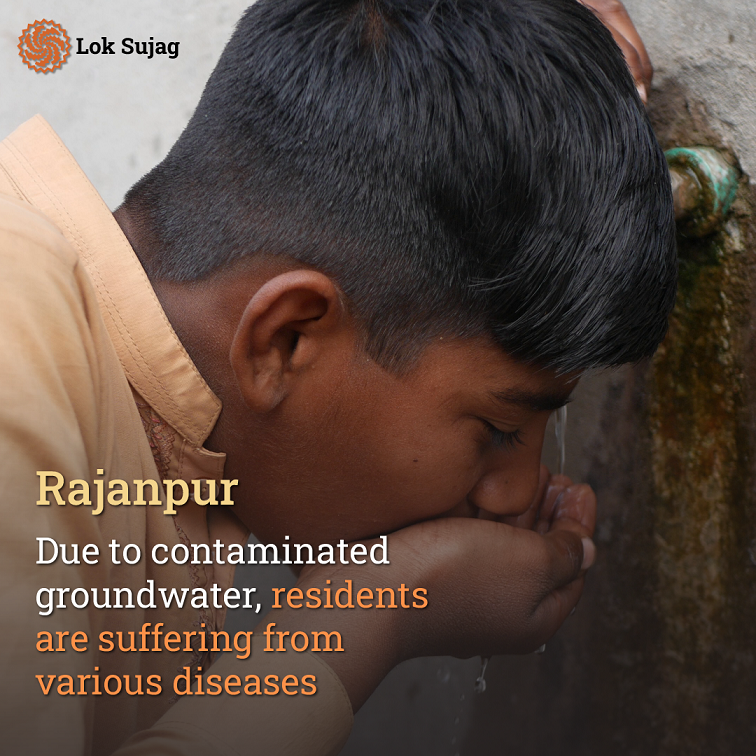 Upon examining the report, the doctor informed them that the underground water at their home had become harmful to their health and its usage could lead to further illnesses.
Qasim Ali lives in the Machhi Dara area of Rajanpur. In early August, he experienced severe pain on one side of his abdomen. His family took him to the hospital, where he underwent X-rays and blood tests. Upon receiving the reports, he was discovered to have a kidney stone. Along with medication, he was also advised to get an underground water test done.
According to the water report, it contained TDS (Total Dissolved Solids) at 1130 ppm, a density of 600 ppm, and five ppm of arsenic. The doctor informed him that consuming contaminated water was damaging his kidneys.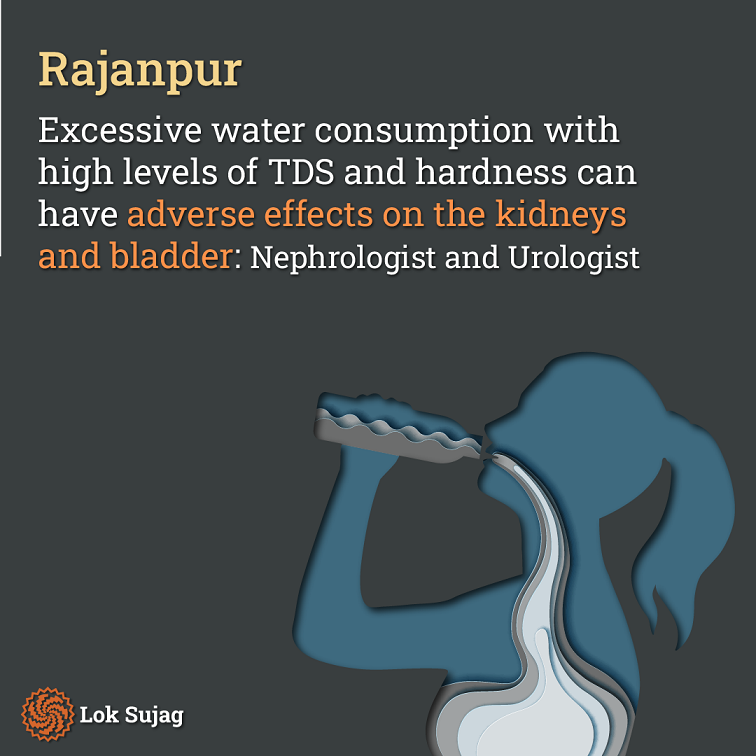 Dr Shahid Hussain, a specialist in kidney and bladder diseases, says that consuming water with high TDS (Total Dissolved Solids) and hardness can adversely affect the kidneys and bladder.
Prolonged consumption of such water can lead to bladder infections and the formation of kidney stones. If timely treatment is not administered, the kidneys can also fail, requiring the patient to undergo dialysis for the rest of their life.
Senior physician Dr Muhammad Ayub Malik of Rajanpur says that the increase in insoluble metals and salts in water is leading to an increase in diseases such as heart, kidney, liver, stomach, intestinal diseases, and diabetes.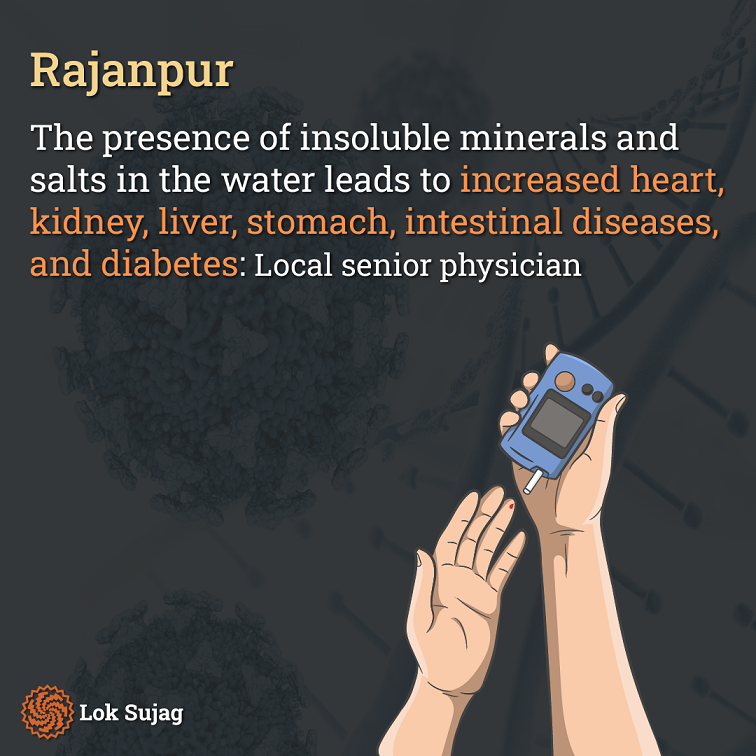 A specific amount of these salts and metals, such as TDS (Total Dissolved Solids) between 300 to 500 ppm, is essential for health. Lower amounts than this can also make the human body susceptible to diseases.
He says that the underground water of Rajanpur city is deteriorating rapidly. Until 2010, underground water's TDS (Total Dissolved Solids) was up to 400 ppm, which has increased to 1200 ppm and even exceeded 1600 ppm in some areas.
According to the World Health Organisation standards, the TDS (Total Dissolved Solids) in water should be between 300 and 500 ppm, while up to 1000 ppm is acceptable. Similarly, the density of water should be up to a maximum of 500 ppm.
Also Read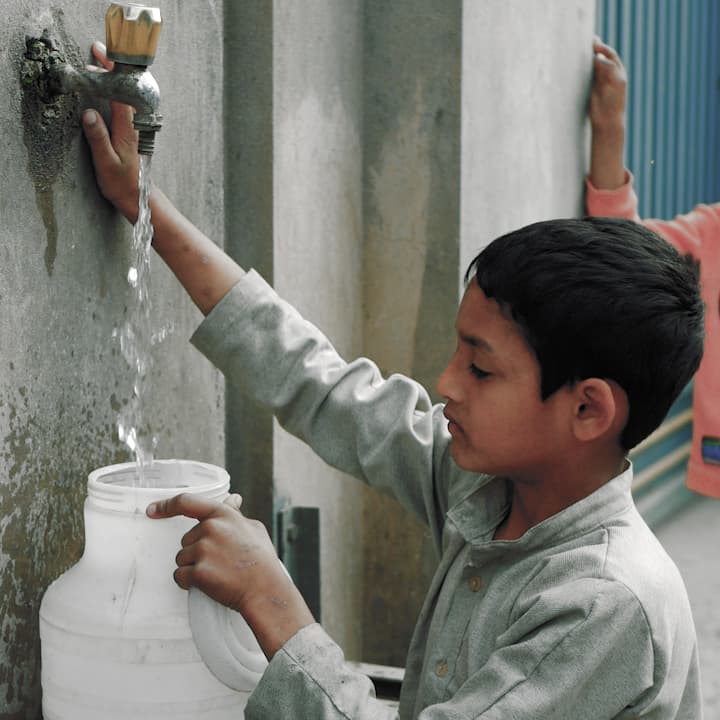 The deadly sweat of a factory: 'Ground water in Sambrial has become fully polluted'
If TDS exceeds 1000 ppm and density exceeds 500 ppm, such water can harm human health. Drinking water with these high levels of TDS and density can lead to heart problems, diabetes, stomach issues such as pain and indigestion, and more. Prolonged consumption of such water can also lead to kidney diseases and liver damage.
Social worker Tanzil ur Rahman Alvi has installed a Reverse Osmosis (RO) plant in the Muhammad Hussain Colony with a daily capacity of 24,000 litres, from where residents obtain clean drinking water free of charge.
He says that in a city with a population of more than a million, the daily supply of a few thousand litres of clean water is like a drop in the bucket. Therefore, there is a need to formulate government-level regulations. Suppose RO plants are installed in every neighbourhood. In that case, clean drinking water will be accessible to all residents, which could lead to an extraordinary reduction in the rate of patients in hospitals.