Forty-two-year-old Muhammad Hussain* is a head constable in the Sindh Police. He has been serving in the Tando Muhammad Khan district for a long time and is currently stationed at the Abadgar Sugar Mills police station. Muhammad Hussain typically performs his duties on a police mobile.
He says that while patrolling at night, it is possible that citizens feel a sense of security due to his presence. However, he constantly fears that his ageing vehicle might break down on the way or run out of fuel.
Muhammad Hussain explains that his difficulties are not limited to just the car; there is also a lack of facilities at the police station. Drivers have to go into the bushes to relieve themselves at times. In such situations, the police need prayers and protection.
The district of Tando Muhammad Khan, with a population of 726,119, comprises three tehsils: Tando Muhammad Khan, Bulri Shah Karim, and Tando Ghulam Hyder.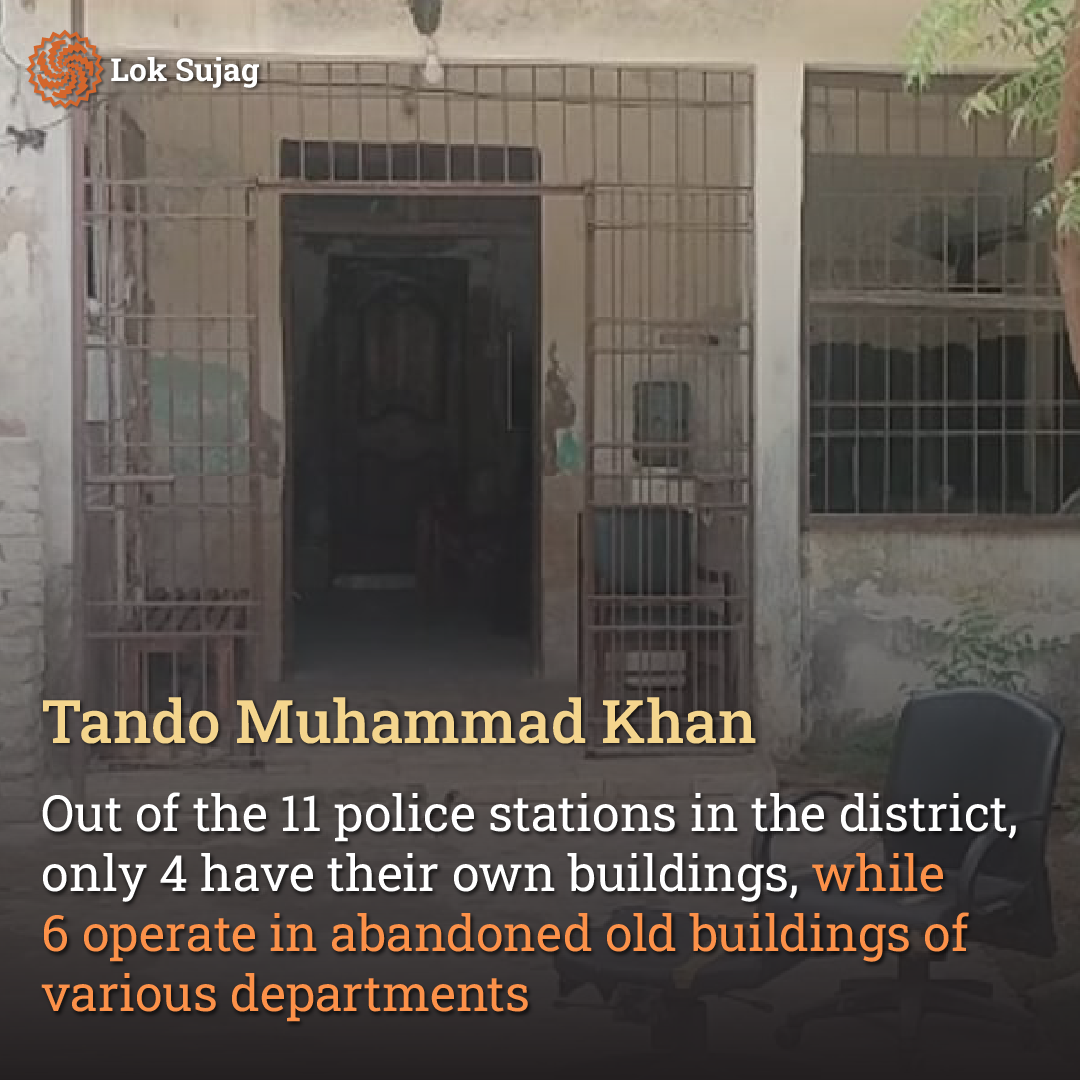 There are eleven police stations throughout the district, one of which is exclusively for women. Among the five police stations in the Tando Muhammad Khan tehsil, three are located in Bulri Shah Karim and Tando Ghulam Hyder tehsils.
Tando Muhammad Khan police personnel report a continuous increase in drug trafficking, theft, and robbery cases in the district. During the last six months, 497 cases of these crimes have been registered.
SSP Tando Muhammad Khan's PRO (Public Relations Officer), Paras Memon, confirms that from January to July of the current year, 208 cases were registered in only three police stations of the district headquarters. In addition, the fourth (women's) police station has 14 cases related to drug trafficking and theft.
In other police stations, cases related to gutka production, opium and ice sales, preparation and sale of homemade liquor without a license, illegal weapons, and more have been registered.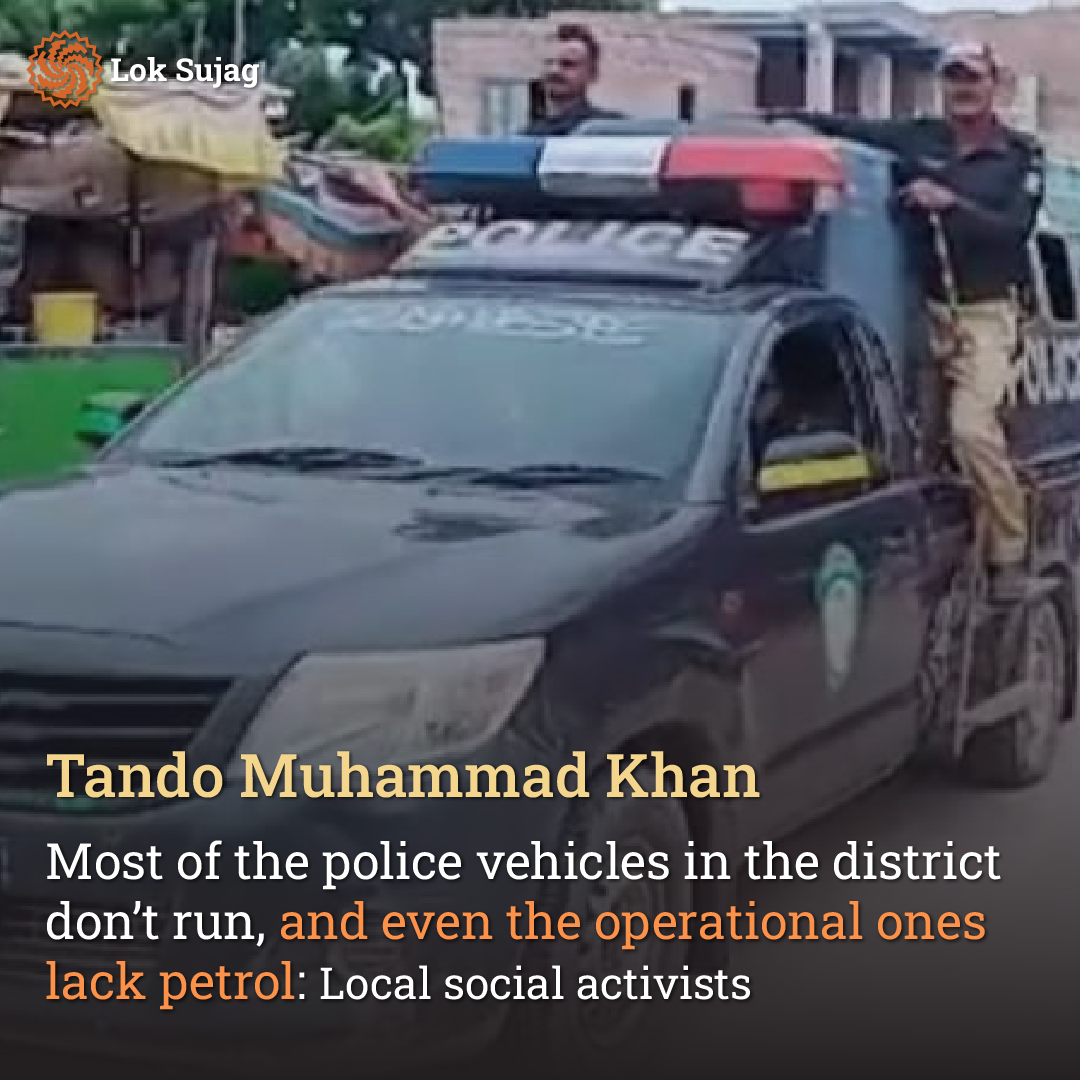 Social worker and state advocate Maqbool Masih states that a large-scale drug trade is happening in the city. Substances like meth, gutka, Indian boat, opium, heroin, and ice are being sold here like groceries in a shop.
The alarming situation of crimes and cases has affected law and order and the morale of the police force. According to the Head Constable, citizens often blame the police for crimes in the city but also see that the police themselves are not in good condition.
Tando Muhammad Khan was separated from Hyderabad and elevated to district status in 2005 during Arbab Ghulam Rahim's tenure as Chief Minister. After becoming the district headquarters, all the offices of various departments were newly constructed here within 18 years. However, police functioning has not improved significantly.
Out of the eleven police stations in the district, only four have their own buildings, while the rest are located in abandoned old buildings of various departments.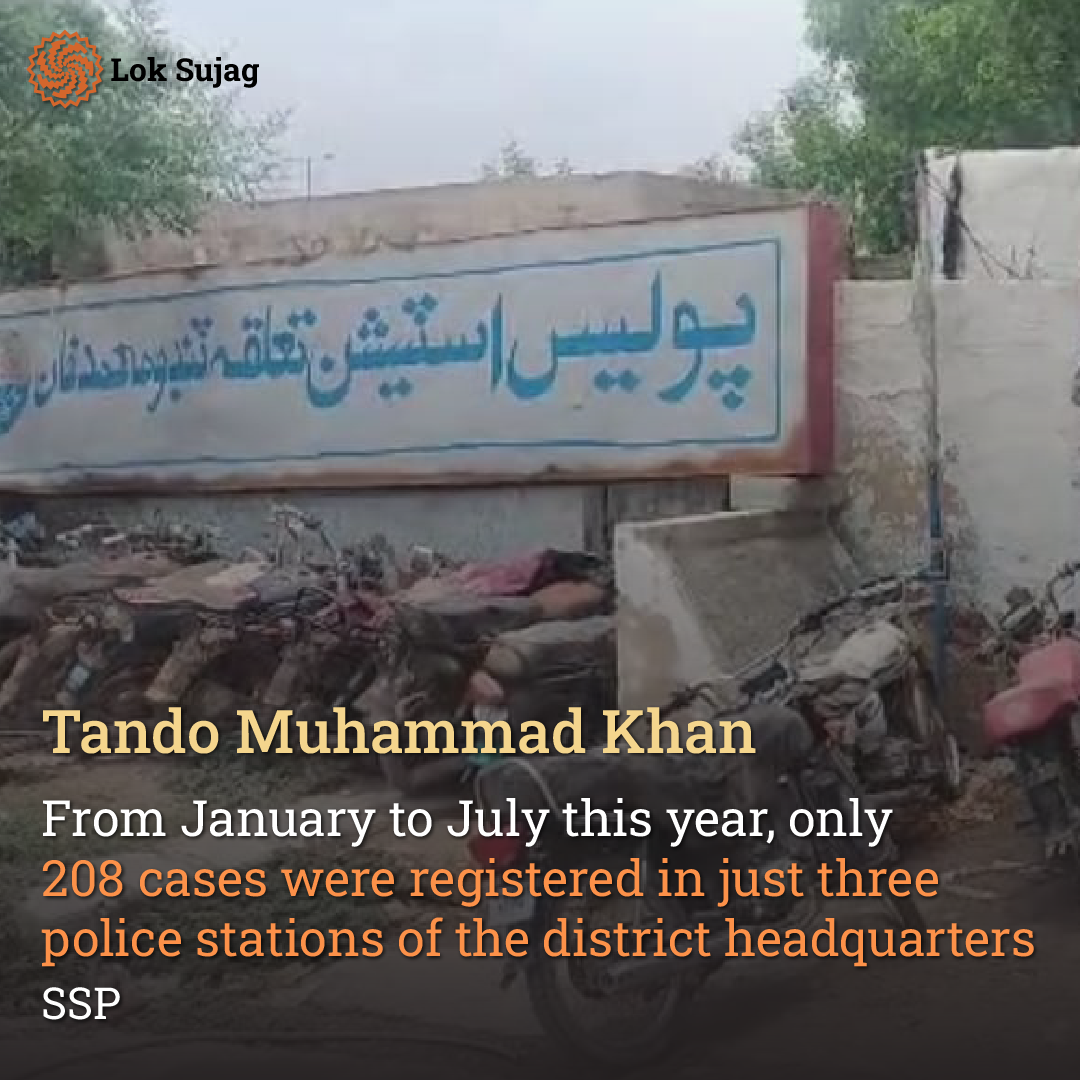 The District Police Lines have been established in the former Telecom department headquarters, and the respective police stations are also operating from these quarters.
The officials of Thana Sheikh Bhirkio, B Section, Dando, and Moya, including all four police stations, are situated in municipal buildings. Thana Malakatiar of Inhar and Thana Abadgar are located in local sugar mills' labour colonies, and an old building of the Revenue Department has been designated as the Women's Police Station.
DSP Tando Muhammad Khan, Muhammad Khan Zanior, states that most police stations are housed in abandoned and deserted buildings of various departments. Therefore, in police stations without proper facilities, there may not be washrooms or water facilities. Even the Women's Police Station has an improvised toilet.
Here, there is a total of 1,186 officers and personnel, including the district police chief and eight DSPs. However, only three DSPs and three SHOs have official residences available. Even the SSF has accommodation in a designated bungalow for their officers.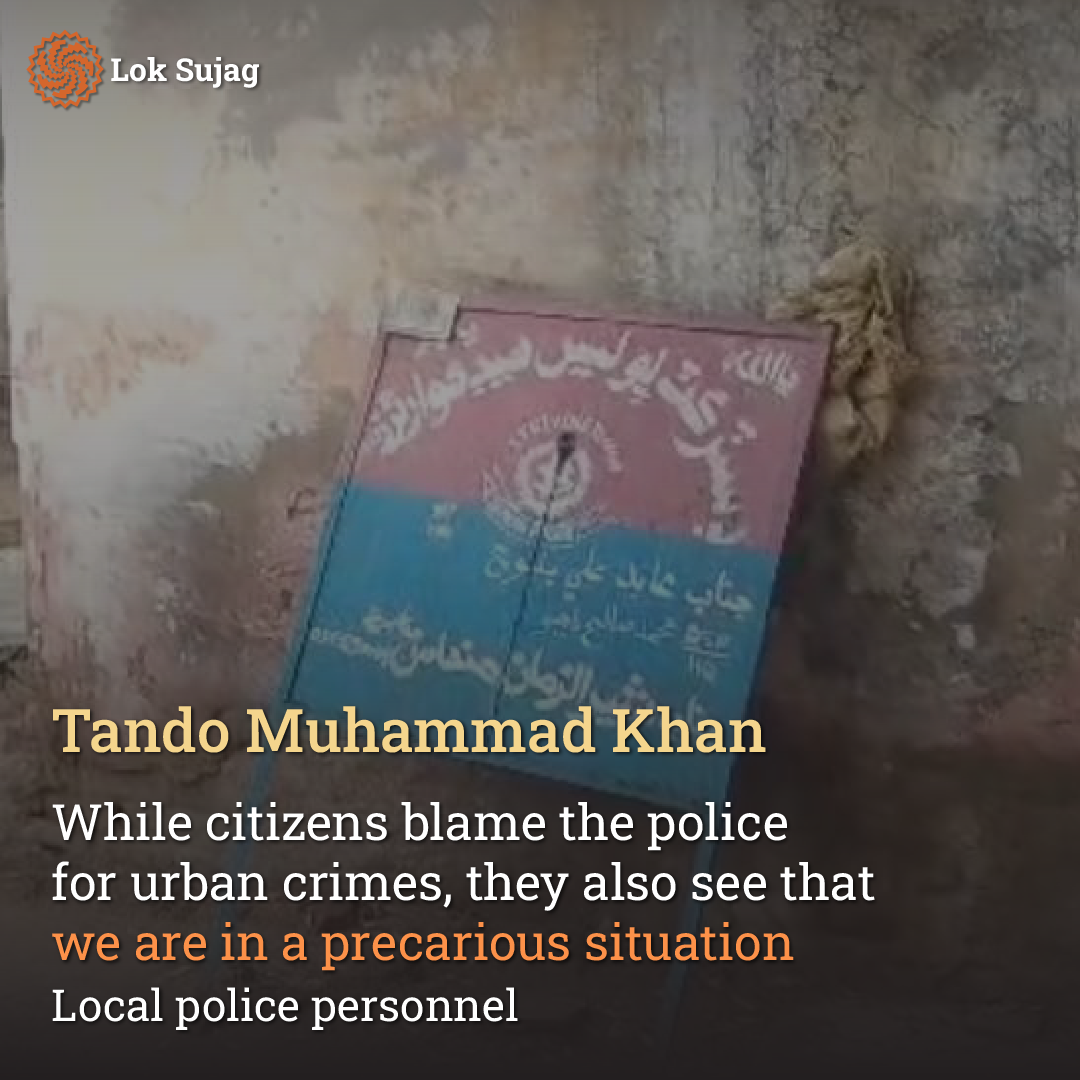 Salim Gadi, the General Secretary of the Traders Federation in Tando Muhammad Khan, reveals that in Tando Muhammad Khan and Tando Ghulam Hyder, the DSPs share rooms in the same quarter, while in Bari Shah Kareem, the DSPs reside in a single room in the police station. The local police station building (Tando Muhammad Khan) could collapse at any time.
DSP Tando Muhammad Khan acknowledges that there is no arrangement for the residence of youth and officers, let alone the offices of SHOs. The young police officers are struggling for medical treatment and their children's education. Despite these challenges, the police diligently perform their duties with a strong sense of responsibility.
He mentions that the former provincial government had approved the construction of the district police headquarters, and construction work is underway. Completing the headquarters will alleviate some of the issues in the city, but there will be a need to consider other police stations. Until then, the difficulties will persist.
Also Read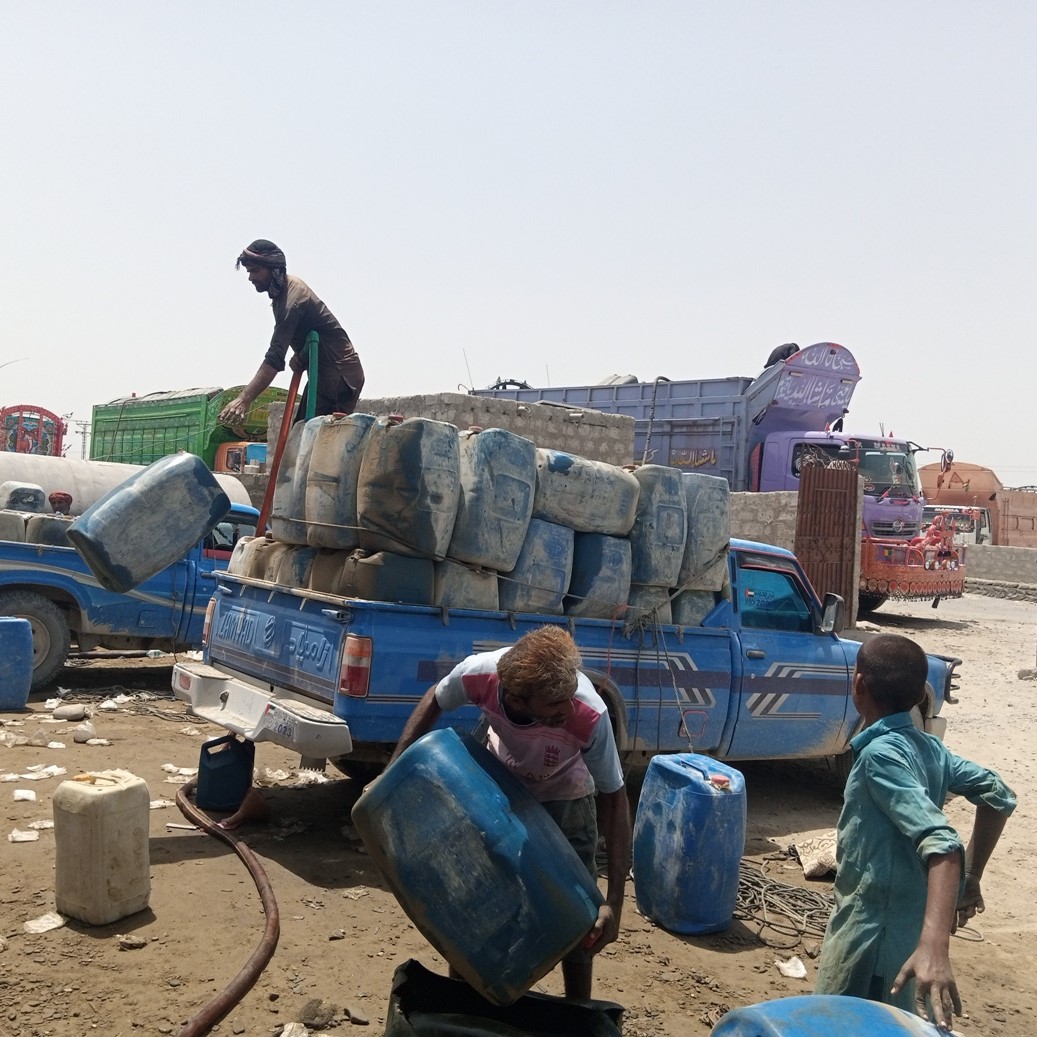 Token for Iranian oil imports sold in lakhs: Traders express frustration with administration's actions
Social leader Rao Ghulam Hussain explains that most of the police vehicles in Tando Muhammad Khan are not operational, and the usable ones often lack fuel.
"Whenever someone goes to the police station to file a complaint, the police officers tell them first to put petrol in our vehicle, then we will start investigating your case," he says.
According to official records, the district police have 30 police mobile vehicles. Most of these vehicles are from the 2006 model year and are deteriorated. Some were purchased in 2010 and are in relatively better condition, while only one vehicle is new. Additionally, the police have 30 motorbikes, out of which half are non-functional.
Regarding petrol for vehicles, police officers declined to provide details, labelling the budget as a "classified document." However, one police officer, on the condition of anonymity, mentioned that they use their own resources for the maintenance and upkeep of vehicles.
SSP Tando Muhammad Khan states that he has recently been appointed to this position. Therefore, he will only be able to comment on the issues after receiving briefings.
*Names have been changed to protect privacy.