Transporting passengers and goods to Gilgit-Baltistan and other northern regions, the Northern Areas Transport Company (NATCO) has suffered losses and financial difficulties for several months, like the PIA and railway service. The company's employees have not received their salaries for the last three months. The company's buses are also in poor condition; many are parked in various workshops, and new vehicles are inactive.
NATCO is an institution operating under the Ministry of Kashmir Affairs and Gilgit-Baltistan. It manages buses and cargo vehicles that run from Karachi, Islamabad, Lahore, Peshawar, and other cities of the country to northern regions, the Sust China border, and even up to the India border.
This company was established in 1974, but it has been facing losses in recent years. It employs approximately 950 workers, including drivers and other staff, with nearly 98 per cent being contract employees.
Among the employees working on a contract basis in NATCO is Ismar Hussain*, who has been a driver since December 26, 2011. He states that due to not receiving his salary for the past three months, he is experiencing mental stress.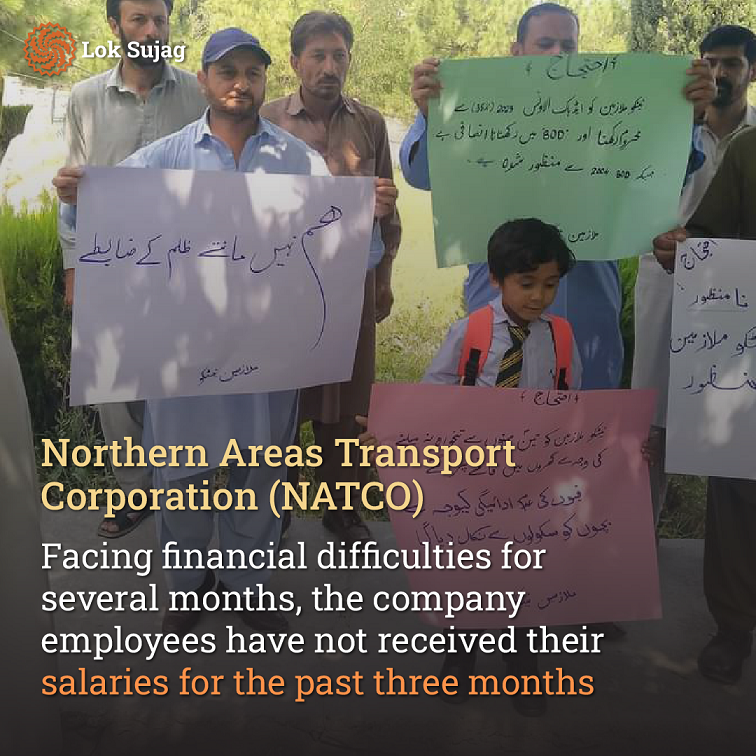 "The company repeatedly makes false promises and is not paying our salaries. If a vehicle's tyre or battery is damaged, we must wait many months and beg them to fix it."
Hussain operates a cargo vehicle that supplies wheat to Gilgit-Baltistan. If the vehicle experiences any issues, they often park it in any remote, desolate mountain place and wait beneath it. Most of the time, he does not have enough resources for food, and, in such scenarios, he requests fellow drivers to share their meals.
The salary for drivers on a contract basis was fixed at 17,000 to 18,000 rupees in 2011, with no increase ever since. Drivers are given a commission of 4,000 rupees per trip but must cover all expenses incurred on the road.
Hussain explains that the officers' behaviour towards the employees is inappropriate, but because they are contract workers, they cannot raise this because they are contract workers issue. Despite continuous complaints about vehicle breakdowns, maintenance work is not carried out, leading to accidents and financial losses.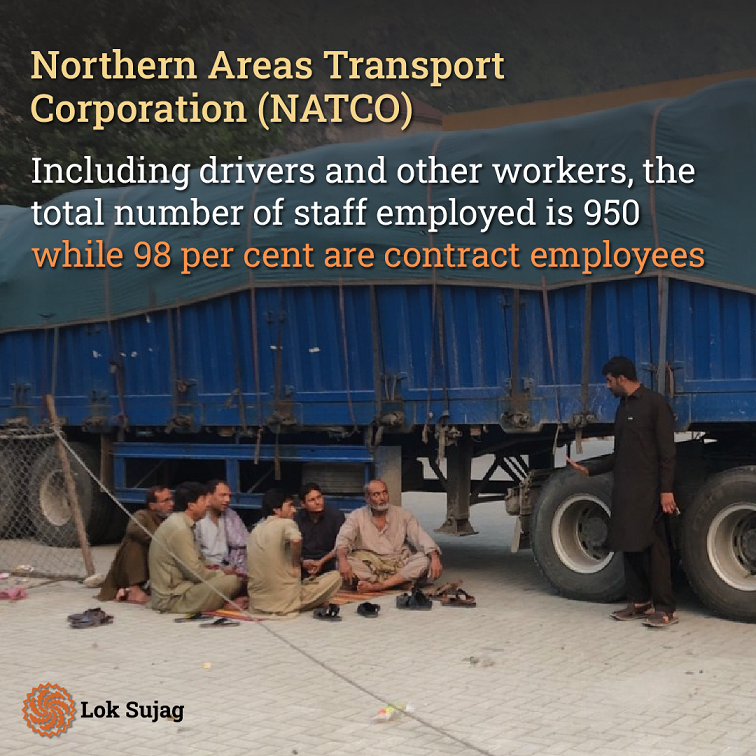 On August 12, 2023, in the Shogran area of Kohistan, a new bus carrying 48 passengers experienced a technical failure and went out of control, overturning. In this accident, the bus employee Muhammad Yunus lost his life, while 33 passengers sustained injuries.
In another incident, a driver affiliated with the Jaglot area of Gilgit was tragically killed in a road accident near Dasu. After waiting the entire day for assistance from the company, the company eventually gathered some funds and transported his body to his ancestral village in a private vehicle. Surprisingly, NATCO authorities did not inquire about his family's well-being after the incident.
Standing by the vehicle's door, Ismar lamented the dire situation, saying that when there has been a 300 per cent increase in inflation, it has become impossible to make ends meet with this wage.
"Due to a lack of money, we had to transfer our children from private to government schools. However, we don't have money for their uniforms or basic school supplies like pencils. We can only hope that God shows mercy on us, as it seems the people on this earth have taken away our right to live."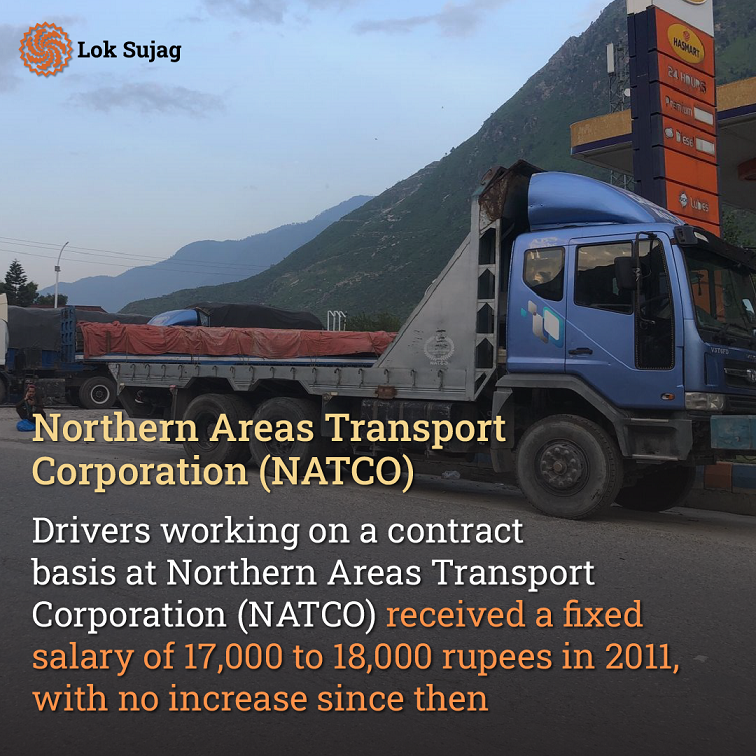 Drivers Abdul Qayyum and Wali Muhammad, who had been stranded in Bisham for several days due to the unavailability of petrol, had informed the media that they were facing difficulties as they couldn't find petrol. When this news was published in the Dawn on August 16, the Managing Director of NATCO suspended both drivers without issuing any warning letter or show-cause notice.
On September 14, NATCO employees took to the streets to protest against the non-payment of salaries, the lack of allowances for three years, demands for regularisation, and the reinstatement of suspended employees. The current Managing Director had imposed restrictions on their union three months ago.
Sultan Shah (a fictitious name) has been working as a driver for NATCO for 17 years. He mentioned that his financial difficulties have significantly increased due to the non-payment of salaries. He can no longer borrow money from friends, relatives, or shopkeepers. He feels stuck and can't quit his job or explore any other option because the authorities keep giving him date after date for the salary payments.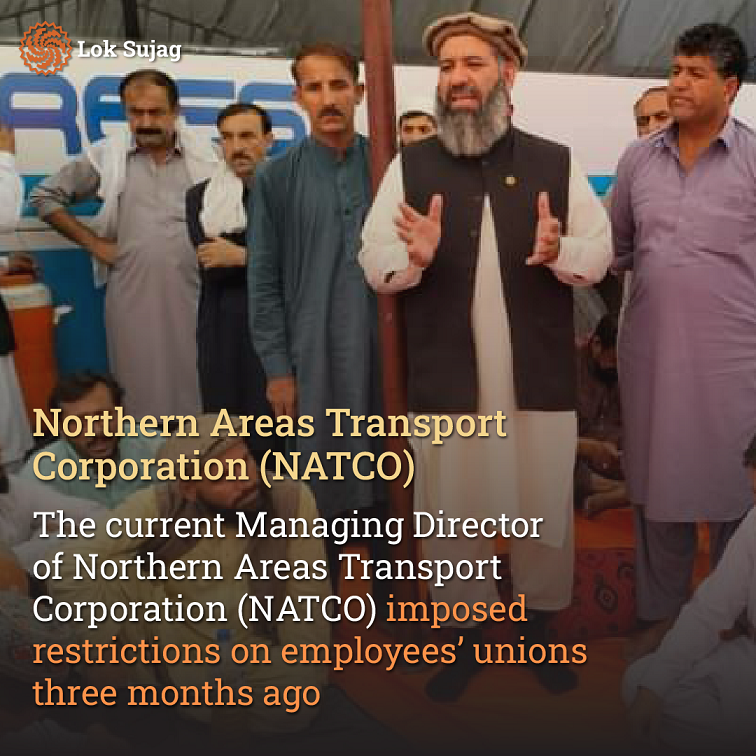 Muhammad Jameel (a fictitious name) has been a manager at NATCO's Rawalpindi office for 14 years. He hasn't received his salary for the past three months. He says that half of the salary he used to receive goes towards paying the rent for his house. Now, he has been waiting for that for the past three months.
Zafar Iqbal, who hails from Upper Hunza, was appointed a manager at NATCO in 1979 and retired from NATCO in 2013 as its Managing Director. He mentioned that when he retired in 2013, he had given the company a net benefit of one billion and twenty-five crore rupees. During his eight-year tenure, the company was profitable, and people had regained trust in the organisation.
Also Read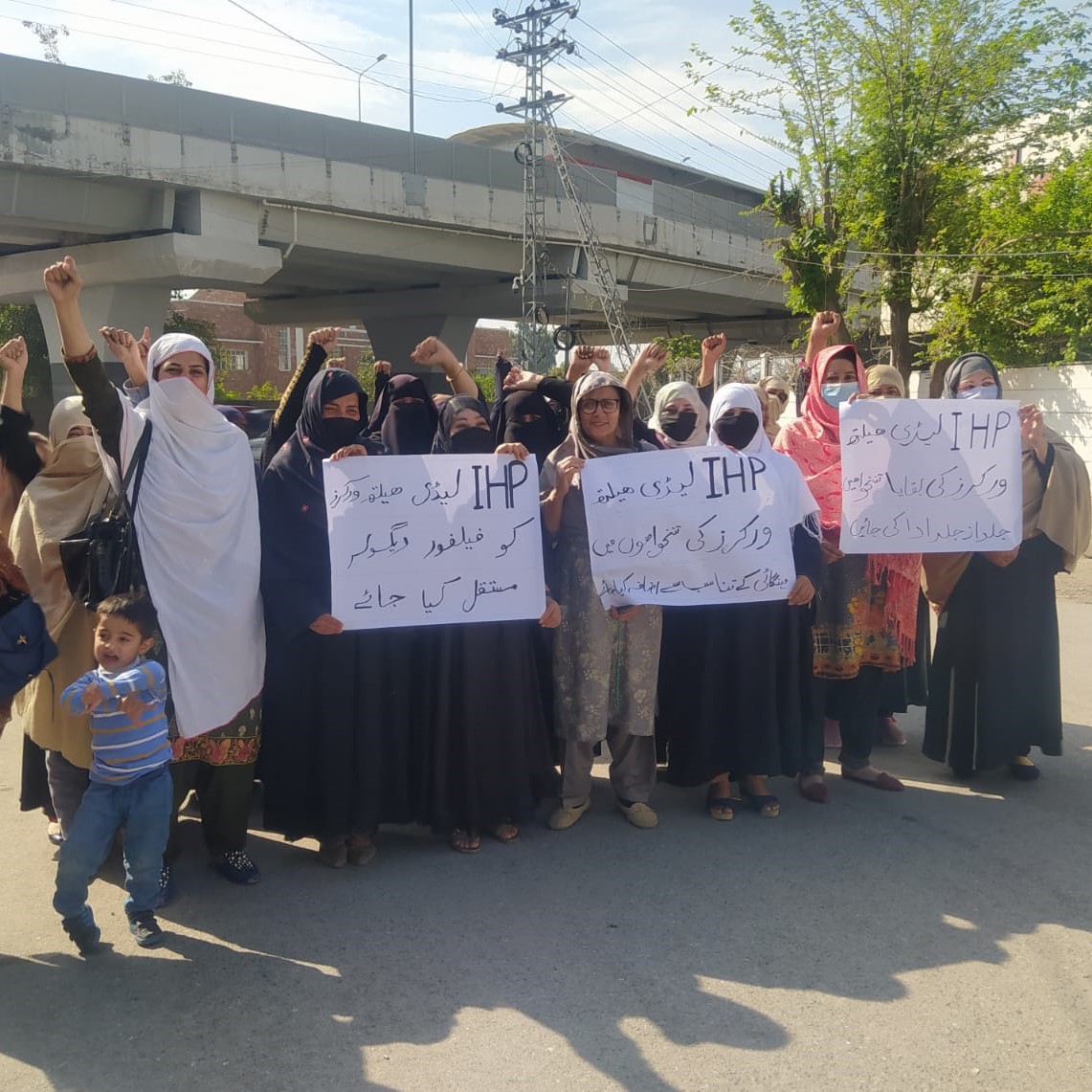 Struggles of lady health workers in Khyber Pakhtunkhwa: Unpaid salaries and demands for regularisation
"Now, hearing about NATCO's losses, non-payment of salaries, burning of vehicles, spending millions on repairs, suspension of allowances, and protests against all this breaks my heart. I have spent my entire life at NATCO, and it was like a home for me, which has now been ruined."
He also mentioned that recently, the Gilgit-Baltistan government granted NATCO a grant of one billion and fifty crore rupees, and some buses were purchased with it. However, even these new buses are not being properly maintained.
In response to questions about drivers being fired, they explained that under the law, someone can be temporarily suspended for being caught stealing. However, they cannot be fired for speaking to the media. They perceive these regulations as self-imposed.
Efforts were made to continuously contact the current Managing Director of NATCO for three days via phone. Messages were sent, but there was no response from their side, and they did not pick up the phone. However, NATCO's Public Relations Officer, Ehsan Shah, expressed his understanding of all these issues and stated that there is a board of directors meeting scheduled in a few days, in which he hopes these issues can be resolved.