Mehndar Dev Lakhani is originally from Umerkot City and is the son of Dr Harchand Rai Lakhani, a renowned social leader and recipient of the Presidential Award in Sindh. The 62-year-old Mehndar Dev Lakhani sold his 168-acre agricultural land under the Nara Canal's subsidiary canal, Noor Wah, 2013 and subsequently moved from Umerkot to Karachi.
He says, "The Nara Canal, where people currently fear water shortage, I used to cultivate 70 maunds of wheat and 50 maunds of chilli per acre in 1990. Then, the circumstances changed, and my 45-acre mango orchard dried up due to lack of water. So, I had to sell my agricultural land. I started a new business in Karachi in real estate, and now I am living a prosperous life."
The Nara Canal is one of the seven canals from the Sukkur Barrage. It has a length of 364 kilometres and can carry 13,602 cubic feet of water.
Retired Professor Jalal Kori is from Umerkot, located 30 kilometres south of the historical city of Dhoro Naro. Jalal Kori, aged 63, is a Sindhi writer and researches various historical subjects.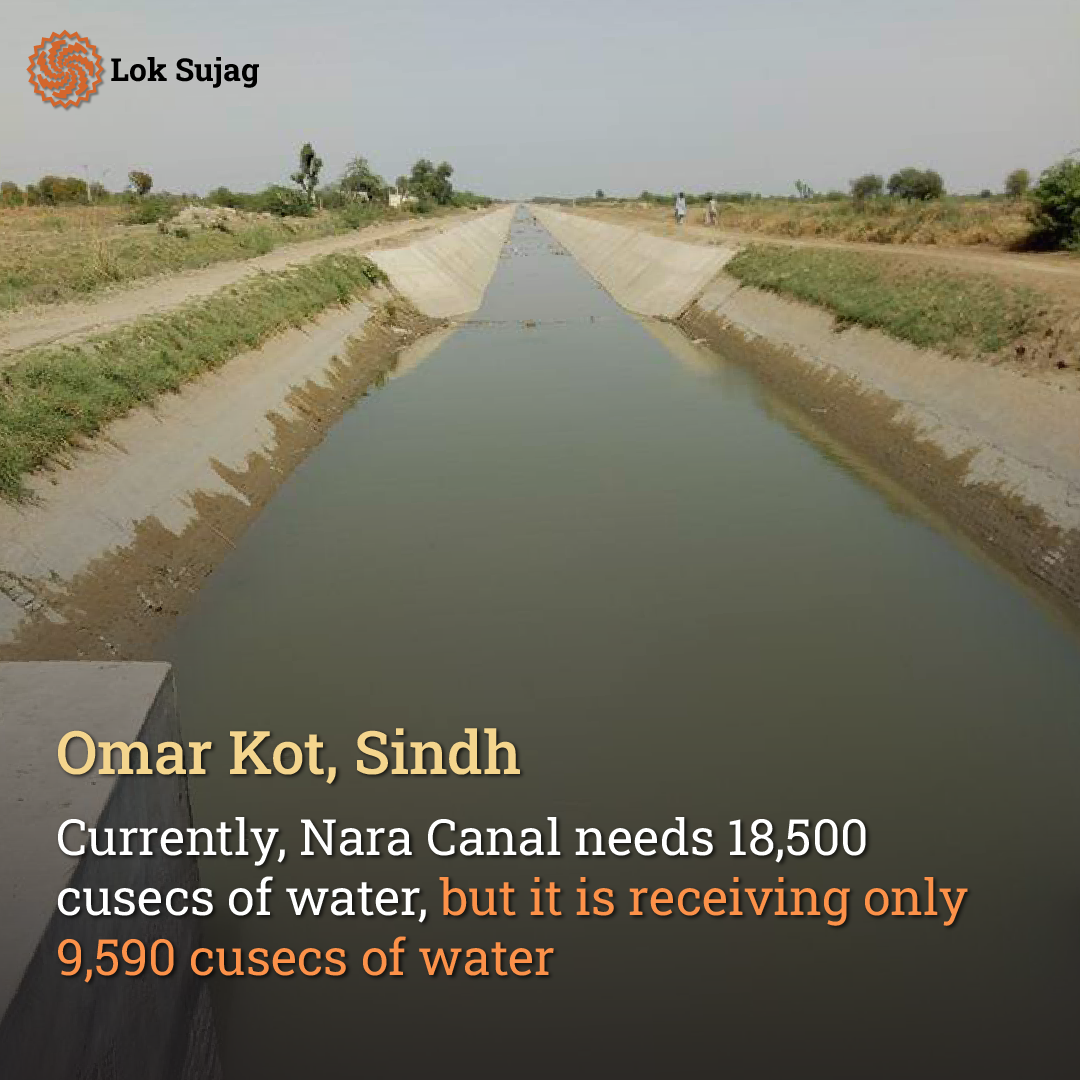 According to him, the land in the command area of the Nara Canal, which originates from Sukkur Barrage, is very fertile. Due to the abundance of water, farmers in this area used to be relatively wealthy, and people from other regions used to refer to them as the "Nawabs of Nara."
He explained that in the former district of Tharparkar in the Sindh province, which included the present districts of Umerkot, Tharparkar, Sanghar, and Mirpurkhas, everyone used to benefit from it. However, due to water scarcity, theft, and lawlessness, landowners and tenants no longer benefit significantly.
Bhoom Singh Sodho is a farmer and owns 55 acres of land in the village Mandhal, located 10 kilometres north of Umerkot. He is also an active member of the locally established "Indus Agriculture Forum" representing landowners in the area.
According to him, the Department of Irrigation, Sub-Division Umerkot, approved the allocation of 13,602 cusecs of water for the Nara Canal in 1932. At that time, the command area or irrigated area of the Nara Canal was 200,000 acres.
Over time, the lands of Khairpur and Sukkur districts, which were being irrigated from the Rohri Canal and Ghotki Feeder Canal, were also connected to the Nara Canal, increasing its total command area to 2.7 million acres. However, the water flow in the canal was not increased.
According to him, the Nara Canal currently requires 18,500 cusecs of water, but it is only receiving 9,590 cusecs of water. It is provided with only 7,000 to 8,000 cusecs of water during reduced-demand periods.
Bhoom Singh Sodho stated that from Saleh Pat and Chundko to Jamrao Canal, thieves steal around 5,000 cusecs of water from the Nara Canal through unauthorised cultivation. Here, hundreds of machines are illegally used for water extraction.
He explained that in 2015, the then Provincial Minister of Sindh, Syed Ali Mardan Shah, tried to increase the water flow or discharge for the Nara Canal from Sukkur Barrage. As a result of these efforts, the Provincial Ministry of Irrigation prepared a summary and sent it to the Chief Minister of Sindh. In it, it was recommended to increase the water discharge of the Nara Canal to 18,500 cusecs. However, this summary was not approved until recently, when the term of former Chief Minister of Sindh, Syed Murad Ali Shah, ended.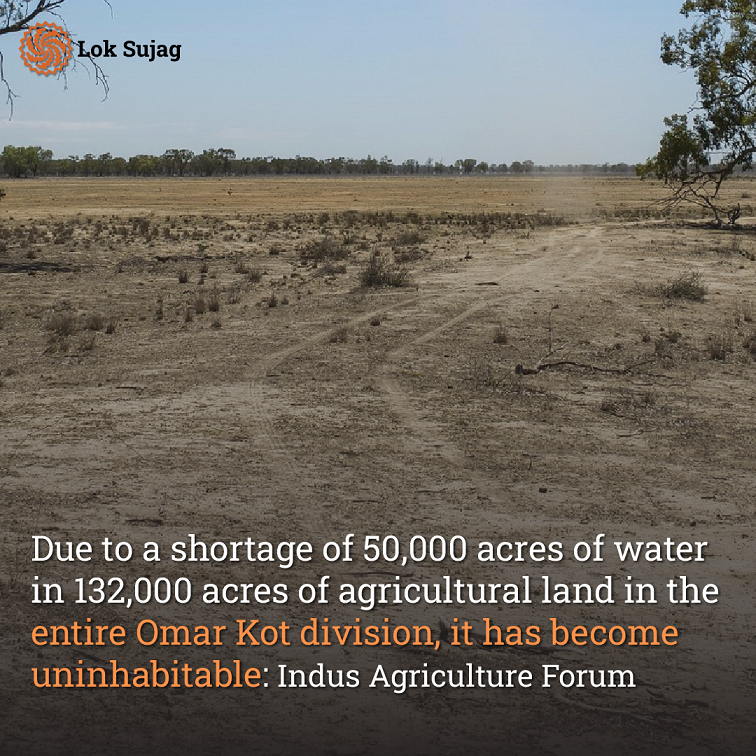 "If the water discharge of the Nara Canal is increased according to the summary, then the issue of water scarcity in the districts of Tharparkar and Umerkot, located downstream, will be significantly addressed."
Director Nara Canal, Engineer Naeem Memon, states that the canal receives 11,800 cusecs of water. According to him, the construction of the Chotiari Dam has been beneficial for the Lower Nara Canal, which provides water to its five branches during days of water shortage and water cutoff. Farooq Junijo, 44 years old, owns 200 acres of land and served as the President of the Indus Agriculture Forum, an organisation for farmers. He explained that 50,000 acres out of a total of 132,000 acres of agricultural land in the Subdivision Umarkot have become uncultivated due to water shortages. If these lands do not receive water from the Chotiari Dam, 15,000 acres will remain uncultivated. He mentioned that Subdivision Umarkot began receiving water from this dam in 2008.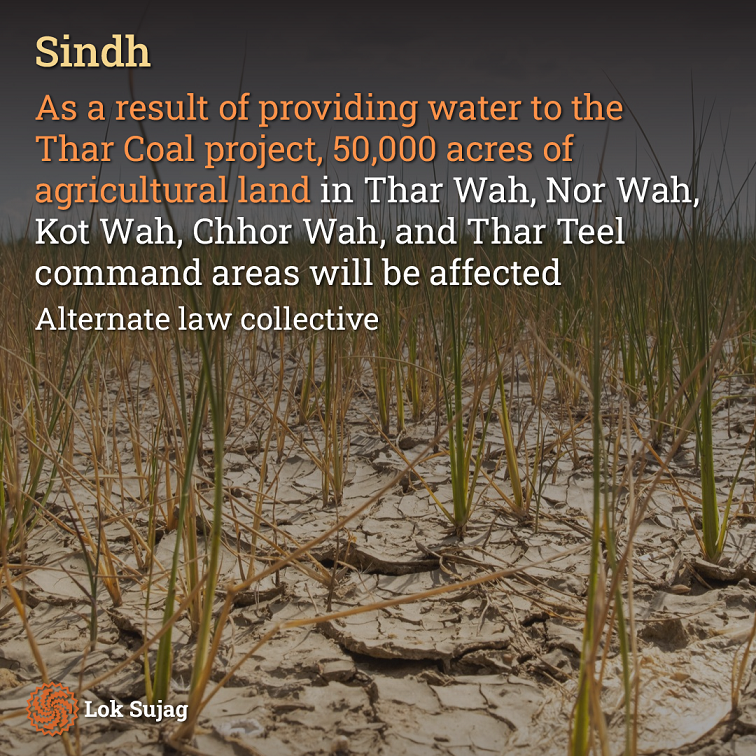 "The agricultural land in Subdivision Umarkot is fertile. However, due to the water shortage, the current year's wheat production is only 18 to 22 maunds per acre, and cotton production is 16 to 20 maunds per acre. In contrast, in the neighbouring district of Sanghar, wheat production is 30 to 40 maunds per acre, and cotton production is 40 maunds per acre."
In Sindh, Dr. Mir Amanullah Talpur is counted among the experts in water and agriculture. A 68-year-old resident of Kanri, Umarkot, Dr Mir Amanullah, explained that from Tunsa Barrage to Gudu Barrage, around 35,000 cusecs of water is stolen, resulting in lower water availability for the Lower Nara Canal. In the regions of Kashmore and Kandhkot as well, agriculture is carried out using water stolen from this canal.
Rana Rameez, from Umar Kot, is a former president of the Indus Agriculture Forum. He says that inflation and a water shortage have further worsened the situation. He explains, 'Last year, a pair of tractors that used to cost one and a half million rupees is now being sold for three and a half million rupees. Last year, the price of the Belarus Russian tractor was 2.8 million rupees, which has now risen to 6.3 million rupees this year. Last year, a bag of urea fertiliser cost 2,700 rupees; this year, it is available for 4,200 rupees.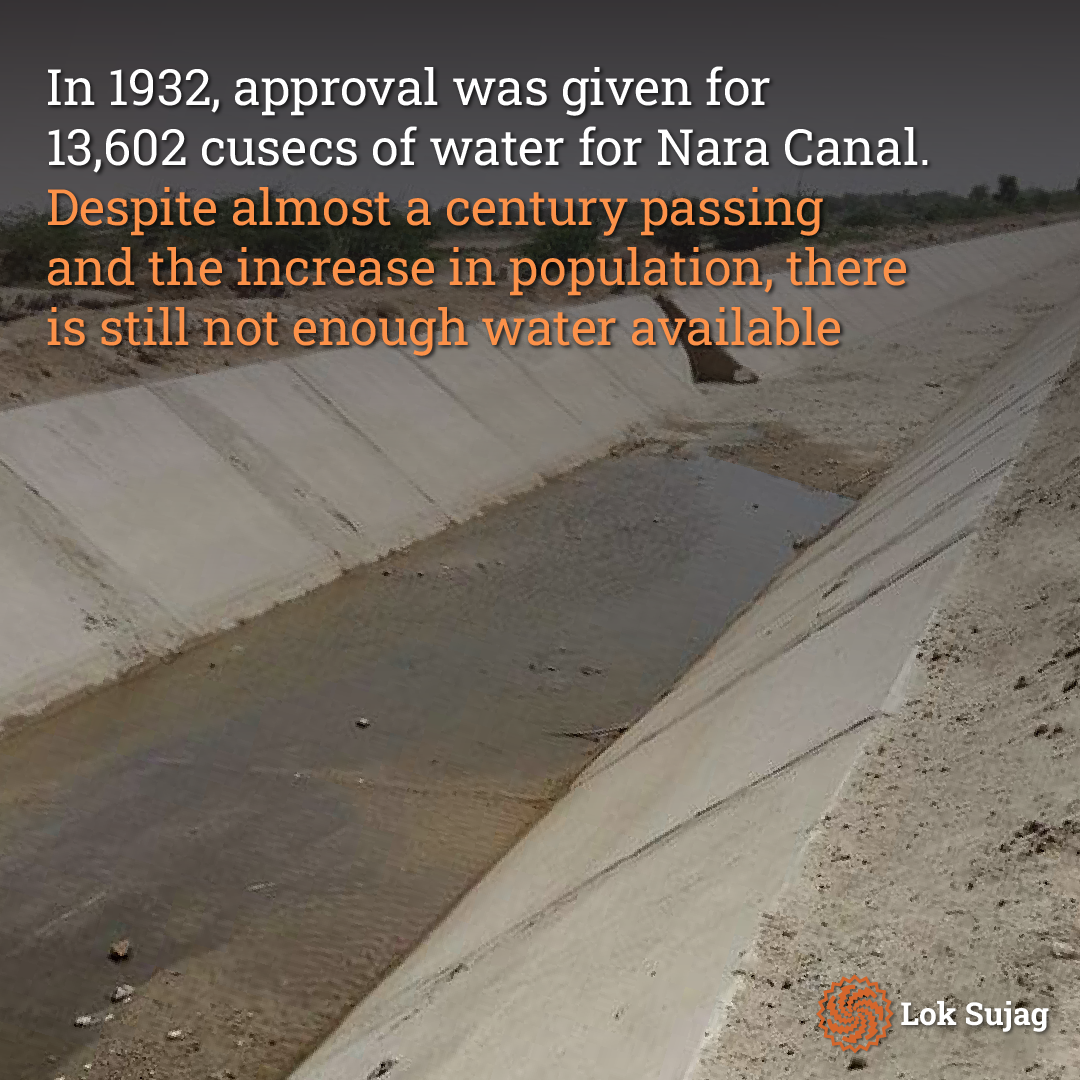 According to the figures obtained from the Irrigation Department office in the Umarkot district of Sindh, the water distribution system of the Nara Canal operates in two parts. One part is called the Upper Nara Canal, which runs from Sukkur Barrage to Jamrao Canal, covering a distance of 115 miles. The other is called the Lower Nara Canal, which extends from Jamrao to Dhoronaro Regulator, spanning 105 miles.
SDO Irrigation Sub-Division Farsh, Asadullah Memon, also has an additional SDO Irrigation Division Umarkot charge. He mentioned that theft of agricultural water may be occurring, but there have been no reported cases of water theft in the current season. This could be due to flooding in the past two seasons. Illegal machines and large pipes are not used for water theft in the Sirae area, but senior officials can better inform about water theft in the upper reaches of the canal.
Asadullah Meemon mentioned that work on the Makhi Farsh Link Canal project will commence by the end of this year. This canal will carry water from Nabi Sar to Thar Coal.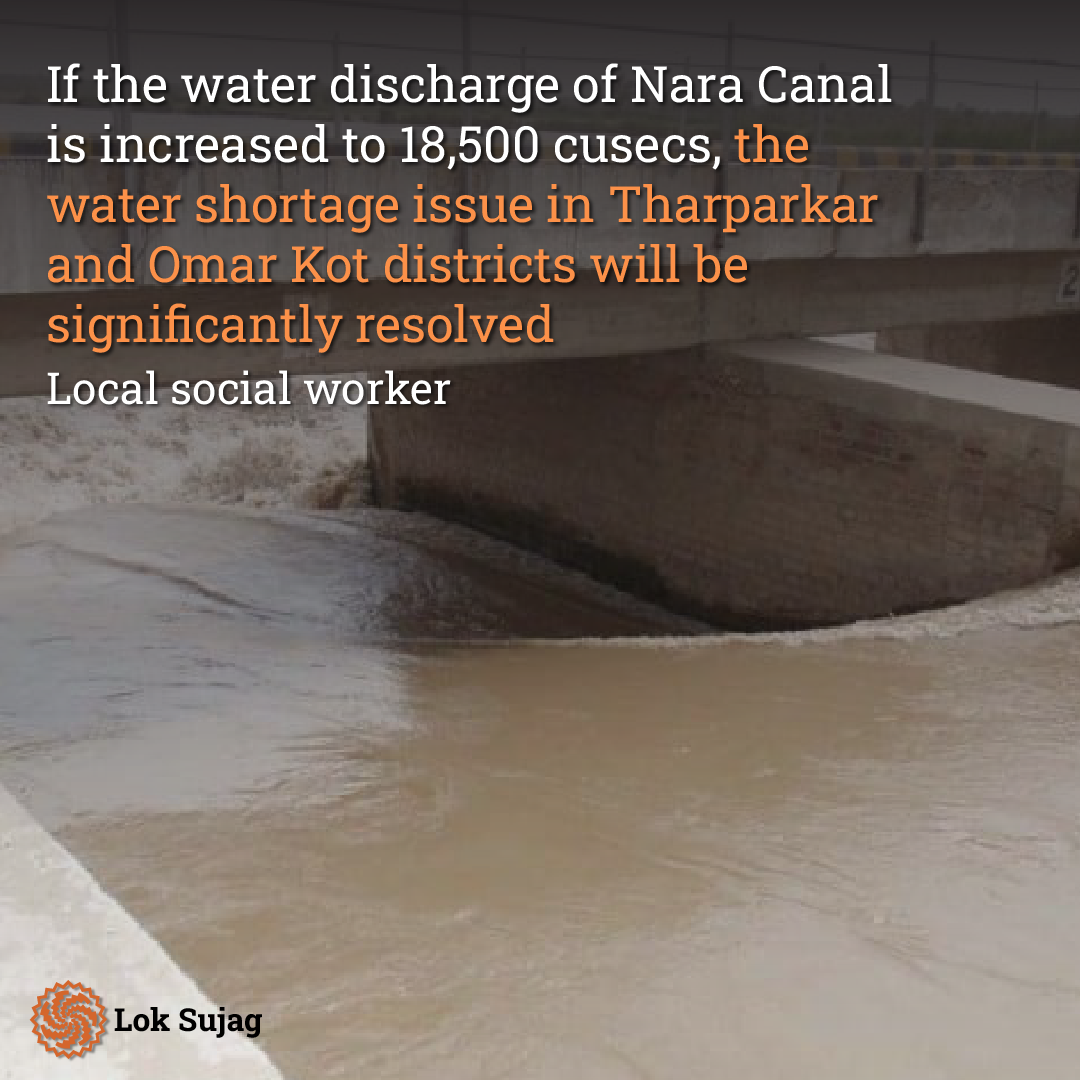 It is clear that in the ECC meeting held on June 28, 2023, under the chairmanship of former Federal Finance Minister Ishaq Dar, the Thar Coal project was approved for providing water through the Makhi Fresh Link Canal. The estimated cost of this project is over 12 billion rupees.
Islam Mallaah is actively working for the rights of the farmers in the Nara Canal area. He is associated with the lawyer's forum "Alternate Law Collective." A 32-year-old lawyer with ties to Mirpur Khas, Islam, states that according to authorities, under the Thar Coal Area Block One project, 200 cusecs of water will be provided and increased to 500 cusecs.
He says that as a result of providing water for the Thar Coal project from the Lower Nara Canal, around 50,000 acres of agricultural land in Thar Wah, Nor Wah, Kot Wah, Chhor Wah, and Thar Teil command areas will be affected, and the region will face negative economic and social impacts. He says 10,000 acres of land can be cultivated with 100 cusecs of water.
Also Read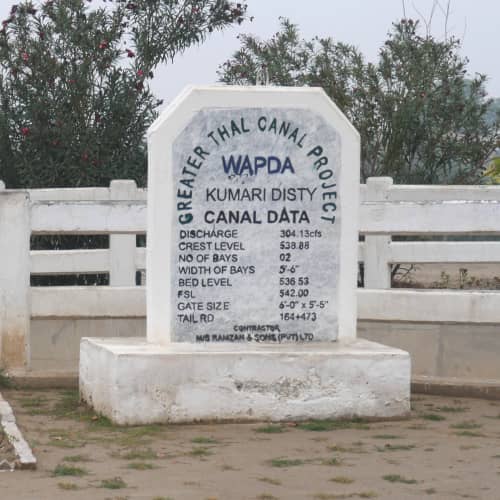 Sindh's objection over Greater Thal Canal: 'Construction of a new canal in Thal will reduce our share of water even more'.
The Chotiari Dam is located 35 kilometers away from Sanghar district. This dam was constructed in 2002 at a cost of 8 billion rupees. Its primary purpose was to discharge water from the Left Bank Outfall Drain (LBOD). During the months of April, May, and June, water is supplied from this dam to provide drinking water and irrigation for Umerkot and the Farash subdivision through the Nara Canal due to water scarcity.
Local landowner Mudan Malhi of Umerkot says, "If it weren't for the Chotiari Dam, the entire Umerkot district would face a water crisis. During the past two monsoons, the Nara Canal was consistently closed to save it from floods. During this time, water was supplied to the Umerkot district from the Chotiari Dam."
He explained that during April, May, and June, when water flow in the Indus River decreases, water is supplied from the Chotiari Dam to the Lower Nara Canal. During this time, chilli and cotton cultivation continued until May 15. However, due to the water shortage, the crop does not thrive.
57-year-old Mr. Khalid Walehri is the Vice Chairman of the Umerkot district and a farmer. He says that the landlords of Nara are no longer nobles, and the Sindh government should increase the water discharge from the Nara Canal because the population has increased significantly by 2023, but the water supply remains at the 1932 level.