Umair, a 32-year-old electronics store salesman, resides in Peer Colony next to Central Jail Multan, where mobile phone signals frequently falter. The cause behind this disruption lies in the jammers installed within the central jail premises.
He recounts an incident on November 15, 2022, when he needed to transport his wife to the hospital for childbirth. Facing issues due to the disrupted signals, Umair contacted Rescue 1122. After a few attempts, he managed to establish contact with them and requested an ambulance for his wife. The rescue operator linked him with the ambulance driver, who sought directions to ensure timely assistance.
"However, our phone connection was lost because of the jammers, and despite our best efforts, I had no choice but to take my wife to the hospital in a rickshaw. The poor road conditions made her journey extremely challenging, and she arrived at the hospital after enduring significant hardship. The residents living near these jammers encounter similar dilemmas during emergencies. This situation affects the local population and strains the rescue authorities," Umair explains.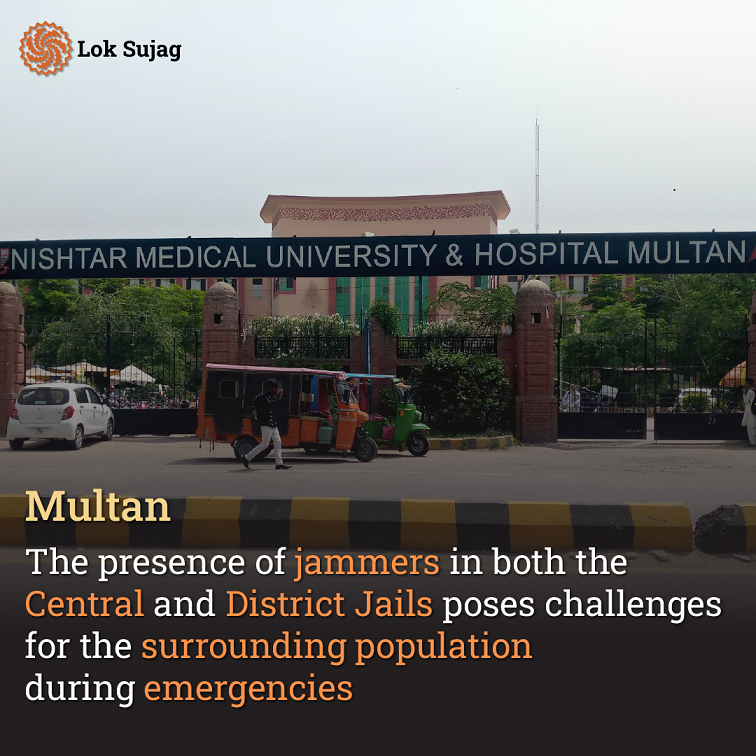 Mujamad Bilal, a Rescue Emergency Officer, acknowledges the hurdles caused by the jammers in reaching patients residing near jail facilities. The communication breakdown sometimes prevents ambulances from reaching the designated locations promptly, putting patients' lives at risk.
The Pak Italian Modern Burn Center is situated near the District Jail in Multan. Dr Ahmad Ali Malik, the Additional Medical Superintendent of the Burn Unit, highlights that installing jammers within the district jail renders mobile phones ineffective—attempts to make calls yield no response, causing considerable difficulties, particularly in emergencies. Nonetheless, the mobile network does start functioning properly after covering some distance.
Mohammad Talha, a resident of Chongi No. 1 Mohalla Hajipora, located near the District Jail, is engaged in the automobile business. He recounts an incident from 2022 when his maternal uncle, Muhammad Tayyab, passed away. Upon receiving the news, relatives and close acquaintances arriving from distant places encountered challenges in reaching him. While many knew his residential address and managed to arrive on time, colleagues and friends from his office faced significant communication hurdles.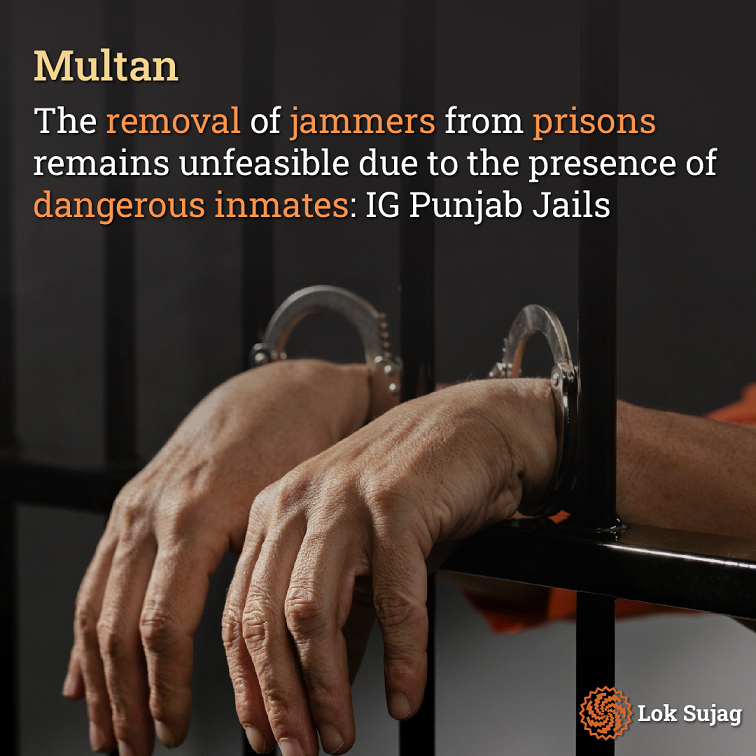 Numerous densely populated areas surround both jails. The District Jail Multan is situated within Union Council No. 35, with neighbouring areas encompassing Chongi No. 1, Mahalla Hajipura, Nishtar Hospital, and the Pak Italian Burn Center.
Meanwhile, the Central Jail falls under Union Council No. 47 and is also surrounded by various industries. These include biscuit and pulses factories, as well as multiple warehouses. Local industries are also operational. Hashmi Canal View Colony, Ghousabad, Jail Road, and Shah Shams Colony are located near the Central Jail. The residents of all these communities are impacted by the presence of jammers in various ways.
According to Nishtar Hospital's statistics, in 2022, 1,064,412 patients were treated here, and by June of that year, the number had risen to 553,322 patients. In the Italian Burn Centre, 11,298 patients were treated in 2022; by June 2023, this number had reached 6,625. All these individuals, in some way or another, experience the inconvenience caused by jammers
Also Read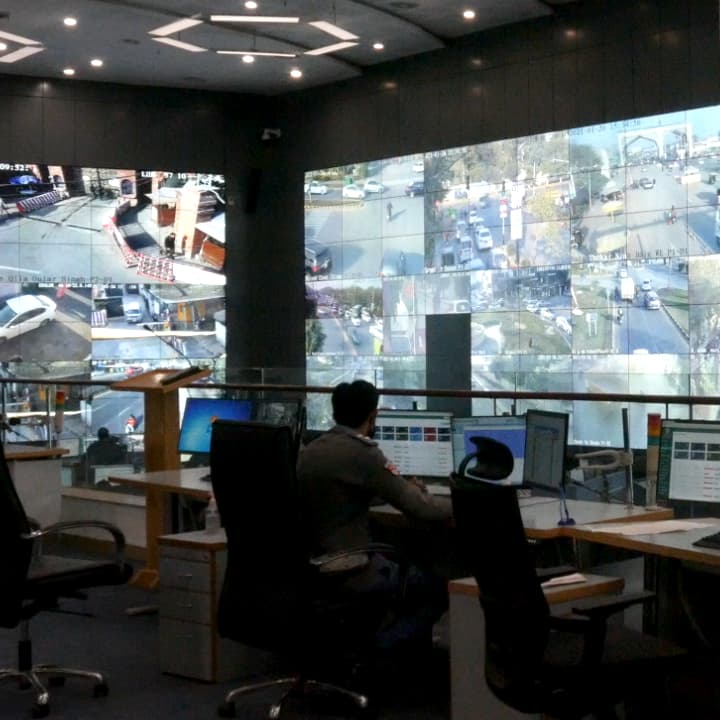 Life under Big Brother's watch: How safe is the citizen's personal data collected by Punjab Safe City Authority
Regarding this matter, when IGP Punjab Jails Farooq Nazir was contacted, he mentioned that in May 2014, the jails of Punjab had installed jammers based on information received from a sensitive agency about the presence of mobile phones with dangerous suspects in 28 Punjab jails. While complaints about non-functional mobile phones are common among communities adjoining jails, the removal of jammers from jails cannot be considered.
Atta-ul-Hadi, a local resident, proposes a solution to this problem, advocating for relocating jails, including those in Multan, to areas outside the cities. Initially, many jails were set up on the outskirts of urban areas. However, as the population expanded over time, these outskirts gradually transformed into the heart of the cities.
Dr Zulqarnain, the Information Secretary of the Young Doctors Association, shares that his organisation and the Pakistan Medical Association met with the DIG Prisons. During this meeting, they emphasised the necessity to resolve this problem, aiming to alleviate the concerns of both medical practitioners and patients. As a result of these efforts, there was a temporary improvement in signal reception. However, the situation has reverted to its original state, highlighting the need for a lasting solution.