A few months after her marriage, Abira Amber started having domestic quarrels with her mother-in-law. Angry and upset over such disputes, she would sometime go back to her parents' house. She also suffered a miscarriage due to the stress caused by this situation.
Amber got married at the age of 19 on 8th December 2018 in her hometown of Dera Ismail Khan to Vivek Khokhar, a government employee working in Laachi tehsil of Kohat district. In February 2020, during the eighth month of her second pregnancy, she gave birth to a son. But even the name of the child became a bone of contention between his parents. Khokhar named him as Kamleesh but Amber calls him as Kartish.
Meanwhile, the couple's differences escalated to so much that Khokhar kicked Amber out of his house after snatching the child from her. This happened despite the fact that the baby was very weak due to his premature birth and needed treatment and constant care.
After leaving her husband's house, Amber submitted an application to the additional district and sessions judge in Kohat seeking the custody of her infant son. The court accepted her plea on 17th April 2020 but also ruled that "in view of the child's medical record, the mother is instructed to ensure his proper treatment."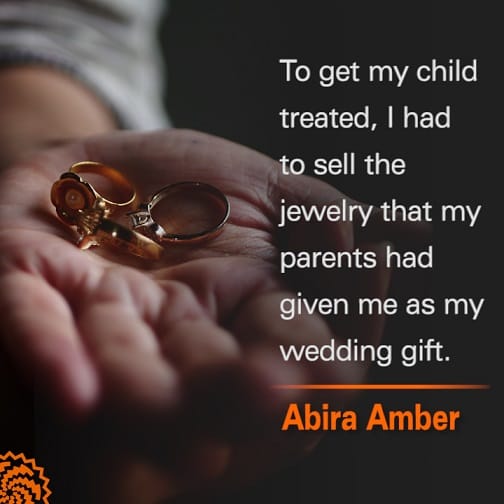 Amber, thus, got her son back but the whole responsibility of his care and treatment also fell on her shoulders. Although she holds a BSc degree in zoology from Gomal University Dera Ismail Khan, she does not work so she had to sell the jewelry she had received from her parents at her wedding to get her child treated.
Amber has also filed a suit in a Dera Ismail Khan court with the plea that Khokhar be made to pay her and her son's maintenance. She, however, is not very optimistic that her plea will be granted.
The main reason for the judicial situation she is facing is the Special Hindu Marriage Act of 1872 under which she was married. Haroon Sarabdayal, a social activist working for the rights of Hindu minority, says this 150-year old law does not oblige a man to provide for his estranged wife and children.
There is an additional complication in the case of Amber's marriage that is interfering with her legal rights. She belongs to a Sikh family but her husband is a Hindu. According to Sarbdayal, their marriage, therefore, has no legal status as both the man and the woman must be Hindus if they are to get married under the Special Hindu Marriage Act. "If a woman's marriage is not legally valid, how will she be able to move courts for her family rights?" he says.
If, on the other hand, her marriage had taken place under the Hindu Marriage Act passed by Parliament in September 2016, Khokhar would have had to pay for the upbringing of his child as well as bear the expenses of his wife. According to this law, not only in the cases of divorce but also in the cases of annulment of marriage by a court, the husband is obliged to take up these financial responsibilities.
The law had applicable two years before Amber's marriage to about 300,000 Hindus living in all parts of Pakistan except Sindh province. Sindh, where more than 4.17 million Hindus live, has a similar provincial law.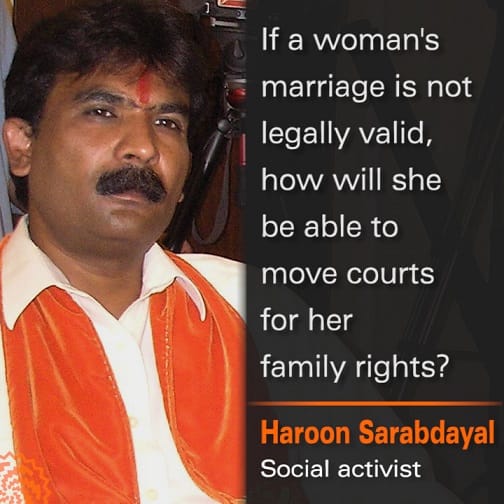 One of the main reasons why her marriage could not take place in accordance with the Hindu Marriage Act was that this law includes a sample of the certificate required for marriage registration but this certificate has not been provided to the government officials at the local level. Similarly, the law does not specify many other important things such as what should be the qualification of the priest who will solemnize a marriage and who will appoint him.
All these details should, in fact, be part of the rules required for the practical implementation of the Hindu Marriage Act. The rules must specify which government official or department is responsible for enforcing which part of the law. They should also specify which documentary and administrative procedures should be adopted at which level for the law's implementation.
Even four years after the law was passed by Parliament, however, the federal and provincial governments have not made these rules. "In their absence, the law merely has a nominal status and has no role in resolving the family problems being faced by the couples," says Haroon Sarbdayal.
This report was first published by Lok Sujag on 12th July 2021, on its old website.