Haji Maroof Khan, a 55-year-old man from the Mamoond tehsil of Bajaur district, owns a marble factory where more than ten employees work with him.
Affected by rising prices of commodities, inflation, and various taxes, Khan was shocked last month when he saw his factory's electricity bill. What used to be a bill of around four to five hundred thousand rupees now jumped to eight hundred sixty-five thousand rupees, an increase of seventy-six per cent.
He says he has struggled to run the business for the past few months. Several taxes have significantly reduced his profits, and he is unsure how to pay such a hefty electricity bill. He is concerned about the welfare of his employees, as they will become unemployed if the factory shuts down.
Currently, there are 29 marble factories in Bajaur. Among them, thirteen are in the Mamoond area, fifteen in Sheikh Khalil Loe Sam, and one in Khara. These factories employ more than 600 people annually.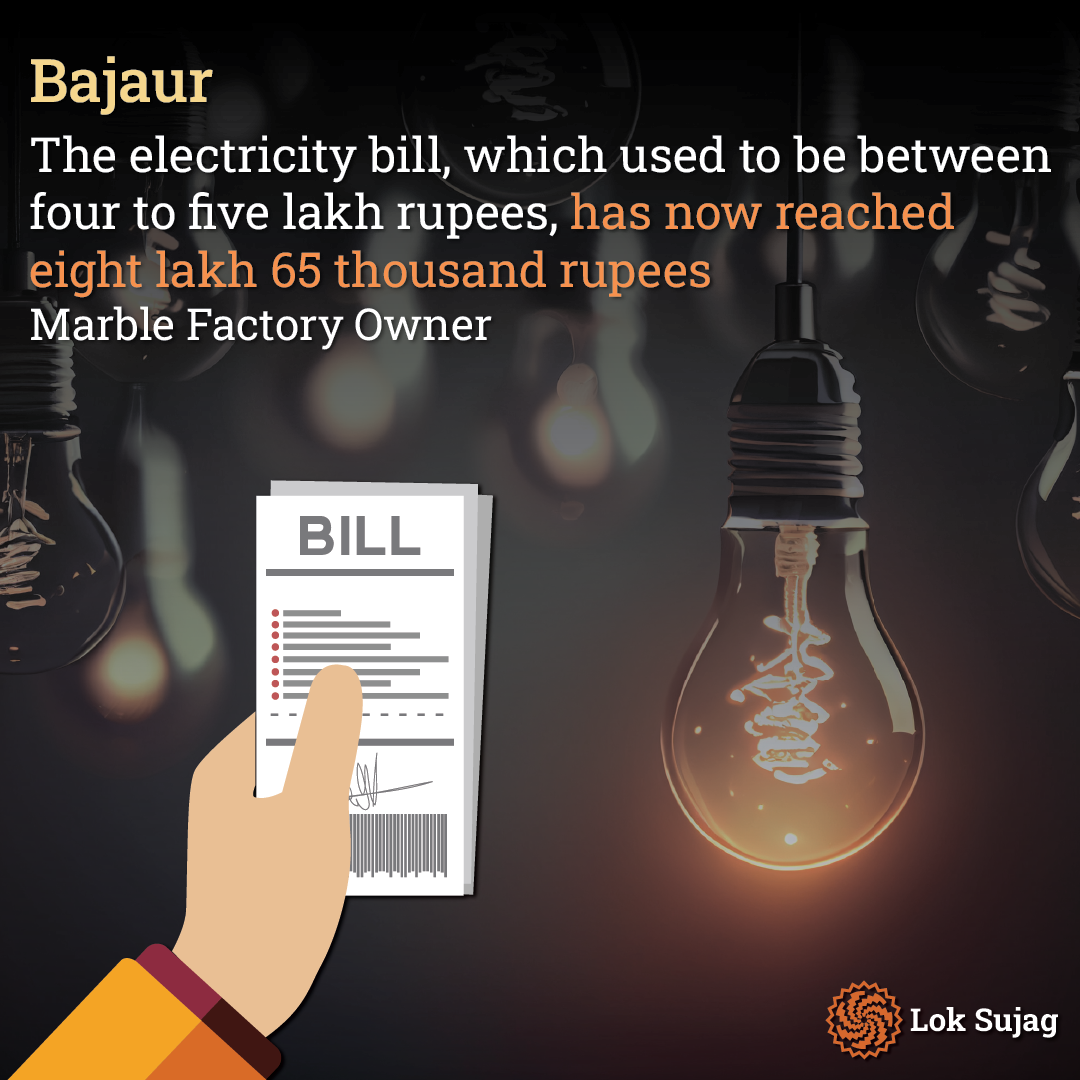 Most employees here work on wages, with general labourers earning a minimum of 25 thousand rupees, while skilled workers, known as ustads, earn between 50 to 60 thousand rupees. As experience grows, labourers and ustads see an increase in wages. In addition, some labourers work as watchmen and are provided with food and tea, along with a monthly wage of 1,200 rupees. Most people working here belong to different areas of Bajaur and do not have jobs near their homes.
Fazal Wahab Khan, a 23-year-old resident of Tangai village in Mamoond tehsil, dropped out of school in grade seven due to economic difficulties. He started working in the Madina Marble Factory in Tani Mamoond six years ago.
He says that initially, his income was meagre, but he hoped that if he learned to operate any machine in the factory, his income would increase. Therefore, he sometimes worked on wages and sometimes on salaries and learned marble cutting and polishing.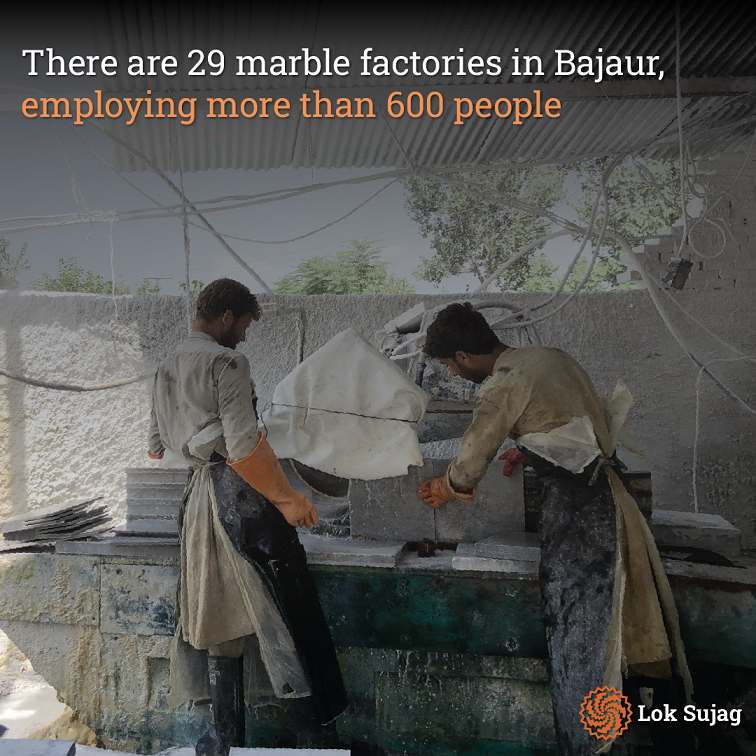 "After five years of labour, I moved up from a labourer's position and now work as an ustad, i.e., a skilled worker. The machine work has become easy, and my income has increased significantly. However, I am worried about how to manage this heavy electricity bill. After years of hard work, the good days we finally saw will end if we cannot afford it."
These factories receive uninterrupted electricity for twelve hours daily from the WAPDA. Their average monthly electricity bill ranged from two hundred thousand to four hundred thousand rupees, depending on the factory size. However, this month, there has been an exponential increase.
Taufeeq Khan, the president of the All Bajaur Marble Factories Association, says that due to the uncontrolled wave of inflation, factory expenses have already increased, and now, the doubled electricity bills have left people connected to the marble industry with no choice but to contemplate on closing their factories.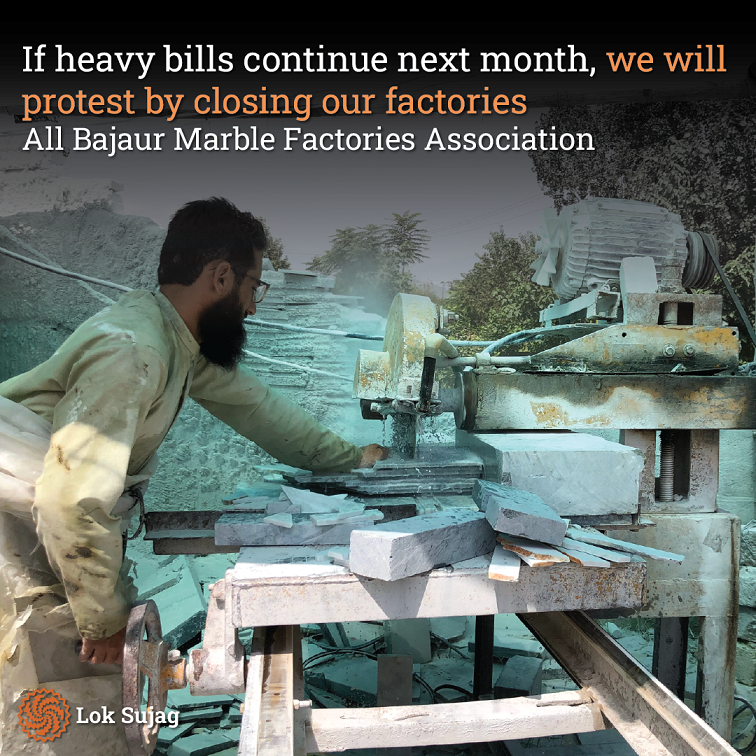 "A few months ago, the government imposed a tax of seven thousand rupees on every vehicle in the name of mineral tax. In addition to this, the traffic police inside Bajaur charge fifteen hundred rupees for a slip from every vehicle. In addition to marble vehicles, trucks carrying cement, iron, steel, and other goods also arrive daily. However, they are not bothered as much as we are. If the government cannot relieve us, it should not burden us unnecessarily. We have decided that if next month also brings such heavy bills, we will protest by closing our factories."
Jaan Ghani, a factory owner, says that his family has been associated with the marble business for a long time, but last month, due to some family matters, his factory was closed; he did not work for a single day, despite this, his bill was One lakh and 65 thousand rupees.
Also Read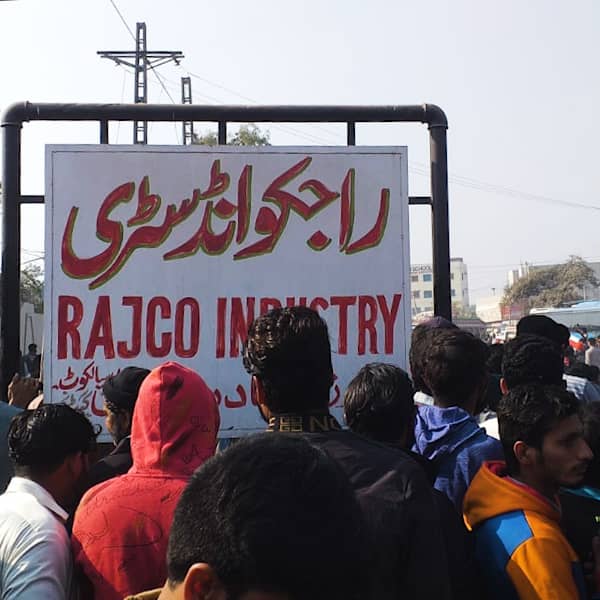 Rajco lynching: Factory labourers oppressed and deprived of fundamental rights
"I have no choice but to shut down the factory permanently because, when I'm not running the factory, why am I burdened with such high electricity bills and taxes? If I continue to operate the factory, what will happen?"
The local authorities of the WAPDA department, on the condition of not revealing their name, mention that Bajaur district, one of the newly merged districts, receives only two to three hours of electricity in residential areas, and people do not even pay their bills here. Therefore, these marble factories are the only source of income for WAPDA in these areas.
"If these people don't pay the bill, WAPDA will also shut down the electricity supplied for a little free to the residents of these areas."
Regarding the role of local administration in the matter, they said that this issue is from the higher authorities, and only they can come up with a solution.