Muhammad Ali Magheri, a 25-year-old, and his younger brother Imran Ali reside in the village of Laloo Raink, located in the Qambar Shahdadkot, Balochistan district. Last month, both of them fell ill with a fever. Muhammad Ali's fever wasn't abating, so they decided to get a malaria test done privately and its results came in negative.
He told the doctor that he suffered from severe body and head pain and cold. The doctor said that these symptoms were of malaria. He told them the test result was incorrect and prescribed the medicine, while his brother Imran's test result was positive.
Muhammad Ali teaches at Government Boys High School Lalu Raink and his brother Imran teaches at a private school in Larkana.
Muhammad Ali claims that government medical centres did not have malaria tablets available. When they went to a medical store, they found that six malaria tablets, originally priced at 580 rupees, were being sold for 700 rupees.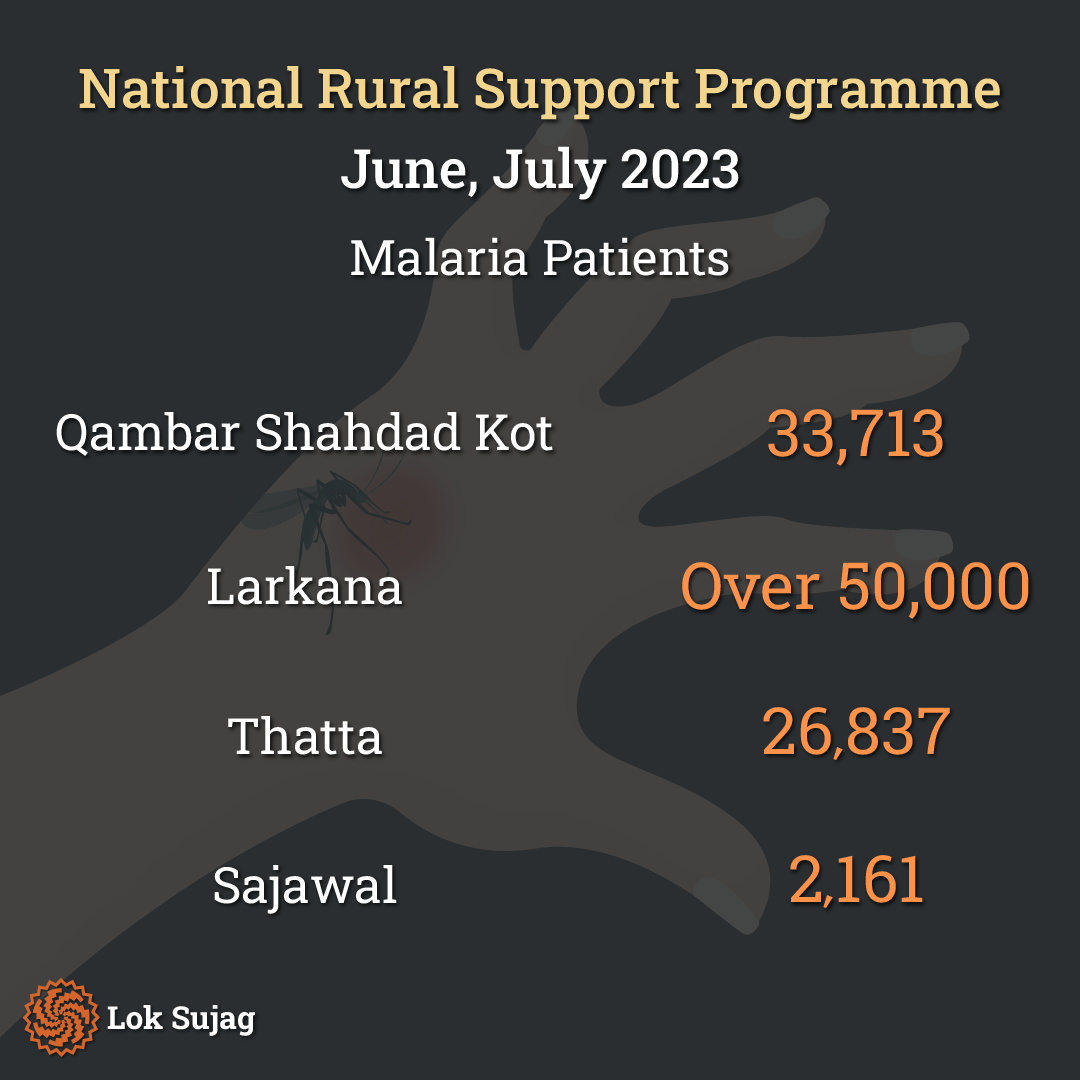 Qambar Shahdadkot district is situated on the western bank of the Indus River, near the border of Balochistan. Larkana is approximately 30 kilometres from here, and Qambar is about 20 kilometres away.
Muhammad Ali believes there is hardly a household in Qambar Shahdadkot and Larkana where at least one person hasn't had malaria in the past two months.
According to the 2023 census, the population of Qambar Shahdadkot is 1.515 million, while Larkana district has a population of 1.784 million.
In Sindh, last year, the most malaria patients were reported in coastal districts, including Thatta, Sujawal, and Badin. These districts are located on the Indus River's eastern (left) bank.
Qambar Shahdadkot and Larkana are among the worst-hit areas by floods. These two districts are located on the river's western (right) bank. In many flood-affected areas of the province, water is still standing.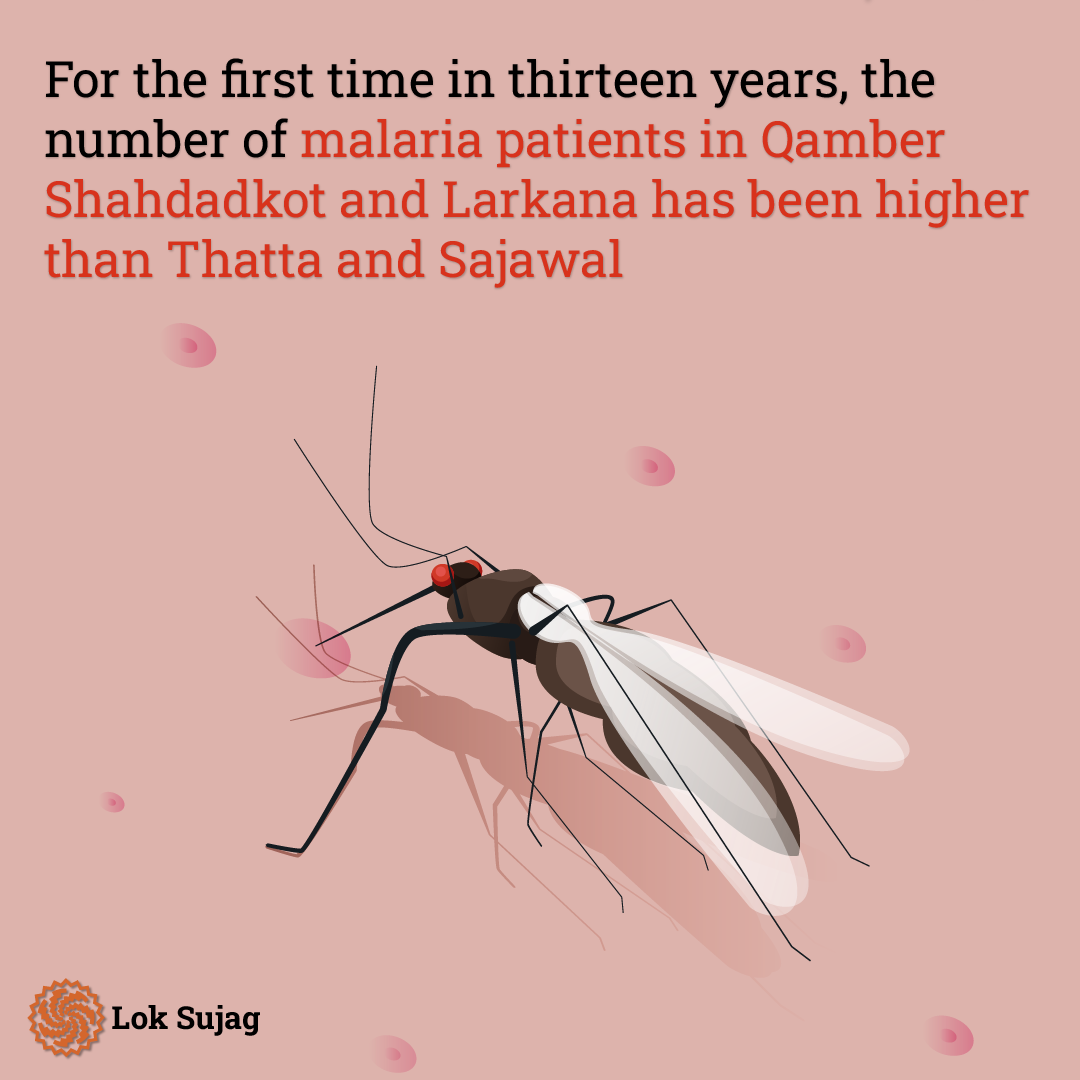 In collaboration with the Directorate of Malaria Control Islamabad, the non-governmental organisation National Rural Support Programme (NRSP) works in eight Sindh districts. These districts include Thatta, Sujawal, Badin, Tando Muhammad Khan, Mirpur Khas, Umerkot, Larkana, and Qambar Shahdadkot.
NRSP's provincial coordinator, says that Qambar Shahdadkot and Larkana have had more malaria patients for the past thirteen months than Thatta and Sujawal. Heavy rains and floods could be the cause.
According to NRSP's data from June to August 2021, Qambar Shahdadkot reported 1,351 positive cases; in 2022, 5,536 cases were reported. In Larkana, 3,394 cases were reported in 2021, and 7,360 cases were reported in 2022.
The same data shows that in 2022, 47,072 positive cases were reported in Thatta and 26,121 in Sujawal.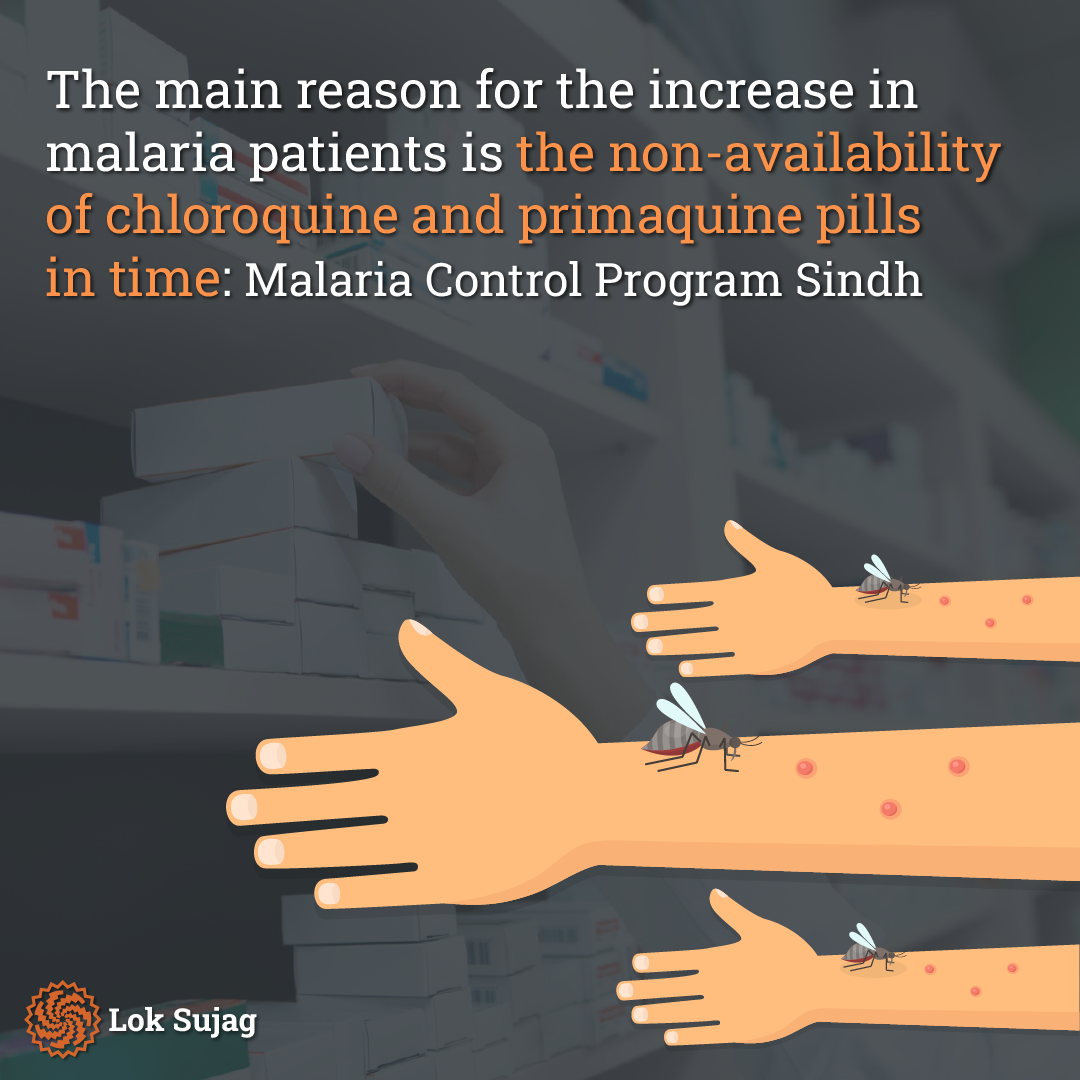 According to NRSP, there was an alarming increase in malaria patients in the western districts of the Indus this year. In June and July alone, 33,713 positive cases were reported in Qamber Shahdadkot, while the number of patients in Larkana has exceeded 50,000.
According to the same data, there have been 26,837 positive cases in Thatta and 2,161 in Sujawal.
However, data from the Sindh Health Department tells a different story. According to the Director General Office, from January to August 27 this year, 20 thousand 476 positive malaria cases were reported in Thatta, 7 thousand 514 in Sajawal, 19 thousand 508 in Larkana and 7 thousand 240 in Qamber Shahdadkot.
Dr Mushtaq Shah, head of the Malaria Control Program in Sindh, denies providing data for 2021 and 2022. He states, "Mosquitoes are not being born today; they have been around for centuries. As soon as the cold weather arrives, mosquito breeding will decrease. Wait for the cold season; everything will be fine."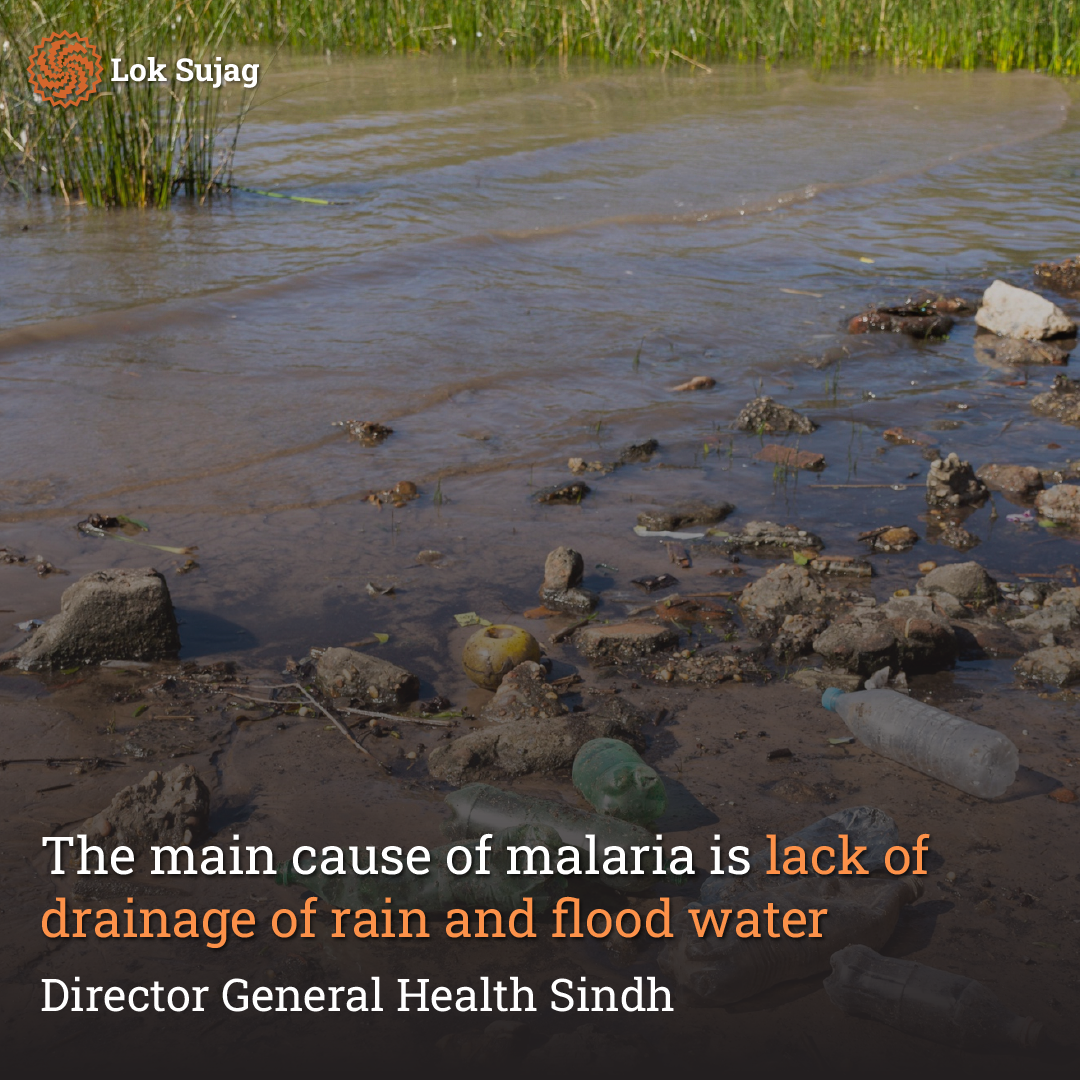 Dr Mushtaq Ali Shah claims until August that the highest malaria cases are in Thatta and Sajawal. One significant reason is the lack of education in both districts. People don't complete the course of malaria medication, and another reason for the increase is the lack of cleanliness.
He admits that the main reason for the increase in malaria patients is the unavailability of Chloroquine and Primaquine tablets. He explains that Primaquine came from India and was unavailable, so it was obtained through donations from the World Health Organization. The non-availability of these tablets until August led to an increase in cases. Primaquine is still not available in the market, and it is only supplied through government centres.
Also Read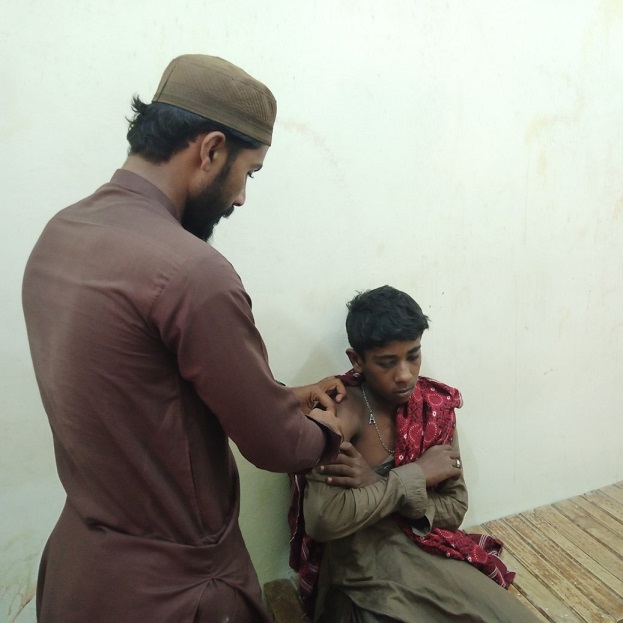 Cholera outbreak in Khuzdar leaves bedridden patients clinging to traditional remedies
Director General of Health Sindh, Dr Arshad Mehmood, states that the essential reason for malaria is the stagnant water from rains and floods.
He says that his department provides mosquito repellent to local bodies, vehicles and staff for fountain sprays and fumigants belonging to local bodies. Malaria control also uses fountain spraying and fogging.
DG Health understands that local bodies and district administration are essential but do not do their job. If spraying is done in the days of June to September and there is good water drainage management, malaria will not spread.
Dr Mushtaq Shah says that in this year's survey, there were signs of high mosquito breeding in Tehsil Naseerabad of Qamber Shahdadkot, so much spraying has been done there. Fountain spraying and fogging will be done from September 12 in Rato Dero district of Larkana; after that, work will be done in Thatta, Sajawal and Badin.