Fifteen-year-old Najeeb Iqbal lives in Kitanwala, a village on the outskirts of Kundian. He has been playing cricket for four years and was recently selected for the Divisional Under-16 team. While he is happy about his success, he is also worried.
Najib's problem is that there is no good ground in his city. He says there is a cricket ground called 'Kundian Stadium,' but it's not suitable for playing. Najib and his teammates have to practice there since there's no other place to play in the city.
Four years ago, Najib says this place looked like a garbage dump because people used to throw garbage there. He and his fellow players cleaned the field, but it's hard to keep it in good condition without four walls. Cattle enter the area daily and spoil the pitch, causing problems for the players.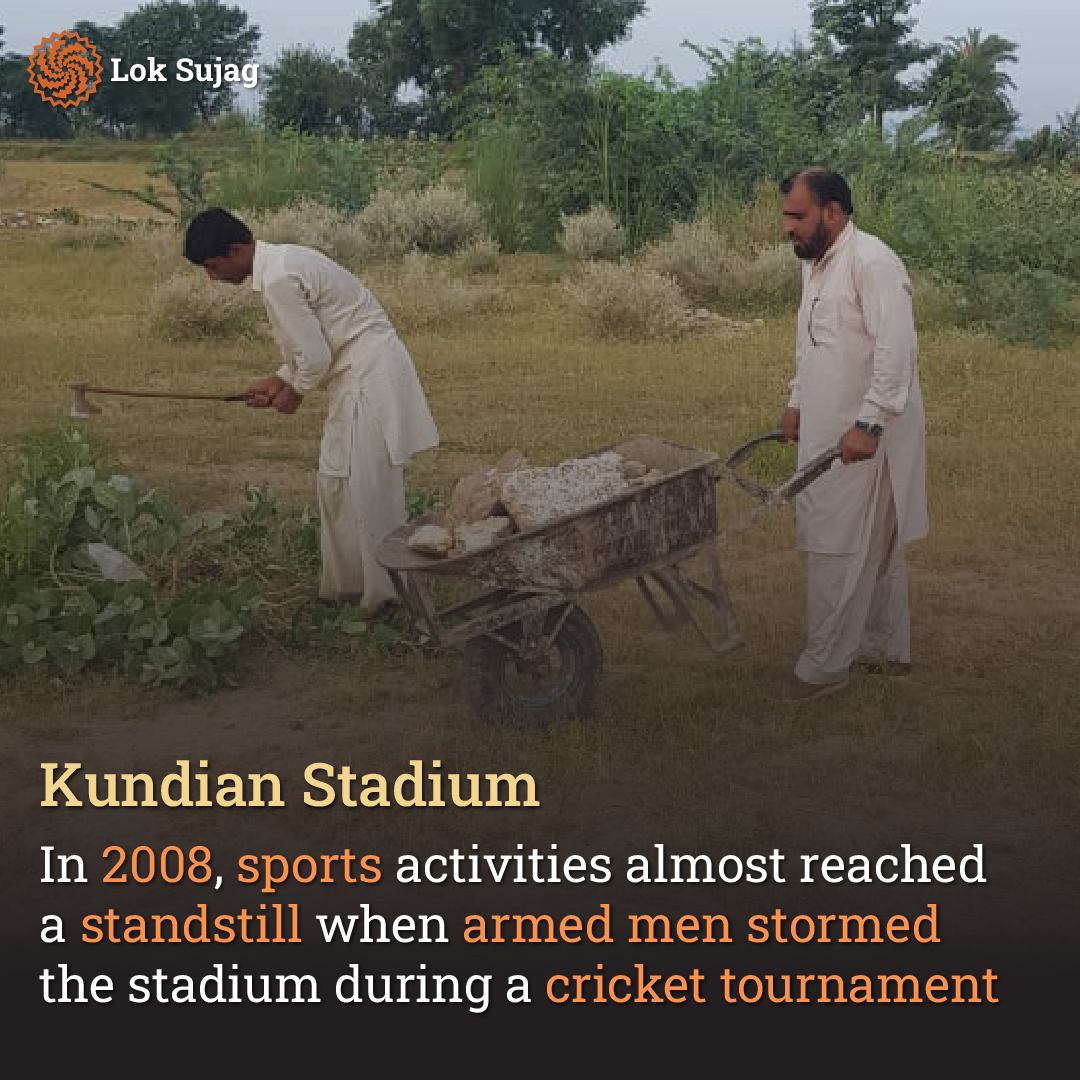 Najib believes that Kundian has many talented sportsmen. If a sports complex is built in the city, it can change the lives of hundreds of young people.
Muhammad Amir, 38 years old, has been playing cricket for eleven years. His young son, Shah Mir, used to play cricket with friends on the same ground until a stray dog bit him. Since that incident, Shah Mir stopped playing there. Amir mentions that many other children have also faced similar incidents on the same ground.
Kundian is located in Tehsil Paplan of Mianwali. In this district with a population of 1.7 million, the people of Kundian city, including both temporary and concrete Kundian, is around 150,000.
In 2001, the district government announced the construction of a sports stadium in Kundian. For this purpose, they selected 87 kanals of government land west of GT Road (also known as Sher Shah Suri Road). The provincial government handed over this area to the district sports department.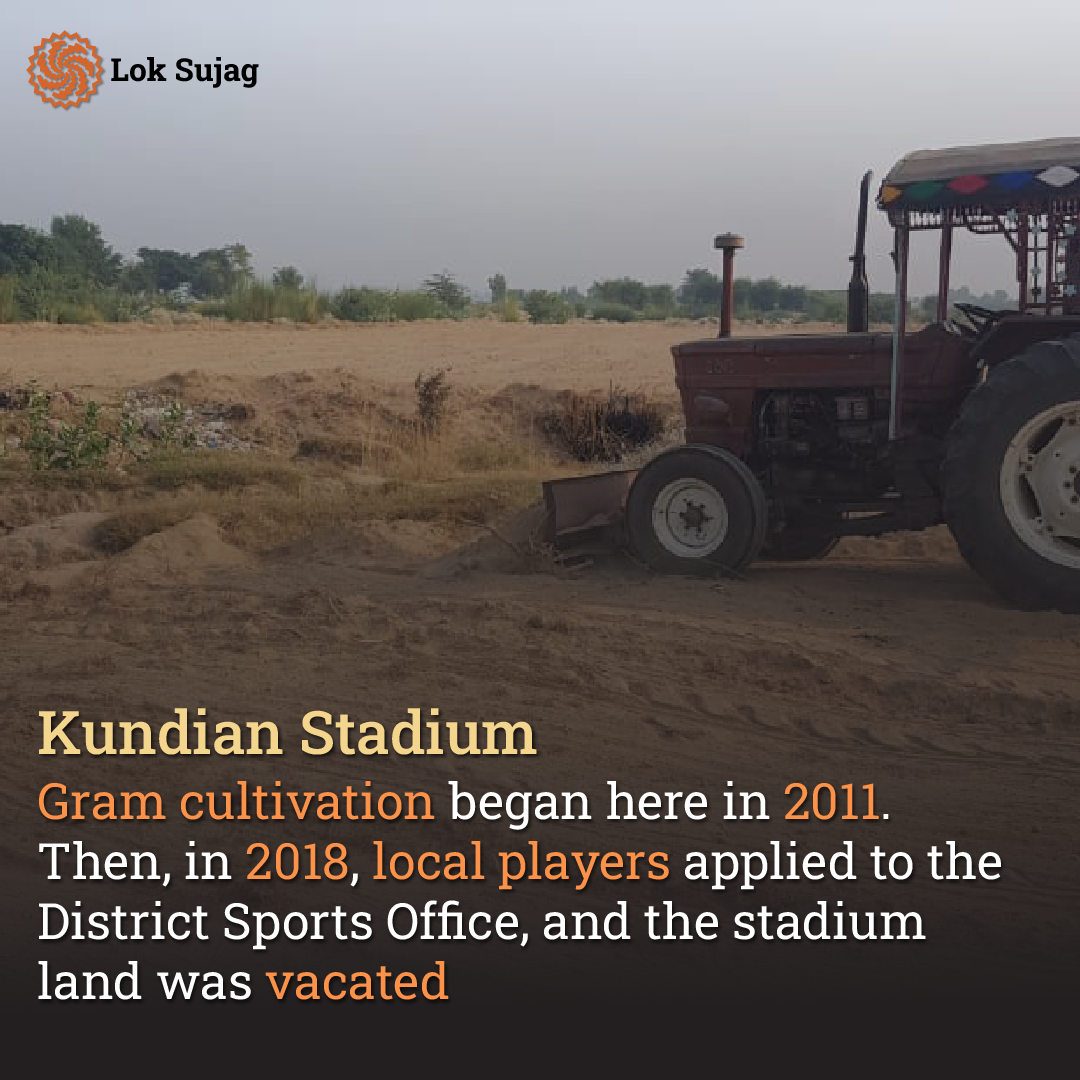 Hamir Hayat Khan Rokhri, as District Nazim, laid the foundation stone of the stadium in 2002. The district government built four walls for the stadium, costing Rs 50 lakh, and constructed three cricket pitches. Later, they handed over control of the stadium to the district sports department.
As soon as the four walls were completed, sports activities began in the ground. Cricket, football, and volleyball were particularly popular among the players.
Muhammad Aziz Logi, co-in-charge of Raza Cricket Club, says that when the ground was built, the youth in the area stopped raising partridges and quails and started playing physical sports. As a result, the stadium became a place of healthy entertainment for the youth in the area.
Aziz says that during a cricket tournament in 2008, some armed men entered the ground, broke the wickets, and took away the players' belongings.
Mohammad Bilal and Mohammad Waris, who live nearby the ground, say that neither a case was registered nor the police intervened in this incident. After that, players from Paplan, Chashma, and nearby villages stopped coming to this ground.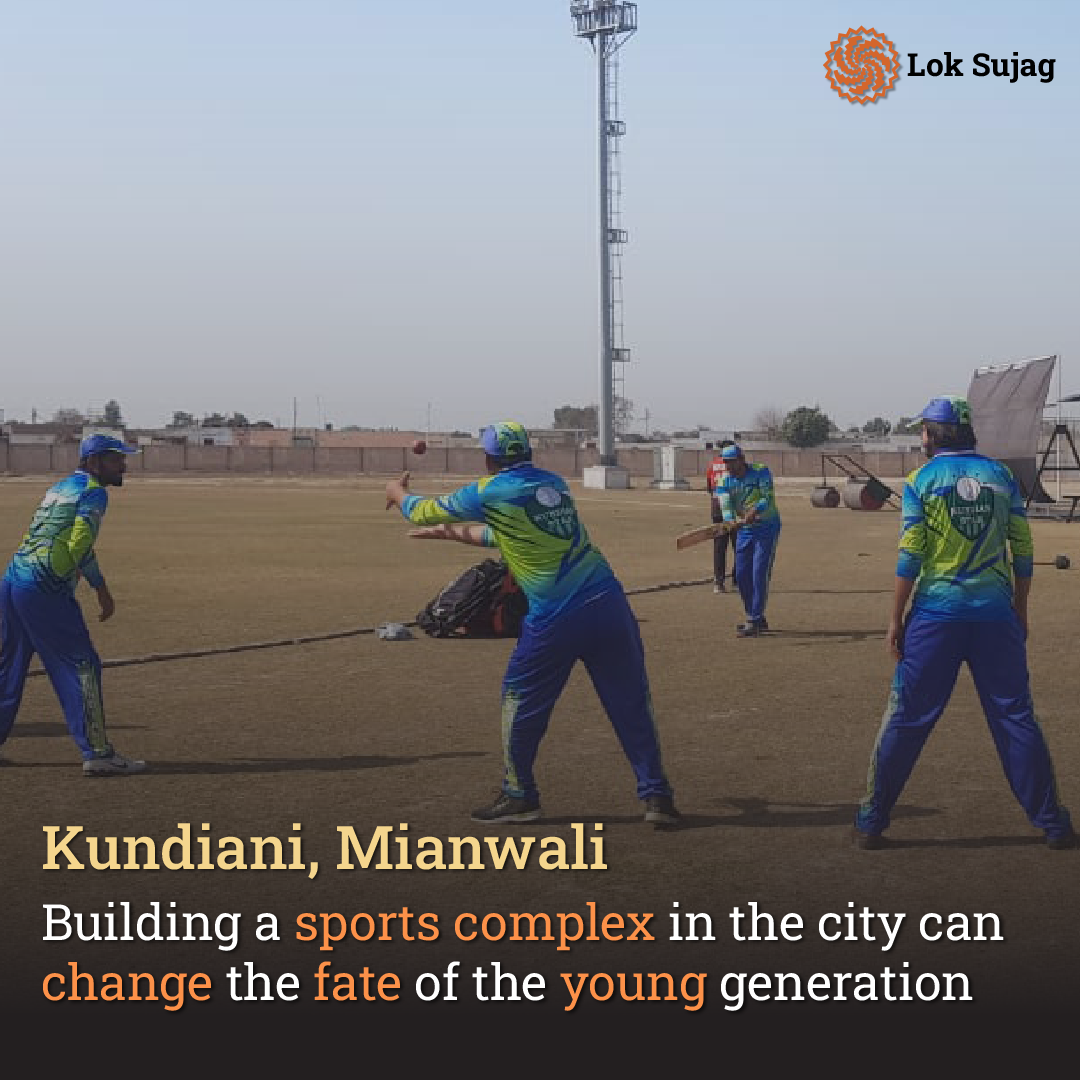 Because of the atmosphere of fear, sports activities decreased, and people pulled down the bricks and gates of the wall. By 2011, this field had become an abode for cattle and stray dogs, and after that, gram cultivation started on this land.
In 2018, local players Sanaullah, Amanullah, and Mohammad Amir applied to the District Sports Office to vacate the stadium site. During that time, a farmer named Arshad cultivated a crop.
The district sports department immediately acted on this request, and the local feudals also contacted the farmer Arshad. As a result, he relinquished possession of the ground, and sports activities resumed here.
Muhammad Akbar Sajhra, a respected figure in Kundian known for his social and business activities, has a strong passion for cricket. He was associated with the Riyadh Cricket Association during his time in Saudi Arabia. When he visited the ground in 2019, he was saddened to see its poor condition. Taking matters into his own hands, he spent two lakh rupees from his pocket and, with the help of the players, cleaned the field from garbage and even built a new pitch.
Also Read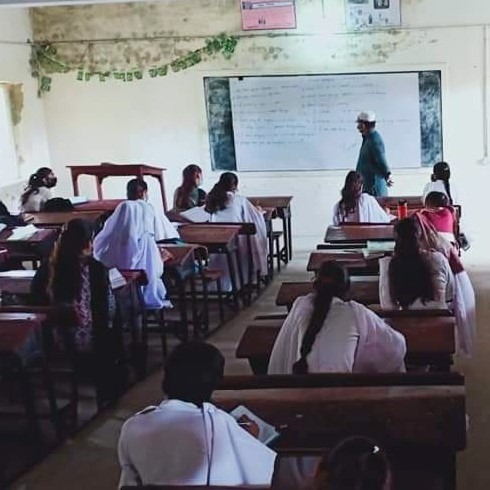 In Tharparkar, shortage of teaching staff hinders girls' pre-medical education
In 2021, he organised a district-level tournament at the same ground, and 26 teams from the district participated in the event.
Mohammad Akbar emphasises that a sports complex in Kundian is essential for the local population. He has approached the district sports department multiple times for this cause, but they have always turned him away.
In 2019, the Punjab government approved the construction of sports complexes in 14 tehsils. They built sports facilities in various places, such as Tehsil Isa Khel and Piplan, and even provided a cricket stadium and Tehsil Sports Complex in Mianwali city. However, Kundian was neglected, and no sports complex was built there.
Last year, officials from the district sports department surveyed the stadium site for building the Kundian Sports Complex. However, there has been no progress since then, as they faced difficulties estimating the construction.
District Sports Officer Imtiaz Ahmed says that the construction of the sports complex in Kundian will begin soon. However, currently, there is a lack of financial resources for the project. He urges the elected public representatives to play their role in this matter.