Twenty-year-old Muhammad Owais has been working as a labourer in Multan's Sajanpur area's ice factory for three years. His father, addicted to drugs, could not work, so Owais had to start working to support his family. He left school in the seventh grade to begin working as a labourer. Over a few years, he found steady employment in the factory. To increase his income, he also started working part-time. This additional income helped ease his financial difficulties.
Then, one day, the factory owner told him he couldn't pay millions in electricity bills, so the factory was closing, and all the workers should find alternative employment.
This factory has been closed for the past four months. Owais worked as a caretaker in a mango orchard for two months, but when the mango season ended, this job also ended. Now, his family is once again in severe financial distress.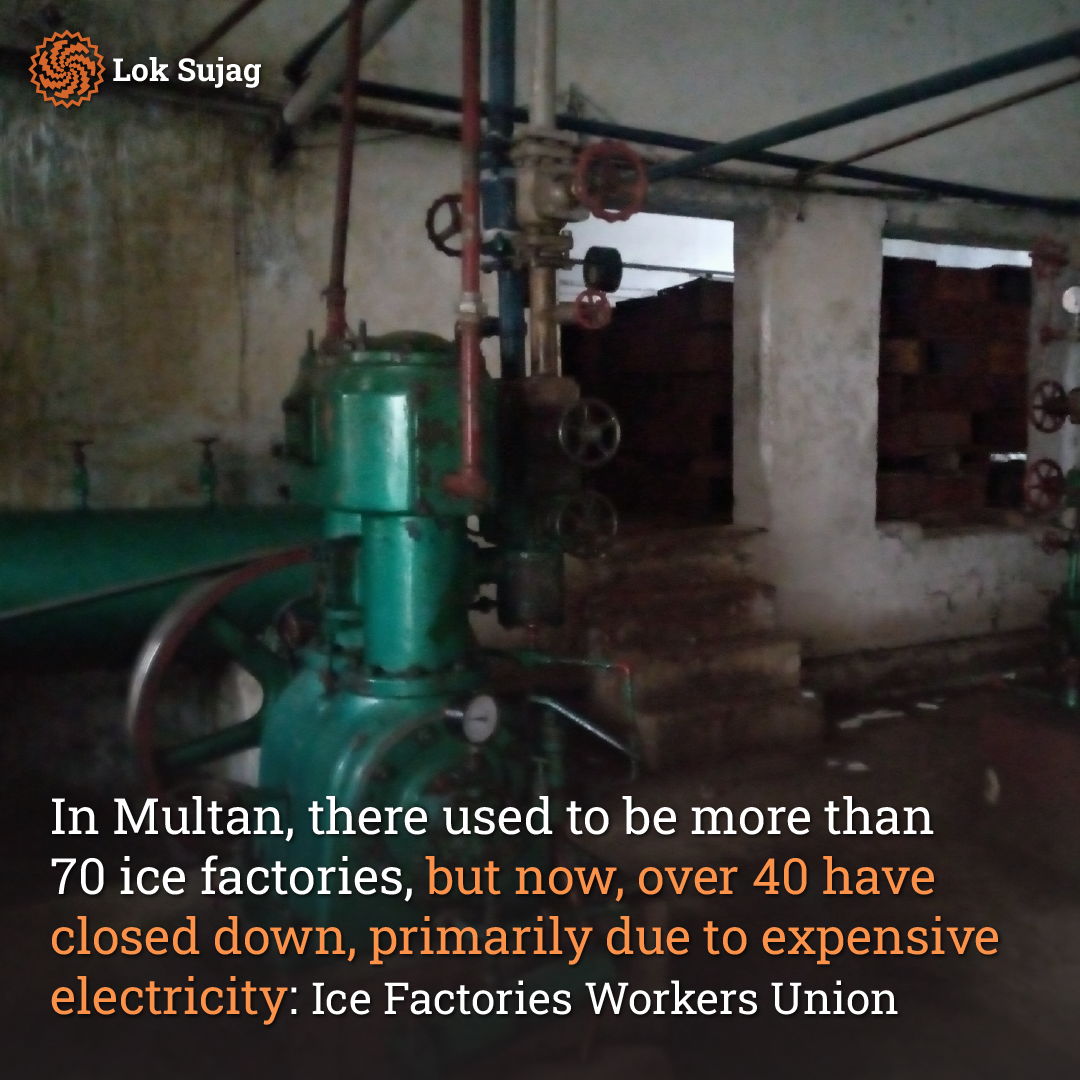 According to Chaudhry Aamir, the Joint Secretary of the Multan Ice Factories Union, his family has made and sold ice for several generations. "There was a time when people associated with this business were considered prosperous, but in recent times, they have been struck by adversity."
He explains that there used to be more than 70 ice factories in Multan, and now, over 40 of them have closed down primarily due to the high cost of electricity.
He says that, on average, about 50 labourers used to work in such a factory, and as a result, approximately two thousand labourers (50 x 40 is 2000. Please correct this in the Urdu copy too) have become unemployed.
For the past 26 years, Shahzad, from Jahangirabad, has been working at the Ice Factory in Bahawalpur's by-pass to support his family. Twenty-four workers were employed during a 12-hour shift at this factory.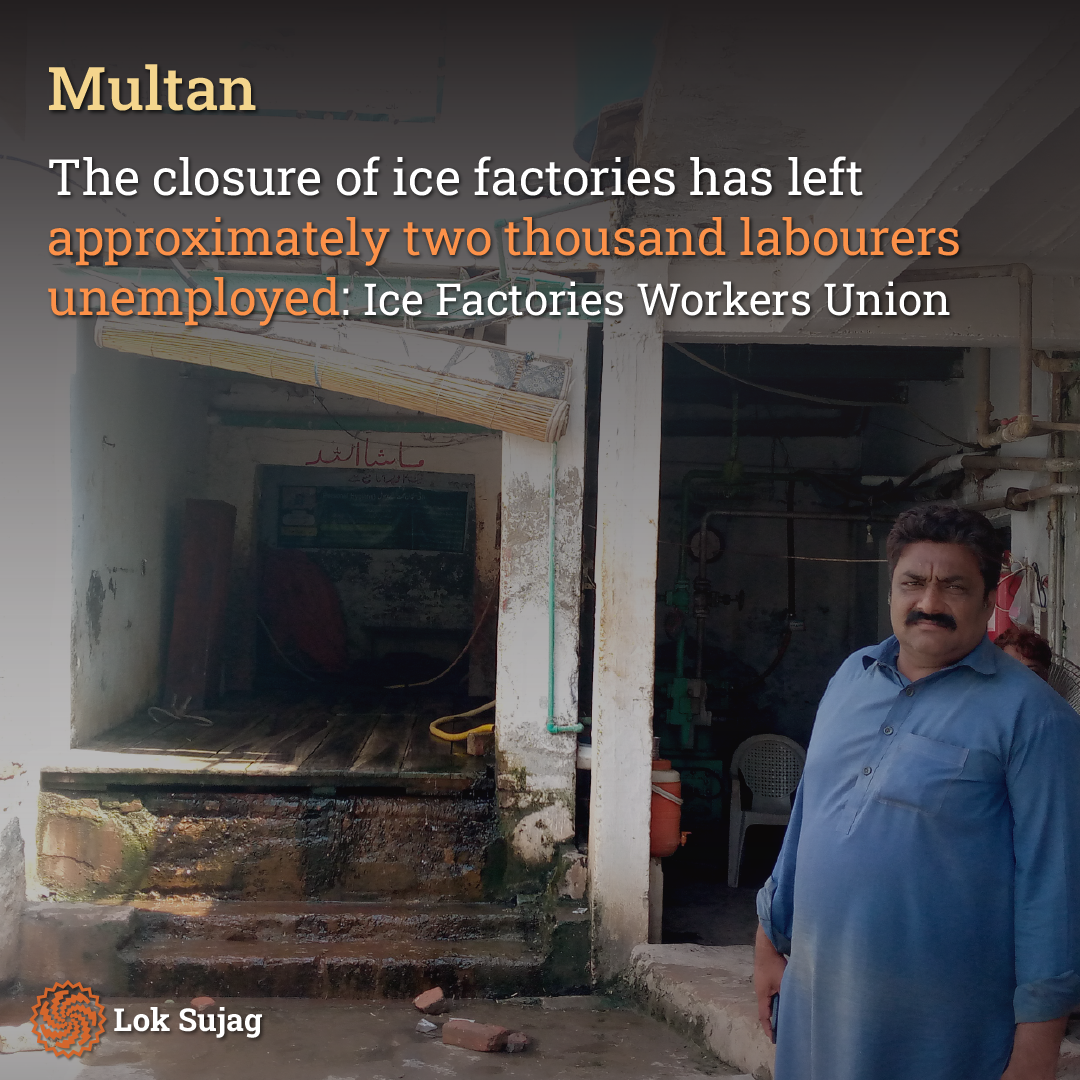 Shahzad explains that the wages he received from the factory were used to fulfil the necessities of life. However, the factory owners have now reduced the number of workers, resulting in the loss of employment for many labourers, including him.
"The factory used to run 24 hours a day before. Due to the high cost of electricity, the owners have now decided to operate the factory in a single shift. People who cannot afford a fridge use the ice from the ice factories. However, with the factories closing down, even getting ice has become difficult for the poor."
He mentions that he is responsible for eight family members. After becoming unemployed, he continues to search for work throughout the city. Sometimes, he finds labour, but other times, he returns home empty-handed.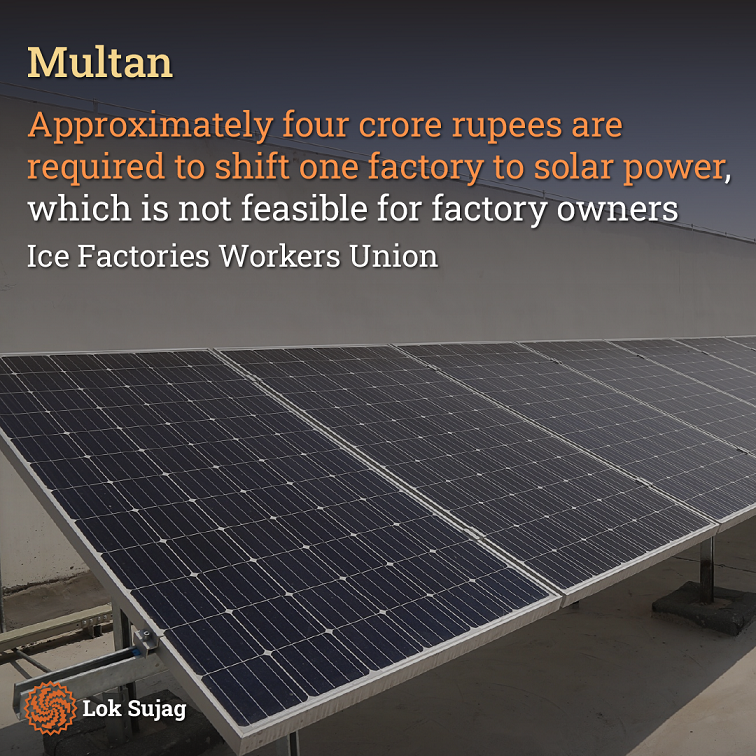 Mian Muhammad Saqib has been working at the ice factory located on NLC by-pass for the past 30 years. He is the General Secretary of the Ice Factories Workers Union. He says that according to the factory owners, the electricity bill, which used to be 30 to 35 lakh rupees earlier, now exceeds 50 lakh rupees. "Two months after the ice is sold, lakhs of rupees are added to the bills as fuel adjustment on the electricity used, which is unfair.
Also Read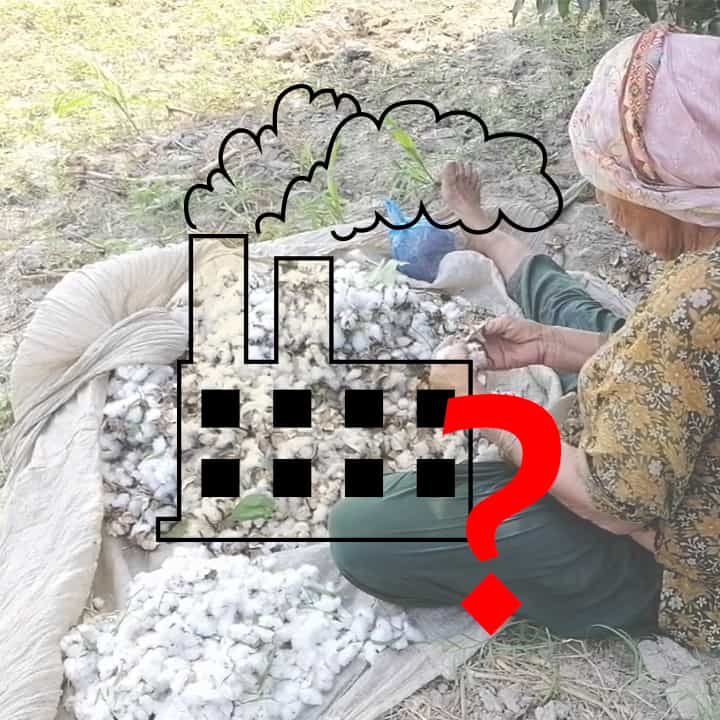 Looming crisis: 'Decrease in local cotton production has destroyed the power loom sector'
"The owners are forced to sell their assets to pay their electricity bills. The government may not provide subsidies like it does for flour mills, but it should stabilise electricity prices."
He says it would cost around four crore rupees to shift one factory to solar power, which is not feasible for the factory owners.
Union President Shahid Aziz says that many factory owners run away, leaving MAPCO dues of lakhs of rupees, which also creates problems for other factory owners. He explains that many factories owe up to fifty lakh rupees in electricity bills. When factory owners cannot pay their bills, their factories are shut down. If this situation continues, the industry in the city may end, affecting the labour class the most.