Whether the heavy rainfall pouring down from Koh-e-Sulaiman in the west or the turbulent waters of the River Indus in the east, both situations threaten to flood the Rajanpur tehsil of Rojhan. In recent days, this exact scenario unfolded when floods from both sides wreaked havoc in this tehsil.
On July 27, the severe rainfall in Koh-e-Sulaiman resulted in the Rojhan tehsil being inundated, affecting numerous settlements. Particularly, areas like Muzzu Kun, Wah Bamblee, and Wah Chak were severely affected. In Muzzu Kun, the underwater roads practically halted the movement of residents, and many had to relocate to Rajanpur City and other safer locations on their own to save lives.
This flood claimed the lives of 12-year-old Shumaila Bibi, 14-year-old Nasreen, and 24-year-old Bilawal Abbas. Shamim Bibi's father, Allah Ditta, recounted how the flood arrived suddenly.
When he attempted to leave with his wife and daughter, the rising water pressure caused his daughter's hand to slip from his grip, leading to her being swept away.
After days of searching, her body was finally found.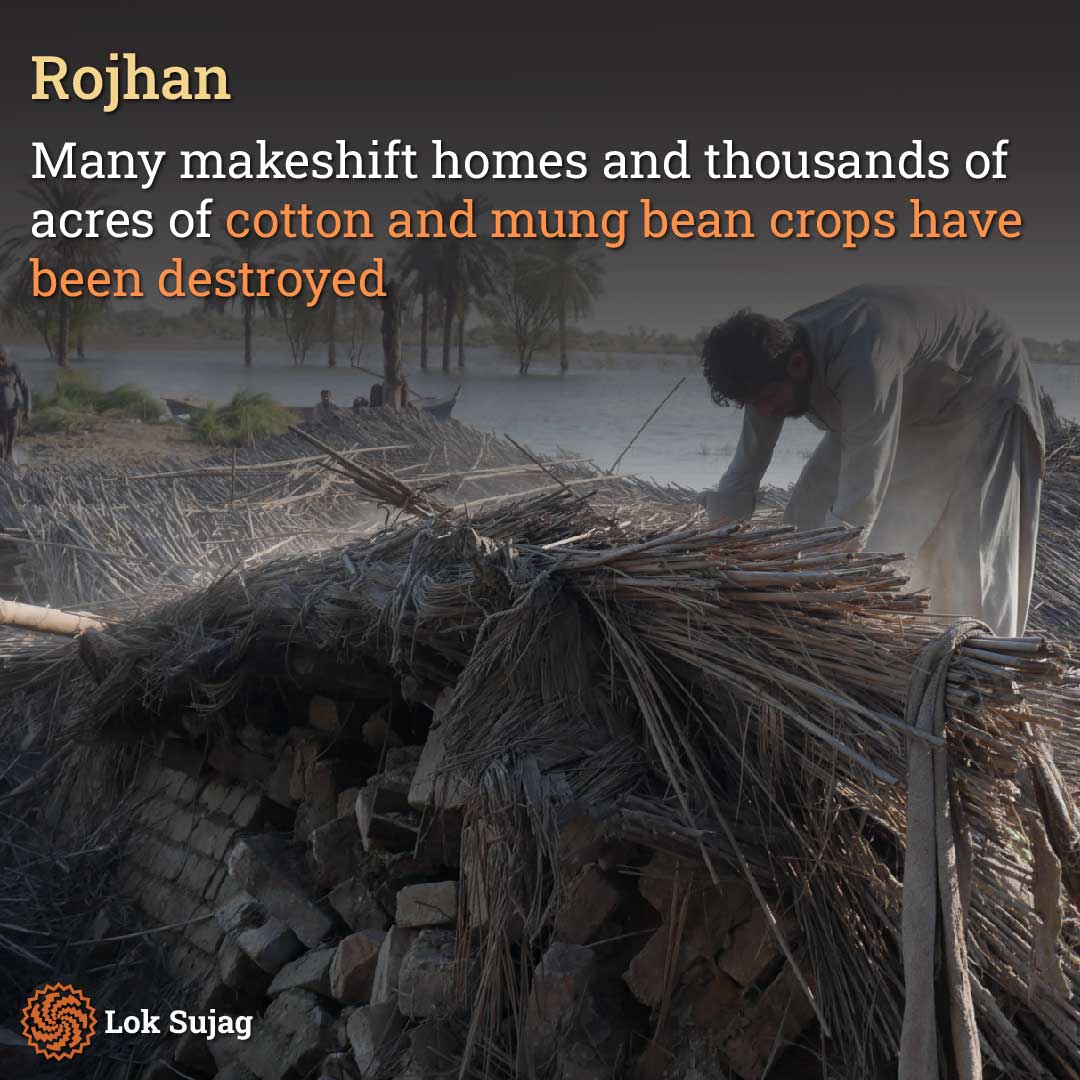 The family of 24-year-old Bilawal Abbas stated that Bilal was trying to rescue his 14-year-old niece Nasreen, but the fast floodwaters swept them both away. Their dead bodies were found in nearby villages.
On August 7, the waters of the River Indus breached the banks in Hero Band, and over time, the breach widened, reaching up to several hundred feet. Subsequently, the nearby settlements were flooded.
With the dam breach, residents of Muzzu Hero, Azam Garh, and Muzzu Barkhurdar lost their homes and livestock. Their crops were ruined.
Affected residents of Gopang, a village hit hard by the flood, recounted how the dam near their homes burst due to the rapid flow of water in the river, submerging their houses and fields. Talib Ahmad from the Hero area stated that the flood swept away their home, and their cotton crop was submerged underwater.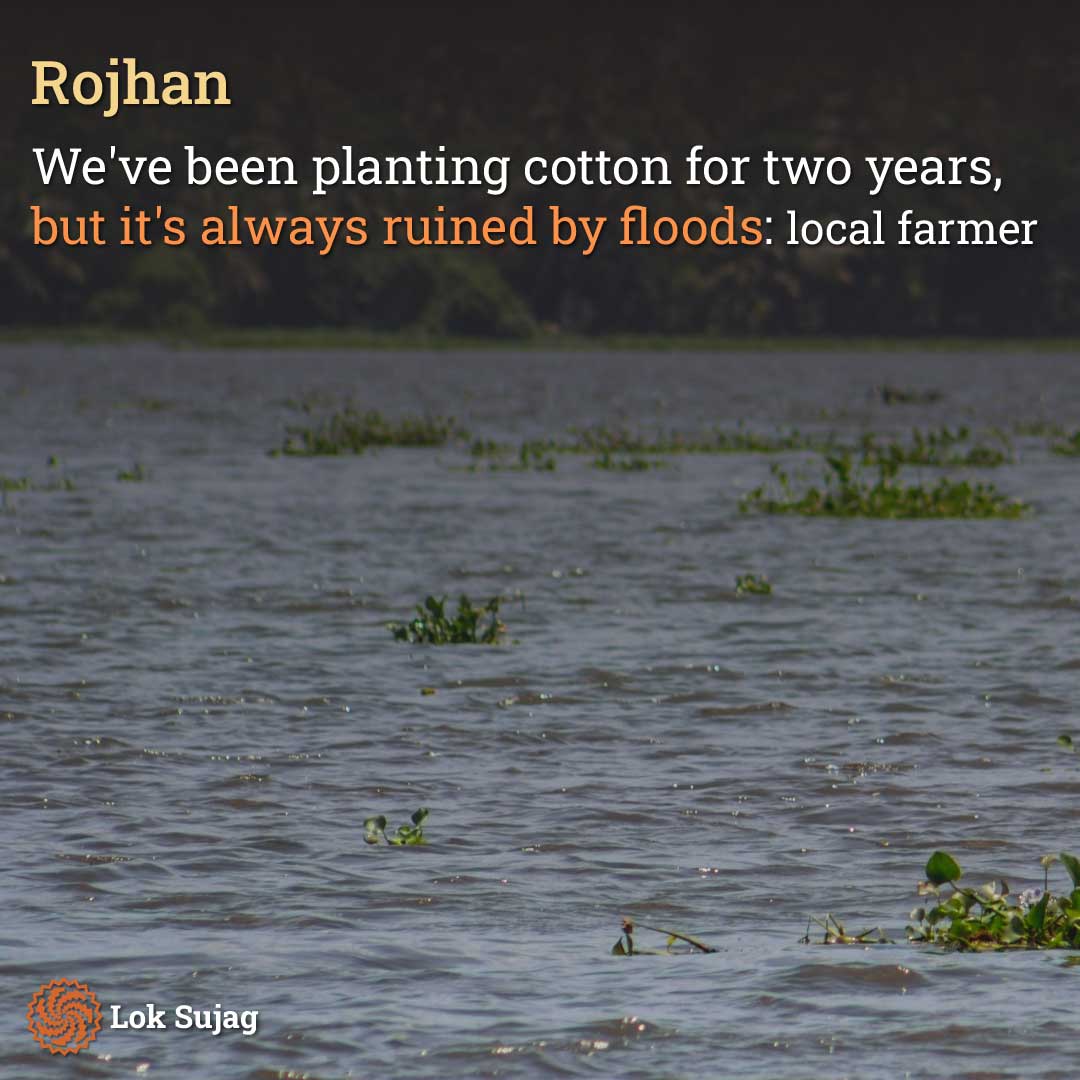 Due to more than usual water in the river Indus, Mandri, Chak Oriya, Dera Dildar and Dera Jeevan areas of Tehsil Rojhan were also flooded. The people of these areas also had to move to safe places with their help. Many temporary houses collapsed here, destroying thousands of acres of cotton and groundnut crops.
Pir Bakhsh, a resident of Mauza Dera Dildar, said that he has been growing cotton crops for two years, but it gets exposed to floods.
Rajanpur Deputy Commissioner Dr Mansoor Ahmed Baloch and District Police Officer Captain (Rtd) Dost Muhammad reviewed the flood situation. Rescue personnel were deployed in the area. Rescue vehicles and first aid equipment were also delivered. Police and Civil Defense personnel were also assigned responsibility, and a flood relief camp was established at Boys Higher Secondary School Kotla Mughlan Jampur for the flood victims.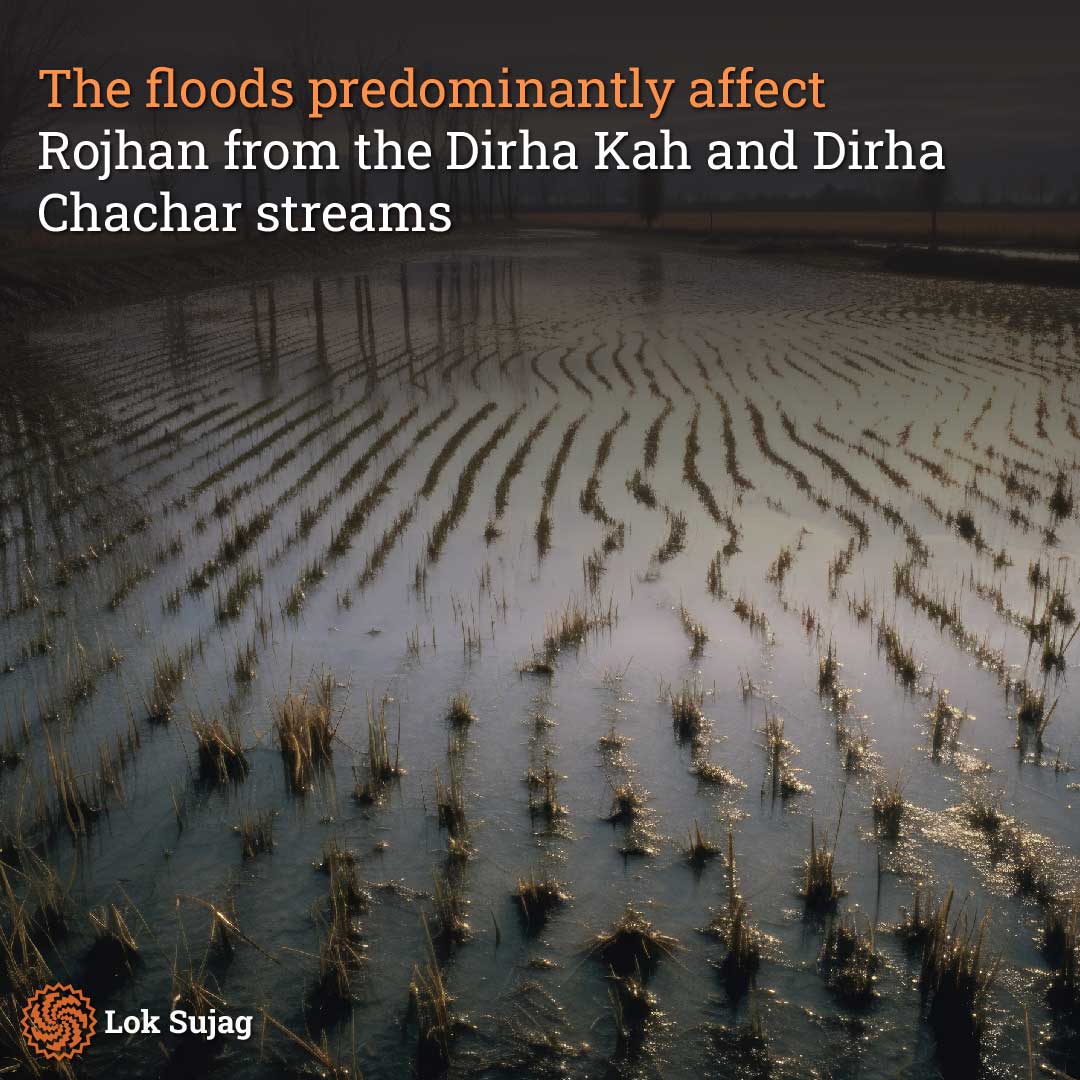 In 2010, the tehsil was affected by high-level flooding from both the River Indus and the Rokhio streams, impacting 71per cent of the area. In 2022, once again, flooding caused devastation similar to that of 2010.
According to the report of the PDMA (Provincial Disaster Management Authority), Rajanpur is predominantly affected by floods coming from the Dirha Kah and Dirha Chachar streams. Water from Koh-e-Sulaiman in the west and the Rokhio streams travels several kilometres before reaching the River Indus in Sindh. In times of excessive water, it spreads into the surrounding field areas.
The flood water passing through Dara Kah enters Tubi London and then Rojhan, while the water from Dara Chhachhar passes through Bandhuwali Tower Chowk towards Rojhan.
Also Read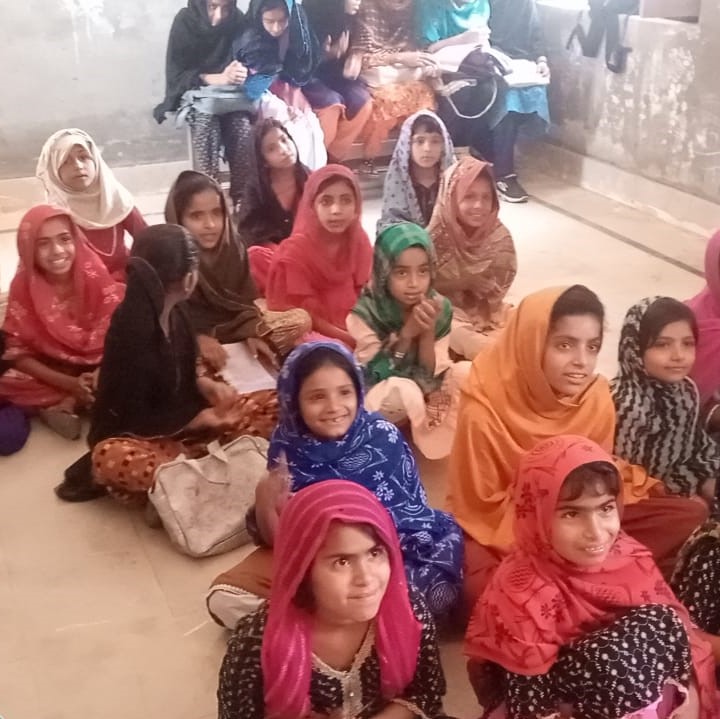 Devastating floods impact education in Khairpur Nathan Shah Tehsil: Urgent measures needed for school rehabilitation
To protect Rojhan city from the floods of the Rokhio stream, there is a long embankment spanning approximately twelve kilometres, but it has not always successfully prevented flooding.
Incharge of Civil Defense, Fiaz Ahmad, mentioned that boats were used to relocate those affected by the Rokhio stream floods to safe locations. Medical camps were established, including vaccination against snakebites.
Social worker Khizr Khan Mazari believes that the repeated floods, especially those from the Rokhio stream, are a major reason for Rojhan's suffering. He explained that the floods have once again wreaked havoc on the people's hard work.
He emphasised that until a permanent solution is found to protect Rojhan from floods, the area will not eliminate poverty and subdevelopment.