Mazhar Sulemankhel was on his way to a doctor in a nearby town to get his wife examined when he got the news that his shops had caught fire. Although he turned back immediately, he was unable to do anything. The entire market of used clothes (landa), which his shops were part of, was burnt to the ground right in front of his eyes.
This incident took place on February 11th, 2022 along GT Road in Lala Musa, a town in central Punjab's Gujrat district. The torched market consisted of 250 shops where Pakhtun traders ran their business. Most of them belong to Bajaur tribal district of Khyber Pakhtunkhwa which they were forced to flee in 2008 when a military operation was launched there against religious militants.
One of them is 40-year-old Lal Zaman. When he first came to Lala Musa eight years ago in search of work, he says, he did not have enough money to run a proper business. So, he began selling used clothes on a pushcart. Gradually, he built up his business, rented three shops over time and moved his business there. He says his business was not doing great but was good enough to cover his "house rent, expenses on his children's education and other household expenditure".
At around two o'clock on the fateful night of February 11th, Zaman got a call from the market's watchman that "it was on fire", he says. According to him, the same watchman had also reported the fire to the government emergency service, Rescue 1122, and the police. "But the rescue team arrived very late and when it did, it found out that there was no water in its tankers." Consequently, he says, the market burnt to ashes as the hapless shopkeepers watched in silence.
Two days later, the remains of the burnt shops are still scattered on GT Road. The local administration has repeatedly asked the shopkeepers to remove them from the road but they have refused to do so. "We want to show the world the injustice we are facing so that the government compensates us for the damage at the earliest", says Zaman.
A trial by fire
A fire broke out in the landa bazaar of Dinga, a town about 30 kilometres to the west of Lala Musa, on January 3rd, 2022 at 2 am. By the time it could be put out, all 29 shops in the bazaar had been reduced to ashes. Video recording from a closed circuit camera installed in a nearby building shows the fire erupting right after a man, with his face hidden, runs out of the bazaar.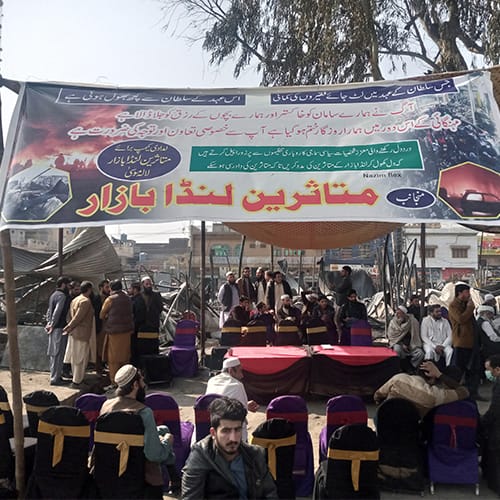 Protest camp set up by pakhtun traders
Most of the damaged shops in Dinga belonged to Pakhtuns hailing from the tribal districts of Bajaur, North Waziristan and South Waziristan. One of them, 32-year-old Aziz Khan, was born in Charmang area of ​​Bajaur and has been living in Dinga with his family for the last six years. He used to sell blankets and other such items in landa bazaar and, he says, his wares were "worth more than 2.8 million rupees". After losing his business, he is unable to cover even his household expenses. All the shopkeepers of landa bazaar are experiencing similar difficulties, he adds.
They also complain the government has neither investigated the cause of the fire nor has it offered them any compensation. Gujarat's district police officer and some non-governmental organisations did provide them with some financial assistance out of humanitarian considerations. This assistance, however, was enough only for them to "rebuild their shops" but they "still do not have money to rebuild their businesses".
Irfan Wazir, 22, who sold old clothes in winter from a stall in landa bazaar in Dinga has even more complaints. The young trader from South Waziristan believes the bazaar was "deliberately set on fire". He alleges that "the local shopkeepers who wanted to ruin our business are behind this act."
Shehzad, a 43-year-old Pakhtun shopkeeper in Lala Musa, is also of the same opinion. He says the fire at the landa market in his town was "the result of a conspiracy aimed at either ending the Pakhtun-dominated landa business in Lala Musa or to create hatred between Pakhtuns and Punjabis". In support of his claim, he raises a question: "Why did the fire only burn shops that belonged to Pakhtuns while all other shops surrounding them remained safe?"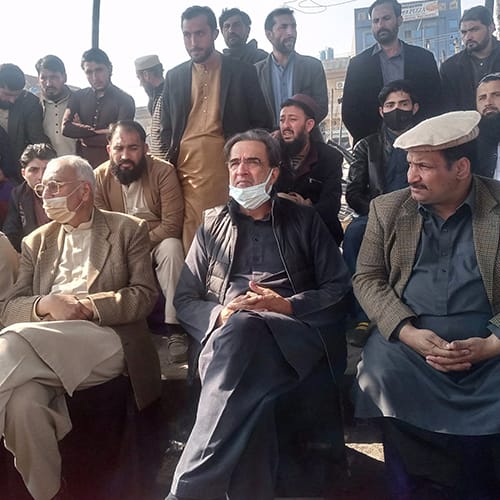 Qamar Zaman Kaira joined the protest to sympathize with the Pakhtun traders
While talking about similar fire incidents in several parts of central Punjab during the last few months, Sulemankhel also says: "While I do not claim that such incidents are deliberately planned to target Pakhtuns, the circumstances do suggest the same." Elaborating his point, he says that "Pakhtuns living in Punjab have been discriminated against at the social and administrative level for the last 10 years.
His family hails from Zhob district in northwestern Balochistan but, according to him, he was born in Punjab around 46 years ago. For the last 35 years, his family has been living in Lala Musa, he says. Despite this, he points out, sometimes intelligence officials harass him under the pretext of checking his identity documents; sometimes the policemen call him to the local police station to extort money from him and "sometimes we are called Afghans and harassed".
A few years ago, his 95-year-old father's identity card was blocked under the suspicion that he was an Afghan. In order to get it unblocked, Sulemankhel had to provide "multiple proofs" of his father's Pakistani identity to the relevant government department.
Government promises, victims dismiss
Qamar Zaman Kaira, a senior leader of Pakistan Peoples Party (PPP) from Lala Musa, joined a protest by Pakhtun traders on February 13th, 2022 to show sympathy with them over the loss caused by the fire at the local landa market. Expressing his regret over the incident, he said that it can have an impact on the local law and order situation as well because, according to him, many Pakhtuns have been living in his town for a long time.
Also read this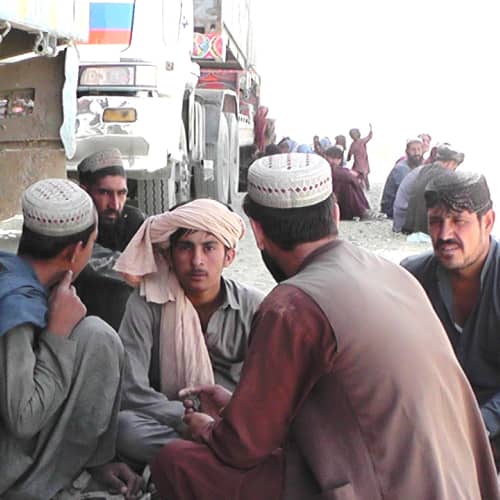 Chaman border closure: hundreds of Afghans and goods worth multi-million rupees stranded on both sides
He said he had spoken to the deputy commissioner and other concerned government agencies in this regard. He also demanded that "a comprehensive and immediate investigation should be carried out to bring to light the causes of the fire and to estimate the damage suffered by the shopkeepers so that they could be compensated".
The officer-in-charge of Lala Musa's Saddar police station says something similar. According to him, senior Punjab government officials have given him "special instructions" to find out the cause of the fire as soon as possible "so that the victims could be compensated". He says he is investigating from "different angles" to ensure that the directive is implemented. For example, according to him, he has sent the "soil samples from the site of the fire" to Lahore-based Punjab Forensic Sciences Agency, equipped with state-of-the-art scientific equipment. It will, he says, "analyse how the fire started". He hopes to reach a logical conclusion through these investigations.
Dr Khurram Shehzad, Deputy Commissioner of Gujarat, also says he has formed a six-member committee of government officials headed by Assistant Commissioner of Kharian, Khalid Mahmood, to "investigate the fire incident" at Lala Musa's landa market. The committee would "determine the shopkeepers' losses and make recommendations to the Punjab government for their compensation".
Sulemankhel, however, is not satisfied with these official assurances. He believes the government will neither be able to determine the cause of the fire nor compensate the affected shopkeepers. Referring to another fire that had erupted at the same landa market four years ago, he says it also had caused extensive financial loss to local Pakhtun traders but "no investigation was done at the government level to ascertain its cause and no compensation was paid to the affected shopkeepers."