Twenty-seven-year-old Sita Kumari (pseudonym) is a resident of the Sadar area of the Attock district. She and Joseph liked each other and wanted to marry each other. But the family did not agree.
"Joseph is a Christian and lives in Sadar. We had different religions, so the family tried everything possible to prevent this marriage. Finally, they agreed after two years. We have been married for five years now," she explains.
She says that her husband or in-laws never pressured her after marriage. However, she has voluntarily left Hinduism and adopted Christianity. She now attends church regularly. She goes to her parent's and relative's houses, and her relatives also visit her house; there was never any problem.
According to Sita Kumari, her marriage to a Christian boy was not an unknown thing. Boys and girls of the Hindu and Christian communities in this area have been married.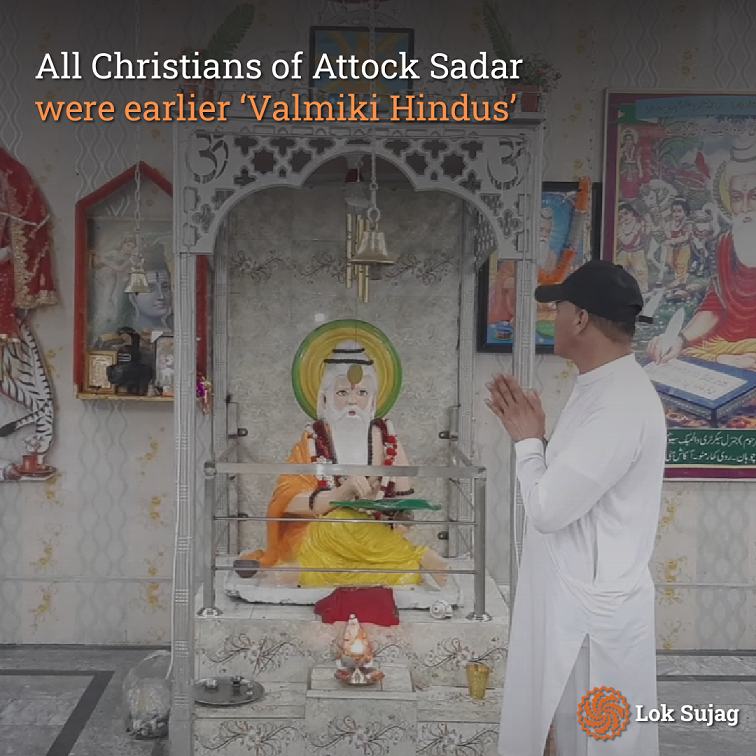 Rajesh Lal (pseudonym) also resides in Attock Cantt and belongs to the Hindu community. His daughter got married to a Muslim boy a few years ago. He says that his daughter used to study in college. There, she met a Muslim boy and both started liking each other. He said that after some time, the boy came to my house with a proposal. Hindu girls have been married to Christian boys before, but I was surprised to hear about marriage to a Muslim. We did not want it, but the children were persistent, so we married our daughter to a Muslim boy."
The Muslim boy Rajesh's daughter had married died a year later, and his daughter returned to their home. At the same time, the daughter also gave birth to a child.
He says that after some time, he decided to remarry his daughter. So, because the daughter had become a Muslim, she wanted to marry a Muslim again.
"Some acquaintances helped me in this regard and a Muslim boy embraced my daughter and her child."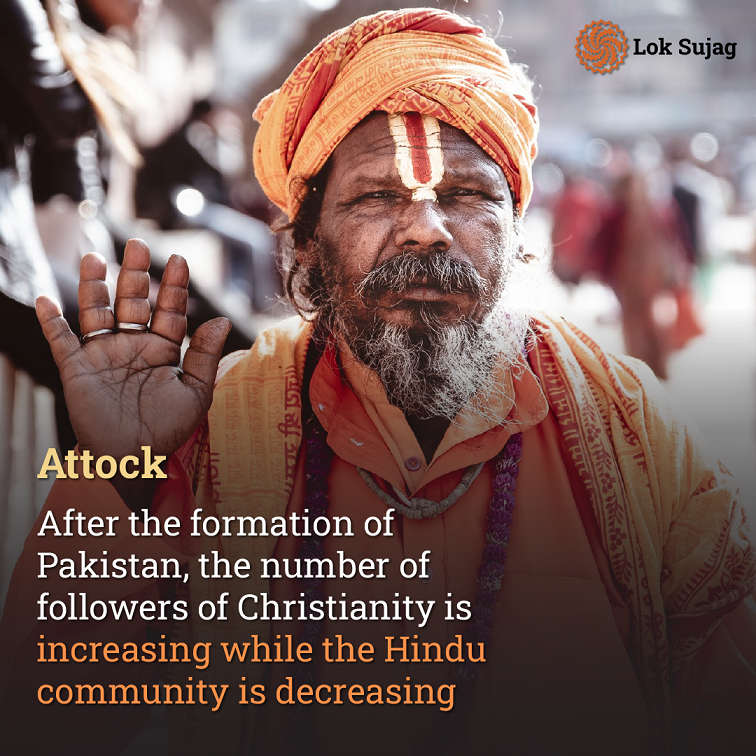 Rajesh Lal claims that all the Christians of Attock Sadar were originally 'Valmiki Hindus'. And it's not a very old thing. Therefore, they are connected. They participate in each other's sorrows, joys, and festivals; the cemetery is also shared.
The 'Hindu Valmiki' community was founded by Maharishi Swami Guru Valmiki, who compiled the Ramayana in the 3rd century BCE. These people read the Vedas and recite the Ramayana. Unlike other Hindus, these people bury their dead.
Social activist Ashok Kumar says that all the marriages of Hindu and Christian boys and girls were love marriages.
However, some local Hindus object that if a Hindu girl marries a Christian boy, she converts. But if a Christian girl marries a Hindu boy, she does not leave her religion. Still, some Hindu boys adopt the wife's religion.
Sixty-nine-year-old Parvez Lal's daughter-in-law is a Christian. She says, "A few years ago, my son Asif married a Christian girl. Now both are living a happy life. We have never stopped the daughter-in-law from attending church or asking her to go to the temple."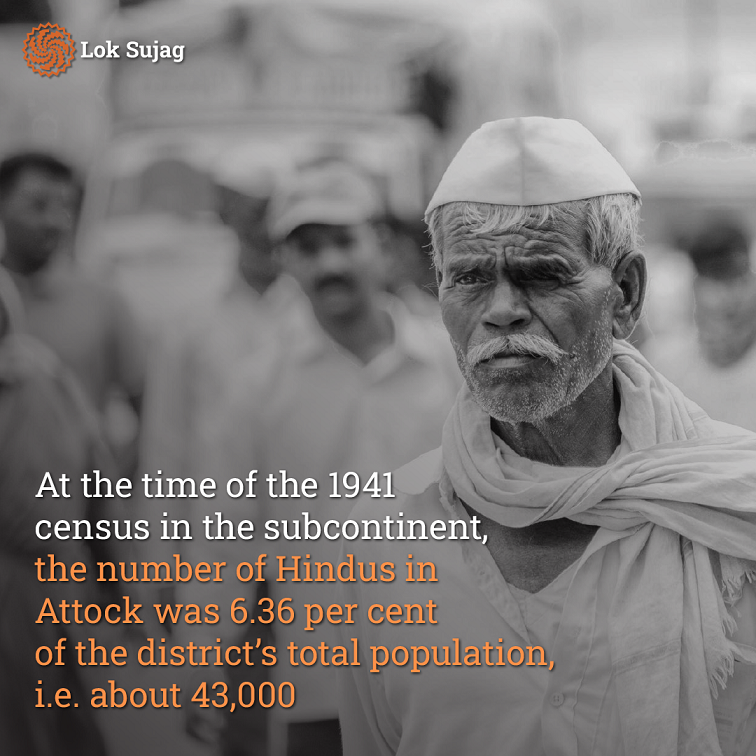 At the time of the 1941 census in the subcontinent, the number of Hindus in Attock was 6.36 per cent of the district's total population, i.e. about 43,000. At that time, there were only 504 people who believed in Christianity in this city.
Most of the population of Christian and Hindu communities in the Attock district resides in the Sadar area of the city. After the formation of Pakistan, the number of followers of Christianity is increasing while the Hindu community is decreasing. At the time of the 1998 census, 135 Hindus and 'Scheduled Castes' lived in Attock. In comparison, the Christian population was 3,885. In the 2017 census, the population of Hindus here is 230, while the number of Christians has reached 4,975.
Pandit Sarvan Kumar of the only temple in Attock says that thousands of Hindus lived here before the partition of India. Then, some went to India, and the rest adopted the Christian religion. Now, there are 38 families of about two hundred people left.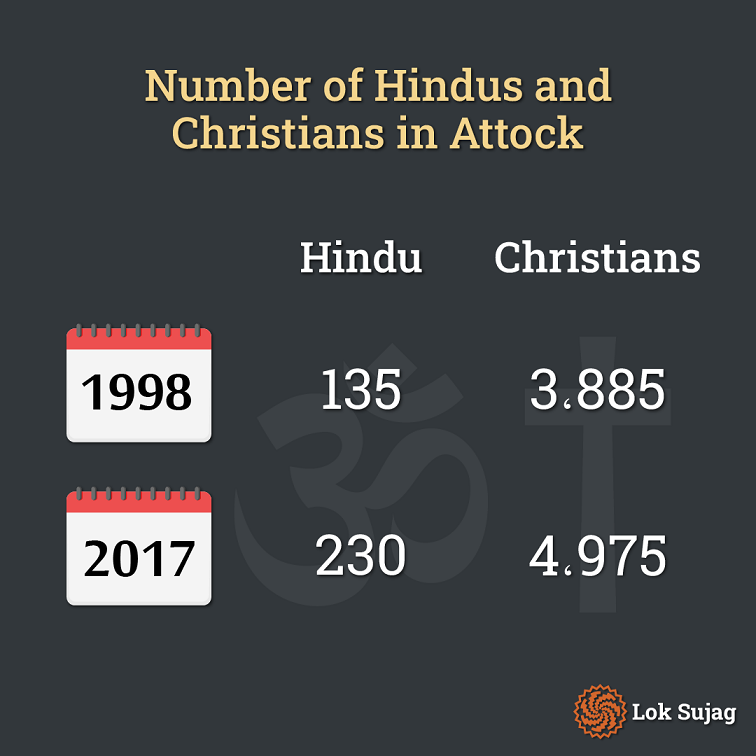 He says that the conversion of religion started during the time of the British. Here, Hindus were more in number but mostly poor and illiterate. Many Hindus converted when the British started giving concessions and free food to their fellow Christians.
Javed Johnson Peter, pastor of the United Presbyterian (UP) Church, agrees that most Christians in Attock have converted to Christianity from Hinduism and are still converting. However, the poor Hindus were also impressed by the good manners of the British and the ration concessions.
Arif Khokhar belongs to the Hindu community. He says that after the Babri Masjid tragedy in 1992, the Shri Balmak Temple in Attock Sadar was demolished in front of him. After this incident, some Hindus left here due to fear or changed their religion.
These people believed, "If they become Muslims or Christians, their lives will be saved."
They believe the Hindu community faces more discrimination and negative attitudes than other religions. They are also neglected in government jobs and benefits. Therefore, he fears that there may not be a single Hindu left in Attock in the future.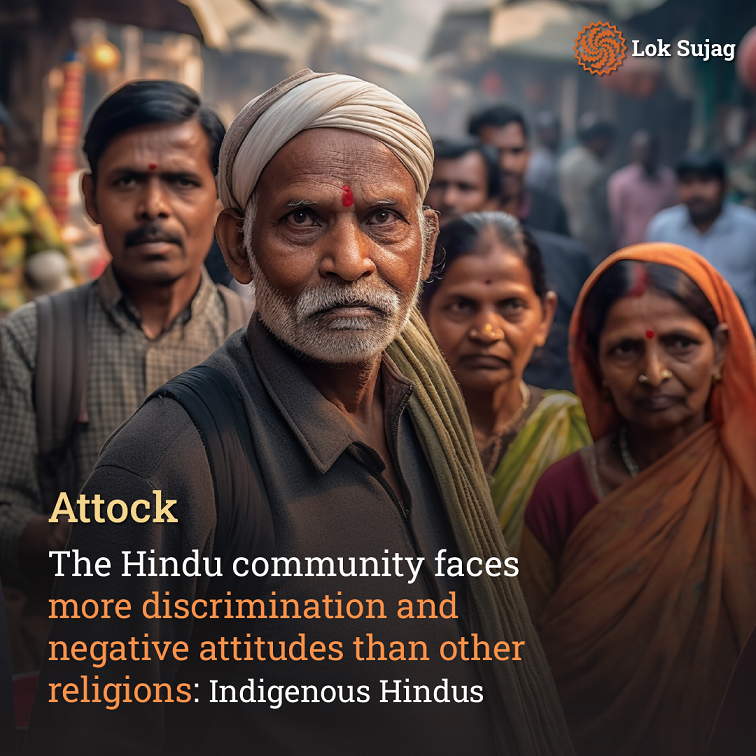 Vijay Kumar has been a sweeper in the police department for 11 years. He says that the majority of Hindus here are impoverished. "Few educated people are here, among which Pandit Sarvan Kumar works in a Pharmaceutical Company, and Rakesh Kumar works in ASF."
He says that few people work the level IV and sweeper jobs in government institutions. Some skilled Hindus work as mechanics for refrigerators and AC, painters and tailors, but their business is also slow. Most people here do not do business with them due to their religion.
Also Read
Between a rock and a hard place: Sindh's Hindu sculptors struggle against religious threats and dwindling demand
He narrates an incident that happened to Amar Das, a government employee. "Amar Das's duty was to distribute langar for a few days. When the people of the department came to know that he was of Hindu religion, they refused to take food."
Roop Lal has also been working as a sweeper in a government organisation for 28 years. He says that on Christian festivals, Christian workers are given special packages of ration and cash by the government, of which he has to be deprived.
"My fellow Christians often tell me to become a Christian."
He says that his daughter has passed Inter with good marks. However, he cannot afford to enrol his daughter in a good college or university. The government should at least make arrangements to educate the children of low-income people.