Fifty-year-old Ghulam Rasool, operating from Shar, Sukkur, operates a donkey cart to supply water. Over the past two decades, he has been catering to the water needs of Islamic Colony, Gulshan Iqbal, Shar Chowk, and Agha Badruddin Colony. Ghulam Rasool procures clean water from remote locations daily and offers it for sale in these areas, priced between Rs 30-50 per gallon.
The people who buy water from Ghulam Rasool don't have access to drinking water in their homes. But this problem is not only limited to these places – most of the residents in the city are facing the same issue.
Muhammad Umar, a 55-year-old resident of Chuna Bhatta, shares that he has been residing in this area for four decades. Throughout this period, he has had to either bring clean water from far-off locations or purchase it from suppliers.
He expresses that the lack of water availability has caused many people to leave this area and migrate elsewhere.
The people in the area have repeatedly asked the authorities to provide them with clean water. They have even resorted to protests, but their pleas have gone unheard.
Sukkur City has a population of around five and a half lakhs. The city receives its water supply from the Indus River. In the past, water was provided to the city through tanks. However, as the population grew, these tanks were no longer enough to meet the demand. The Water Works tubewell system was installed in 2020 to address this issue.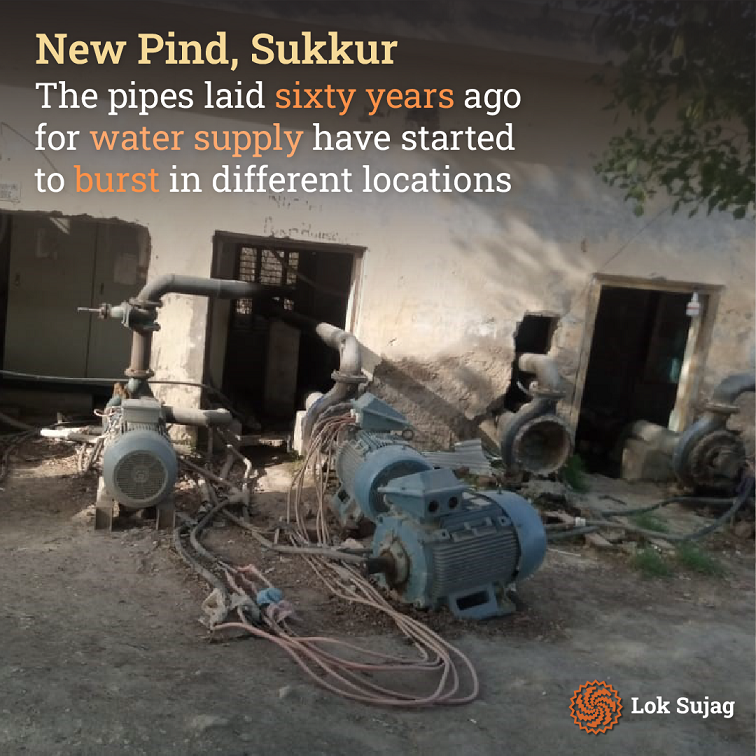 The water provided to the city is salty and contains high levels of arsenic. The Municipal Corporation and the Public Health Department have set up 30 filtration plants to purify this water. However, out of these 30 plants, 20 are currently not functioning.
As a result, people in the area experience health issues like kidney and skin diseases, hepatitis, and other illnesses.
In 2017, the Supreme Court established an inquiry commission led by Justice (retd) Ameer Hani Muslim to assess the water situation in the city. This commission discovered that water in 25 out of 30 locations was unsafe for consumption. Additionally, the water used in various hospitals within the city was found to be contaminated. Samples taken from three out of four hospitals indicated that the water was harmful to health.
Dr Adeeb Rizvi, a kidney disease specialist, confirms that there is a worrisome rise in kidney diseases among citizens due to water pollution. He emphasises that if clean water is accessible, these diseases can be reduced by up to 70 per cent.
Dr Abdul Saboor Soomro, in charge of the Kidney Disease Hospital, SIUT, in Sukkur, shares with LokSajag that over 131,000 patients received treatment at the hospital in the year 2021-22. He explains that the water provided in the city is not entirely clean and contains impurities and excessive salts. As a result, there has been a significant increase in cases of kidney stones and other diseases.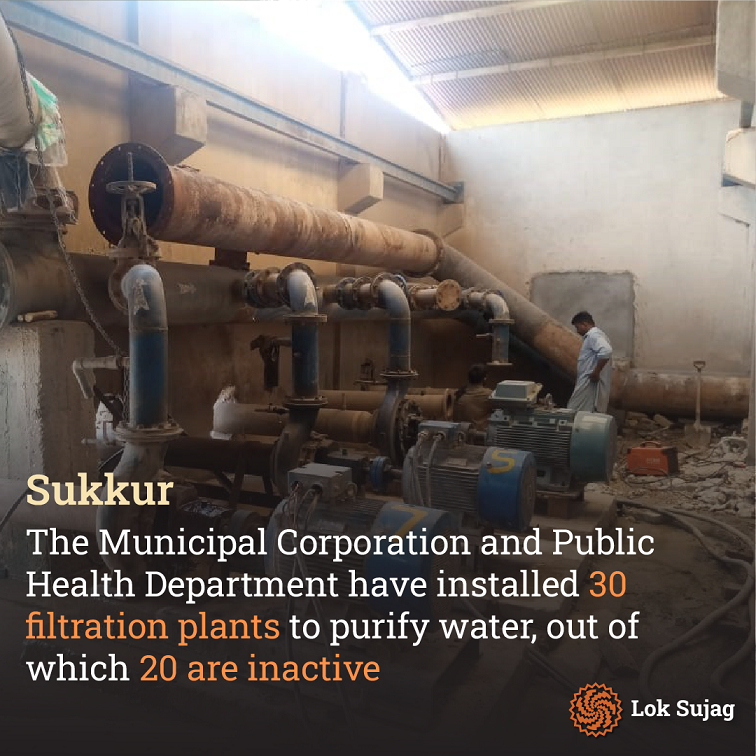 Agha Javed, incharge of the water supply in Sukkur Municipal Administration, says that the water from the Indus River is collected in ponds before being supplied to the city. This water is then treated with alum at a dedicated plant to ensure cleanliness. Currently, four such plants are functioning in the city, providing 17.5 million gallons of water. However, the city's current population requires 32 million gallons of water.
Ghulam Rasool and Syed Sajjad Shah run the water pump station on Bandar Road to provide water to the city. They say that the demand for water rises during the summer season. They use approximately 25 minutes of alum in the water treatment process to meet this increased demand.
"Currently, 400 sacks of alum are being used per month. However, despite this effort, the water cannot be properly purified due to the increased demand for it."
Sardar Elahi Bakhsh, Chairman of the social organisation Alert Citizen, reveals that the sewage water gathered from various parts of the city is initially discharged into the river. Then the same water is supplied to the citizens for drinking purposes. He further mentions that the city's largest water supply tank, constructed in 1941, is now 82 years old and has rarely been cleaned or repaired.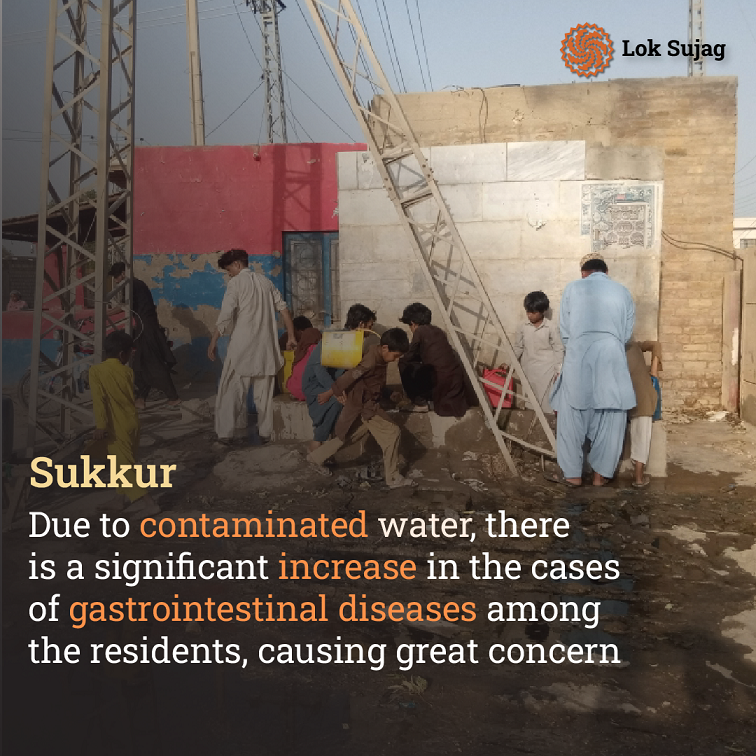 According to Ghulam Murtaza Ghangharu, former taluk nazim and chairman of Union Council Chona Bhatta, numerous unauthorised buffalo farms exist in Sukkur. The owners of these farms illegally tap water from the main water supply line, resulting in leaks and water wastage. Moreover, in several locations, sewage water gets mixed with the supply water.
He mentions that the city is grappling with a water shortage issue. The geological structure of Sukkur is a significant factor contributing to water scarcity. The city consists of both high and low areas, making it challenging to maintain a consistent and equal water supply rate and quantity across all locations.
The New Pind, which includes eight union councils, has a population of around two and a half lacs. However, the residents here face water scarcity all year round. The water supply pipes installed around sixty years ago have started to burst in certain areas.
Jamal Noonari, a socio-political activist in New Pund, says that MNA Nauman Islam Sheikh, former MPA Dr Nasrullah Baloch and former MPA Anwar Khan Maher had officially launched a large water supply tank near the New Pund ground. However, even after 12 years, the tank remains non-functional and inactive.
Also Read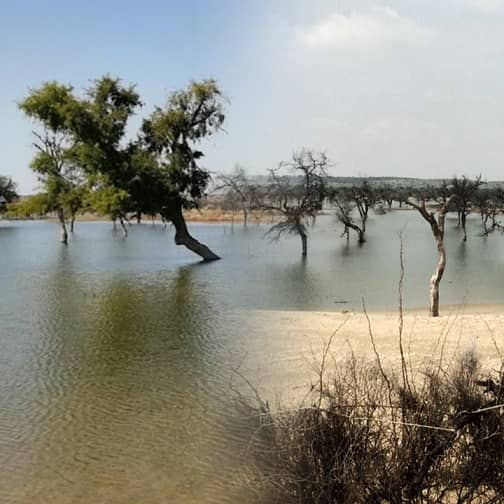 Storing wastewater from coalmining: 'Water gives life but it has become a threat to our survival.'
Addressing the water shortage and pollution concerns, Mir Barrister Arslan Islamuddin Sheikh from Sukkur City highlights that the root cause of these issues is a lack of funds. He mentions that funds were allocated to resolve water problems following the establishment of the new municipal setup. He assures that all the filter plants will be repaired and made functional again soon.
Abdul Aziz Soomro, who is in charge of the control room at the Sukkur Barrage, explains that the current water shortage results from ongoing maintenance and repairs being carried out on the barrage and its connecting canals. He says that during such periods, all the gates of the barrage are opened while the gates of the canals are closed, temporarily suspending the water supply.
Syed Sajjad Shah, the person in charge of water supply, informs Lok Sajag that the growing number of hospitals and residential flats in the city has increased water demand. To meet this demand, the Water Supply Department has two vehicles delivering water to five to ten areas daily.
According to Agha Javed, the issue of water shortage in the city will soon be resolved. As part of the phase-1 water supply project on Band Road, two powerful motor pumps with a capacity of 25 horsepower will be installed. These pumps will ensure continuous water supply, increasing the amount of water supplied to the city by 10 thousand 771 gallons.