Forty-nine-year-old Allah Rakhi and her family live in the village of 65/WB, which is about 13 kilometres (km) away from Gadha, Thatta District. Nine years ago, her young son had tragically lost his life in a bus accident, and nearly three years later, the family's sole breadwinner, her husband, fell seriously ill.
After her husband's illness, she had no option but to work as a labourer. Initially, she experienced a lot of pain and fever due to the fatigue from physical labour, but now she has become accustomed to it.
She works in cotton fields, and she mentioned that previously, cotton picking was done in favourable weather conditions. However, cotton picking has been taking place in July and August for the past few years. During this time, the work is challenging.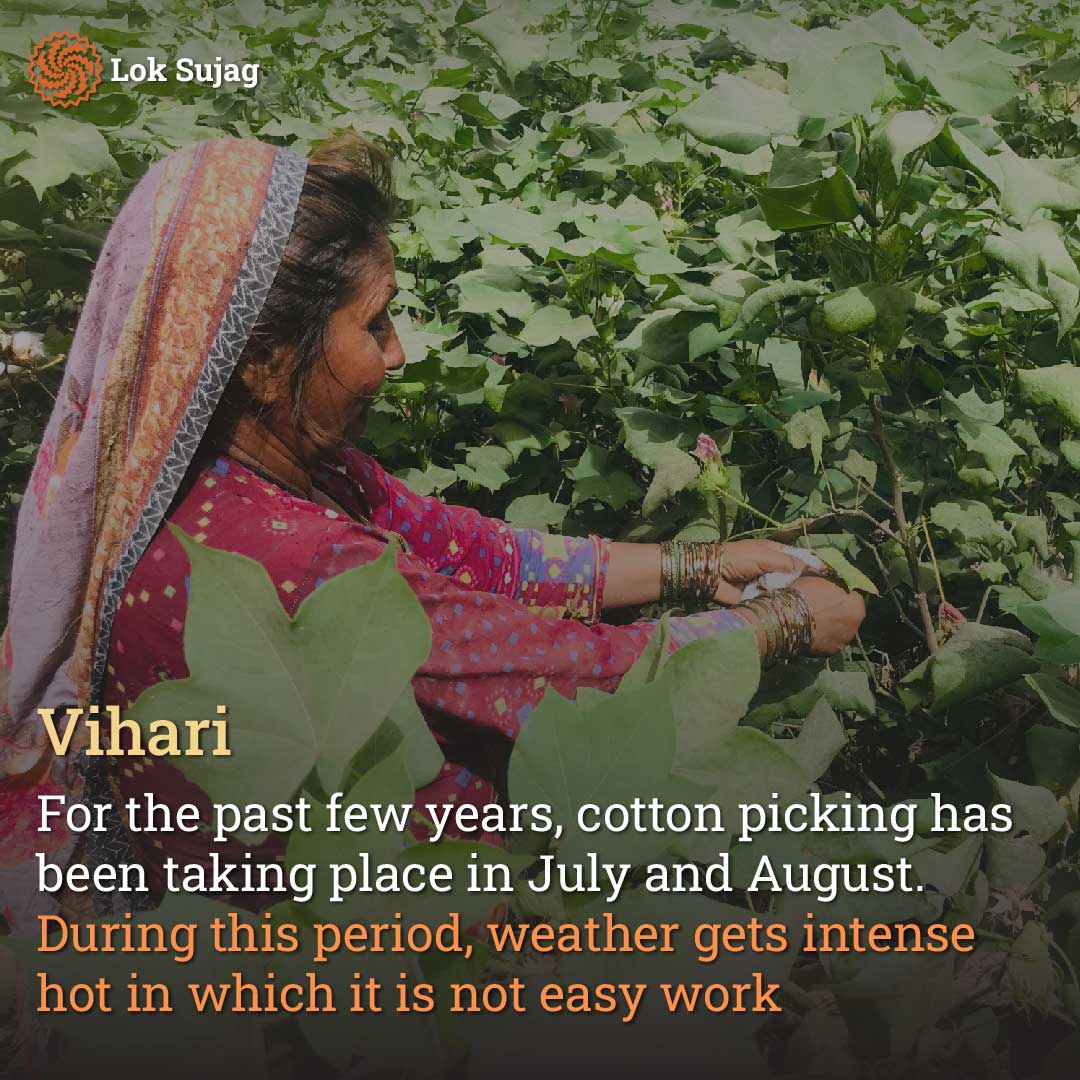 Traditionally, cotton is sown in May or June, and picking starts in October, continuing for two to three months. During these months, the weather is moderate or somewhat cool, so women work in the cotton fields all day. Due to climate change and untimely monsoon rains, cotton crop damage began around 2014. Consequently, cotton is now being sown in February and March.
According to the Agriculture Department of Vehari, there is no specific data on cotton picking, but an estimate suggests that cotton is being cultivated on 40,000 to 45,000 acres. In the current year, Vehari has 220,000 acres of cotton cultivation.
"These days, cotton picking lasts from 8 in the morning until 10 at night. During this time, a woman picks cotton weighing between 30 to 40 kilograms," Allah Rakhi says.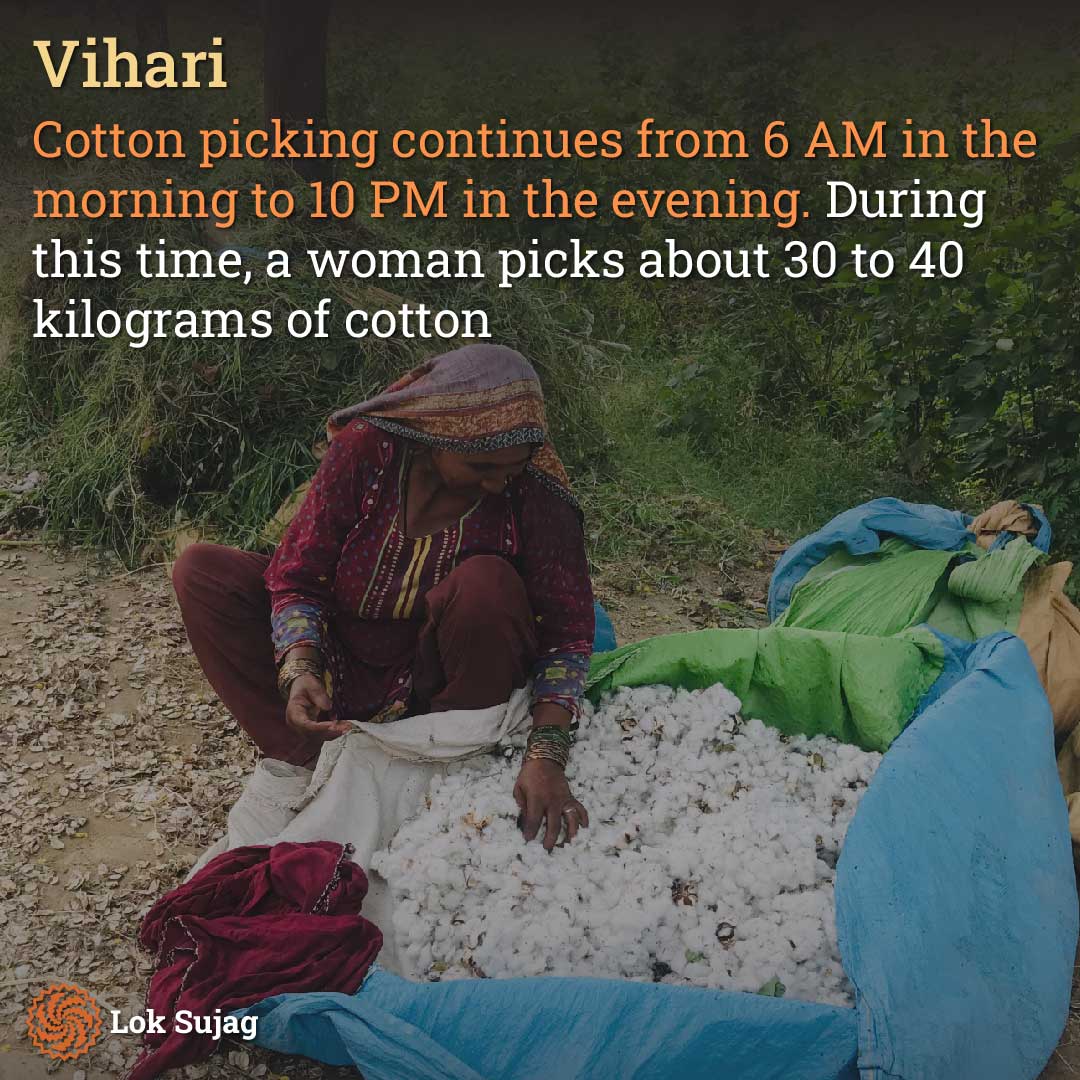 Cultivator Sabir, from the same village, mentions that it has become difficult to find chunias (the tool used for cotton picking). Some women complain about the rates, but mostly, the intensity of the weather conditions does not allow them to focus on the fields. However, the cost of cotton picking has increased to 12 rupees per maund and other inputs for farmers.
He further states that cotton picking usually takes place in July and August. Typically, 20 to 25 women are employed for picking. They are provided with cool water during their work. Two people are always stationed outside the field so that if any woman faints, immediate first aid can be administered, and they can be transported to the nearby health centre.
Shamshad Bibi, a 41-year-old cotton picker, recalls that until a few years ago, cotton picking was immediately rewarded with cash or goods. Perhaps due to farmers' financial difficulties, they may have to wait for several months.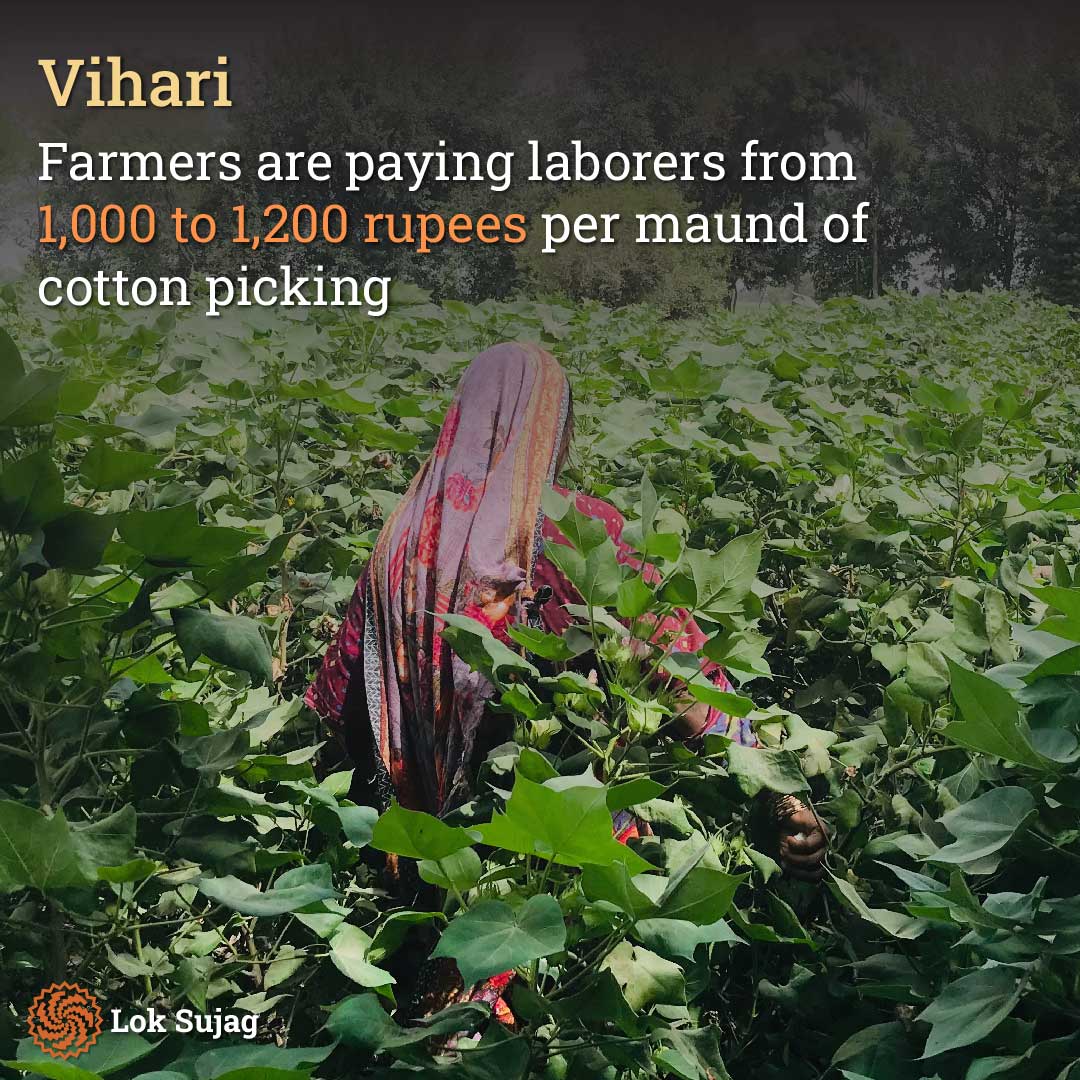 She says, "When we used to be paid for cotton picking, we would save for our daughters' dowries. But now, buying cotton feels like a dream. One kilogram yields around 400 grams of cotton, and we get the 12th part for picking."
At the beginning of the season, maize weeding and hoeing are paid 8,000 rupees per acre. However, as soon as the rice planting season begins, women switch to rice planting, which pays 10,000 to 11,000 rupees per acre. Ten women can complete weeding and hoeing for nearly an acre in half a day.
During this time, the rate for maize planting increases to 13,000 rupees per acre. Ten women working together can complete planting for approximately one acre in two and a half days.
Maize planting costs 25,000 to 3,000 rupees per acre, and five women work together to plant one acre from seven in the morning until four in the afternoon.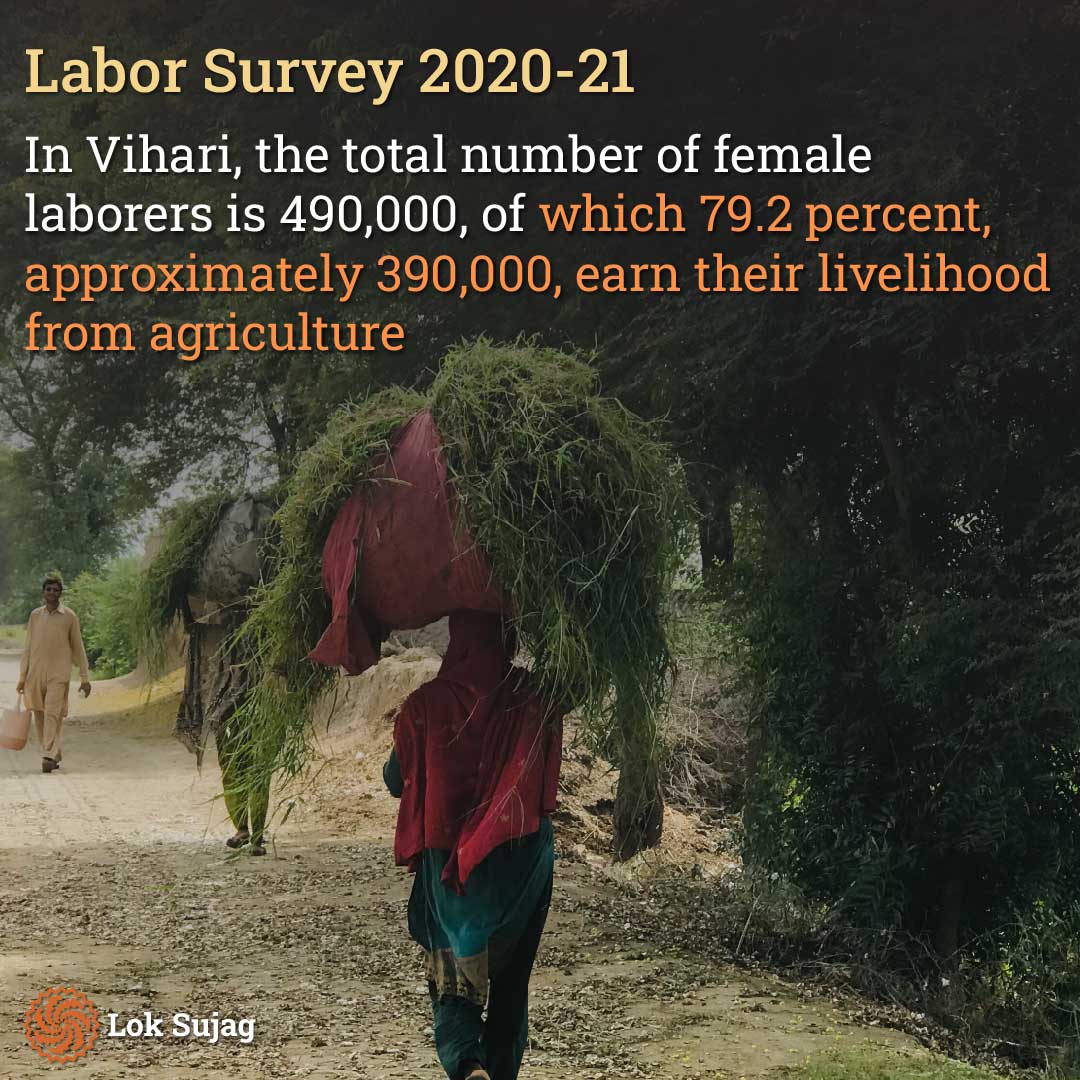 However, machines called planters are also used for this season's maize planting, and seeds are sown simultaneously. This reduces the demand for female labourers.
In maize fields, the cost of pesticides for controlling pests ranges from one thousand to twelve hundred rupees per acre. During a single season, pesticides are applied at intervals of approximately three weeks, starting three weeks after sowing.
Allah Rakhi explains that a few days ago, her health deteriorated while applying pesticides to the maize crop. She does not have the means to take complete precautions. At most, she wraps a cloth around her face, but this is not always feasible, especially during intense heat.
Women earn up to fifteen thousand rupees per acre for sugarcane hoeing. They work in teams for sugarcane and maize weeding and hoeing. Ten women work from seven to four in the afternoon, covering about four kanals of sugarcane hoeing. In some areas, the sugarcane cutting, hoeing, and loading rate is between twenty-five to thirty rupees per mound. Men also work alongside women in these tasks.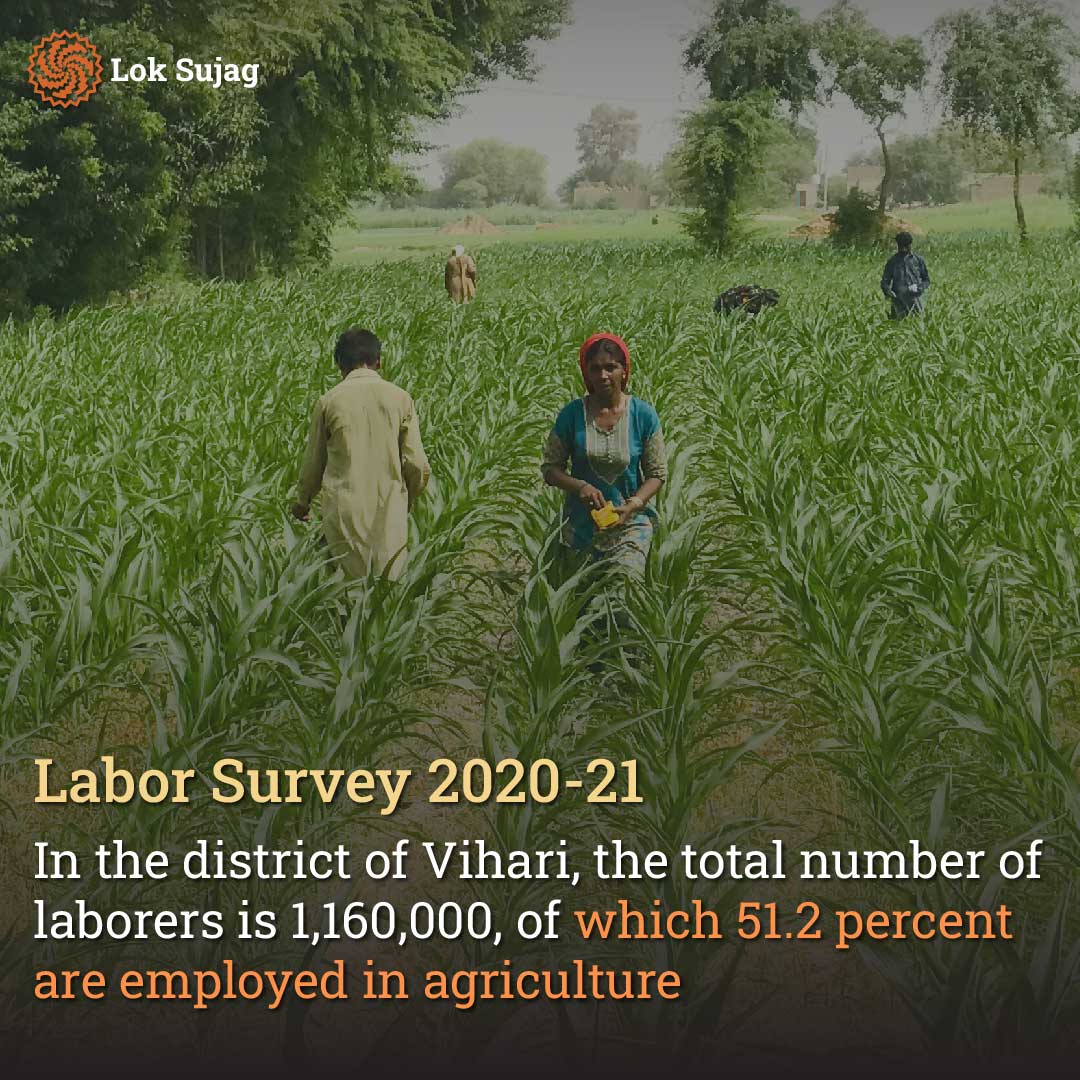 According to Sajjad Rafique, a farmer from Chak 59/WB, their total landholding is thirty acres. Until three years ago, they used to cultivate cotton on fourteen acres, but climate changes have significantly impacted their farming, causing a reduction in the cultivation of traditional crops, especially cotton and wheat. This season, they have only cultivated cotton on four acres.
Sajjad Rafique explains that cotton picking used to take place in months when there was a substantial workforce of female labourers. However, due to climate changes, it now begins in July.
He says that the harsh weather conditions have led women working in the fields to turn to cities for employment, where they work in households. Along with wages, they also receive old clothes, shoes, and other items. This is why it becomes challenging to find female labourers for cotton picking.
Also Read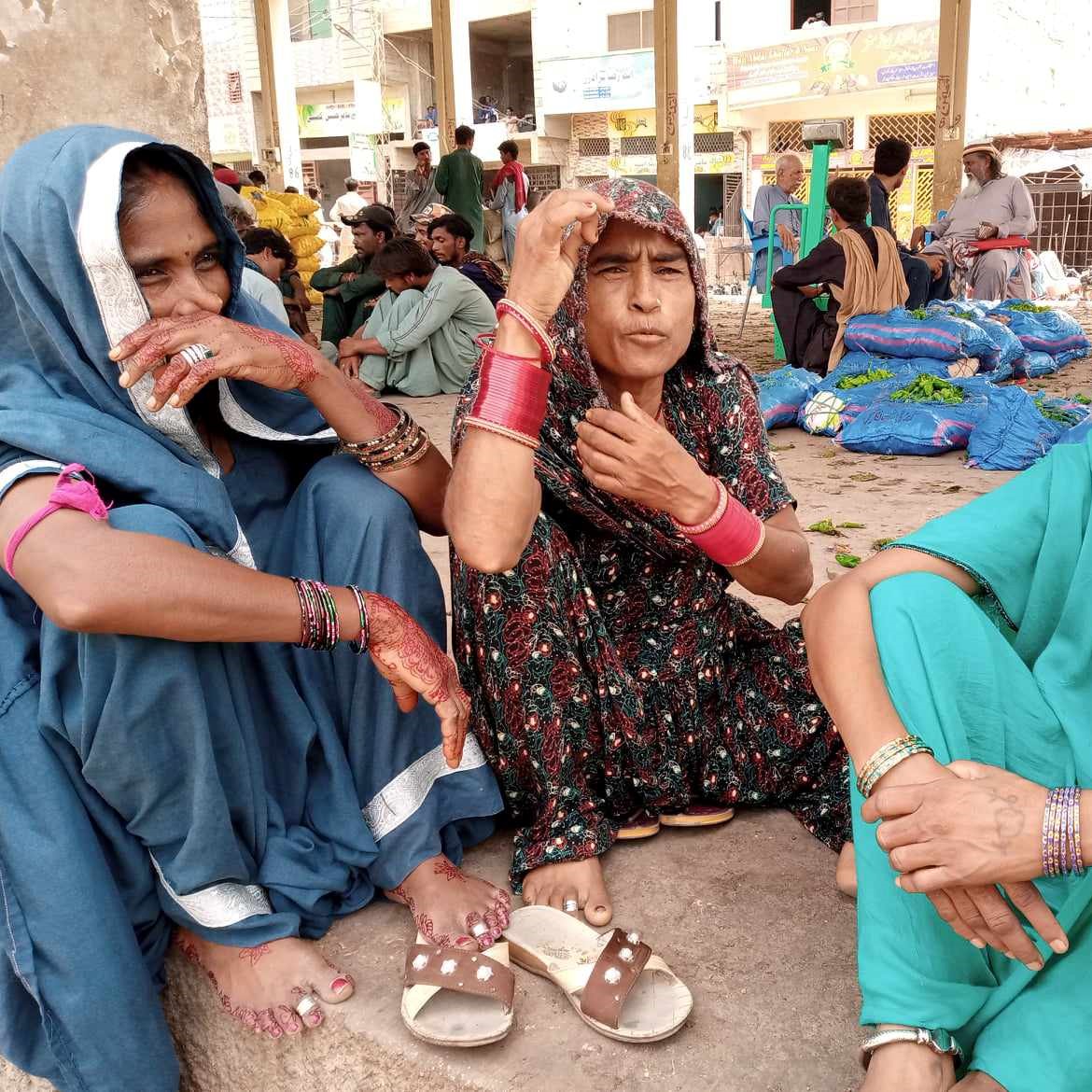 Struggles of women labourers in Hyderabad's vegetable market: Seeking recognition and fair wages
According to him, farmers are currently paying one thousand to twelve hundred rupees per acre for cotton picking. However, considering the rising cost of living, this payment is minimal. Women are more inclined towards maize because, in addition to cotton picking, they also engage in tasks such as pesticide spraying, cleaning, shrouding, harvesting, and hoeing, which provide them with a higher income.
Agricultural Survey 21-2020 reveals that the total number of labourers in the Vehari district is 1,160,000, of which 51.2 per cent are employed in agriculture. In Vehari, there are 490,000 female labourers, of which 79.2 per cent, roughly 390,000, earn their livelihood through agriculture. Most of these labourers are engaged in cotton picking, maize cultivation, hoeing, and rice transplanting.