Six years ago, a massive project named the 'Chaman Master Plan' was initiated four kilometres south of Chaman City in Balochistan. The project, covering an area of 117 acres, was meant to include a mosque, meat market, cold storage, dairy farm, truck terminal, taxi stand, fire brigade station, bus stand, vegetable market, and other facilities. However, this project remains incomplete.
Over the past two years, Haji Abdul Samad, engaged in the seed business, has a shop near the existing vegetable market on Boghra Road. He mentions that the shopkeepers on Boghra Road were initially pleased to hear that the vegetable market would be relocated outside the city upon completion of the project. Unfortunately, this hasn't materialised, and the difficulties for these traders continue to mount.
He says that traffic jams occur on this road every 10 minutes. The authorities have restricted the entry of large trucks during the daytime, but this regulation is not being enforced. Boghra Road has not seen any maintenance for the past five years. Its deteriorated condition, especially the central bridge, could lead to significant accidents at any time. Officials have been informed about these issues multiple times, but no action has been taken.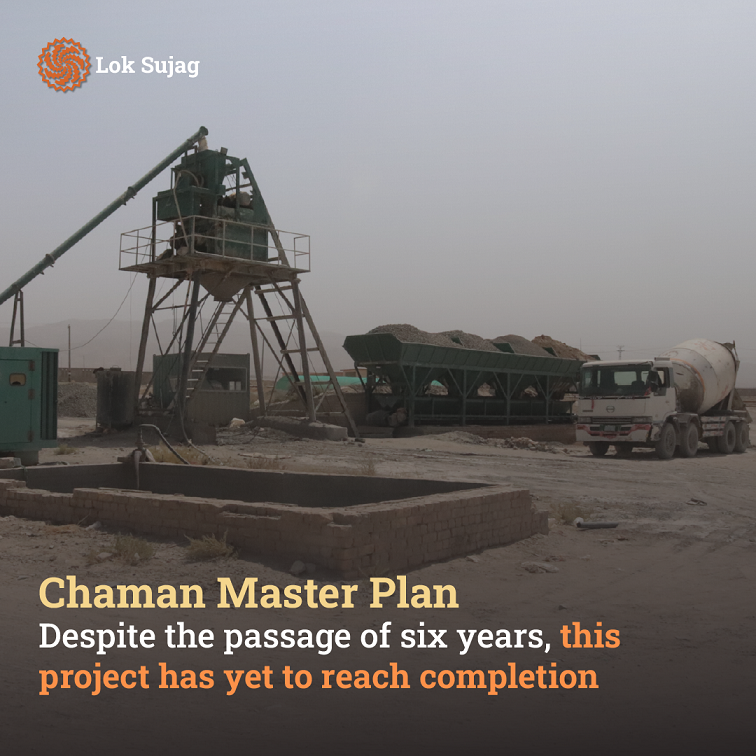 Former councillor Abdul Wali resides in the Haji Gul Zaman neighbourhood, a short distance from Chaman Bypass Road. He says that Chaman to Karachi buses also run along with Pak-Afghan trade convoys on Chaman Bypass Road. The bus stand for these buses is located in the central market on Mall Road, and the noise and exhaust from these buses disrupt the mental peace of the residents.
"Due to increased traffic, several accidents have occurred on Bypass Road. In September of last year, a school van was involved in an accident, resulting in the tragic loss of four children's lives and five injuries. In December 2022, an incident involving a wedding procession occurred, resulting in the loss of six lives, including women, and injuries to nearly a dozen others. Upon the completion of the mega project, traffic on the Bypass Road is expected to decrease."
For the past 15 years, Allah Dad, a merchant associated with the motorcycle parts business in the city's Qandhari Bazaar, has reported that most parts of the market, constructed 50 years ago, are in disrepair. The remains of slaughtered animals are discarded in front of the market. Municipal Corporation workers clean this area only once a week, causing distress to the surrounding shopkeepers.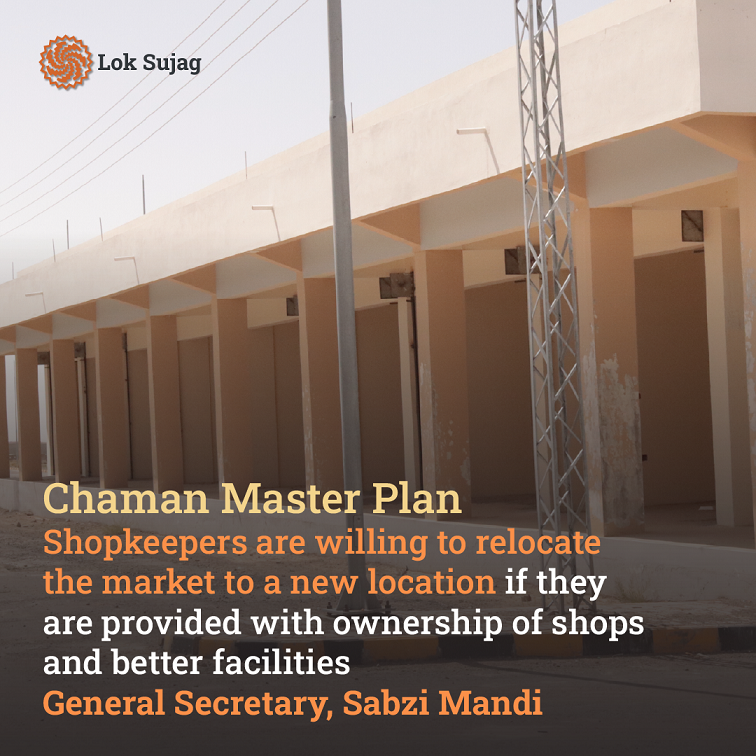 "Many shops have relocated from here due to this issue. If it weren't for my personal property here, I wouldn't stay in this market for even a day."
The Chaman Master Plan's Project Director, Muhammad Yunus, says the project comprises Phase 1 and 2. Bus stand, truck stand, fruit market, vegetable market, cold storage and taxi stand are to be constructed in the first phase, while slaughterhouse, dairy farm and fire brigade station are to be constructed in the second phase. According to him, work on Phase 1 is in its final stages and will become operational within the next two weeks.
The Vice President of the Chaman Chamber of Commerce, Muhammad Qasim Achakzai, suggests that in this mega project, there should be separate markets for vegetables and meat, like in developed countries. The bus terminal, truck terminal, taxi stand, and other such markets should be located away from these areas.
Additionally, there should be transportation facilities to the central city.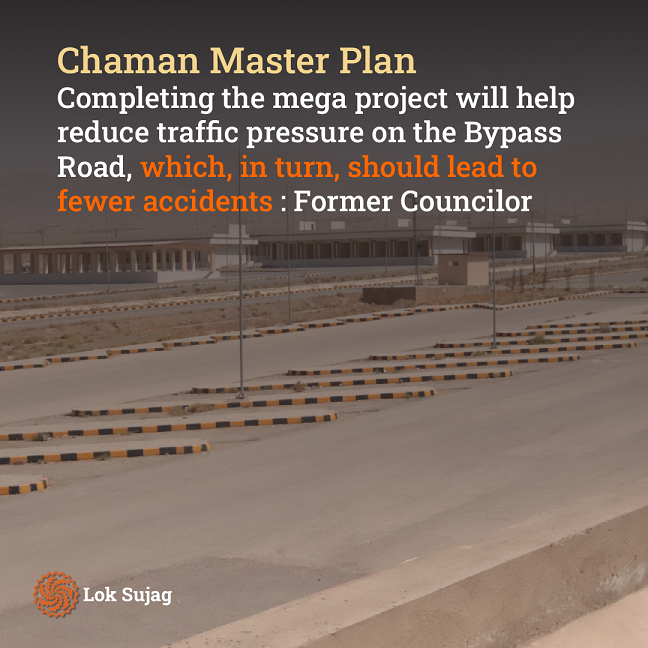 According to Muhammad Yunus, in 2019, they received 50 crore rupees; in 2020, 10 crore rupees; in 2021, 5 crore rupees; and in 2022, they received three crore rupees. The funds were not disbursed on time, which caused delays in the project. Otherwise, this project should have been active two years ago.
He says that he has only received funds for Phase 1 so far. The PC-1 for Phase 2 will be prepared and presented in the budget for the upcoming fiscal year.
However, former provincial minister Dr Hameed Khan Achakzai disagrees, saying Rs 1 billion 60 crore approved was for both phases.
Deputy Commissioner District Chaman Captain (retd) Raja Athar Abbas says that residents of two villages, Kalilandi Karez and Kalipedu Karez, use the master plan route as they have no alternative route to reach the city.
Also Read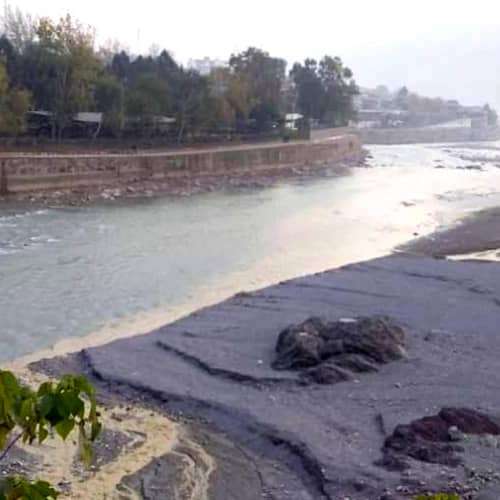 Death of a river foretold: How faulty planning has brought about Neelum River's doom
"Hence, complete restrictions on entry and exit are not feasible. The youths take advantage of this and indulge in immoral activities there. There have been repeated arrests and cases have been filed against them, but they do not stop."
He says the Levies Force personnel have been deployed on internal and external roads, including personnel from the mentioned villages. They have been instructed not to allow anyone other than the villagers to enter the boundaries of the Master Plan.
On the other hand, the Managing Director of the Sector Authority, Faisal Khan, assures that this project will be operational within the next week, and the vegetable market will be the first to be relocated here.
Abdul Ali Achakzai, the President of the All Balochistan Goods and Transport Association, says there are currently three truck stands in the city. In a meeting held at the time of approval of the master plan in 2017, the authorities demanded that the shopkeepers currently on rent in the bases should be given rented shops there and those with private shops should be given personal shops there. They also demanded that since the fee per truck is Rs 50 at truck bases, it should be between Rs 50 and Rs 100 and that they would move the base only if their demands were accepted.
Abdul Nafay Haqyar, the General Secretary of the vegetable market, also adopted a similar stance, stating that if he is provided with ownership of shops and better facilities, he is ready to relocate the market to a new location.