In the area of Gadhi Khata in Hyderabad, Muhammad Ali Memon has opened a betel leaf shop in a cabin. From morning till night, customers keep coming to his shop. He sells various types of betel leaves, but the price of a special betel leaf can go up to five to eight hundred rupees.
He says, "The items included in betel leaves can vary, but the betel nut remains the same. Initially, we used to import betel leaves from Sri Lanka, but it became too expensive, and secondly, it became scarce. That's why we now get our betel leaves from Gadahou, which are cheaper and easily available, and there is no significant difference in taste."
From the coastal city of Gadahou in the Sindh province, betel leaves are sent throughout the country, and their demand is increasing.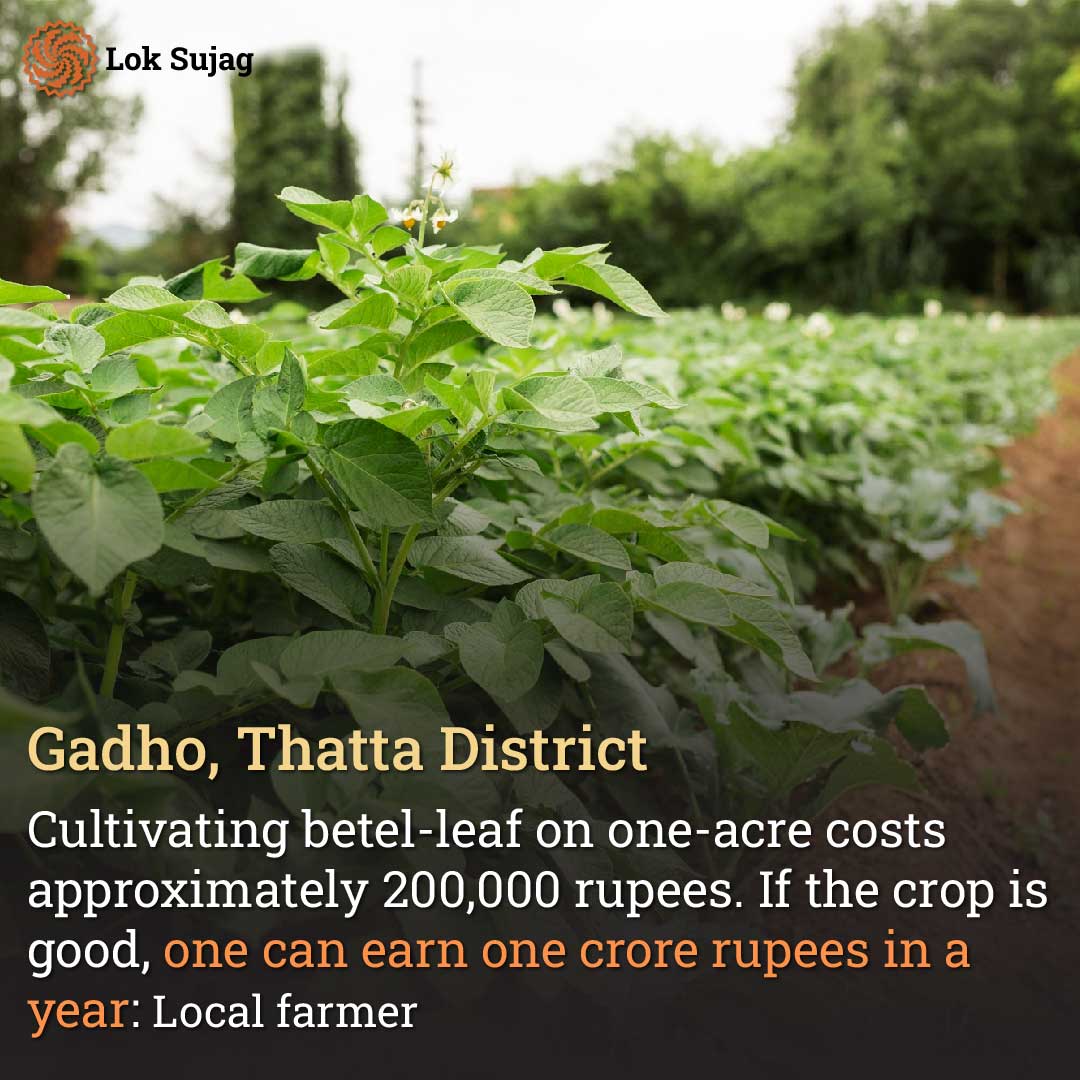 50-year-old Rahmatullah Gadahou is a small farmer in Gadahou, and he cultivates betel leaves on one-acre land. He states, "In Pakistan, we initially imported betel leaves from India and Sri Lanka, but a few years ago, we successfully experimented with cultivating betel leaves here. Sri Lankan betel leaves are larger and sweeter than our betel leaves, but our betel leaves still have their place in the market. We cultivate three types of betel leaves: Sanji, Ceylon, and Pakistani, on a large scale."
He mentions that cultivating betel leaves on one acre costs approximately 20 lakh rupees. With a good season, the earnings can reach up to one crore rupees annually.
Like other crops, Rahmatullah emphasises that betel leaves are not grown in open fields. They need protection from harsh sunlight, so greenhouses are built first. To construct greenhouses, wooden frames or poles are installed. Around one thousand to twelve hundred poles are set on one acre of land, costing approximately six lac rupees.
Mats are required to build the roof. More than 700 mats are needed for one acre, and one mat costs about 600 rupees. The total cost for roofing is around five lakh rupees. The roof protects the plants from harsh sunlight and shields them from strong winds and dust.
Around 500 to 800 pots are used per acre to cultivate betel leaves. Each pot costs up to nine hundred rupees. Walls are constructed around the betel leaf field, and additional expenses for fertilisers, pesticides, and labour exist.
He says that if floods, rains and strong winds do not cause damage, the life of a betel plant can be 20 to 25 years. Betel leaves are picked twice a week. Large, small and smallest leaves are separated. Their prices vary. New leaves are produced within two weeks after leaf shedding.He says the three cities of Sindh, Karachi, Hyderabad and Thatta have betel markets.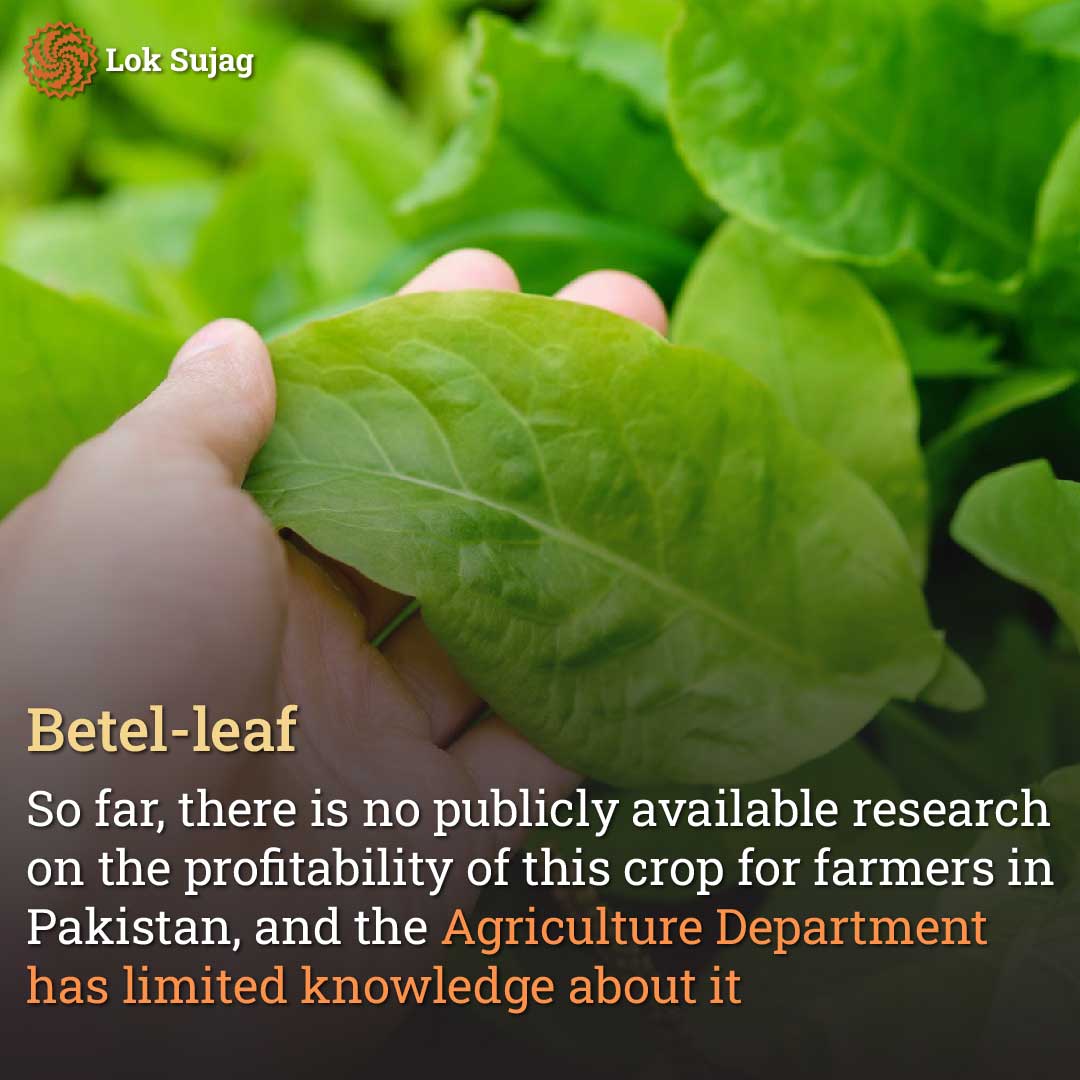 Another farmer, Mir Baloch, based in Gadahou, said he cares for betel leaf farming like his own children. Betel leaves are delicate, so they require constant attention. Weeding and pruning are carried out in the fields, and plant diseases are monitored regularly.
He says that the crop of Sanjipan is the best. Ceylon leaves are fragile and have a very low tolerance to wind and heat. That is why its production is also less.
So far, there has been no public research on the profitability of betel leaf farming for farmers in Pakistan, and the agricultural department has little knowledge about it.
In Gadahou, betel leaf farming occurs in 7,000 to 8,000 sheds.
Osman Baloch, who works in betel leaf farming, mentions that he plucks betel leaves for two days a week. Water also needs to be given very carefully.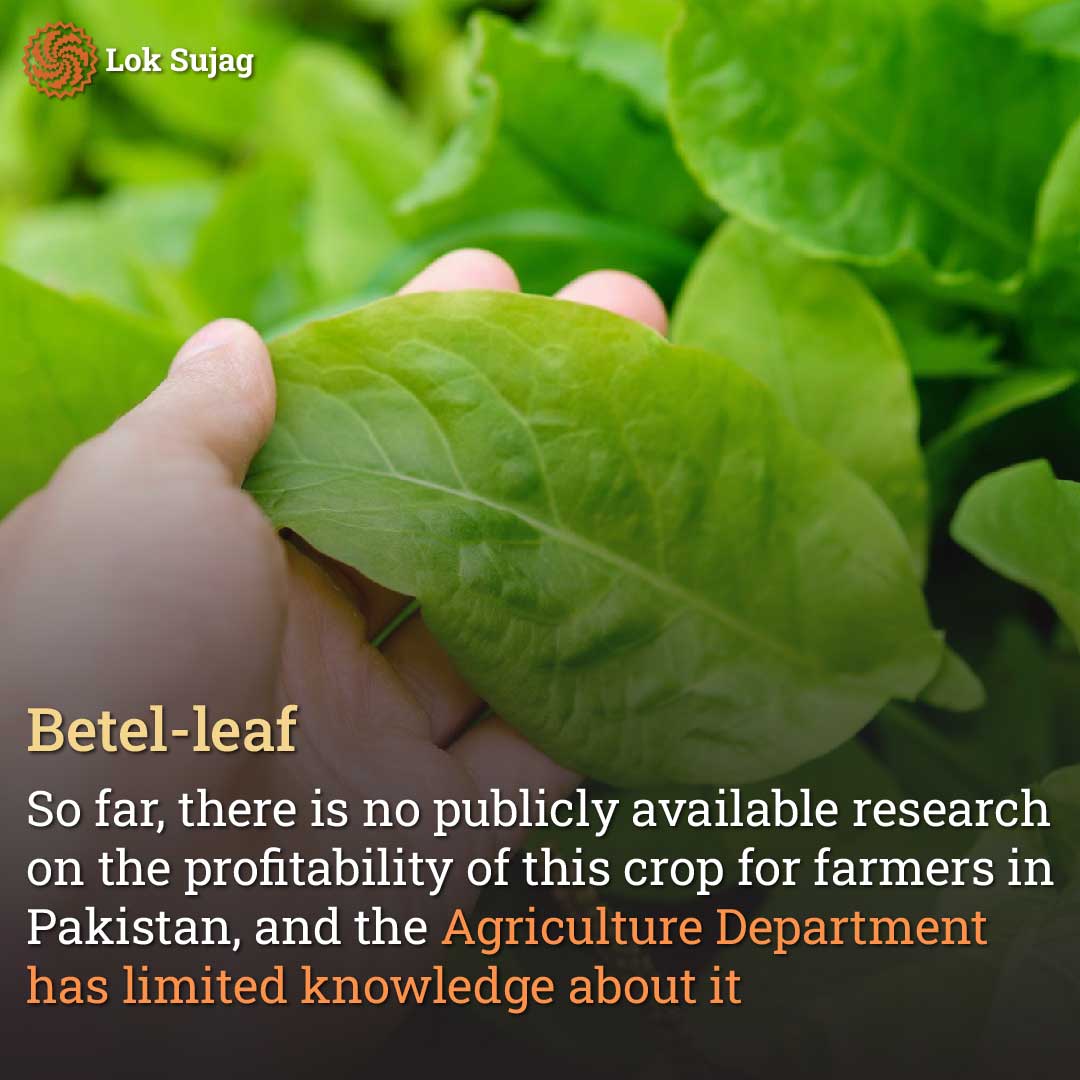 In betel leaf fields, water is supplied through channels, which gets absorbed into the ground within a few minutes. If water stagnates, it can damage the betel leaf crop. He also mentioned that betel leaf production decreases during the winter season.
In Hyderabad, the commission agent for the betel leaf market, Ajaz Aziz, states that they purchase goods from the landowners in Gadahou at a commission. They receive a commission of 15 rupees per kilogram of betel leaves and sell it to shopkeepers and rural areas.
He mentions that Ceylon betel leaves are sold for 2,000 to 3,000 rupees per kilogram, Sanji betel leaves for 13 to 15 hundred rupees per kilogram, and Sri Lankan betel leaves for around 4,000 rupees per kilogram.
Also Read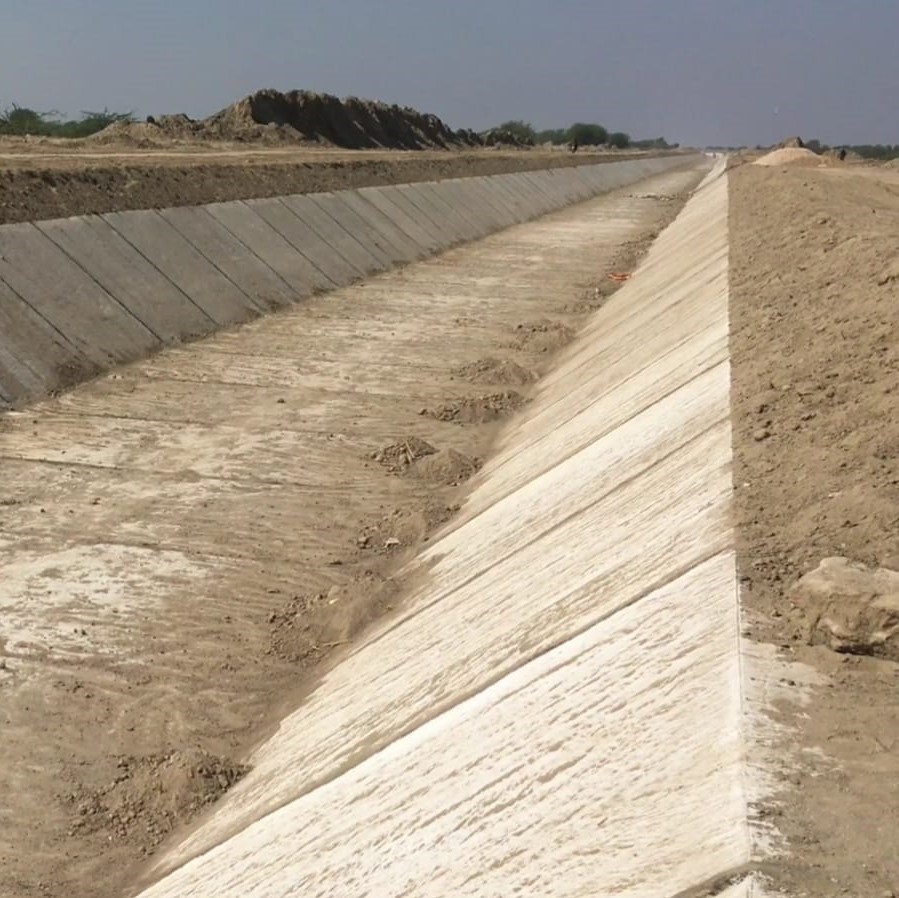 Rice cultivation at risk: Water struggles pose threat to farmers in lower Sindh
"In this business, sometimes we have to bear heavy losses. We buy goods and quickly sell them. If betel leaves are not sold within three days, they can wither and become spoiled, leading to significant losses for us."
He explains that in Hyderabad, markets are set up on Tuesdays and Fridays, where thousands of kilograms of betel leaves are sold. A shopkeeper in the market, Kamran Qaimkhani, mentioned that he buys goods and places them in a cart with ice at a cool place. Then, he sells them in various districts, including Umerkot, Badin, Sanghar, Nawabshah, and Tharparkar.
Rahmatullah believes that if farmers are provided with guidance and resources for betel leaf cultivation, it could lead to another profitable crop for the country.