The Benazir Income Support Programme provides assistance to widows and the poor and needy women every three months. This aid was initially disbursed through Habib Bank, and women would often have to stand in long lines outside banks to receive it. In October 2020, the responsibility for money distribution was shifted from banks to shopkeepers, hoping people would find it more convenient to access assistance in their neighbourhoods and marketplaces.
Complaints are emerging from women regarding retailers in Rajanpur. Women claim that some shopkeepers deduct commissions ranging from five hundred to two thousand rupees during the disbursement of funds.
Rajanpur, one of the most deprived districts in Punjab, is home to thousands of poor women who rely on the Ehsaas Income Support Programme. Under this program, they receive 9,000 rupees every three months.
According to a survey conducted under the auspices of the Social Welfare Office in Rajanpur in April 2023, there are 167 retailers providing funds in the district.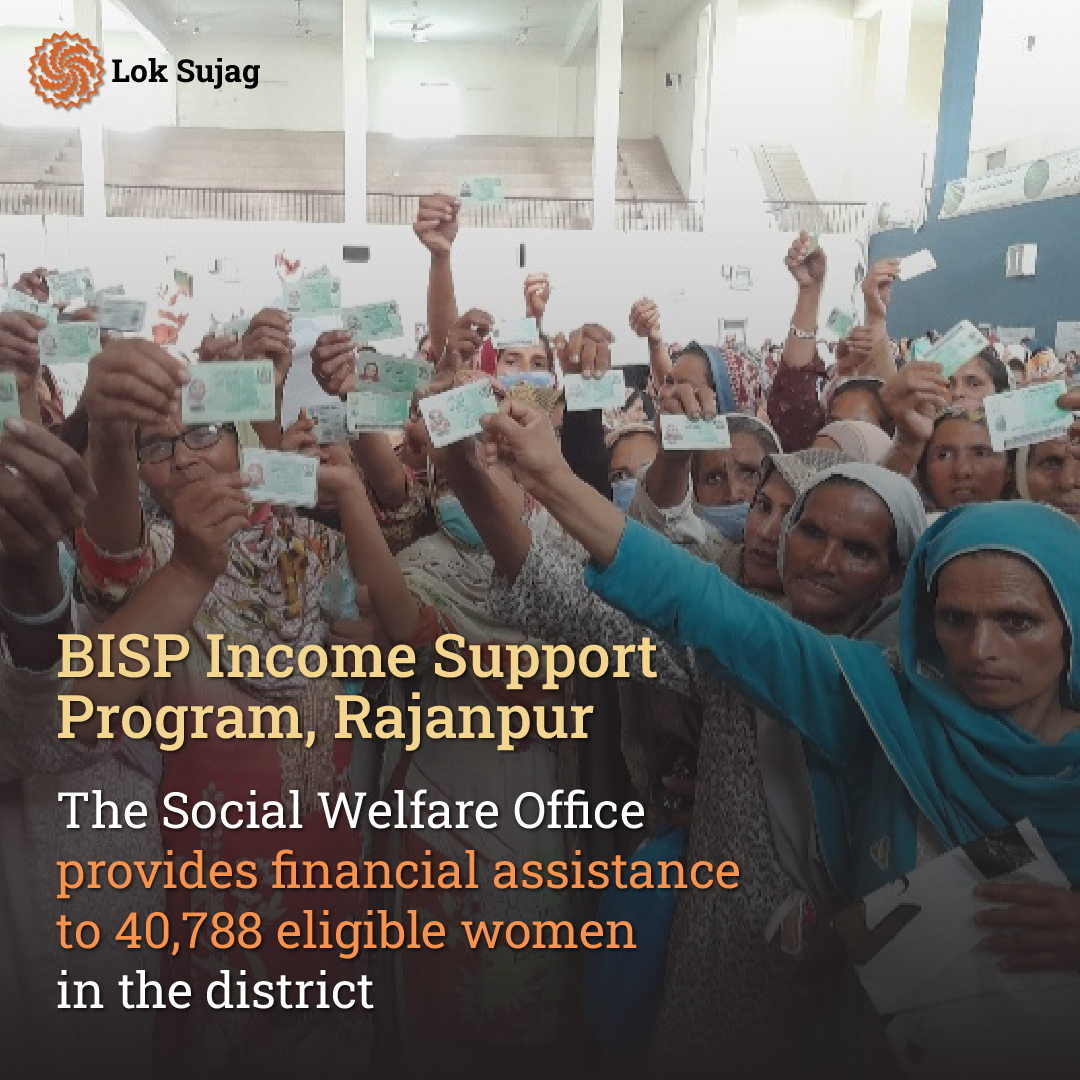 Additionally, some young individuals use services such as JazzCash or Easypaisa, conducting transactions in the streets or sitting at crossroads. Retailers usually deal with women involved in these activities.
Nasreen Bibi resides in the rural area of Basti Awan in Rajanpur. She says that she used to withdraw financial aid from a bank, but the payments have been handed over to retailers for the last three years, causing her various difficulties.
"To receive the money, you must stand in long lines, which can be frustrating. After enduring the wait under the scorching sun, when you finally receive the funds, around 1,000 rupees are deducted out of the 9,000 rupees."
She says she is very poor and makes a living by stitching clothes. He husband is ill and unable to work, so even a small amount is significant for them.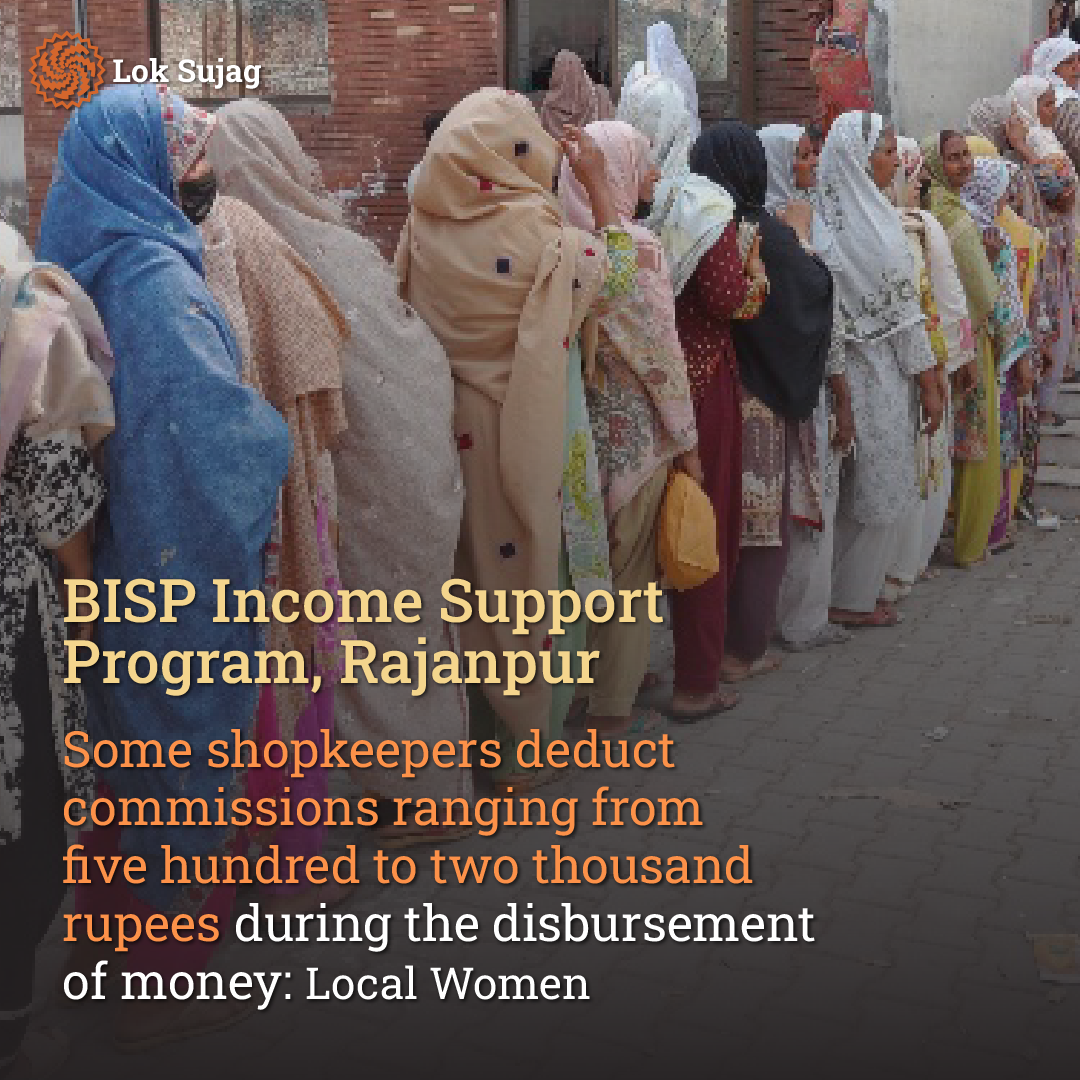 Sharmila Mai from Hajipura is a widow and has six children. She says that she had not received her payment for a considerable time. When she inquired with the program officials, she discovered that some shopkeepers had falsely registered her name and withdrew the money. When she confronted the shopkeeper, he did not provide any answers.
She says that each time, a sum of money ranging from one thousand to four thousand rupees is deducted, and the rest is given to them.
Rabia Bibi from the Kashani village received assistance money only once. When she inquired with a nearby retailer, she was informed that her funds had been blocked, and if she pays two thousand rupees, he would restore her aid.
She paid two thousand rupees to a retailer named Sulaiman, who promised to release her blocked aid but did not provide her with the money. Similar complaints have been lodged by numerous eligible women in this area.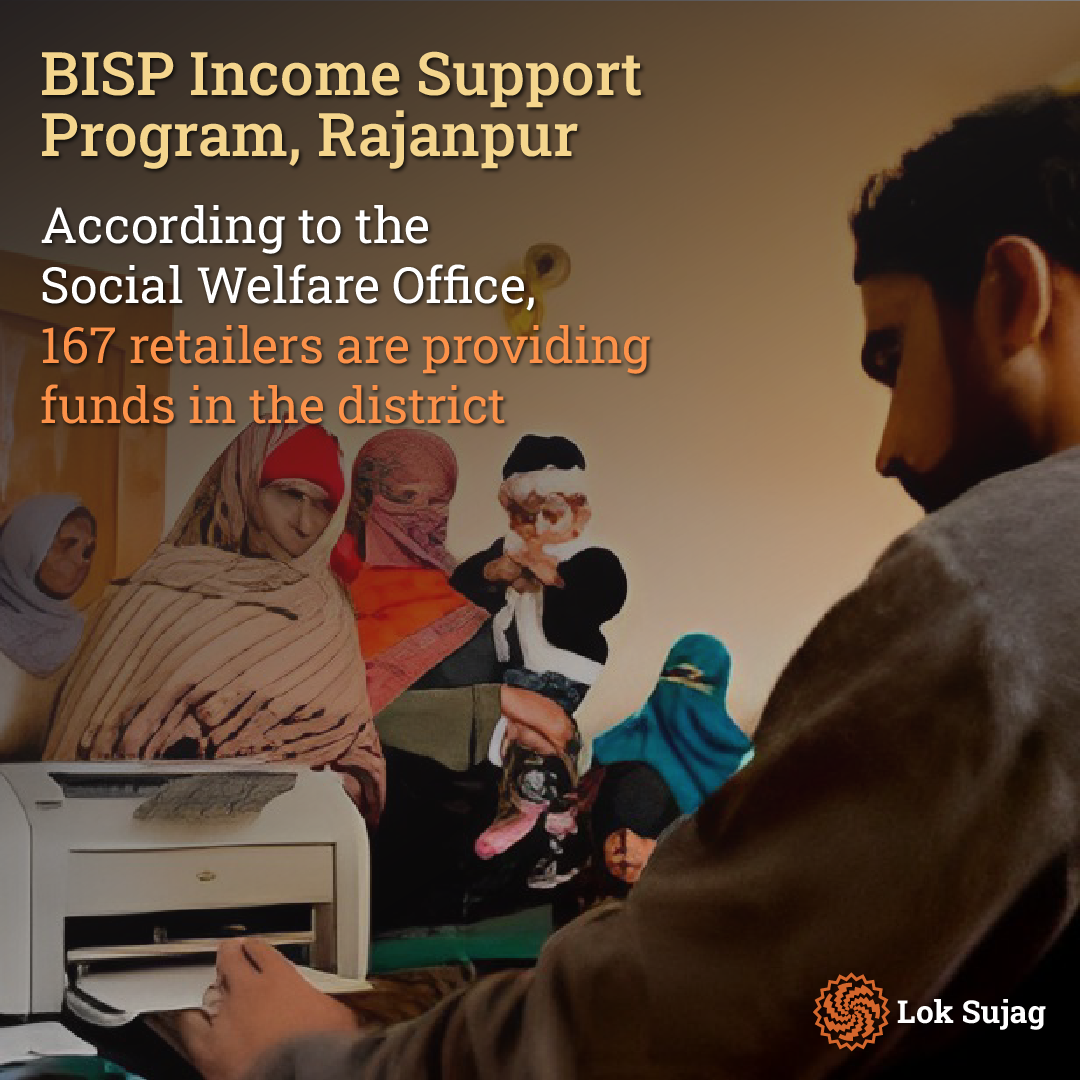 Muhammad Kashif, the Deputy Director of the Benazir Income Support Programme (BISP), says that financial aid has been provided to 40,788 eligible women in Rajanpur through the BISP. However, incidents of extortion occasionally occur alongside the aid distribution.
When asked about the number of such incidents, he had no information.
According to the Deputy Director, this facility was provided because there were many complaints about the malfunctioning of the ATM machines, making it difficult for people to withdraw money from banks and retail stores easily.
Also Read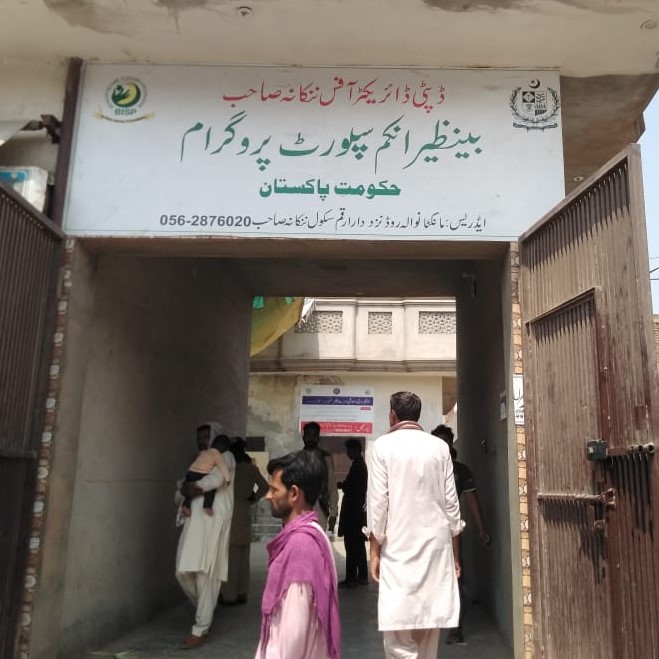 Benazir Income Support Program in Nankana Sahib: Women speak out on bribery and hardships
Deputy Commissioner Rajanpur, Mansoor Ahmad Khan Baloch, conducts open courts weekly, where he listens to the issues faced by the public. Many women have lodged complaints against shopkeepers, leading to investigations by the Deputy Commissioner, who has formed teams to address their grievances. In this regard, legal actions are being taken against four shopkeepers.
Mansoor Ahmad Baloch explains that teams have been established to inspect and secure centres distributing funds under the Kafalat program. Affected women have been assured of their rights, and orders for strict action against shopkeepers have been given to the relevant police stations.
Social worker Dr Irfan advises women not to get involved in surveys through any fraudulent means. These women can register online through their phones, and if they face any difficulties, they can seek assistance from a trustworthy person.