Bahawalpur district has five constituencies of the National Assembly and ten constituencies of the Punjab Assembly. According to the 2023 census, in the new electoral constituencies, the Election Commission has made changes in the boundaries of four national and eight provincial assembly constituencies here.
The potential candidates of the Muslim League (Q) and Muslim League (N) seem satisfied with these changes. However, some parties have expressed reservations over the new constituencies.
National Constituency NA 170 of Bahawalpur City has now become NA 168 after delimitation and no further changes have been made.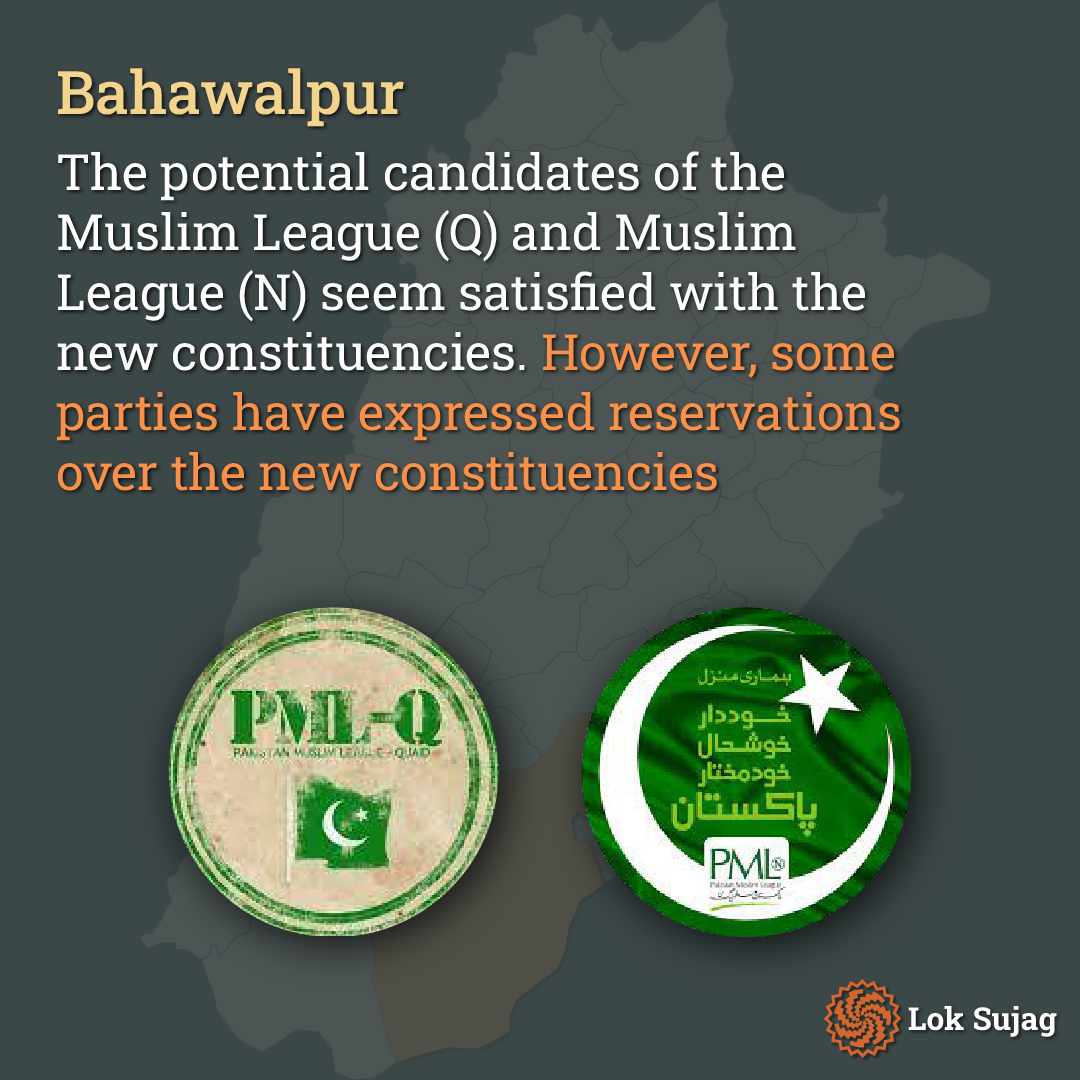 Constituency NA-167 Khanqah Sharif (formerly NA 176) Basti Malkani Patwar Circle Hatheji Legislature Constituency Patwar has been cut off and included in NA 166 Ahmedpur Sharqia (formerly NA 174).
In the same way, Hamatian has been removed from the NA 165 Yazman (NA 172) Legislative Constituency and added to the NA 167 Khanqah Sharif.
From NA-166, Ahmedpur Sharqia Constituencies legislation Qalab, legislation Chani Goth and Chani Goth Town Committee have also been removed. These settlements are now included in NA165 Yazman. NA164 Khairpur Tamewali/Hasilpur (formerly NA171) has not been changed except in name.
Areas of Charge No. 10 and Charge No. 11 have been included in Constituency PP 253 Bahawalpur 9(formerly PP 245), while the settlements of Abbasi Town Weslan, Allahabad Colony, Bismillah Colony, Cantt, etc., have been transferred to Constituency PP 254 (Formerly pp. 246).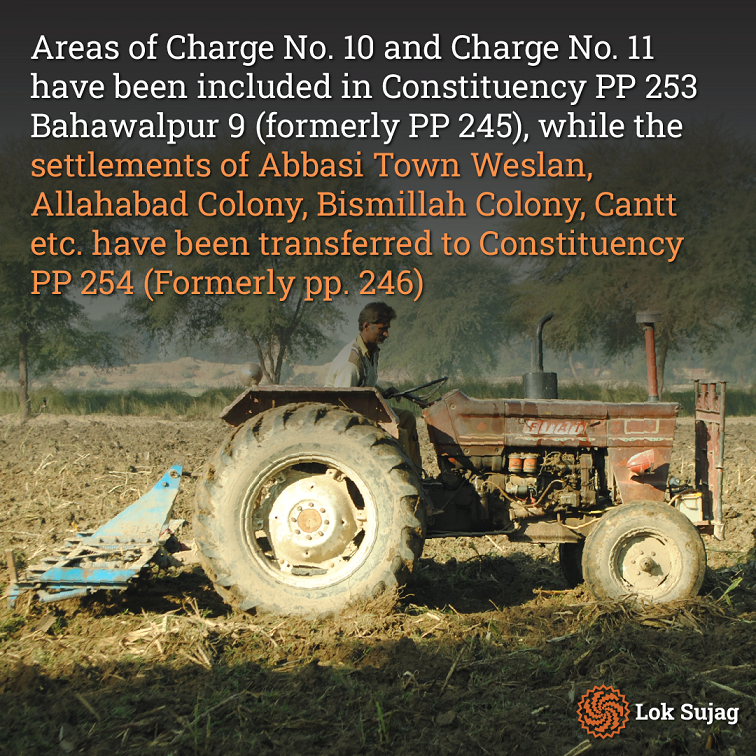 The number of Constituency PP 251 has not changed. However, the area of Malkani Basti Patwar Circle has been removed from this constituency and merged with PP 249 Ahmedpur Sharqia. The population of Kot Dao Ghalu Patwar Circle and Miani Patwar Circle have been included in Warhelan PP 251.
The population of Hamatiyan legislation has been included in PP 252 circle while Wahi Bahawal Shah Patwar Circle, Kotla Musa Khan Patwar Circle, and Malkani Patwar Circle have been included in PP 249.
Wahi Bahawal Shah Patwar Circle and Kotla Musa Khan Patwar Circle have been removed from PP 250 and its population has been equalized.
Populations of Head Rajkan legislation and Salari Cholistan legislation of Constituency PP 248 have been included in Constituency PP 247. After removing Head Rajkan and Salari Cholistan Legislation from PP248, Club Legislation, Chani Goth Legislation, and Town Committee Chani Goth have been added to this constituency.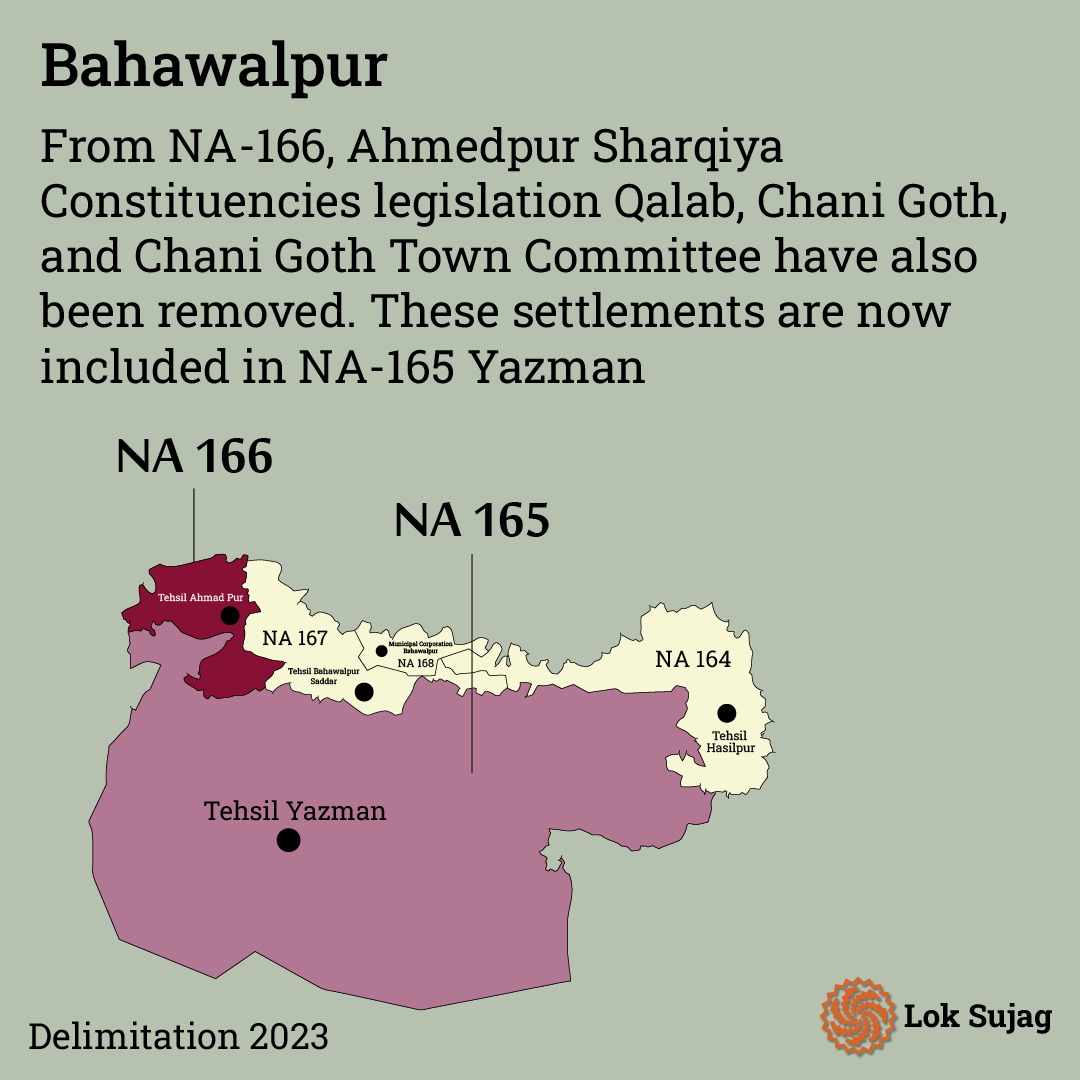 No change has been made in the previous section pp.245 (pp.247) and section pp.246 (formerly pp.248).
According to Hussain Ahmad Madni, a central leader of the Pakistan People's Party, the sudden changes in the constituencies have caused concern among both voters and candidates. It is difficult for voters to choose an appropriate candidate when they are not familiar with them.
He says that there will be difficulties in getting voters to the polling stations and the fear of rigging will also increase. The Election Commission should review the decision to change constituencies itself.
District President Muslim League (N) Khalid Mahmood Jajja has expressed satisfaction with the new constituencies. He says that the process of change in constituencies has been done according to law, and he has no problem or objection to any constituencies.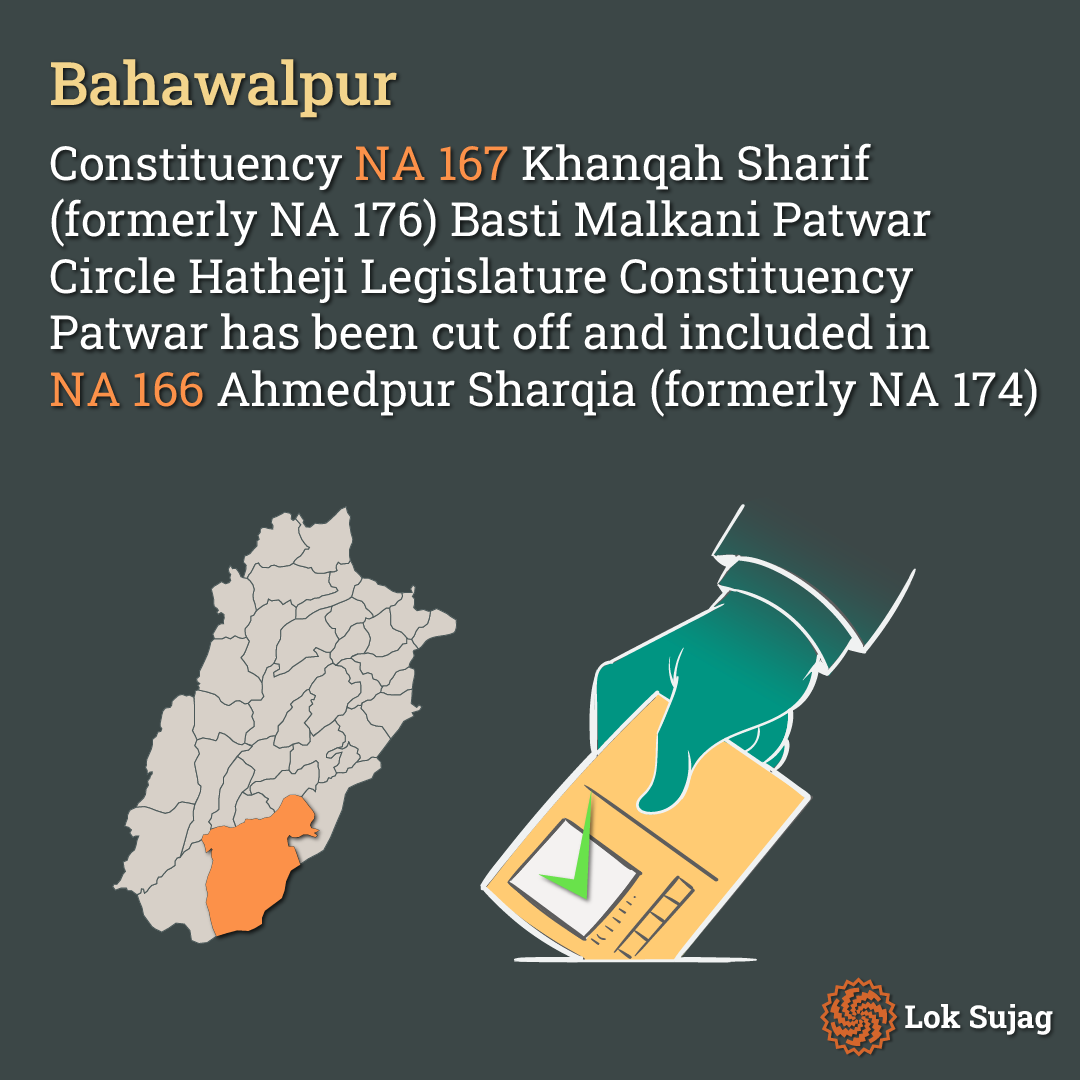 Candidate from Constituency NA165 Yazman and son of Muslim League (Q) Secretary General Tariq Bashir Cheema, Wali Dad Cheema says that the Election Commission is independent, whichever constituency is final, he will contest the election. In the last election, Tariq Cheema won despite the change of constituency.
Amir Jamaat-e-Islami District Bahawalpur Syed Zeeshan Akhtar said that there is an impression that favored constituencies have been created to make certain candidates successful. They reject these constituencies and demand that the previous constituencies be restored.
Also Read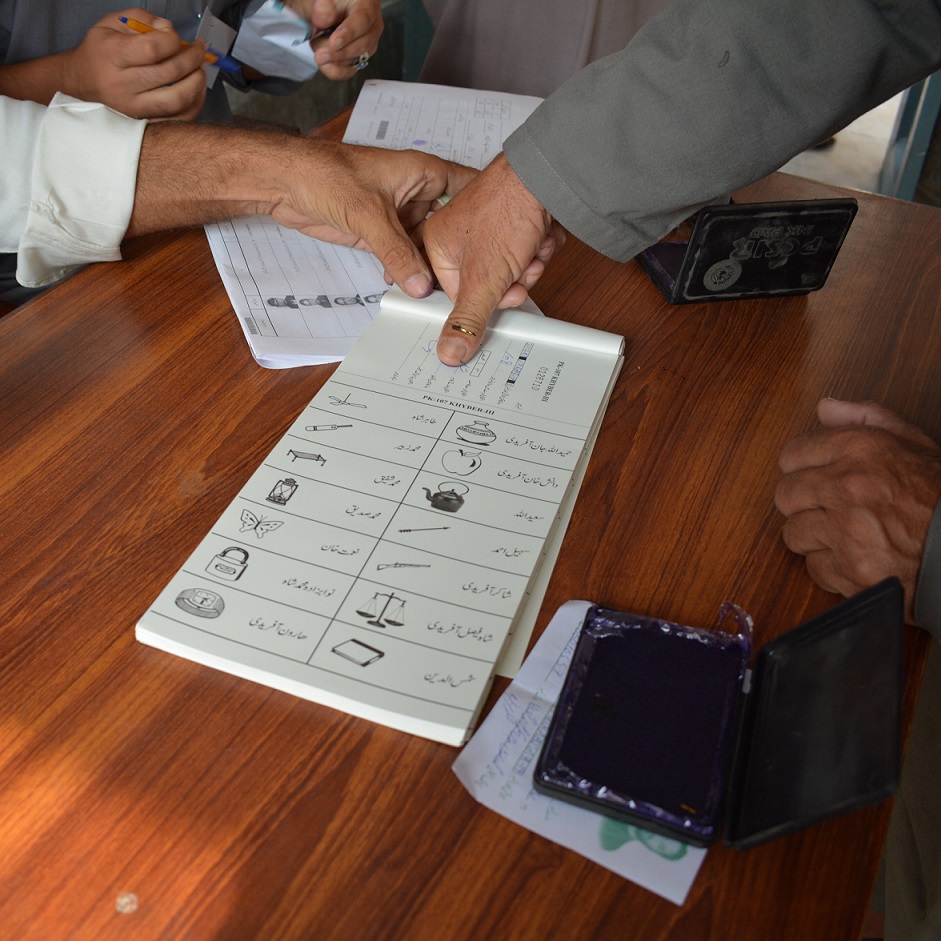 Rajanpur's electoral landscape shifts as new constituencies emerge
The leader of Jamiat Ulema-e-Islam (F) National Assembly candidate Muhammad Safdar Shahbaz said that he has no objection to constituencies. While President Insaf Lawyers Forum South Punjab Malik Muhammad Sadiq Joya says that there has been no consultation with PTI on any issue, so he will not give any opinion on constituencies.
Social activist Mazhar Shahzad believes that constituencies are a conspiracy to favor certain people. It seems that there is a plan to make the preferred candidates successful by giving them the constituencies of their choice.
Citizen Muhammad Ayub Bajwa says that the constituencies were changed in 2018, now after five years the same practice is being done again. If constituencies were to be changed based on population, at least surrounding legislation would have been included. Constituencies are made into a long strip from east to west.
He claimed that the Hamatian Legislature has been separated from Yazman Constituency NA165 because the former MPA Chaudhry Ehsanul Haque has left the side of Chaudhry Tariq Bashir Cheema and the former MPA had personal influence in this area. Chaudhry Tariq did not expect to get more votes from here now.