Zareena is sitting on a bench in the maternity ward of Civil Hospital in Quetta. She is about 21 years old and belongs to a Pashtun tribe. She lives in the rural area of Urak, near Quetta. Her baby died inside her womb, and she urgently needs medical attention.
She says that this is the first time she was going to become a mother, but she never consulted a doctor during the four months of her pregnancy. There are no female doctors at the health centre in Urak, so she didn't go there either. Due to the lack of proper guidance and care, her baby could not survive. When the situation was finally realised, it was too late, and now she is waiting for surgery.
With these words, she sat down to eat with an older woman sitting nearby.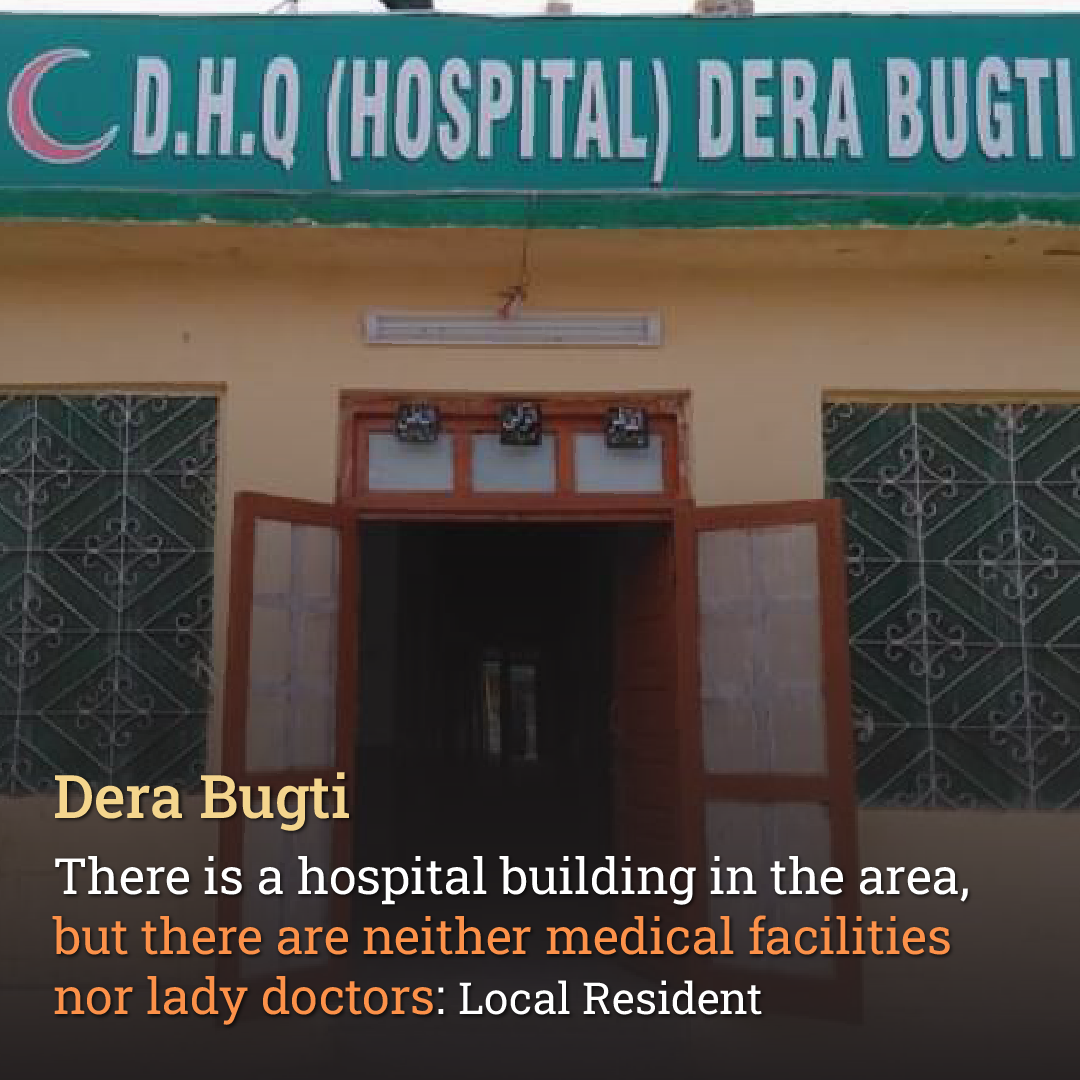 In the maternity ward of this hospital, many young women like Zareena come from far-flung areas of the province after travelling long distances.
In most areas of Balochistan, there is a lack of medical facilities. Many women suffer complications during childbirth or are deprived of their children before birth.
According to the Pakistan Maternal Mortality Survey 2019, the highest maternal mortality rate in the country is in Balochistan, where 298 mothers out of one lakh die during childbirth.
Nationally, the maternal mortality ratio is 187 per one lakh live births, meaning that the maternal mortality rate in Balochistan is almost 40 per cent higher than in the rest of the country.
Expert gynaecologist Dr Gul Naz Baloch explains that childbirth is often preferred at home in rural areas. Most of the time, untrained midwives complicate matters. In such cases, options for doctors become limited, directly affecting the lives of both the mother and child.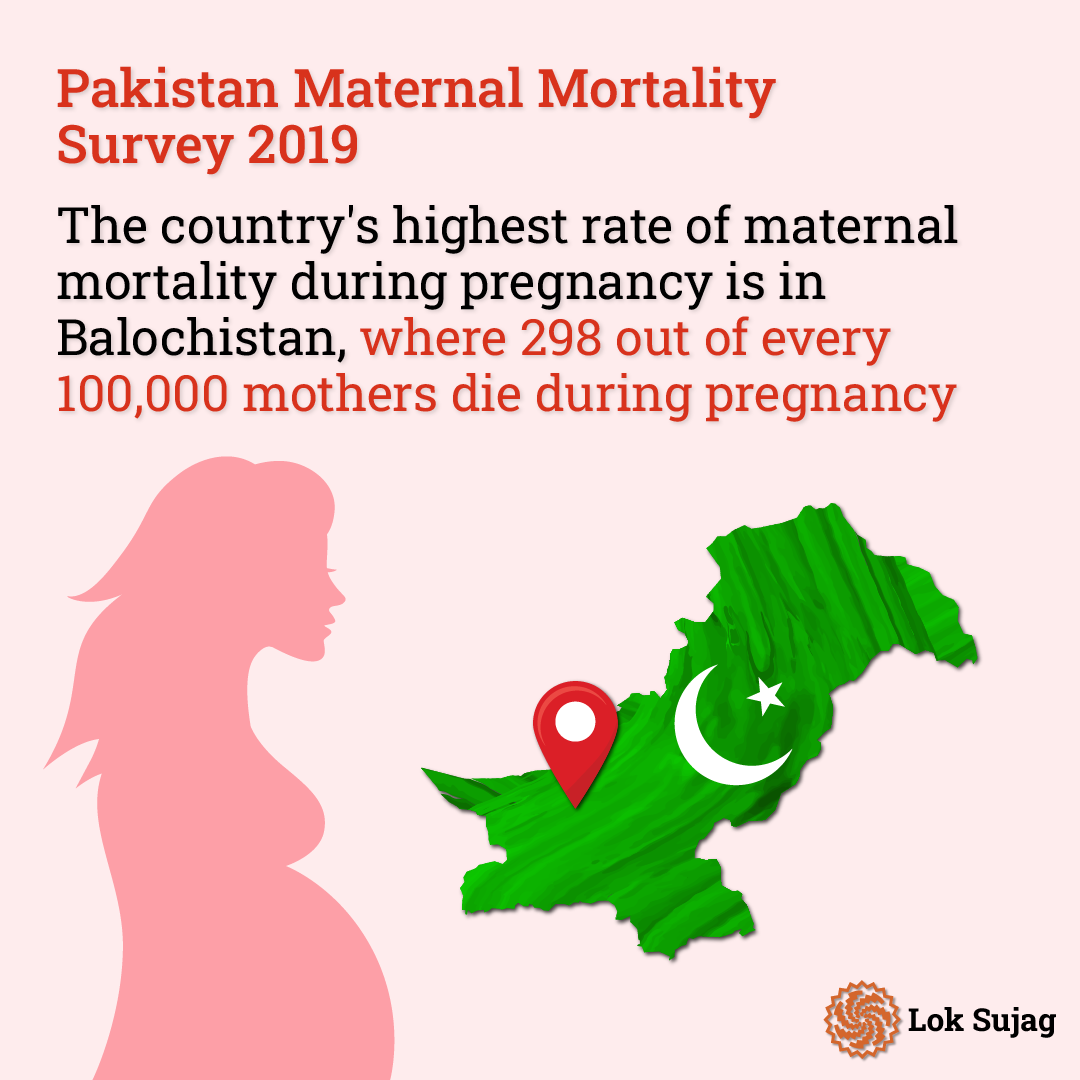 Forty-five years old, Miran Bugti is also sitting outside the maternity ward. He has travelled 360 kilometres from Dera Bugti to bring his wife to the Civil Hospital. His wife died during the delivery.
Now, the responsibility for his four children, including the newborn, lies on his shoulders.
Miran says that there is a hospital building in his area, but there are no medical facilities or lady doctors. That's why pregnant women have to travel long distances to reach Quetta.
According to the Health Department, nine teaching hospitals, two divisional headquarters hospitals, 28 DHQs, five THQ hospitals, 784 rural and primary health centres, and 91 maternal and child health centres have been established in the 34 districts of Balochistan.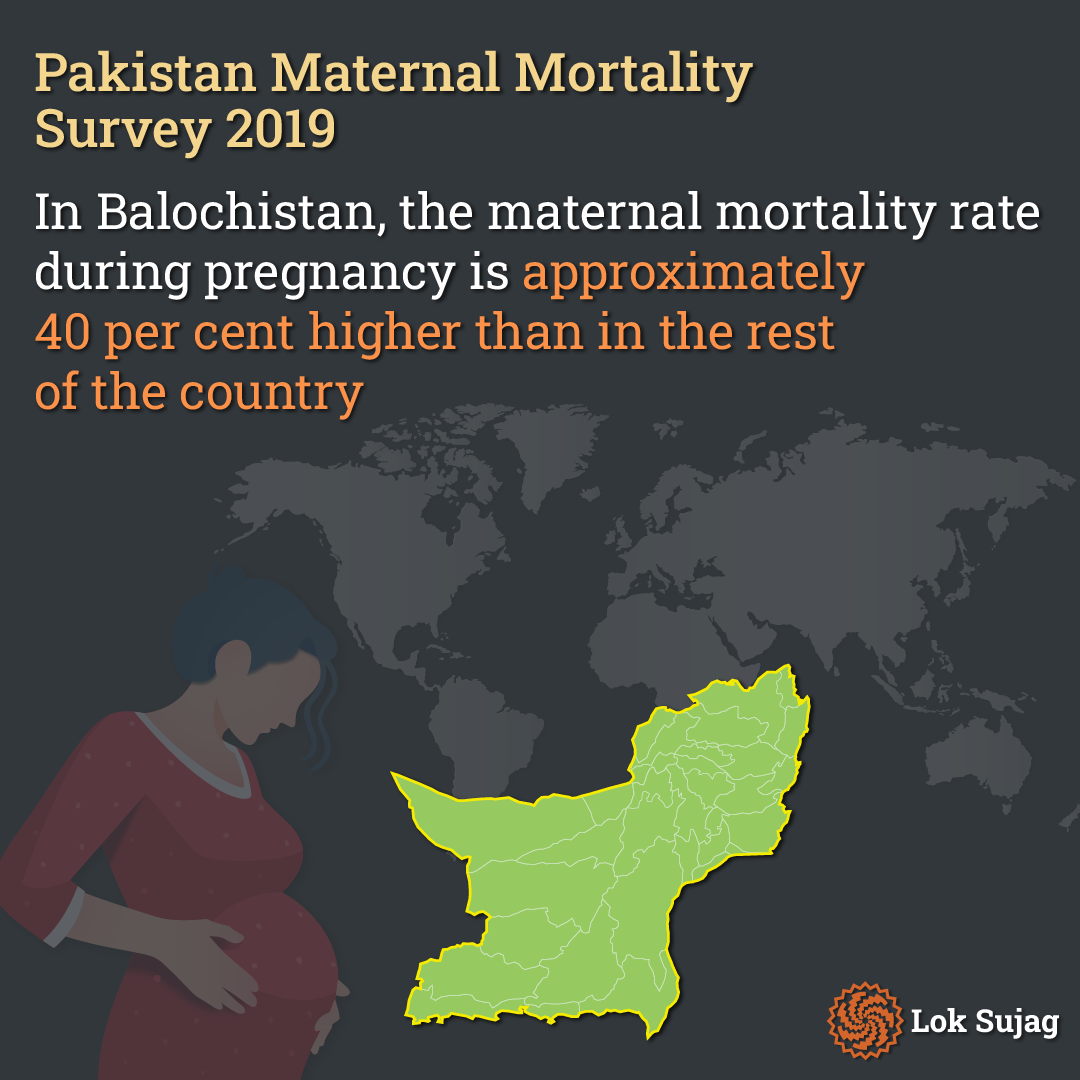 When we look at the statistics, the number of health centres in the province is not low. However, Dr Noor Qazi, Director-General of Health Services Balochistan, says there is a shortage of trained medical staff in hospitals and health centres, and there are difficulties in women accessing well-equipped hospitals and healthcare centres.
Journalist Palhan Khan Bugti says that lady doctors are rarely present in the district hospital of Dera Bugti. Those who are appointed there either request duty in Quetta or continue to receive salaries while staying at home. Therefore, most women from here, for childbirth, travel over 200 to 250 miles to Rahim Yar Khan or Sukkur, and a considerable number of them eventually reach Quetta.
He explains that due to the lack of lady doctors in Dera Bugti, seven pregnant women lost their lives during 20 days in 2018. These women were referred from Dera Bugti to Rahim Yar Khan, but they couldn't survive the journey due to bad roads and the long distance.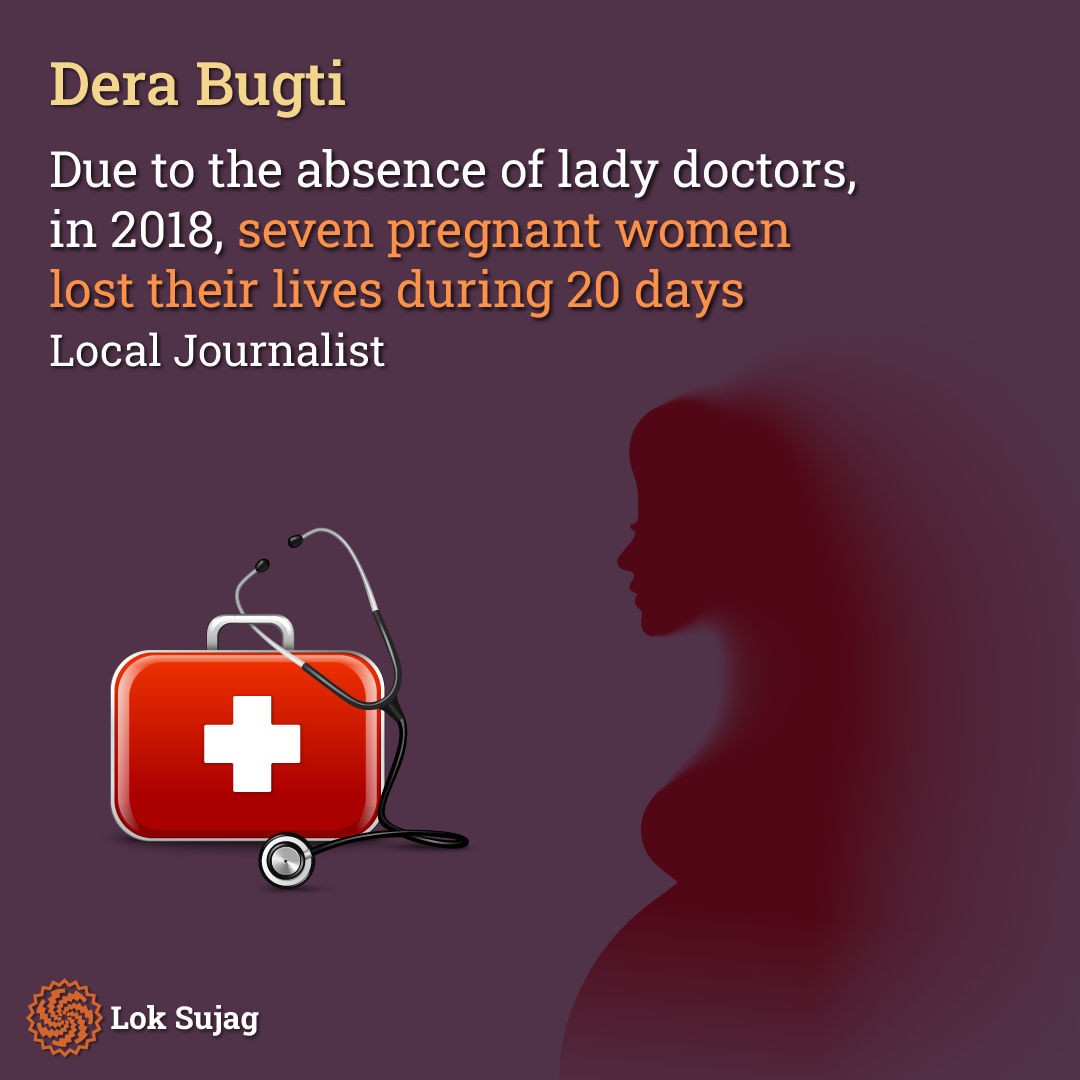 District Health Officer of Dera Bugti says that lady doctors do not come to duty at the DHQ hospital due to the lack of facilities and other issues. "A local lady doctor has been temporarily appointed here. But she is also not satisfied with coming to the hospital due to tribal customs and traditions."
Gul Naz Baloch says that if there is proper housing and security in rural areas, lady doctors do not object to going there. However, in DHQ (District Headquarters) hospitals, medical staff is incomplete to the extent that even the equipment and medicines used during childbirth are unavailable.
Also Read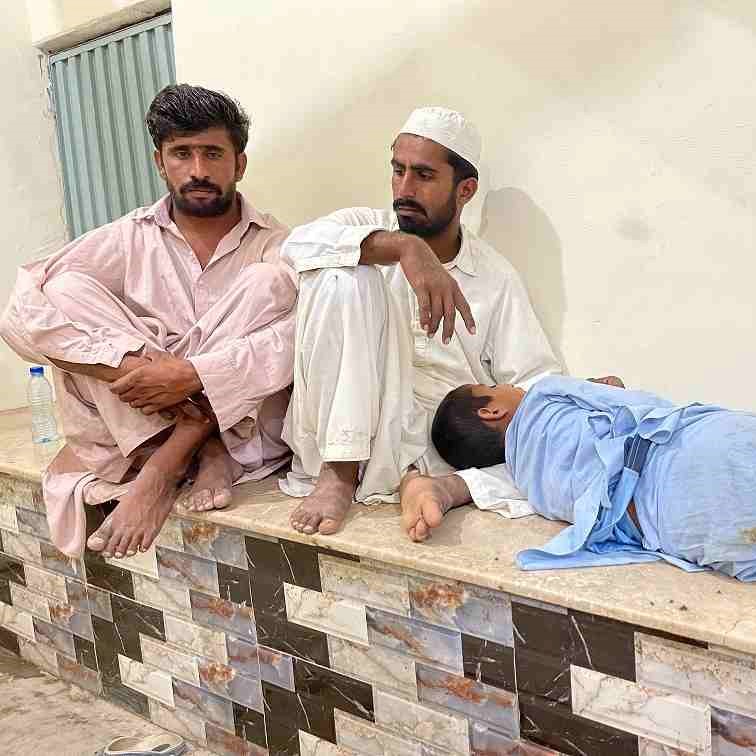 Tharparkar's healthcare despair: Islamkot THQ hospital leaves residents disillusioned with lack of treatment
The Health Department of Balochistan does not have data on maternal deaths during childbirth. In Dera Bugti and many other districts like Barkhan, Sherani, Awaran, Kohlu, Musakhel, Washuk, and Kharran, the maternal mortality rate is higher during childbirth. However, authorities neither confirm nor refute this claim.
The Balochistan government has set a target to reduce maternal deaths during childbirth to less than 200 in the next four years. However, the head of this program, Dr. Samina Khan, explains that the program is facing challenges due to a shortage of funds, qualified doctors, lady doctors, and staff. Therefore, there are difficulties in achieving the desired goals.
According to the United Nations Population Fund (UNFPA), complications during pregnancy are likely to occur in approximately one out of every five women. Such cases may require the expertise of highly skilled professionals. However, in Balochistan, there is a shortage of expert doctors and trained midwives.
Despite this shortage, there is hope, as Dr Noor Qazi explains. He says that the government is making efforts to reduce the maternal mortality rate and that there are plans to appoint more doctors soon for better medical facilities at the district level.