On the evening of July 5, Naimatullah, a seven-year-old boy from the Martong area in the Shangla district, left his home to play with his cousins and other kids from the neighbourhood. Later, Asia Bibi, Naimatullah's mother, heard a loud explosion followed by cries of panic. A local boy rushed to Asia Bibi's house, shocked, and informed her that many children, including Naimatullah, were trapped under dunes.
Filled with sorrow, Asia Bibi, her mother-in-law, and other women emerged from her house. Nearby, people were rushing an injured child to the hospital. Inquiring further, they learned that Naimatullah was also buried under the debris. It felt as if their world had shattered.
Naimatullah's father, Syed Karim, recounts that when he arrived at the accident scene, there was no sign of the rescue team, government assistance, or any other help. The villagers took matters into their own hands, tirelessly extracting the trapped children until half-past ten pm. Since no ambulances were available, the children were transported to the hospital in rickshaws.
The incident was tragic for the entire community of Shangla. Eight children from the same neighbourhood, including six from a single household, were tragically buried under the sand. Among the eight young victims, six were the grandchildren of Saifoor Karim.
Saifoor shares that before July 5, these children had never played in that area. Just two days before, a machine had extracted sand from that spot, causing the mountain gorge to become empty inside. At the base of this gorge lay fresh sand. As the children were playing with this sand, the hollow hill gave way and collapsed on top of them.
He further elaborates that deep pits are dug around the Martong village to extract sand beneath the settlements. This process involves hollowing out the mountains from beneath, which poses a risk of collapsing at any time.
Saifoor says that he had repeatedly told the sand extractors about the dangers of their work, but his warnings went unheard.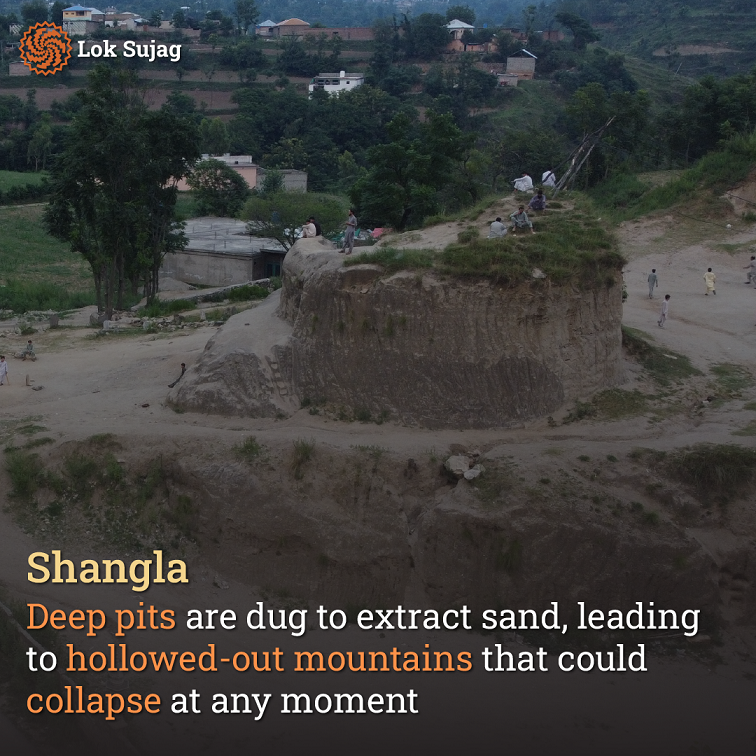 "It seems that the contractors working for Poran have acquired land all over Martong and are digging wherever they please. They've dug five or six hundred feet deep pits not far from our homes. There's hardly room for cars to pass beside these pits, and anyone could fall into them. This poses a significant danger, especially for school-going children," says Saifoor, his eyes brimming with tears.
He continues with a heavy heart, sharing that the children's graves are just a few feet from where the debris fell. While the children are gone, he hopes for a solution to this pressing issue.
Shujaat Ali Khan, the local leader of Martong, reveals that illegal sand and gravel extraction has been rampant in the area for years. However, officials from the Minerals Department have yet to take action against it so far. Even the centuries-old cemeteries have been a victim of their activities. The cemetery near the accident site was damaged due to excavation. The next day, the children ended up buried beneath a mound of sand.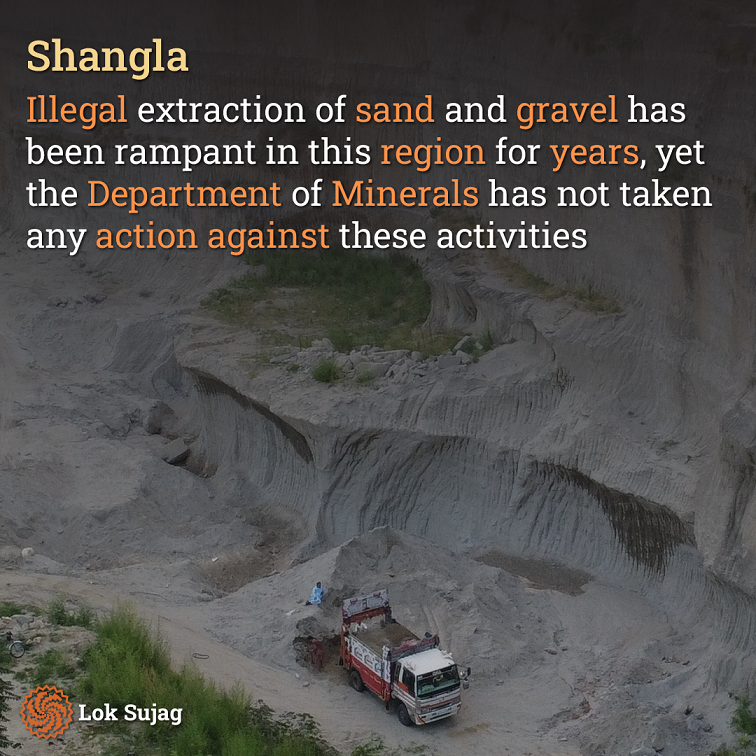 According to Section 56 of the Khyber Pakhtunkhwa Minerals Ordinance 2017, illegal mining is a punishable offence, with a potential prison sentence ranging from six months to five years and a fine of up to 20 lakhs.
As Section 78 of this Act states, land containing minerals can be used by its owner as private property for constructing buildings and cultivating crops. However, commercial use requires permission from DG Minerals. The government issues tenders to lease such mines, and construction work on designated mining sites is prohibited.
In line with Section 35, no lease license for land can be issued if it's close to populated areas, 132 kV high transmission lines, railway lines, archaeological sites, roads, or public transport routes. If a mining site is within 500 meters of these zones, all forms of mining are restricted in those areas.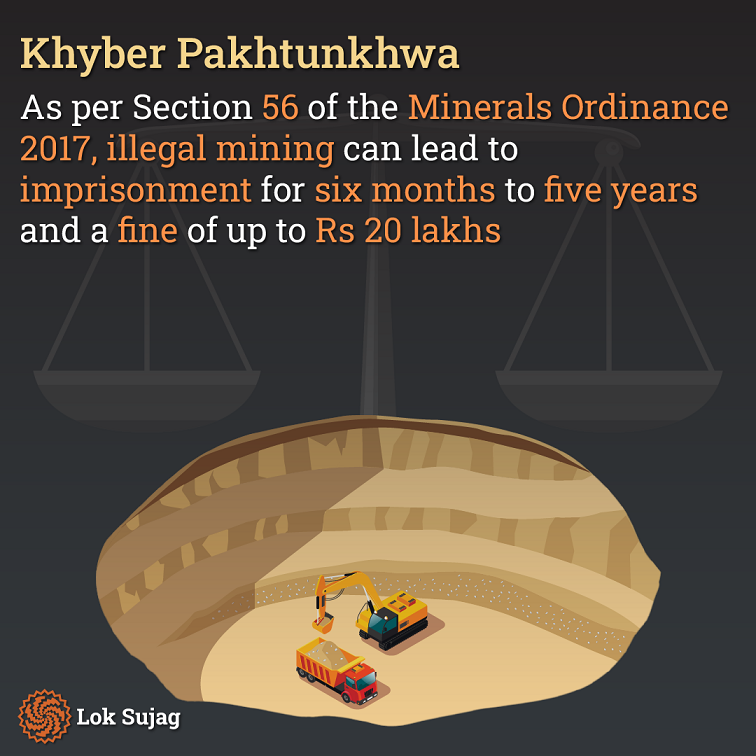 One labourer Bakhtiar Khan, residing in Kozklay, is concerned about the safety of his children and family after the accident. His house is near the accident site where excavation was conducted. During rainy weather, his children's journey to school becomes challenging due to the slippery roads. He remains fearful for their lives until his children return home.
Bakhtiar shares that he repeatedly raised his concerns with the contractors involved in sand and gravel extraction contractors, but his pleas were ignored.
Muhammad Jan's residence is also situated about fifty feet away from the accident site. Like Bakhtiar, he's anxious that further digging could risk his house and family.
Also Read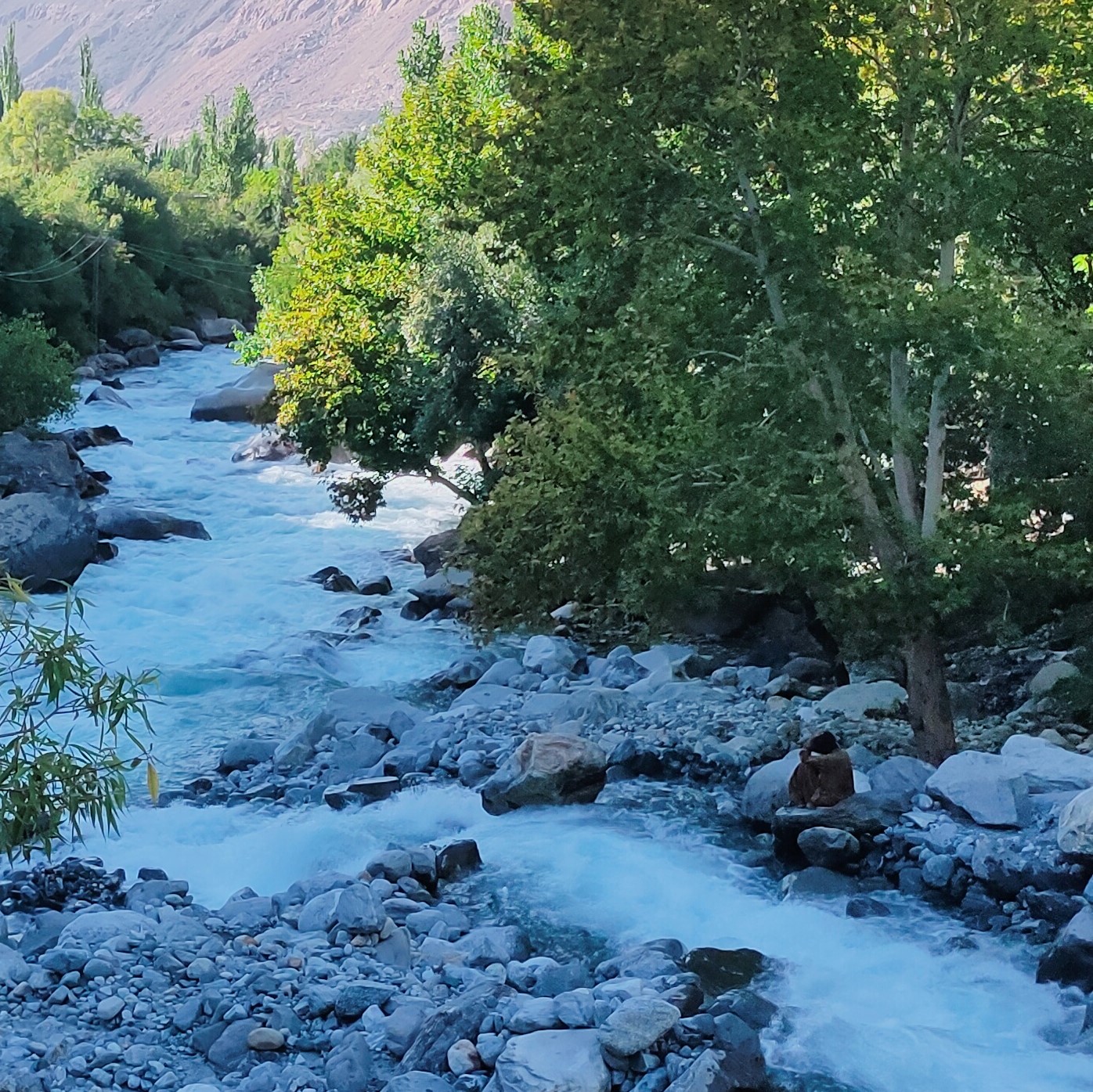 A battle against time: Gilgit's vulnerable water channels and looming flood threat
In response, Deputy Commissioner of Shangla, Hasan Abid, states that the initial investigation has unveiled that the land where the accident occurred is privately owned. The landowners carried out the excavation without the necessary permission from the administration and the Department of Minerals.
No permit was issued.
He mentions that the district administration has not granted any NOC (No Objection Certificate) for mining activities. The Assistant Director of Minerals in Shangla is responsible for taking legal and disciplinary measures in such cases. He added that a thorough investigation will be conducted regarding this incident, considering all perspectives.
Efforts were made over three days to reach out to the Assistant Director of the Department of Minerals, but he declined to comment.