Sajan Bheel is unable to look at an acacia tree without breaking down. Sometimes he stops his work to stare at it for hours and then starts crying.
He belongs to a scheduled caste Hindu family and lives in Sabir Bheel village of Umerkot district in eastern Sindh where he is employed as a farm labourer. The tree stands in the fields where he works so he has no choice but to look at it everyday. The reason why he gets distressed upon seeing it is that his 15-year-old son, Krishna, hanged himself from it and committed suicide in November 2021.
He blames poverty for his son's death. "Krishna asked me to buy him new clothes but I could not so he ended his life in despair," Sajan says.
His son-in-law, Kamil Bheel, on the other hand, says that Krishna's mental health was also not stable. "He often said that he was sick and needed to see a doctor but then he would start laughing the next moment and said that there was nothing wrong with him," he says.
Krishna's family did not try to probe these things even after his suicide. They also neither reported his death to the police nor got an autopsy done on his body.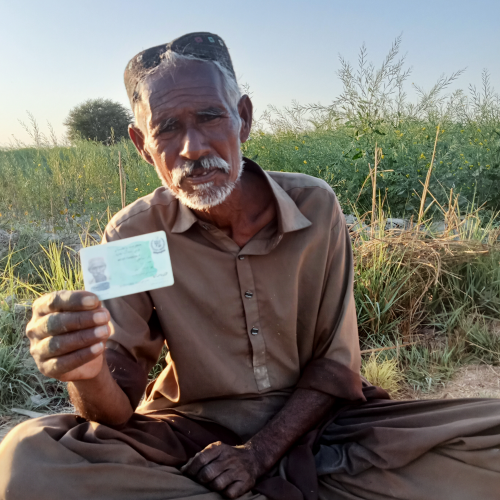 Sajan Bheel
Sajan says he feared the police because if he had told them about his son's demise, they would have pestered him with irrelevant questions and asked for bribes. This would have added to his problems because, as he says, his financial situation is so bad that he had to "borrow 3000 rupees from his employer to pay for his son's last rites".
Murder by another name
Umerkot is the only district in Pakistan where 52 per cent of the population is Hindu. Most of its residents belong to the scheduled castes communities that are among the most marginalised people in the whole of Pakistan. They either work as farm labourers for local landlords or earn a living by working in the cities. Many of them, however, are unemployed.
Non-governmental organizations (NGOs) working in eastern Sindh say suicide is very common among these scheduled caste Hindus. For example, according to the figures compiled by Mehran Development Organization, 460 people have committed suicide in Umerkot in the last three years.
Research Advocacy and Institutional Network (REN), a coalition of 40 NGOs working in the area, also confirms this trend in its research. It says 98 people, including 57 women, committed suicide in Umerkot in 2021 – 77 per cent of them belonging to scheduled caste Kolhi community and the rest belonged to Bheel and Meghawar communities.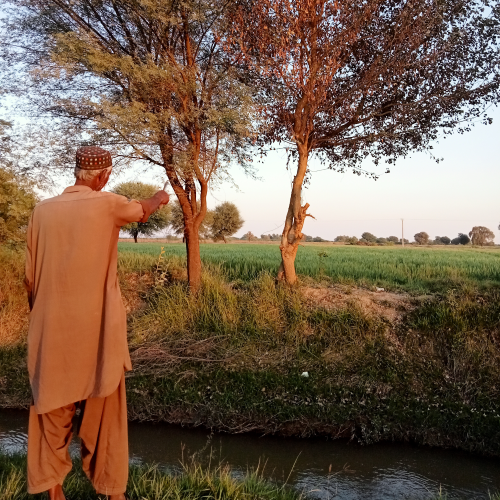 Sajan Bheel pointing to the tree Krishna used to hang himself

All of them were under 45 years of age; 37 of them were younger than 25 years at the time of their deaths.
The suicide rate is also very high in the nearby Tharparkar district (where Hindus make up 43 per cent of the population). A report prepared by the Association for Water, Applied Education and Renewable Energy (AWARE), a local welfare organization, states that 443 people committed suicide in Tharparkar between 2014 and 2020; of these, 79 suicides were recorded in 2020 alone.
Sardar Bhayo, who heads REN, says that poverty is the leading cause of suicide in both the districts. Factors such as illiteracy, social pressures and lack of mental health guidance are other major reasons behind the increasing trend of suicides among local residents, he says.
Many people in Hindu communities also commit suicide due to emotional issues and inability to marry according to their own choice, he says and mentions Vikram, 18, and Ganga, 16, of Kheri village in Islamkot tehsil of Tharparkar, who committed suicide together in October 2021 by hanging themselves from the same tree. A letter found in Vikram's pocket stated: "We are in love with each other but we are both cousins. Our religion and family are stopping us from getting married so we have chosen to commit suicide."
Bhayo, however, says the relatives of the people who commit suicide, in most cases, do not reveal the real cause of their death for the fear of being stigmatized in the society. That is why only one of all the suicides that have taken place in Tharparkar in the last eight years has resulted in the registration of a First Information Report (FIR) by the police.
The families of the suicide victims do not inform the police because they are scared of being mistreated by them, he says. "They also do not trust the police to carry out the investigation in a serious manner."
Ghazi Bajir, a journalist of Tharparkar's Islamkot tehsil, still insists that the investigation should be legally mandatory because most people commit suicide due to complicated situations created by others. Therefore, he suggests, a suicide should be probed like any other murder.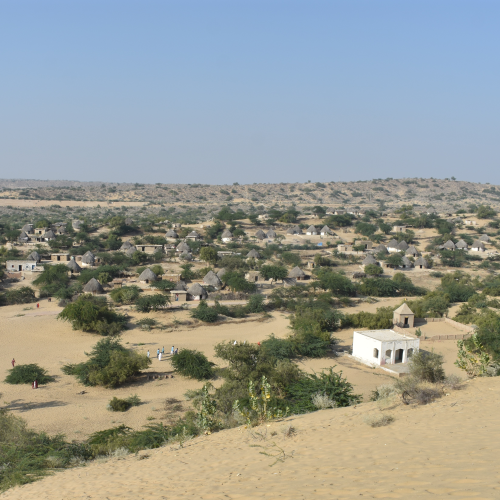 A village in Tharparkar where Hindus are in majority 
The suicide of a young man named Vijay from Umerkot in October 2021 shows how important such investigations are. Some of his acquaintances got him drunk and then sexually abused him. They also filmed all this and later blackmailed him through the video which led him to take his own life.
Vijay's parents did not inform anyone of his death and quietly cremated his body. No legal action could, thus, be taken against the people who had driven him to commit suicide.
Ram Kolhi, a lawyer in Tharparkar, also agrees with Ghazi Bajir. The deaths of people who take their own lives cannot be legally considered suicide unless their cause is found out, he argues. If the relatives of the deceased are unable to report the incident due to any fear or pressure, then the police should become the plaintiff itself and investigate the case, he says.
Siraj Sand, in-charge of Chhor police station in Umerkot area, on the other hand, says the police cannot do anything in these cases because the relatives bury or cremate the suicide victims without informing anyone. The family members of the deceased are also pressured by their community and neighbours to not lodge a report with the police, he says.
Also read this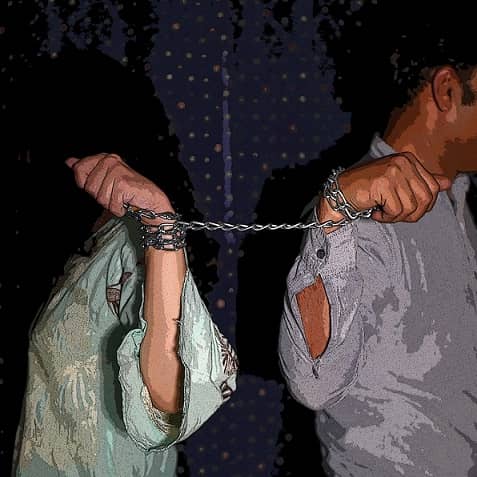 To legislate or not to legislate: A brief history of family laws for non-Muslim Pakistanis
Hopeless and helpless
Emmanuel Raphael, a former professor of psychology at Sindh University Jamshoro, says there are usually two main reasons for suicide. "Some people end their lives after they get frustrated by their failure to achieve a particular goal while others become so hopeless that they do not have the will to live any longer."
The main reason for suicides in backward areas like Umerkot and Tharparkar, according to him, is frustration as "people here have to survive with very limited resources". Due to the scarcity of resources, "life seems meaningless to them as they cannot even meet their own basic needs."
Raphael also says a large number of scheduled caste Hindu youth are unemployed so it is not surprising that they are experiencing disappointment and hopelessness. He suggests that the government set up vocational training centres in Umerkot and Tharparkar so that they could acquire some skills and get employed. "This will not only help eliminate the general economic deprivation found in these districts, it will also improve the mental health of the local residents," he says. This, he hopes, will then "significantly reduce the incidences of suicide."